Abstract
The objective of this work was to estimate the quantity of mercury residue present in dental amalgam that is generated and discarded in the city of Manaus (Amazon-Brazil). For this purpose, the locations of amalgam usage (10 public and 31 private dental clinics), the method by which the residue is discarded (14 clinics improper disposal), and the analysis of total mercury in the sediment of the controlled landfill (2.68–3 μgHg/g), were described. It was concluded that: there are dental clinics in the city that discard mercury residue into the common waste disposal system, which contravenes health safety standards.
This is a preview of subscription content, log in to check access.
Access options
Buy single article
Instant access to the full article PDF.
US$ 39.95
Price includes VAT for USA
Subscribe to journal
Immediate online access to all issues from 2019. Subscription will auto renew annually.
US$ 199
This is the net price. Taxes to be calculated in checkout.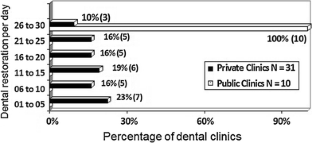 References
ANVISA (2004) Plano de Gerenciamento de Resíduos de Serviços de Saúde—PGRSS, Resolução RDC no. 306, 12/7/2004. Available at http://bvsms.saude.gov.br/bvs/saudelegis/anvisa/2004/res0306_07_12_2004.html. Accessed on 6 Jan 2012

Bittner AC Jr, Echeverria D, Woods JS, Aposhian HV, Naleway C, Martin MD, Mahurin RK, Heyer NJ, Cianciola M (1998) Behavioral effects of low-level exposure to Hg° among dental professionals: a cross-study evaluation of psychomotor effects. Neurotoxicol Teratol 20(4):429–439

Clarkson TW (1998) Human toxicology of mercury. J Trace Elem Exp Med 11:303–317

CONAMA (1999) Resolução CONAMA no. 257, of June 30, 1999. Gestão de resíduos e produtos perigosos—tratamento. Available at http://www.mma.gov.br/port/conama/res/res99/res25799.html. Accessed on 6 Jan 2012

CONAMA (2004) Resolução CONAMA no. 344, of March 25, 2004. Gestão de resíduos e produtos perigosos. Available at http://www.mma.gov.br/port/conama/legiabre.cfm?codlegi=445. Accessed on 6 Jan 2012

Echeverria D, Aposhian HV, Woods JS, Heyer NJ, Aposhian MM, Bittner AC Jr, Mahurin RK, Cianciola M (1998) Neurobehavioral effects from exposure to dental amalgam Hg : new distinctions between recent exposure and Hg body burden. FASEB J 12:971–980

Marek M (1990) The effect of tin in the Ag-Hg phase of dental amalgam on dissolution of mercury. J Dent Res 69(12):1786–1790

Maserejian NN, Trachtenberg FL, Assmann SF, Barregard L (2008) Dental Amalgam exposure and urinary mercury levels in children: the new England children's Amalgam trial. Environ Health Perspect 116(2):256–262

Nash KD (1992) How infection control procedures are affecting dental practice today. J Am Dent Assoc 123(3):67–73

Özdabak HN, Karaoglanoglu S, Akgül N, Polat F, Seven N (2008) The effects of amalgam restorations on plasma mercury levels and total antioxidant activity. Arch Oral Biol 53:1101–1106

Qiu G, Feng X, Wang S, Shang L (2005) Mercury and methylmercury in riparian soil, sediments, mine-waste calcines, and moss from abandoned Hg mines in east Guizhou province, southwestern China. Appl Geochem 20(3):627–638

Rupp NW, Paffenbarger GC (1971) Significance to health of mercury used in dental practice: a review. J A Dent Assoc 82(6):1401–1407

Stone ME, Scott JW, Schultz ST, Berry DL, Wilcoxon M, Piwoni M, Panno B, Bordson G (2009) Comparison of chlorine and chloramines in the release of mercury from dental amalgam. Sci Total Environ 407(2):770–775

Taveu M (1826) History of dental and oral science in America, prepared under direction of the American Academy of Dental Science. Philadelphia 271

Zolfaghari G, Esmaili-Sari A, Ghasempouri SM, Faghihzadeh S (2007) Evaluation of environmental and occupational exposure to mercury among Iranian dentists. Sci Total Environ 381(1–3):59–67
Acknowledgments
This work was supported by CNPq (Brazilian National Research Council) and MCT (Brazilian Ministry of Science and Technology). We are grateful to Patrícia Araújo (CETEM/LEMA) for her valuable analytical support in metal analysis, and Taia Catia Maia for granting access to the controlled landfill.
About this article
Cite this article
Lollobrigida de Souza, J.P.B., Nozawa, S.R. & Honda, R.T. Improper Waste Disposal of Silver-Mercury Amalgam. Bull Environ Contam Toxicol 88, 797–801 (2012). https://doi.org/10.1007/s00128-012-0554-6
Received:

Accepted:

Published:

Issue Date:
Keywords
Silver amalgam

Mercury

Landfill