Abstract
This study provides information on the current status of contamination by organochlorine pesticides (OCPs) in eggs and tissues of House Sparrow, Passer domesticus, in Tamil Nadu, India. The mean concentration of total hexachlorocyclohexane (∑HCH) and total dichloro-diphenyl-trichloroethane (∑DDT) in eggs ranged from 0.01 to 1.81 μg/g and 0.02 to 1.29 μg/g, respectively. Concentration of 1,1-dichloro-2,2-bis(p-chlorophenyl)ethylene (p,p′-DDE) ranged from below detectable limit (BDL) to 0.64 μg/g, representing more than 60% of the ∑DDTs. About 28% of samples had p,p′-DDE levels above the critical concentration associated with reproductive impairment. However, the mean concentrations of cyclodiene insecticides were less than 0.5 μg/g. Although OCPs levels detected in tissues are not indicative of toxicity, continuous monitoring is recommended.
This is a preview of subscription content, log in to check access.
Access options
Buy single article
Instant access to the full article PDF.
US$ 39.95
Price includes VAT for USA
Subscribe to journal
Immediate online access to all issues from 2019. Subscription will auto renew annually.
US$ 199
This is the net price. Taxes to be calculated in checkout.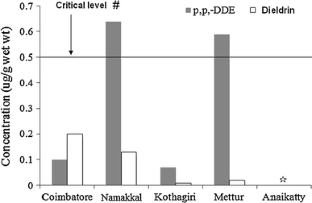 References
Becker PH, Schuhmann S, Koepff C (1993) Hatching failure in common terns (Sterna hirundo) in relation to environmental chemicals. Environ Pollut 79:207–213

Blus LJ, Henny CJ, Lenhart DJ, Kaiser TE (1984) Effects of heptachlor- and lindane-treated seed on Canada geese. J Wildl Manage 48:1097–1111

Castillo J, Thybaud E, Caquet T, Ramade F (1994) Organochlorine contaminants in common tern (Sterna hirundo) eggs and young from the river Rhine area (France). Bull Environ Contam Toxicol 53:759–764

Colborn T (1995) Environmental estrogens: health implications for humans and wildlife. Environ Health Perspect 103:135–136

Custer TW, Custer CM, Hines RK, Sparks DW (2000) Trace elements, organochlorines, polycyclic aromatic hydrocarbons, dioxins and furans in lesser scaup wintering on the Indiana Harbor Canal. Environ Pollut 110:469–482

Dhananjayan (2009) Levels of organic contaminants and select biomarkers in birds of Gujarat and Tamil Nadu, India. Ph.D thesis, Bharathiar University, Coimbatore, India

Dhananjayan V, Muralidharan S, Jayanthi P (2011) Distribution of persistent organochlorine chemical residues in blood plasma of three species of vultures from India. Environ Monit Assess 173(1):803–811

Goutner V, Charalambidou I, Albanis TA (1997) Organochlorine insecticide residues in eggs of the Little Tern (Sterna albifrons) in the Axios Delta, Greece. Bull Environ Contam Toxicol 58:61–66

Gupta PK (2004) Pesticide exposure—Indian scene. Toxicology 198:83–90

Henny CJ, Blus LJ, Stafford CJ (1983) Effects of heptachlor on American kestrels in the Columbian Basin, Oregon. J Wildl Manage 47:1080–1087

Henriques W, Jeffers RD, Lacher TE Jr, Kendall RJ (1997) Agrochemical use on banana plantations in Latin America: perspectives on ecological risk. Environ Toxicol Chem 16:91–99

King KA, Flickinger EL, Hildebrand HH (1978) Shell thinning and pesticide residues in Texas aquatic birds eggs. Pest Moni J 12:16–21

Lundholm CE (1997) DDE induced eggshell thinning in birds: effects of p, p′-DDE on the calcium and prostaglandin metabolism of the eggshell gland. Comp Biochem Physiol Part C Pharmacol Toxicol 18:113–128

Mateo R, Carrillo J, Guitart R (2000) p,p′-DDE residues in eggs of European kestrel Falco tinnunculus from Tenerife, Canary Islands, Spain. Bull Environ Contam Toxicol 65:780–785

Mathur SC (1993) Pesticide industries in India. Pesticide Inform 19:7–15

Mukherjee I, Gopal M (1996) Insecticides residues in baby food, animal feed, and vegetables by gas liquid chromatography. Bull Environ Contam Toxicol 56:381–388

Muralidharan S, Reghupathy A, Sundramoorthy T (1992) Organochlorine residues in the eggs of selected colonial waterbirds breeding at Keoladeo National park, Bharatpur, India. In: Roberts RD, Bothwell ML (eds) Aquatic ecosystems in semi-arid regions for resource management. Symposium series 7. Environment Canada. pp 189–195

Stickel WH, Stickel LF, Coon FB (1970) DDE and DDD residues correlated with mortality of experimental birds. In: Deichmann (ed) Pesticide symposia, Halos Assoc., Miami. pp 287–294

Tanabe S, Senthilkumar K, Kannan K, Subramanian AN (1998) Accumulation features of polychlorinated biphenyls and organochlorine pesticides in resident and migratory birds from South India. Arch Environ Contam Toxicol 57:8–15

Vijayan VS (2003) Where all the sparrows have are gone? Down Earth January 31:50–51
Acknowledgments
We express sincere gratitude to the Director, Sálim Ali Centre for Ornithology and Natural History (SACON) for financial assistance. We appreciate all research scholars, S Patturajan and Murugesan, SACON for their assistance in field and laboratory works.
About this article
Cite this article
Dhananjayan, V., Muralidharan, S. & Ranapratap, S. Organochlorine Pesticide Residues in Eggs and Tissues of House Sparrow, Passer domesticus, from Tamil Nadu, India. Bull Environ Contam Toxicol 87, 684–688 (2011). https://doi.org/10.1007/s00128-011-0414-9
Received:

Accepted:

Published:

Issue Date:
Keywords
OCPs

House sparrow

Eggs

Eggshell thickness

Tissues