Abstract
Concentrations of vanadium, chromium, cobalt, nickel, copper, zinc, antimony, and lead were measured in Ficus benjamina leaves from the Mexico City urban area in order to assess their enrichment against background values. The instrumental analysis was performed using inductively coupled plasma mass spectrometry and the analytical method was tested using two certified reference materials from the National Institute of Standards and Technology (1547 Peach Leaves and 1573a Tomato Leaves). Enrichment factors were calculated, i.e., total to background concentration ratio, for each metal. Low enrichments of vanadium, cobalt, nickel, and copper (≈2), and mild enrichments of chromium and zinc (4.4, 4.5 respectively) were found in the entire area; oppositely, high enrichments were assessed for antimony (28.6) and lead (17.2). However, results indicate that metal concentrations strongly depend on the specific urban sub-area. Increments of metals were attributed to natural, vehicular, and industrial sources.
This is a preview of subscription content, log in to check access.
Access options
Buy single article
Instant access to the full article PDF.
US$ 39.95
Price includes VAT for USA
Subscribe to journal
Immediate online access to all issues from 2019. Subscription will auto renew annually.
US$ 199
This is the net price. Taxes to be calculated in checkout.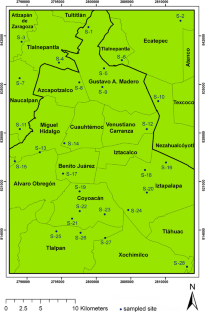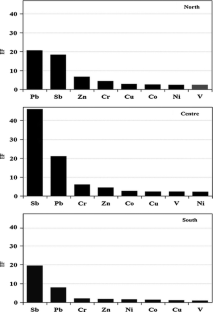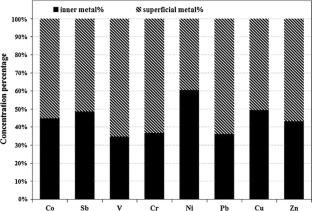 References
Al-Alawi MM, Mandiwana KL (2007) The use of Aleppo pine needles as a bio-monitor of heavy metals in the atmosphere. J Hazard Mater 148:43–46

Alloway BJ, Ayres DC (1993) Chemical principles of environmental pollution. Chapman & Hall, Great Britain

Chow JC, Watson JG, Edgerton SA, Vega E (2002) Chemical composition of PM2.5 y PM10 in Mexico City during winter 1997. Sci Total Environ 287:177–201

Kabata-Pendias A (2001) Trace elements in soils and plants. CRC Press, USA

Komárek M, Ettler V, Chrastny V, Mihaljevic M (2008) Lead isotopes in envoromental sciencies: a review. Environ Int 34:562–577

Mingorance MD, Valdés B, Rossini SO (2007) Strategied of heavy metals uptake by plants growing under industrial emissions. Environ Int 33:514–520

Monaci F, Moni F, Lanciotti E, Grechi D, Bargagli R (2000) Biomonitoring of airborne metals in urban environments: new tracers of vehicles, in place of lead. Environ Pollut 107:321–327

Rossini SO, Fernández EAJ (2007) Monitoring of heavy metals in topsoils, atmospheric particles amd plant leaves to identify possible contamination sources. Microchem J 86:131–139

Sharma RK, Agrawal M, Marshall FM (2008) Heavy metal (Cu, Zn, Cd and Pb) contamination of vegetables in urban India: a case of study in Vanasi. Environ Pollut 154:254–263

Wong CSC, Li XD (2004) Pb contamination and isotopic composition of urban soils in Hong Kong. Sci Total Environ 319:185–195

Zurayk R, Sukkariyah B, Baalbaki R (2001) Common hydrophytes as bioindicadors of nickel, chromium and cadmium pollution. Water Air Soil Pollut 127:373–388
Acknowledgments
This study was partly conducted thanks to analytical facilities provided by Laboratorio de Análisis Físicos y Químicos del Ambiente, Instituto de Geografía, Universidad Nacional Autónoma de México. This study was performed with financial support from DGAPA (Dirección General de Personal académico, UNAM) project IN117405.
About this article
Cite this article
Guzmán-Morales, J., Morton-Bermea, O., Hernández-Álvarez, E. et al. Assessment of Atmospheric Metal Pollution in the Urban Area of Mexico City, Using Ficus benjamina as Biomonitor. Bull Environ Contam Toxicol 86, 495–500 (2011). https://doi.org/10.1007/s00128-011-0252-9
Received:

Accepted:

Published:

Issue Date:
Keywords
Ficus benjamina

Metals

Mexico City

Biomonitors

ICP-MS