Abstract
A bacterium (strain ycsd02) was isolated from rhizosphere soil in phragmites wetland using the enrichment culture contaminated with p-Chloroaniline (p-CA). Morphology, physio-biochemical characteristics and phylogenetic analysis based on 16S rDNA sequence indicated that the shape of the single cell is pole, which clearly belongs to Bacillus licheniformis. The optimal conditions for satisfactory degradation of p-CA were also studied. A dynamic test indicated that the biodegradation had no lag phase at concentrations from 0 to 20 mg/L in minimal medium culture fluids at vaccination of 15%, pH 7.0 and 32°C, and the growth of strain ycsd02 cells met the first-order kinetics.
This is a preview of subscription content, log in to check access.
Access options
Buy single article
Instant access to the full article PDF.
US$ 39.95
Price includes VAT for USA
Subscribe to journal
Immediate online access to all issues from 2019. Subscription will auto renew annually.
US$ 199
This is the net price. Taxes to be calculated in checkout.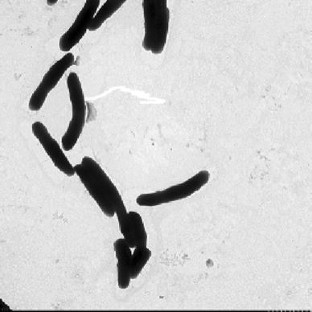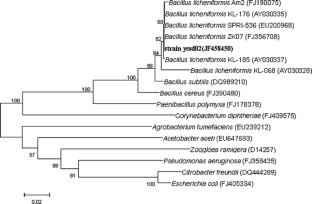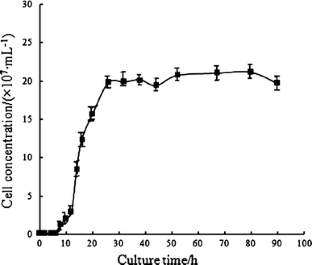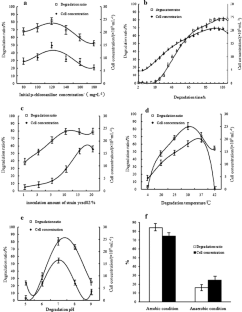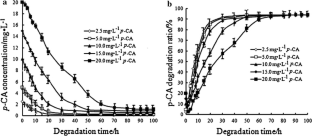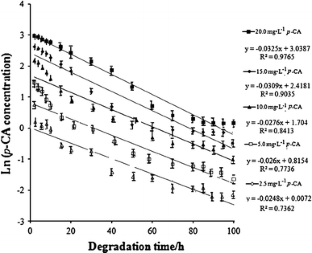 References
Boon ME, Top M, Goris J (2001) Genetic diversity among 3-chloroaniline and aniline-degrading strains of the comamon-adaceae. Appl Environ Microbiol 67:1107–1115

Buchanan RE, Gibbons NE (1974) Bergey's manual of determinative bacteriology. Williams & Wilikins Company, Baltimore

Devereux RS, Willis G (1995) Molecular microbial Ecology Manual. Kluwer Academic Publishers, Netherland

Kumar S, Tamura K, Jakobsen IB (2001) MEGA2: molecular evolutionary genetics analysis software. Bioinformatics 17:1244–1251

Li C (2007) Analysis on the using mode of coastal beach in Yancheng City. J Anhui Agri Sci 35:11926–11928 in Chinese

Ren HF, Li SQ, Lin SJ, Liu ZP (2005) Isolation and characterization of a p-chloroaniline-degrading bacterial strain. Chinese J Environ Sci 26:156–157 in Chinese

Shen P, Fan XR, Li GW (1999) Microbiological Experiment. High Education Press, Beijing

State Environmental Protection Administration of China (SEPAC) (2002) Water and exhausted water monitoring analysis method. Chinese Environmental Press, Beijing, p 542

The Institute of Microbiology, Chinese Academy of Sciences (IMCAS) (1980) Manual of bacteria preservation. Science Press, Beijing, p 293

Thompson JD, Gibson TJ, Plewniak F (2007) The clustal X windows interface: flexible strategies for multiple sequence alignment aided by quality analysis tools. Nucleic Acids Res 24:4876–4882

Wang QJ (2005) Application of the reed constructed wetland in environmental protection. Techniq Equipment Environ Poll Control 6:1–5 in Chinese

Yu DB, Zhang PN (2000) Study on the synthesis of diflubenzuron. Pesticides 39:16–19 in Chinese
Acknowledgment
This study was supported by the National Natural Science Fund of China (No.20607018), the Natural Science Fund of Jiangsu Province (No.BK2009171), and Innovation Fund for Technology Based Firms of Department of Science and Technology of China (No.09C26213201069) and Jiangsu Province (No. BC2007132).
About this article
Cite this article
Ding, C., Li, Z. & Yan, J. Isolation, Identification and Degradation Characterization of a p-Chloroaniline Degrading Strain. Bull Environ Contam Toxicol 86, 454–459 (2011). https://doi.org/10.1007/s00128-011-0196-0
Received:

Accepted:

Published:

Issue Date:
Keywords
p-Chloroaniline

Identification

Degradation

16S rDNA