Abstract
A mass balance model was developed to estimate prescription pharmaceutical loadings to municipal wastewater treatment plants via computation of influent concentrations (C IN). Model estimates of C IN were compared with published data and found to be accurate within an order of magnitude for some 90% of the drugs evaluated. The model was then used to rank prescription drugs on a per-capita mass loading basis for comparison with current research efforts and coupled with two EPISuite™ programs to generate estimates for environmental exposure. Results showed marked discrepancies between prescription numbers, loadings, exposures, and research conducted, as highlighted by the drug metformin, with the largest projected loading to treatment plants (>28 g per 1,000 people/day), yet only ranking 12th in terms of prescription numbers and no environmental research articles.
This is a preview of subscription content, log in to check access.
Access options
Buy single article
Instant access to the full article PDF.
US$ 39.95
Price includes VAT for USA
Subscribe to journal
Immediate online access to all issues from 2019. Subscription will auto renew annually.
US$ 199
This is the net price. Taxes to be calculated in checkout.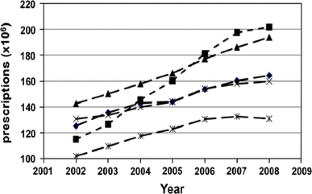 References
Anderson PD, D'Aco VJ, Shanahan P, Chapra SC, Buzby VL, Duplessie BM, Hayes EP, Mastrocco FJ, Parke NJ, Rader JC, Samuelian JH, Schwab BW (2004) Screening analysis of human pharmaceutical compounds in U.S. surface waters. Environ Sci Technol 38(3):838–849

Calamari D, Zuccato E, Castiglioni S, Bagnati R, Fanelli R (2003) Strategic survey of therapeutic drugs in the Rivers Po and Lambro in northern Italy. Environ Sci Technol 37(7):1241–1248

Castiglioni S, Bagnatia R, Fanelli R, Pomati F, Calamari D, Zuccato E (2006) Removal of pharmaceuticals in sewage treatment plants in Italy. Environ Sci Technol 40(1):357–363

Daughton CG, Ternes TA (1999) Pharmaceuticals and personal care products in the environment: agents of subtle change? Environ. Health Perspect 107(Supplement 6):907–939

Johnson DJ, Sanderson H, Brain RA, Wilson CJ, Bestari KT, Solomon KR (2005) Exposure assessment and microcosm fate of selected selective serotonin reuptake inhibitors. Regul Toxicol Pharmacol 42(3):313–323

Jones OAH, Voulvoulis N, Lester JN (2002) Aquatic environmental assessment of the top 25 English prescription pharmaceuticals. Water Res 36(20):5013–5022

Kolpin DW, Furlong ET, Meyer MT, Thurman EM, Zaugg SD, Barber LB, Buxton HT (2002) Pharmaceuticals, hormones and other organic wastewater contaminants in U.S. streams, 1999–2000: a national reconnaissance. Environ Sci Technol 36(6):1202–1211

Ottmar KJ, Colosi LM, Smith JA (2010) Sorption of statin pharmaceuticals to wastewater treatment biosolids, terrestrial soils, and freshwater sediment. J Environ Eng 136(3):256–264

Pharmacy Times (2009) Pharmacy Times, the monthly journal for pharmacists. Data from IMS Health, http://www.pharmacytimes.com (June 1, 2009)

Richardson SD, Ternes TA (2005) Water analysis: emerging contaminants and current issues. Anal Chem 77(12):3807–3838

RxList Inc. (2009) RxList, the internet drug index for prescription drugs and medications. http://www.rxlist.com (June 1, 2009)

Ternes TA, Joss A, Siegrist H (2004) Scrutinizing pharmaceuticals and personal care products in wastewater treatment. Environ Sci Technol Suppl.: 393A–399A

Vanderford BJ, Snyder SA (2006) Analysis of pharmaceuticals in water by isotope dilution liquid chromatography/tandem mass spectrometry. Environ Sci Technol 40(23):7312–7320

Yu JT, Bouwer EJ, Coelhan M (2006) Occurrence and biodegradability studies of selected pharmaceuticals and personal care products in sewage effluent. Agric Water Manag 86(1–2):72–80
Acknowledgments
The authors would like to thank the Virginia Environmental Endowment and the G. Unger Vetlesen Foundation for their assistance in funding this research. The authors also would like to thank S. Schlessinger, D. Sanchez, E. Houle, and E. Kurland for their time spent gathering, sorting, and compiling data necessary for model calculations.
About this article
Cite this article
Ottmar, K.J., Colosi, L.M. & Smith, J.A. Development and Application of a Model to Estimate Wastewater Treatment Plant Prescription Pharmaceutical Influent Loadings and Concentrations. Bull Environ Contam Toxicol 84, 507–512 (2010). https://doi.org/10.1007/s00128-010-9990-3
Received:

Accepted:

Published:

Issue Date:
Keywords
Pharmaceuticals

Wastewater treatment

Emerging contaminants