Abstract
Concentrations of heavy metals in water of the Nhue River (a suburban/rural river) and one of its tributaries, the To Lich River (an urban river), in Hanoi, Vietnam had been monitored, and spatial and seasonal variations in their composition were evaluated by means of principal component analysis and cluster analysis. Heavy metal concentrations in water of the two rivers were generally lower than the surface water quality standard in Vietnam, except for manganese in several sites, although they were higher than the median values in freshwater of the world by 0.42–43 times in Nhue and 0.13–32 times in To Lich. The two multivariate analyses represented that the composition of heavy metals in river water of To Lich was distinctly different from that of Nhue. It was also suggested that metal concentrations and their composition in Nhue river water would be affected by inflowing water of To Lich and wastewater discharged from the up- and middle-stream basin, and that they gradually recovered along the direction of water flow in the downstream area in rainy season.
This is a preview of subscription content, log in to check access.
Access options
Buy single article
Instant access to the full article PDF.
US$ 39.95
Price includes VAT for USA
Subscribe to journal
Immediate online access to all issues from 2019. Subscription will auto renew annually.
US$ 199
This is the net price. Taxes to be calculated in checkout.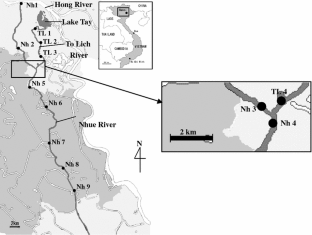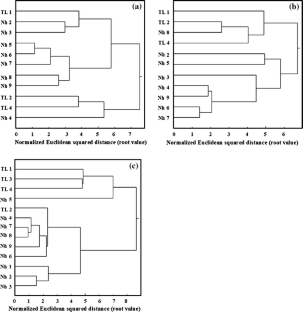 References
Bowen HJM (1979) Environmental chemistry of the elements. Academic Press, London, p 333

Hayakari S (2006) Excel add-in factory "Hayakari" (for offers of free soft wares for statistics and climate analysis). http://www.jomon.ne.jp/~hayakari/index.html (in Japanese)

Ho TLT, Egashira K (2000) Heavy metal characterization of river sediment in Hanoi, Vietnam. Commun Soil Sci Plant Anal 31:2901–2916

Ishigaki T, Chieu LV (2003) Current situation on the technology of wastewater treatment in Hanoi, Vietnam. J Water Waste 45:975–979 in Japanese

Japan Environmental Sanitation Center (2005) Material flows of toxic substances. http://www.jesc.or.jp/environmentS/report/study/pdf/01-06.pdf (in Japanese)

JICA (2000b) The study on environmental improvement for Hanoi City in the Socialist Republic of Vietnam, technology transfer report. Tokyo, Japan

JICA (Japan International Cooperation Agency) (2000a) The study on environmental improvement for Hanoi City in the Socialist Republic of Vietnam, final report, main report. Vol. 1. Introduction and current environmental conditions. Tokyo, Japan

Nguyen TLH, Ohtsubo M, Li LY, Higashi T (2007) Heavy metal pollution of the To-Lich and Kim-Nguu River in Hanoi City and the industrial source of the pollutants. J Fac Agr Kyushu Univ 52:141–146

Saeki K, Okazaki M (1993) Heavy metal accumulations in a semi-enclosed hypereutrophic system: Lake Teganuma, Japan. Part 1. Heavy metal concentrations in lake water and inflow rivers. Water Air Soil Pollut 69:69–78

VEPA (Vietnam Environment Protection Agency) (2006) Environment report of Vietnam, 2006. The current state of water environment in 3 river basins of Cau, Nhue—Day and Dong Nai River System. http://www.nea.gov.vn/PDF_Soe2006_VN/HTMT_Tongquan06.htm

Wilbur S, Soffey E, McCurdy E (2004) Analysis of high matrix environmental samples with the Agilent 7500ce ICP-MS with enhanced ORS technology. Agilent Technologies, publication 5989-0915EN
Acknowledgments
We would like to thank Assoc. Prof. Tran Van Nhan, the director of INEST, for his cooperation in this survey. We are also very grateful to Ms. Tran La Minh and Mr. Ha Vinh Hung in INEST, Mr. Haruki Sagami in Graduate School of Science and Technology, Meisei University and Mr. Kazuo Taku in ACER for their assistance in sampling works and chemical analyses.
About this article
Cite this article
Kikuchi, T., Furuichi, T., Hai, H.T. et al. Assessment of Heavy Metal Pollution in River Water of Hanoi, Vietnam Using Multivariate Analyses. Bull Environ Contam Toxicol 83, 575–582 (2009). https://doi.org/10.1007/s00128-009-9815-4
Received:

Accepted:

Published:

Issue Date:
Keywords
Hanoi

Heavy metals

Multivariate analysis and River water