Abstract
The effects of EDTA on the mechanism of accumulation under Pb2+ stress in Typha orientalis Presl were investigated. The results indicated that addition of the chelator with Pb limited metal phytotoxicity. The mean total chlorophyll concentration and protein content were increased with the addition of EDTA in Pb2+ solution. We also demonstrated a significant effect of EDTA on the reduced glutathione (GSH) content which was obviously increased both in leaves and caudices. It was supposed that EDTA elevated the tolerance of Typha orientalis Presl under Pb2+ stress primarily by increasing the GSH level.
This is a preview of subscription content, log in to check access.
Access options
Buy single article
Instant access to the full article PDF.
US$ 39.95
Price includes VAT for USA
Subscribe to journal
Immediate online access to all issues from 2019. Subscription will auto renew annually.
US$ 199
This is the net price. Taxes to be calculated in checkout.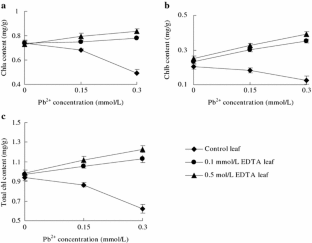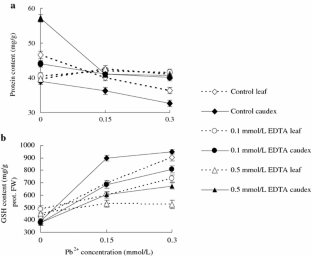 References
Abdel-Basset R, Issa AA, Adam MS (1995) Chlorophylase activity: effect of heavy metals and calcium. Photosynthetica 31:421–425

Antonovillcs I, Bradshow AD, Turner RG (1971) Heavy metal tolerance in plants. Adv Ecol Res 7:1–11. doi:10.1016/S0065-2504(08)60202-0

Arnon DI (1949) Copper enzymes in isolated chloroplasts, polyphenoloxidase in Beta vulgaris. Plant Physiol 24:1–15. doi:10.1104/pp.24.1.1

Bradford MM (1976) A rapid and sensitive method for the quantitation of microgram quantities of protein utilizing the principle of protein-dye binding. Anal Biochem 72(1):248–254. doi:10.1016/0003-2697(76)90527-3

Chen H (2000) Phytoremediation of Cd(II), Cr(III), and Ni(II) contaminated soil. Master thesis, University of Akron

Cornish JE, Goldberg WC (1995) Phytoremediation of soils contaminated with toxic elements and radionuclides. In: Hinchee RE (ed) Bioremediation of inorganics. Battelle Press, Columbus, pp 55–64

Drazkiewicz M (1994) Chlorophyllase: occurrence, functions, mechanisms of action, effects of external and internal factors. Photosynthetica 30:321–331

Ewais EA (1997) Effects of cadium, nickel and lead on growth, chlorophyll content and proteins of weeds. Biol Plant 39:403–410. doi:10.1023/A:1001084327343

Gadallah MAA (1994) Interactive effect of heavy metals and temperature on the growth and chlorophyll, saccharides and soluble nitrogen contents in Phaseolous vulgaris. Biol Plant 36:373–382. doi:10.1007/BF02920935

Huang JW, Chen J, Berti WR, Cunningham SD (1997) Phytoremediation of lead-contaminated soils: role of synthetic chelates in lead phytoextraction. Environ Sci Technol 31:800–805. doi:10.1021/es9604828

Kabata-Pendias A, Pendias H (1999) The biogeochemistry of trace metals. Wydawnictwo Naukowe PWN, Warszawa (in Polish)

Li Y, Liu Y, Liu J, Li X, Zeng G (2008) Effects of EDTA on lead uptake by T. orientalis Presl- a new lead accumulating species in southern China. Bull Environ Contam Toxicol 81(1):36–41. doi:10.1007/s00128-008-9447-0

Malone C, Koeppe DE, Miller RJ (1974) Localisation of lead accumulated by corn plants. Plant Physiol 53:388–394. doi:10.1104/pp.53.3.388

Mehra RK, Mulchandani P (1995) Glutathione-mediated transfer of Cu(I) into phytochelatins. J Biochem 307:697–705

Noctor G, Arisi ACM, Jouanin L, Kunert KJ, Rennenberg H, Foyer CH (1998) Glutathione: biosyntesis, metabolism and relationship to stress tolerance explored in transformed plants. J Exp Bot 49:624–631

Piechalak A, Tomaszewska B, Baralkiewicz D, Malecka A (2000) Accumulation and detoxification of lead ions in legumes. Phytochemistry 60:153–167. doi:10.1016/S0031-9422(02)00067-5

Salt DE, Smith RD, Raskin I (1998) Phytoremediation. Annu Rev Plant Physiol Mol Biol 49:643–668. doi:10.1146/annurev.arplant.49.1.643

Schoch S, Brown J (1987) The action of chlorophyllase on chlorophyll-protein complexes. J Plant Physiol 129:242–249

Seaward MRD, Richardson DHS (1990) Atmospheric sources of metal pollution and effects on vegetation. In: Shaw AJ (ed) Heavy metal tolerance in plants: evolutionary aspects. CRC Press, Florida, pp 75–92

Sharma SS, Gaur JPL (1995) Protential of Lemna polyrrhiza for removal of heavy metals. Ecol Eng 4:37–43. doi:10.1016/0925-8574(94)00047-9

Shaw AJ (1990) Heavy metal tolerance in plants: evolutionary aspects. AJ, CRC Press, Florida

Shivendra VS, Natalie LS (2002) Characterization of a lead hyperaccumulator shrub, Sesbania drummondii. Environ Sci Technol 36:4676–4680. doi:10.1021/es020675x

Vassil AD, Kapulnik Y, Raskin I, Salt DE (1998) The role of EDTA in Pb transport and accumulation by Indian mustard. Plant Physiol 117:447–453. doi:10.1104/pp.117.2.447

Wierzbicka M (1987) Lead accumulation and its translocation barriers in roots of Allium cepa L.-autoradiographic and ultrastructural studies. Plant Cell Environ 10:17–26. doi:10.1111/j.1365-3040.1987.tb02075.x

Wu J, Hsu FC, Cunningham SD (1999) Chelate-assisted Pb phytoextraction: Pb availability, uptake and translocation constraints. Environ Sci Technol 33:1898–1904. doi:10.1021/es9809253

Yang JR, He JQ, Zhang GX (1995) Tolerance mechanism of crops to Cd pollution. Chinese J Appl Ecol 6(1):87–91
Acknowledgments
The present investigation was supported by the Natural Science Foundation of Hunan (NO. 04JJ3013) and the National Basic Research Programs of China (2006CB403403).
About this article
Cite this article
Li, Y., Liu, J., Liu, Y. et al. Effects of EDTA on Mechanism of Lead Accumulation in Typha orientalis Presl . Bull Environ Contam Toxicol 83, 553–557 (2009). https://doi.org/10.1007/s00128-009-9787-4
Received:

Accepted:

Published:

Issue Date:
Keywords
EDTA

Chlorophyll

Glutathione (GSH)

Pb2+