Abstract
An analytical method involving derivatisation of perfluorocarboxylic acids for their analysis in abiotic and biotic matrices is presented. Derivatisation of the acid group to form a suitable alkyl ester provided a suitable compound for mass spectrometric detection in gas chromatography/mass spectroscopy (GC/MS) instrumental analysis. The acid is esterified by an alkyl halide i.e. benzyl bromide as the alkylating agent for perfluorocarboxylic acids quantification in fish and water by GC/MS. The gas chromatography method can be applied in the analysis perfluoro alkyl acids in water and biological matrices, especially where high levels of these compounds are expected. Typical values for precision obtained were 0.1%–10.0% with concentrations ranging from 0.2 to 1 μg/mL). Results demonstrate that GC/MS can supplement liquid chromatographic/mass spectroscopy method for quantification of fluorocarboxylic acid surfactants. The result indicates that there is need for more research on method analysis of perfluorinated acids in environmental matrices.
This is a preview of subscription content, log in to check access.
Access options
Buy single article
Instant access to the full article PDF.
US$ 39.95
Price includes VAT for USA
Subscribe to journal
Immediate online access to all issues from 2019. Subscription will auto renew annually.
US$ 199
This is the net price. Taxes to be calculated in checkout.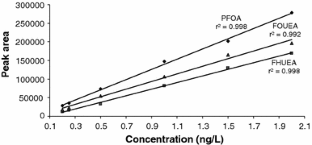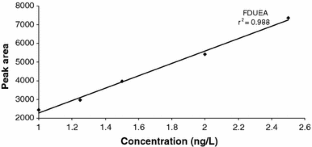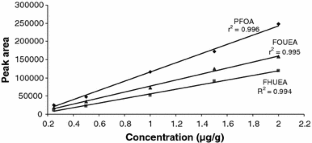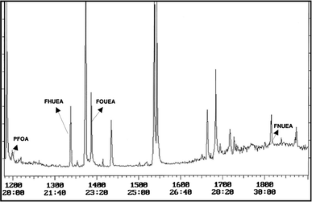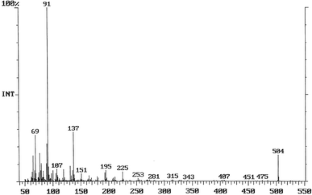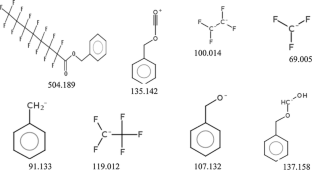 References
Abbott BD, Wolf CJ, Schmid JE, Das KP, Zehr RD, Helfant L, Nakayama S, Lindstrom AB, Strynar MJ, Lau C (2007) Perfluorooctanoic acid induced developmental toxicity in the mouse is dependent on expression of peroxisome proliferators activated receptor-alpha. Toxicol Sci 98(2):571–581. doi:10.1093/toxsci/kfm110

Belisle J, Hagen DF (1980) A method for the determination of perfluorooctanoic acid in blood and other biological samples. Anal Biochem 101:369–376. doi:10.1016/0003-2697(80)90202-X

Gonza'lez-Barreiro C, Martı'nez-Carballo E, Sitka A, Scharf S, Gans O (2006) Method optimization for determination of selected perfluorinated alkylated substances in water samples. Anal Bioanal Chem 386:7–8. doi:10.1007/s00216-006-0557-4

Hansen KJ, Clemen LA, Ellefson ME, Johnson HO (2001) Compound-specific, quantitative characterization of organic fluorochemicals in biological matrices. Environ Sci Technol 35:766–770. doi:10.1021/es001489z

Hebert GN, Odom MA, Craig PS, Dick DL, Strauss SH (2002) Method for the determination of sub-ppm concentrations of perfluoroalkylsulfonate anions in water. J Environ Monitor 4:90–95. doi:10.1039/b108463c

Lau C, Thibodeaux JR, Hanson RG, Narotsky MG, Rogers JM, Lindstrom AB, Strynar MJ (2006) Effects of perfluorooctanoic acid exposure during pregnancy in the mouse. Toxicol Sci 99(2):366–394. doi:10.1093/toxsci/kfm128

Martin JW, Mabury SA, Solomon KR, Muir DCG (2003) Identification of long-chain perfluorinated acids in biota from the Canadian arctic. Environ Toxicol Chem 22:196–204. doi:10.1897/1551-5028(2003)022<0196:BATDOP>2.0.CO;2

Moody CA, Field JA (1999) Determination of perfluorocarboxylates in groundwater impacted by fire-fighting activity. Environ Sci Technol 33:2800–2806. doi:10.1021/es981355+

Olsen GW, Hansen KJ, Stevenson LA, Burris JN, Mandel JH (2003) Human donor liver and serum concentrations of perfluorooctanesulfonate and other perfluorochemicals. Environ Sci Technol 37:888–891. doi:10.1021/es020955c

Sinclair E, Taniyasu S, Yamashita N, Kannan K (2004) Perfluoroocatanoic acid and perfluoroocatane sulfonate in Michigan and New York waters. Organohalog Compd 66:4069–4073

Taniyasu S, Kannan K, So MK, Gulkowska A, Sinclair E, Okazawa T, Yamashita N (2005) Analysis of fluorotelomer alcohols, fluortelomer acids and short- and long-chain perfluorinated acids in water and biota. J Chromatogr A 1093:89–97. doi:10.1016/j.chroma.2005.07.053

Ylinen M, Hanhijarvi H, Peura P, Ramo O (1985) Quantitative gas chromatographic determination of perfluorooctanoic acid as the benzyl ester in plasma and urine. Arch Environ Contam Toxicol 14:713–717. doi:10.1007/BF01055778
Acknowledgments
We thank the research team at IWW (Rheinisch-Westfaelisches Institut für Wasser, Moritzstr. 26 D-45476 Mülheim an der Ruhr especially Werres Friedrich and Prof T. Hofmann and his research group at Mainz university. Many thanks go to Jörg Warke who helped us a lot in our inter-laboratory analysis as part of analytical quality management (AQM). We acknowledge DAAD for their financial support.
About this article
Cite this article
Orata, F., Quinete, N. & Wilken, R. Long Chain Perfluorinated Alkyl Acids Derivatisation and Identification in Biota and Abiota Matrices Using Gas Chromatography. Bull Environ Contam Toxicol 83, 630 (2009). https://doi.org/10.1007/s00128-009-9756-y
Received:

Accepted:

Published:
Keywords
Derivatisation

Perfluorinated alkyl acids

Benzyl esters

GC/MS

Fish muscles

Water