Abstract
Cadmium (Cd), chromium (Cr), nickel (Ni) and lead (Pb) residues (mg/L) were determined in the milk of cattle and goats. The milk samples of cattle from area 1 have higher levels of residues than area 2; Cd 0.089 ± 0.002 vs. 0.062 ± 0.01 Cr 1.14 ± 0.046 vs. 0.995 ± 0.017 Ni 23.38 ± 0.564 vs. 21.407 ± 0.275 Pb 21.781 ± 0.172 vs. 15.958 ± 1.00. The residual levels of Cd (0.084 ± 0.003) and Pb (42.687 ± 0.051) have been found higher in goat milk. The Ni residues in cattle milk (22.395 ± 0.988) are higher than in goat milk (19.522 ± 0.011) while residues of Cr are non significantly different in both species.
This is a preview of subscription content, log in to check access.
Access options
Buy single article
Instant access to the full article PDF.
US$ 39.95
Price includes VAT for USA
Subscribe to journal
Immediate online access to all issues from 2019. Subscription will auto renew annually.
US$ 199
This is the net price. Taxes to be calculated in checkout.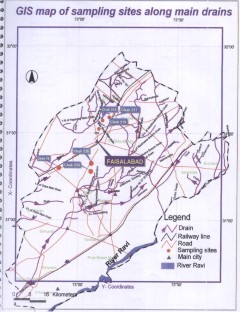 References
Baldini M, Coni E, Stacchini A, Stacchini P (1990) Presence and assessment of xenobiotic substances in milk and dairy products. Ann Ist Super Sanita 26:167–176

Caggiano R, Serena S, Mariagrazia DE, Maria M, Aniello A, Maria R, Salvatore P (2005) Metal levels in fodder, milk, dairy products, and tissues sampled in ovine farms of southern Italy. Environ Res 99:48–57. doi:10.1016/j.envres.2004.11.002

Cerutti G (1999) Residui additivie contaminanti degli alimenti. 1st edn. Milano Tecniche Nuove

Coni E, Bocca A, Coppolelli P, Caroli S, Cavallucci C, Marinucci MT (1996) Minor and trace element content in sheep and goat milk and dairy products. Food Chem 57:253–260. doi:10.1016/0308-8146(95)00216-2

Ghafoor A, Rasool I (1999) Zinc, copper, iron and manganese in soils at different canal and water course sections in rice–wheat cropping zone. Int J Agri Biol 1:218–221

Hussain IS (2000) Irrigation of crops with sewage effluent: implications and movement of Pb and Cr as affected by soil texture, Lime, Gypsum and organic matter. Ph. D thesis. Department of Soil Science, University of Agriculture Faisalabad, Pakistan

Licata P, Trombetta D, Cristani M, Giofre F, Martino D, Calo M, Naccari F (2004) Levels of ''toxic'' and ''essential'' metals in samples of bovine milk from various dairy farms in Calabria, Italy. Environ Int 30:1–6. doi:10.1016/S0160-4120(03)00139-9

Martino FAR, Sanchez MLF, Sanz-Medel A (2001) The potential of double focusing-ICP-MS for studying elemental distribution patterns in whole milk, skimmed milk and milk whey of different milks. Anal Chim Acta 442:191–200. doi:10.1016/S0003-2670(01)01170-9

Qadir M, Ghafoor A, Murtaza G (2000) Cadmium concentration in vegetables grown on urban soils irrigated with untreated municipal sewage. Environ Dev Sustain 2:11–19. doi:10.1023/A:1010061711331

Richards LA (1968) Diagnosis and improvement of saline and alkaline soils, 1st edn. IBH Publications Company, New Delhi Agri. Handbook No. 60

Simsek O, Gultekin R, Oksuz O, Kurultay S (2000) The effect of environmental pollution on the heavy metal content of raw milk. Nahrung/Food 44:360–363

Somasundaram J, Krishnasamy R, Savithri P (2005) Biotransfer of heavy metals in Jersey cows. Indian J Ani Sci 75:1257–1260

Steel RGD, Torrie JH (1996) Principles and procedures of statistics. A biometrical approach, 3rd edn. McGraw Hill Book Company, New York, pp 336–352

Triphathi RM, Raghunath R, Sastry VN, Krishnamoorthy TM (1999) Daily intake of heavy metals by infants through milk and milk products. Sci Total Environ 227:229–235. doi:10.1016/S0048-9697(99)00018-2

Tuzen M, Soylak M (2004) Column system using diaion HP-2MG for determination of some metal ions by flame atomic absorption spectrometry. Anal Chim Acta 504:325–334. doi:10.1016/j.aca.2003.10.043
Acknowledgments
We thank the Higher Education Commission, Government of Pakistan for funding this work.
About this article
Cite this article
Javed, I., Jan, I., Muhammad, F. et al. Heavy Metal Residues in the Milk of Cattle and Goats During Winter Season. Bull Environ Contam Toxicol 82, 616–620 (2009). https://doi.org/10.1007/s00128-009-9675-y
Received:

Accepted:

Published:

Issue Date:
Keywords
Heavy metals

Milk

Cattle

Goats