Abstract
Two factors, seasonality and body size, were studied to determine their influence on the sensitivity of the amphipods Corophium urdaibaiense and Corophium multisetosum to toxicants. Seasonality was studied by comparing LC50 values for cadmium and ammonia toxicity to both species over a year. Body size effect was studied by comparing LC50 values of ammonia in three size categories of C. urdaibaiense. Except for the case of C. urdaibaiense with ammonia as a toxicant, the sensitivity was maximum during summer and minimum during winter. Furthermore, differences in sensitivities were found among the three body size groups studied.
This is a preview of subscription content, log in to check access.
Access options
Buy single article
Instant access to the full article PDF.
US$ 39.95
Price includes VAT for USA
Subscribe to journal
Immediate online access to all issues from 2019. Subscription will auto renew annually.
US$ 199
This is the net price. Taxes to be calculated in checkout.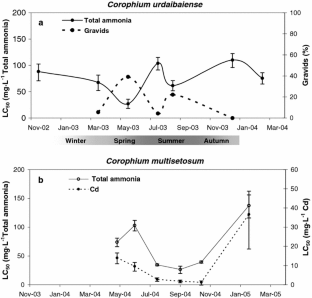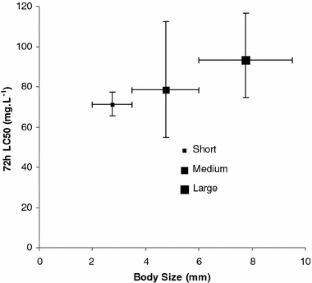 References
ASTM (2002) Standard guide for conducting 10-day static sediment toxicity tests with marine and estuarine amphipods (ASTM designation: E 1367–99). American Society for Testing and Materials, Philadelphia, PA

Kater BJ, Hannewijk A, Postma JF, Dubbeldam M (2000) Seasonal changes in acute toxicity of Cadmium to amphipod Corophium volutator. Environ Toxicol Chem 19:3032–3035. doi:10.1897/1551-5028(2000)019<3032:SCIATO>2.0.CO;2

King CK, Simpson SL, Smith SV, Stauber JL, Batley GE (2005) Short-term accumulation of Cd and Cu from water, sediment and algae by the amphipod Melita plumulosa and the bivalve Tellina deltoidalis. Mar Ecol Prog Ser 287:177–188. doi:10.3354/meps287177

Kohn NP, Word JQ, Niyogi DK (1994) Acute toxicity of ammonia to four species of marine amphipods. Mar Environ Res 38:1–15. doi:10.1016/0141-1136(94)90042-6

Marquiegui MA, Perez V (2006) Corophium urdaibaiense (Amphipoda: Corophiidae: Corophiinae: Corophiini) a new species from the Cantabrian Sea (Bay of Biscay, north-east Atlantic). J Mar Biol Assoc UK 86(4):729–736. doi:10.1017/S0025315406013634

McCahon CP, Pascoe D (1988) Use of Gammarus pulex (L.) in safety evaluation test-culture and selection of sensitive life stage. Ecotoxicol Environ Saf 15:245–252. doi:10.1016/0147-6513(88)90078-4

Mcgee BL, Wright DA, Fisher DJ (1998) Biotic factors modifying acute toxicity of aqueous cadmium to estuarine amphipod Leptocheirus plumulosus. Arch Environ Contam Toxicol 34:30–34. doi:10.1007/s002449900283

Moore DW, Bridges TS, Gray BR, Duke BM (1997) Risk of ammonia toxicity during sediment bioassays with the estuarine amphipod Leptocheirus plumulosus. Environ Toxicol Chem 16:1020–1027. doi:10.1897/1551-5028(1997)016<1020:ROATDS>2.3.CO;2

Pérez V (2006) La utilización de anfípodos para la evaluación integrada de la calidad de sedimentos marinos y estuáricos: su aplicación en la Costa Vasca. Doctoral Thesis, Universidad del País Vasco, pp 181

Pérez V, Marquiegui MA, Belzunce MJ (2007) Life history and production of Corophium urdaibaiense (Crustacea: Amphipoda) in the Urdaibai estuary (NE Spain). Mar Biol 151(3):1163–1174. doi:10.1007/s00227-006-0558-z

Schipper CA, Burgess RM, Van Den Dikkenberg B, Kater BJ, Stronkhorst J (1999) Standard operating procedure specie-01 marine amphipod Corophium volutator mortality sediment toxicity test. RIKZ Report No. Specie-01, The Netherlands. pp 16

Spadaro DA, Micevska T, Simpson SL (2008) Effect of nutrition on toxicity of contaminants to the epibenthic amphipod, Melita plumulosa. Arch Environ Contam Toxicol (in press). doi:10.1007/s00244-008-9153-2

Verriopoulos G, Moraitou-apostolopoulou M (1982) Differentiation of the sensitivity to copper and cadmium in different life-stages of a copepod. Mar Pollut Bull 13:123–125. doi:10.1016/0025-326X(82)90368-X

Wright DA, Welbourn PM (1994) Cadmium in the aquatic environment: a review of ecological, physiological, and toxicological effects on biota. Environ Rev 2(2):187–214
Acknowledgements
Víctor Pérez-Landa was supported by a PhD fellowship from the Department of Industry, Commerce and Tourism of the Basque Government (Spain). The authors are grateful to Stuart Simpson and Graeme Batley for kindly revising the English of the manuscript and for providing some useful suggestions. This is contribution 406 from AZTI -Tecnalia Marine Research Division.
About this article
Cite this article
Pérez-Landa, V., Belzunce, M.J. & Franco, J. The Effect of Seasonality and Body Size on the Sensitivity of Marine Amphipods to Toxicants. Bull Environ Contam Toxicol 81, 548–552 (2008). https://doi.org/10.1007/s00128-008-9550-2
Received:

Accepted:

Published:

Issue Date:
Keywords
Toxicity tests

Corophium

Cadmium

Ammonium