Abstract
The determination of polychlorinated biphenyls (PCBs) in water, sediment and fish samples from the Czech Republic was carried out using high resolution gas chromatography with electron capture detection. PCBs concentrations in water and sediment samples were rather low and corresponded with the findings from some prior studies. On the other hand, investigated samples of fish tissue were highly contaminated (on average 1.3–266 ng/g fat for individual PCBs), thus, a continuing contamination of fish species with PCBs was proved.
This is a preview of subscription content, log in to check access.
Access options
Buy single article
Instant access to the full article PDF.
US$ 39.95
Price includes VAT for USA
Subscribe to journal
Immediate online access to all issues from 2019. Subscription will auto renew annually.
US$ 199
This is the net price. Taxes to be calculated in checkout.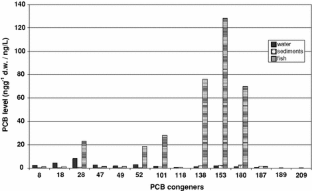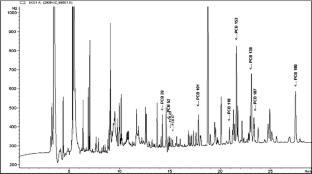 References
Hajslova J, Schoula R, Kocourek V, Holadova K, Poustka J, Kohoutkova J, Svobodova Z (1997) Toxicological and Environmental Chemistry 59:279–291

Holoubek I, Houskova L, Seda Z, Holoubkova I, Kott F, Korinek P, Bohacek Z, Caslavsky J (1990) Project TOCOEN. The fate of selected organic compounds in the environment. III. Water and Sediments 1988. Toxicol Environ Chem 29:29–35

Korinek P (1999) The fate of selected chlorinated hydrocarbons in the system of water–sediment–soil. PhD thesis, MUNI, Czech Republic

Sapozhnikova Y, Bawardi O, Schlenk D (2004) Pesticides and PCBs in sediments and fish from the Salton Sea, California, USA. Chemosphere 55:797–809

Vavrova M, Sucman E, Pac J, Zlamalova-Gargosova H, Stoupalova M, Jiruskova J, Navratil S, Palikova M (2003) Assessing contamination levels in a reservoir on the basis of the determination of xenobiotics in fish. Fresenius Environ Bull 12:901–905
Acknowledgments
This research was supported by the Ministry of Education, Youth and Physical Training of the Czech Republic (MS 6215712422).
About this article
Cite this article
Lána, R., Vávrová, M., Čáslavský, J. et al. PCBs in Samples from the Environment of the Southern Moravia Region, Czech Republic. Bull Environ Contam Toxicol 81, 574–577 (2008). https://doi.org/10.1007/s00128-007-9189-4
Received:

Accepted:

Published:

Issue Date:
Keywords
Polychlorinated biphenyls

Water

Sediment

Fish