Abstract
Purpose
Intimate partner violence (IPV) has been recognised as a major obstacle to the achievement of gender equality and human development. Its adverse physical and mental health consequences have been reported to affect women of all ages and backgrounds. Although Indigenous women seem to experience higher rates of partner abuse than non-Indigenous women, mental health consequences of IPV among this population are not yet clearly established in the literature. This study systematically reviewed the global literature on mental health outcomes and risk factors for mental ill health among Indigenous women who experienced IPV.
Methods
Primary quantitative and mixed methods studies that reported about mental health and IPV among Indigenous women (aged 14+) were included. 21 bibliographic databases were searched until January 2017. Quality of included studies was assessed through the Newcastle–Ottawa Scale. Findings are reported according to PRISMA-P 2015.
Results
13 studies were identified. The majority of studies reported very high rates of IPV and high prevalence of mental disorders. The most frequently identified types of IPV were physical and/or sexual violence, verbal aggression, and emotional abuse. The strongest predictor of poor mental health was physical violence. The most commonly reported mental health outcomes were depression and posttraumatic stress disorder.
Conclusions
Despite the small number of studies identified, the available evidence suggests that experiences of IPV and mental disorders among Indigenous women are linked and exacerbated by poverty, discrimination, and substance abuse. More research is needed to better understand distributions and presentations of IPV-related mental illness in this population.
This is a preview of subscription content, log in to check access.
Access options
Buy single article
Instant access to the full article PDF.
US$ 39.95
Price includes VAT for USA
Subscribe to journal
Immediate online access to all issues from 2019. Subscription will auto renew annually.
US$ 199
This is the net price. Taxes to be calculated in checkout.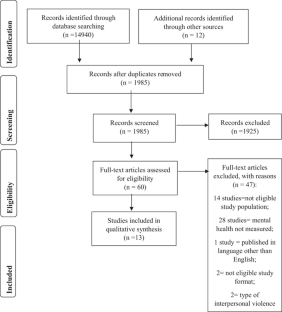 References
1.

Arango DJ, Morton M, Gennari, F, Kiplesund S, Ellsberg M (2014) Interventions to prevent and reduce violence against women and girls: a systematic review of reviews. Women's Voice, Agency, and Participation Research Series. Report Number: 10. http://documents.worldbank.org/curated/en/700731468149970518/pdf/927130NWP0Wome00Box385382B00PUBLIC0.pdf. Accessed 28 Jan 2017

2.

Olff M, Wall S (2014) Intimate partner violence and mental health—remarks from two Chief Editors on a joint publishing venture. Eur J Psychotraumatol 5:25679. doi:10.3402/ejpt.v5.25679

3.

Wuest J, Ford-Gilboe M, Merritt-Gray M, Wilk P, Campbell JC, Lent B et al (2010) Pathways of chronic pain in survivors of intimate partner violence. J Women's Health (London) 19(9):1665–1674

4.

Van Parys A, Verhamme A, Temmerman M, Verstraelen H (2014) Intimate partner violence and pregnancy: a systematic review of interventions. PLoS One 9(1):e85084. doi:10.1371/journal.pone.0085084

5.

Jewkes R, Dunkle K, Nduna M, Shai N (2010) Intimate partner violence, relationship gender power inequity, and incidence of HIV infection in young women in South Africa: a cohort study. Lancet 376(9734):41–48

6.

Golding JM (1999) Intimate partner violence as a risk factor for mental disorders: a meta-analysis. J Fam Violence 14(2):99–132

7.

Avdibegović E, Sinanović O (2006) Consequences of domestic violence on women's mental health in Bosnia and Herzegovina. Croat Med J 47(5):730–741

8.

Hurwitz EJ, Gupta J, Liu R, Silverman JG, Raj A (2006) Intimate partner violence associated with poor health outcomes in US South Asian women. J Immigr Minor Health 8(3):251–261

9.

Ellsberg M, Jansen HA, Heise L, Watts CH, Garcia-Moreno C (2008) Intimate partner violence and women's physical and mental health in the WHO multi-country study on women's health and domestic violence: an observational study. Lancet 371(9619):1165–1172

10.

Naved RT, Akhtar N (2008) Spousal violence against women and suicidal ideation in Bangladesh. Women's Health. Issues 18(6):442–452

11.

Woods SJ, Hall RJ, Campbell JC, Angott DM (2008) Physical health and posttraumatic stress disorder symptoms in women experiencing intimate partner violence. J Midwifery Women's Health 53(6):538–546

12.

Chandra PS, Satyanarayana VA, Carey MP (2009) Women reporting intimate partner violence in India: associations with PTSD and depressive symptoms. Arch Women's Ment Health 12(4):203–209

13.

Blasco-Ros C, Sánchez-Lorente S, Martinez M (2010) Recovery from depressive symptoms, state anxiety and post-traumatic stress disorder in women exposed to physical and psychological, but not to psychological intimate partner violence alone: a longitudinal study. BMC Psychiatry 10(1):1

14.

Devries K, Watts C, Yoshihama M, Kiss L, Schraiber LB, Deyessa N et al (2011) Violence against women is strongly associated with suicide attempts: evidence from the WHO multi-country study on women's health and domestic violence against women. Soc Sci Med 73(1):79–86

15.

Wong JY, Tiwari A, Fong DY, Humphreys J, Bullock L (2011) Depression among women experiencing intimate partner violence in a Chinese community. Nurs Res 60(1):58–65

16.

Howard LM, Trevilion K, Khalifeh H, Woodall A, Agnew-Davies R et al (2010) Domestic violence and severe psychiatric disorders: prevalence and interventions. Psychol Med 40(6):881–893

17.

UNICEF (2013) Breaking the silence on violence against indigenous girls, adolescents and young women. https://www.unfpa.org/sites/default/files/resource-pdf/VAIWG_FINAL.pdf. Accessed 28 Jan 2017

18.

Burczycka M (2013) Section 1: Trends in self-reported spousal violence in Canada, 2014. http://www.statcan.gc.ca/pub/85-002-x/2016001/article/14303/01-eng.htm. Accessed 28 Jan 2017

19.

Grech K, Burgess M (2011) Trends and patterns in domestic violence assaults: 2001 to 2010. NSW Bur Crime Stat Res

20.

International Institute for Population Sciences (IIPS) and Macro International (2007) National Family Health Survey (NFHS-3), 2005–06: India. Vol 1. IIPS, Mumbai, p 510. http://pdf.usaid.gov/pdf_docs/Pnadk385.pdf. Accessed 28 Jan 2017

21.

Fanslow J, Robinson E, Crengle S, Perese L (2010) Juxtaposing beliefs and reality: prevalence rates of intimate partner violence and attitudes to violence and gender roles reported by New Zealand women. Violence Against Women 16(7):812–831

22.

Wills M (2011) Non-disclosure of violence in Australian Indigenous communities. Trends and issues in crime and criminal justice. Australian Government, Australian Institute of Criminology. http://s3.amazonaws.com/academia.edu.documents/37800274/Non-disclosure_of_Violence.pdf?AWSAccessKeyId=AKIAIWOWYYGZ2Y53UL3A&Expires=1485098069&Signature=5Vy2nOJgHGxTEOGKzerFB7HzELw%3D&response-content-disposition=inline%3B%20filename%3DNon-disclosure_of_Violence_in_Australian.pdf. Accessed 28 Jan 2017

23.

Finfgeld-Connett D (2015) Qualitative systematic review of intimate partner violence among Native Americans. Issues Ment Health Nurs 36(10):754–760

24.

Robertson B (2000) The Aboriginal and Torres Strait Islander Women's Task Force on Violence report. Department of Aboriginal and Torres Strait Islander Policy and Development, Queensland

25.

Aboriginal Family Violence Prevention Legal Service Victoria (2010) Strengthening law and justice outcomes for Aboriginal and Torres Strait islander victims/ survivors of family violence and sexual assault and women and children: National policy issues—a Victorian perspective. Collingwood: FVPLS Victoria. http://www.fvpls.org/images/files/FVPLS%20Policy%20Paper%201.pdf. Accessed 28 Jan 2017

26.

Taylor N, Putt J (2007) Adult sexual violence in Indigenous and culturally and linguistically diverse communities in Australia. Trends & Issues in Crime and Criminal Justice no. 345. Canberra http://www.aic.gov.au/media_library/publications/tandi_pdf/tandi345.pdf. Accessed 28 Jan 2017

27.

Mossman E, MacGibbon L, Kkingi V, Jordan J (2009) Responding to sexual violence: environmental scan of New Zealand agencies. Ministry of Women's Affairs, Wellington, New Zealand. http://women.govt.nz/sites/public_files/environmental-scan.pdf. Accessed 28 Jan 2017

28.

Tauli-Corpuz V (2015) Report of the Special Rapporteur on the rights of indigenous peoples. United Nations General Assembly. http://www.ohchr.org/EN/HRBodies/HRC/RegularSessions/.../A_HRC_30_41_ENG.docx. Accessed 28 Jan 2017

29.

Amnesty International (2007) Maze of Injustice. The failure to protect Indigenous women from sexual violence in the USA. Amnesty International USA. https://www.amnestyusa.org/pdfs/mazeofinjustice.pdf. Accessed 28 Jan 2017

30.

Minority Rights Group International (2015) State of the World's minorities and indigenous people. Minority Rights Group International, London. http://minorityrights.org/wp-content/uploads/2015/07/MRG-state-of-the-worlds-minorities-2015-FULL-TEXT.pdf. Accessed 28 Jan 2017

31.

Stephens C, Porter J, Nettleton C, Willis R (2006) Disappearing, displaced, and undervalued: A call to action for indigenous health worldwide. Lancet 367(9527):2019–2028

32.

Kanaga R (2013) Poverty and racism inextricably linked says UN expert. http://www.socialwatch.org/node/16324. Accessed 28 Jan 2017

33.

The NCD Alliance (2012) Health inequalities and indigenous people. http://www.ncdalliance.org/sites/default/files/rfiles/Health%20inequalities_indigenous_11Dec12_NCDA.pdf. Accessed 28 Jan 2017

34.

Australian Institute of Health and Welfare (2014) Mortality and life expectancy of Indigenous Australians: 2008 to 2012. Cat. no. IHW 140. AIHW, Canberra. http://www.aihw.gov.au/WorkArea/DownloadAsset.aspx?id=60129548468. Accessed 28 Jan 2017

35.

Statistics New Zealand. New Zealand Period Life Tables: 2012–14. http://www.stats.govt.nz/browse_for_stats/health/life_expectancy/NZLifeTables_HOTP12-14.aspx. Accessed 28 Jan 2017

36.

Indian Health Service. Indian health disparities. https://www.ihs.gov/newsroom/includes/themes/newihstheme/display_objects/documents/factsheets/Disparities.pdf. Accessed 28 Jan 2017

37.

Asia Pacific Forum of National Human Rights Institutions, the Office of the United Nations High Commissioner for Human Rights (2013) The United nations declaration on the rights of indigenous people. A manual for national human rights institutions. http://www.ohchr.org/Documents/Issues/IPeoples/UNDRIPManualForNHRIS.pdf. Accessed 28 Jan 2017

38.

United Nations (2008) Declaration on the rights of indigenous people. United Nations, Geneva. http://www.un.org/esa/socdev/unpfii/documents/DRIPS_en.pdf. Accessed 28 Jan 2017

39.

Elkin AP (1973) The Australian aborigines. Angus and Robertson Publishers, London and Sydney

40.

Ohenjo N, Willis R, Jackson D, Nettleton C, Good K, Mugarura B (2006) Health of Indigenous people in Africa. Lancet 368:44–52

41.

Blakely T, Fawcett J, Hunt D, Wilson N (2006) What is the contribution of smoking and socioeconomic position to ethnic inequalities in mortality in New Zealand? Lancet 368:44–52

42.

Hunter E (1993) Aboriginal health and history. Power and prejudice in remote Australia. Cambridge University Press, Cambridge

43.

Alani T (2013) The bigger picture: the effects of intimate partner violence on Aboriginal women's mental health. Pimatisiwin 2:231–240

44.

Bachman R (1992) Death and violence on the reservation: Homicide, family violence, and suicide in American Indian populations. Abc-clio

45.

Fairchild DG, Fairchild MW, Stoner S (1998) Prevalence of domestic violence among women seeking routine care in a Native American health care facility. Am J Public Health 88(10):1515–1517

46.

Tjaden P, Thoennes N (2000) Extent, nature, and consequences of intimate partner violence: findings from the National Violence Against Women Survey, vol 181867. Department of Justice, Washington, DC

47.

Malcoe LH, Duran BM (2004) Intimate partner violence and injury in the lives of low-income Native American women. Violence against women and family violence: Developments in research, practice, and policy. https://www.ncjrs.gov/pdffiles1/nij/199703.pdf. Accessed 28 Jan 2017

48.

Shamseer L, Moher D, Clarke M, Ghersi D, Liberati A, Petticrew M Shekelle P, Stewart LA (2015) Preferred reporting items for systematic review and meta-analysis protocols (PRISMA-P) 2015: elaboration and explanation. BMJ, 349:g7647

49.

Valery PC, Moore SP, Meiklejohn J, Bray F (2014) International variations in childhood cancer in indigenous populations: a systematic review. Lancet Oncol 15(2):e90–e103

50.

Arnold M, Moore SP, Hassler S, Ellison-Loschmann L, Forman D, Bray F (2014) The burden of stomach cancer in indigenous populations: a systematic review and global assessment. Gut 63(1):64–71

51.

Friedman SH, Loue S (2007) Incidence and prevalence of intimate partner violence by and against women with severe mental illness. J Womens Health 16(4):471–480

52.

National Institute for Health and Clinical Excellence (2008) The guidelines manual. National Institute for Health and Clinical Excellence, London

53.

Ramsay J, Carter Y, Davidson L, Dunne D, Eldridge S, Feder G et al (2009) Advocacy interventions to reduce or eliminate violence and promote the physical and psychosocial well-being of women who experience intimate partner abuse. Cochrane Database Syst Rev 8(3): CD005043 (doi:005010.001002/14651858.CD14005043.pub14651852. Accessed 28 Jan 2017)

54.

Norton IM, Manson SM (1995) A silent minority: battered American Indian women. J Fam Violence 10(3):307–318

55.

Robin RW, Chester B, Rasmussen JK (1998) Intimate violence in a Southwestern American Indian tribal community. Cult Divers Ment Health (London) 4(4):335–344

56.

Harwell TS, Moore KR, Spence MR (2003) Physical violence, intimate partner violence, and emotional abuse among adult American Indian men and women in Montana. Prev Med 37(4):297–303

57.

Evans-Campbell T, Lindhorst T, Huang B, Walters KL (2006) Interpersonal violence in the lives of urban American Indian and Alaska Native women: Implications for health, mental health, and help-seeking. Am J Public Health 96(8):1416–1422

58.

Yang MS, Yang MJ, Chang SJ, Chen SC, Ko YC (2006) Intimate partner violence and minor psychiatric morbidity of aboriginal Taiwanese women. Public Health Rep 121(4):453–459

59.

Duran B, Oetzel J, Parker T, Malco LH, Lucero J, Jiang Y (2009) Intimate partner violence and alcohol, drug, and mental disorders among American Indian women from southwest tribes in primary care. Am Indian Alsk Native Mental Health Res 16(2):11–27. doi:10.5820/aian.1602.2009.11 (Accessed 28 January 2017)

60.

Hayes BA, Campbell A, Buckby B, Geia LK, Egan ME (2010) The interface of mental and emotional health and pregnancy in urban indigenous women: research in progress. Infant Mental Health J 31(3):277–290

61.

Gao W, Paterson J, Abbott M, Carter S, Lusitini L, McDonald-Sundborn G (2010) Impact of current and past intimate partner violence on maternal mental health and behaviour at 2 years after childbirth: evidence from the Pacific Islands Families Study. Aust N Z J Psychiatry 44(2):174–182

62.

Vang PD, Bogenschutz M (2013) Hmong women, marital factors and mental health status. J Soc Work 13(2):164–183

63.

Dodgson JE, Oneha MF, Choi MA (2014) Socioecological prediction model of posttraumatic stress disorder in low-income, high-risk prenatal Native Hawaiian/Pacific Islander women. J Midwifery Womens Health 59(5):494–502

64.

Hamby SL, Skupien MB (1998) Domestic violence on the San Carlos Apache Indian Reservation: rates, associated psychological symptoms, and current beliefs. IHS Prim Care Provid 23:103–106

65.

Bohn DK (2003) Lifetime physical and sexual abuse, substance abuse, depression, and suicide attempts among Native American women. Issues Ment Health Nurs 24(3):333–352

66.

Dalla RL, Marchetti AM, Sechrest EA, White JL (2010) ''All the men here have the peter pan syndrome-they don't want to grow up'': navajo adolescent mothers' intimate partner relationships-a 15-year perspective. Violence Against Women 16(7):743–763

67.

Deyessa N, Berhane Y, Alem A, Ellsberg M, Emmelin M, Hogberg U, Kullgren G (2009) Intimate partner violence and depression among women in rural Ethiopia: a cross-sectional study. Clin Prac Epidemiol Mental Health (London) 5(1):8

68.

Langeland W, Hartgers C (1998) Child sexual and physical abuse and alcoholism: a review. J Stud Alcohol 59(3):336–348

69.

Spak L, Spak F, Allebeck P (1998) Sexual abuse and alcoholism in a female population. Addiction 93(9):1365–1373

70.

Bogat GA, Levendosky AA, Theran S, von Eye A, Davidson WS (2003) Predicting the psychosocial effects of interpersonal partner violence (IPV) how much does a woman's history of IPV matter? J Interpers Violence 18(11):1271–1291

71.

Romito P, Turan JM, De Marchi M (2005) The impact of current and past interpersonal violence on women's mental health. Soc Sci Med 60(8):1717–1727

72.

Ruiz-Perez I, Plazaola-Castano J (2005) Intimate partner violence and mental health consequences in women attending family practice in Spain. Psychosom Med 67(5):791–797

73.

Bargai N, Ben-Shakhar G, Shalev AY (2007) Posttraumatic stress disorder and depression in battered women: The mediating role of learned helplessness. J Fam Violence 22(5):267–275

74.

Fantuzzo JW, Fusco RA, Mohr WK, Perry MA (2007) Domestic violence and children's presence: a population based study of law enforcement surveillance of domestic violence. J Fam Violence 22(6):331–340

75.

Turner RJ, Sorenson AM, Turner JB (2000) Social contingencies in mental health: a seven-year follow-up of teenage mothers. J Marriage Fam 62(3):777–791

76.

Afifi TO, Cox BJ, Enns MW (2006) Mental health profiles among married, never-married and separated/divorced mothers in a nationally representative sample. Soc Psychiatry Psychiatr Epidemiol 41(2):122–129

77.

Teitler JO, Reichman NE (2008) Mental illness as a barrier to marriage among unmarried mothers. J Marriage Fam 70(3):772–782

78.

Forthofer MS, Markman HJ, Cox M, Stanley S, Kessler RC (1996) Associations between marital distress and work loss in a national sample. J Marriage Fam 58(3):597–605

79.

Murphy CM, Hoover SA (1999) Measuring emotional abuse in dating relationships as a multifactorial construct. Violence Vict 14:39–53

80.

Stith SM, Smith DB, Penn CE, Ward DB, Tritt D (2004) Intimate partner physical abuse perpetration and victimisation risk factors: a meta-analytic review. Aggress Violent Behav 10(1):65–98

81.

Stang A (2010) Critical evaluation of the Newcastle-Ottawa scale for the assessment of the quality of nonrandomized studies in meta-analyses. Eur J Epidemiol 25(9):603–605

82.

Hartling L, Milne A, Hamm MP, Vandermeer B, Ansari M, Tsertsvadze A et al (2013) Testing the Newcastle Ottawa Scale showed low reliability between individual reviewers. Eur J Epidemiol 66(9):982–993

83.

Pladevall M, Varas-Lorenzo C, Viswanathan M (2014) Quality assessment of observational studies in a drug-safety systematic review, comparison of two tools: the Newcastle–Ottawa scale and the RTI item bank. Clin Epidemiol 6:359–368

84.

Lo CKL, Mertz D, Loeb M (2014) Newcastle-Ottawa Scale: comparing reviewers' to authors' assessments. BMC Med Res Methodol 14(1):45

85.

Shuster J (2011) Review: Cochrane handbook for systematic reviews for interventions, Version 5.1.0, published 3/2011. Higgins J, Green S (eds) Res Synth Methods 2(2):126–130

86.

Anderson I, Robson B, Connolly M, Al-Yaman F, Bjertness E, King A, Tynan M, Madden R, Bang A, Coimbra CE, Pesantes MA (2016) Indigenous and tribal peoples' health (The Lancet–Lowitja Institute Global Collaboration): a population study. Lancet 388(10040):131–157

87.

Walsh CA, MacDonald P, Rutherford GE, Moore K, Krieg B (2011) Homelessness and incarceration among Aboriginal women: An integrative literature review. Pimatisiwin J Aborig Indig Community Health 9(2):363–386

88.

Women in Prison. Primary document for the CJC/ICJ?WIPAN Forum NSW Parliament. Wednesday August 13, 2014. https://www.wipan.net.au/publications/WomeninPrisonPaper_WIPAN_130814.pdf. Accessed 28 Jan 2017

89.

Hamby SL (2000) The importance of community in a feminist analysis of domestic violence among American Indians. Am J Community Psychol 28(5):649–666
Ethics declarations
Conflict of interest
On behalf of all authors, the corresponding author states that there is no conflict of interest.
Electronic supplementary material
Below is the link to the electronic supplementary material.
About this article
Cite this article
Chmielowska, M., Fuhr, D.C. Intimate partner violence and mental ill health among global populations of Indigenous women: a systematic review. Soc Psychiatry Psychiatr Epidemiol 52, 689–704 (2017). https://doi.org/10.1007/s00127-017-1375-z
Received:

Accepted:

Published:

Issue Date:
Keywords
Systematic review

Indigenous women

Intimate partner violence

Mental health