Abstract
Purpose
The purpose of the present study was to investigate ethnic differences in trauma-related mental health symptoms among adolescents, and test the mediating and moderating effects of polyvictimization (i.e., number of types of traumas/victimizations experienced by an individual) and household income, respectively.
Methods
Data were drawn from the first wave of the National Survey of Adolescents-replication study (NSA-R), which took place in the US in 2005 and utilized random digit dialing to administer a telephone survey to adolescents ages 12–17. Participants included in the current analyses were 3312 adolescents (50.2 % female; mean age 14.67 years) from the original sample of 3614 who identified as non-Hispanic White (n = 2346, 70.8 %), non-Hispanic Black (n = 557, 16.8 %), or Hispanic (n = 409, 12.3 %). Structural equation modeling was utilized to test hypothesized models.
Results
Non-Hispanic Black and Hispanic participants reported higher levels of polyvictimization and trauma-related mental health symptoms (symptoms of posttraumatic stress and depression) compared to non-Hispanic Whites, though the effect sizes were small (γ ≤ 0.07). Polyvictimization fully accounted for the differences in mental health symptoms between non-Hispanic Blacks and non-Hispanic Whites, and partially accounted for the differences between Hispanics and non-Hispanic Whites. The relation between polyvictimization and trauma-related mental health symptoms was higher for low-income youth than for high-income youth.
Conclusions
Disparities in trauma exposure largely accounted for racial/ethnic disparities in trauma-related mental health. Children from low-income family environments appear to be at greater risk of negative mental health outcomes following trauma exposure compared to adolescents from high-income families.
This is a preview of subscription content, log in to check access.
Access options
Buy single article
Instant access to the full article PDF.
US$ 39.95
Price includes VAT for USA
Subscribe to journal
Immediate online access to all issues from 2019. Subscription will auto renew annually.
US$ 199
This is the net price. Taxes to be calculated in checkout.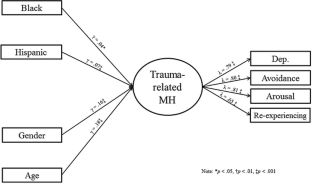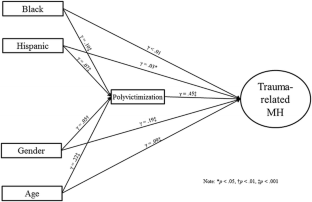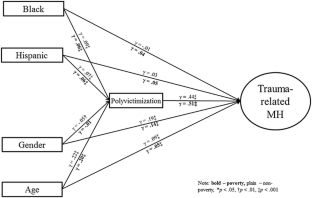 Notes
1.

We use the terms non-Hispanic Black, non-Hispanic White, and Hispanic to be consistent with labeling used by the NSA, NSA-R and the US Census Bureau. Although definitions of race and ethnicity vary, the US Census refers to White and Black/African American as racial categories, and refers to Hispanic as an ethnicity. According to the US Census Bureau, the term Hispanic refers to anyone "of Cuban, Mexican, Puerto Rican, South or Central American, or other Spanish cultural or origin regardless of race", the term "White refers to a person having origins in any of the original peoples of Europe, the Middle East, or North Africa", and the term Black "refers to a person having origins in any of the Black racial groups of Africa" [65]. As such, while we understand that various terms exist to describe different racial, ethnic, and cultural groups, in the current manuscript, non-Hispanic Black refers to someone who is Black and not of Hispanic origin, non-Hispanic White similarly refers to someone who is White and not of Hispanic origin, and Hispanic refers to someone of Hispanic origin and who may be of any race.

2.

When discussing differences between non-Hispanic Black, non-Hispanic White, and Hispanic groups, we use the term racial/ethnic differences to reflect that the descriptors of each group refer to race and ethnicity per the US Census Bureau [65].
References
1.

Breslau N, Wilcox HC, Storr CL, Lucia VC, Anthony JC (2004) Trauma exposure and posttraumatic stress disorder: a study of youths in urban America. J Urban Health 81(4):530–544. doi:10.1093/jurban/jth138

2.

Hatch SL, Dohrenwend BP (2007) Distribution of traumatic and other stressful life events by race/ethnicity, gender, SES and age: a review of the research. Am J Commun Psychol 40(3–4):313–332. doi:10.1007/s10464-007-9134-z

3.

Kilpatrick DG, Ruggiero KJ, Acierno R, Saunders BE, Resnick HS, Best CL (2003) Violence and risk of PTSD, major depression, substance abuse/dependence, and comorbidity: results from the National Survey of Adolescents. J Consul Clin Psych 71:692–700. doi:10.1037/0022-006X.71.4.692

4.

Acierno R, Resnick H, Kilpatrick DG, Saunders B, Best CL (1999) Risk factors for rape, physical assault, and posttraumatic stress disorder in women: examination of differential multivariate relationships. J Anxiety Disord 13:541–563. doi:10.1016/S0887-6185(99)00030-4

5.

Buka SL, Stichick TL, Birdthistle I, Earls FJ (2001) Youth exposure to violence: prevalence, risks, and consequences. Am J Orthopsychiatry 71:298–310. doi:10.1037/0002-9432.71.3.298

6.

Crouch JL, Hanson RF, Saunders BE, Kilpatrick DG, Resnick HS (2000) Income, race/ethnicity, and exposure to violence in youth: results from the national survey of adolescents. J Community Psychol 28:625–641. doi:10.1002/1520-6629(200011)28:6<625:AID-JCOP6>3.0.CO;2-R

7.

Frueh BC, Gold PB, de Arellano MA, Brady KL (1997) A racial comparison of combat veterans evaluated for PTSD. J Pers Assess 68(3):692–702. doi:10.1207/s15327752jpa6803_14

8.

Schwab-Stone ME, Ayers TS, Kasprow W, Voyce C, Barone C, Shriver T, Weissberg RP (1995) No safe haven: a study of violence exposure in an urban community. J Am Acad Child Psy 34(10):1343–1352. doi:10.1097/00004583-199510000-00020

9.

Schwab-Stone M, Chen C, Greenberger E, Silver D, Lichtman J, Voyce C (1999) No safe haven II: the effects of violence exposure on urban youth. J Am Acad Child Psy 38(4):359–367. doi:10.1097/00004583-199510000-00020

10.

Williams DR, Jackson PB (2005) Social sources of racial disparities in health. Health Affair 24(2):325–334. doi:10.1377/hlthaff.24.2.325

11.

Roberts AL, Gilman SE, Breslau J, Breslau N, Koenen KC (2011) Race/ethnic differences in exposure to traumatic events, development of post-traumatic stress disorder, and treatment-seeking for post-traumatic stress disorder in the United States. Psychol Med 41(01):71–83. doi:10.1017/S0033291710000401

12.

American Psychiatric Association (2000) Diagnostic and statistical manual of mental disorders, text revision (DSM-IV-TR). American Psychiatric Association, Washington, DC

13.

Read JP, Ouimette P, White J, Colder C, Farrow S (2011) Rates of DSM–IV–TR trauma exposure and posttraumatic stress disorder among newly matriculated college students. Psychol Trauma Theory Res Pract Policy 3:148–156. doi:10.1037/a0021260

14.

Macdonald A, Danielson CK, Resnick HS, Saunders BE, Kilpatrick DG (2010) PTSD and comorbid disorders in a representative sample of adolescents: the risk associated with multiple exposures to potentially traumatic events. Child Abuse Neglect 34:773–783. doi:10.1016/j.chiabu.2010.03.006

15.

Karam EG, Friedman MJ, Hill ED, Kessler RC, McLaughlin KA, Petukhova M, Koenen KC (2014) Cumulative traumas and risk thresholds: 12-month PTSD in the world mental health (WMH) surveys. Depress Anxiety 31(2):130–142. doi:10.1002/da.22169

16.

Hendrickson CM, Neylan TC, Na B, Regan M, Zhang Q, Cohen BE (2013) Lifetime trauma exposure and prospective cardiovascular events and all-cause mortality: findings from the heart and soul study. Psychosom Med 75(9):849–855. doi:10.1097/PSY.0b013e3182a88846

17.

Hodges M, Godbout N, Briere J, Lanktree C, Gilbert A, Kletzka NT (2013) Cumulative trauma and symptom complexity in children: a path analysis. Child Abuse Neglect 37(11):891–898. doi:10.1016/j.chiabu.2013.04.001

18.

Finkelhor D, Hamby SL, Ormrod R, Turner H (2005) The Juvenile Victimization Questionnaire: reliability, validity, and national norms. Child Abuse Neglect 29:383–412. doi:10.1016/j.chiabu.2004.11.001

19.

Turner HA, Finkelhor D, Ormrod R (2010) Poly-victimization in a national sample of children and youth. Am J Prev Med 38(3):323–330. doi:10.1016/j.amepre.2009.11.012

20.

Finkelhor D, Ormrod R, Turner H, Holt M (2009) Pathways to poly-victimization. Child Maltreatment 14(4):316–329. doi:10.1177/1077559509347012

21.

Finkelhor D, Turner H, Hamby S, Ormrod R (2011) Polyvictimization: children's exposure to multiple types of violence, crime, and abuse. Juv Justice Bull NCJ:235504

22.

Finkelhor D, Ormrod RK, Turner HA (2007) Poly-victimization: a neglected component in child victimization. Child Abuse Neglect 31:7–26. doi:10.1016/j.chiabu.2006.06.008

23.

Finkelhor D, Ormrod RK, Turner HA (2009) Lifetime assessment of poly-victimization in a national sample of children and youth. Child Abuse Neglect 33:403–411. doi:10.1016/j.chiabu.2008.09.012

24.

Finkelhor D, Ormrod RK, Turner HA (2007) Polyvictimization and trauma in a national longitudinal cohort. Dev Psychopathol 19(1):149–166. doi:10.1017/S0954579407070083

25.

Huang M, Schwandt ML, Ramchandani VA, George DT, Heilig M (2012) Impact of multiple types of childhood trauma exposure on risk of psychiatric comorbidity among alcoholic inpatients. Alcohol Clin Exp Res 36(6):1099–1107. doi:10.1111/j.1530-0277.2011.01695.x

26.

Finkelhor D, Shattuck A, Turner HA, Ormrod R, Hamby SL (2011) Polyvictimization in developmental context. J Child Adolesc Trauma 4(4):291–300. doi:10.1080/19361521.2011.610432

27.

Green BL, Grace MC, Lindy JD, Leonard AC (1990) Race differences in response to combat stress. J Trauma Stress 3:379–393. doi:10.1002/jts.2490030307

28.

Marshall GN, Schell TL, Miles JN (2009) Ethnic differences in posttraumatic distress: Hispanics' symptoms differ in kind and degree. J Consult Clin Psych 77(6):1169–1178. doi:10.1037/a0017721

29.

Galea S, Ahern J, Tracy M, Hubbard A, Cerda M, Goldmann E, Vlahov D (2008) Longitudinal determinants of posttraumatic stress in a population-based cohort study. Epidemiology 19:47–54. doi:10.1097/EDE.0b013e31815c1dbf

30.

Pole N, Gone JP, Kulkarni M (2008) Posttraumatic stress disorder among ethnoracial minorities in the United States. Clin Psychol Sci Pract 15(1):35–61. doi:10.1111/j.1468-2850.2008.00109.x

31.

Ogle CM, Rubin DC, Siegler IC (2013) The impact of the developmental timing of trauma exposure on PTSD symptoms and psychosocial functioning among older adults. Dev Psychol 49(11):2191–2200. doi:10.1037/a0031985

32.

Cloitre M, Stolbach BC, Herman JL, Kolk BVD, Pynoos R, Wang J, Petkova E (2009) A developmental approach to complex PTSD: childhood and adult cumulative trauma as predictors of symptom complexity. J Trauma Stress 22(5):399–408. doi:10.1002/jts.20444

33.

Elwood LS, Smith DW, Resnick HS, Gudmundsdottir B, Amstadter AB, Hanson RF, Kilpatrick DG (2011) Predictors of rape: findings from the National Survey of Adolescents. J Trauma Stress 24(2):166–173. doi:10.1002/jts.20624

34.

Amstadter AB, Elwood LS, Begle AM, Gudmundsdottir B, Smith DW, Resnick HS, Kilpatrick DG (2011) Predictors of physical assault victimization: findings from the National Survey of Adolescents. Addict Behav 36(8):814–820. doi:10.1016/j.addbeh.2011.03.008

35.

Davidson TM, Price M, McCauley JL, Ruggiero KJ (2013) Disaster impact across cultural groups: comparison of Whites, African Americans, and Latinos. Am J Commun Psychol 52:97–105. doi:10.1007/s10464-013-9579-1

36.

Merikangas KR, He JP, Burstein M, Swanson SA, Avenevoli S, Cui L, Swendsen J (2010) Lifetime prevalence of mental disorders in US adolescents: results from the National Comorbidity Survey Replication-Adolescent Supplement (NCS-A). J Am Acad Child Psychiatry 49(10):980–989. doi:10.1016/j.jaac.2010.05.017

37.

Brown JS, Meadows SO, Elder GH Jr (2007) Race-ethnic inequality and psychological distress: depressive symptoms from adolescence to young adulthood. Dev Psychol 43(6):1295–1311. doi:10.1037/0012-1649.43.6.1295

38.

Cisler JM, Begle AM, Amstadter AB, Resnick HS, Danielson CK, Saunders BE, Kilpatrick DG (2012) Exposure to interpersonal violence and risk for PTSD, depression, delinquency, and binge drinking among adolescents: data from the NSA-R. J Trauma Stress 25(1):33–40. doi:10.1002/jts.21672

39.

Kilpatrick DG, Resnick HS, Freedy JR, Pelcovitz D, Resick PA, Roth S, van der Kolk B (1998) The posttraumatic stress disorder field trial: evaluation of the PTSD construct: criteria A through E. In: Widiger T, Frances A, Pincus H, Ross R, First M, Davis W, Kline M (eds) DSM-IV sourcebook. American Psychiatric Press, New York, pp 803–844

40.

US Department of Health and Human Services (2005) Annual update of the HHS poverty guidelines. Fed Regist 74:8373–8375

41.

Byrne BM (2010) Structural Equation Modeling Using AMOS: Basic concepts, applications, and programming.  Routledge, New York

42.

Poulin C, Hand D, Boudreau B, Santor D (2005) Gender differences in the association between substance use and elevated depressive symptoms in a general adolescent population. Addiction 100(4):525–535. doi:10.1111/j.1360-0443.2005.01033.x

43.

Springer C, Padgett DK (2000) Gender differences in young adolescents' exposure to violence and rates of PTSD symptomatology. Am J Orthopsychiatry 70(3):370. doi:10.1037/h0087637

44.

Byrne BM (2008) Testing for multigroup equivalence of a measuring instrument: a walk through the process. Psicothema 20(4):872–882

45.

Ford JD, Elhai JD, Ruggiero KJ, Frueh C (2009) Refining posttraumatic stress disorder diagnosis: evaluation of symptom criteria with the national survey of adolescents. J Clin Psychiatry 70(5):748–755. doi:10.4088/JCP.08m04692

46.

Kovacs M, Devlin B (1998) Internalizing disorders in childhood. J Child Psychol Psyc 39(1):47–63

47.

Leve LD, Kim HK, Pears KC (2005) Childhood temperament and family environment as predictors of internalizing and externalizing trajectories from ages 5 to 17. J Abnorm Child Psych 33(5):505–520. doi:10.1007/s10802-005-6734-7

48.

Krogstad JM, Lopez MH (2014) Hispanic nativity shift. Pew Research Center. http://www.pewhispanic.org/2014/04/29/hispanic-nativity-shift/#fn-20436-1

49.

Pumariega AJ, Rothe E, Pumariega JB (2005) Mental health of immigrants and refugees. Community Ment Hlt J 41(5):581–597. doi:10.1007/s10597-005-6363-1

50.

Chow JCC, Jaffee K, Snowden L (2003) Racial/ethnic disparities in the use of mental health services in poverty areas. Am J Public Health 93(5):792–797. doi:10.2105/AJPH.93.5.792

51.

Nikulina V, Widom CS, Czaja S (2011) The role of childhood neglect and childhood poverty in predicting mental health, academic achievement and crime in adulthood. Am J Commun Psychol 48(3–4):309–321. doi:10.1007/s10464-010-9385-y

52.

Santiago CD, Kaltman S, Miranda J (2013) Poverty and mental health: how do low-income adults and children fare in psychotherapy? J Clin Psychol 69(2):115–126. doi:10.1002/jclp.21951

53.

Bornstein MH, Bradley RH (2014) Socioeconomic status, parenting, and child development. Routledge, London

54.

Bryant-Davis T, Ullman SE, Tsong Y, Gobin R (2011) Surviving the storm the role of social support and religious coping in sexual assault recovery of African American women. Violence Against Women 17(12):1601–1618. doi:10.1177/1077801211436138

55.

Gabert-Quillen CA, Irish LA, Sledjeski E, Fallon W, Spoonster E, Delahanty DL (2012) The impact of social support on the relationship between trauma history and posttraumatic stress disorder symptoms in motor vehicle accident victims. Int J Stress Manag 19(1):69–79. doi:10.1037/a0026488

56.

Kaniasty K (2012) Predicting social psychological well-being following trauma: the role of postdisaster social support. Psychol Trauma Theory Res Pract Policy 4(1):22–33. doi:10.1037/a0021412

57.

Robinaugh DJ, Marques L, Traeger LN, Marks EH, Sung SC, Gayle Beck J, Simon NM (2011) Understanding the relationship of perceived social support to post-trauma cognitions and posttraumatic stress disorder. J Anxiety Disord 25(8):1072–1078. doi:10.1016/j.janxdis.2011.07.004

58.

Tsai J, Harpaz-Rotem I, Pietrzak RH, Southwick SM (2012) The role of coping, resilience, and social support in mediating the relation between PTSD and social functioning in veterans returning from Iraq and Afghanistan. Psychiatry 75(2):135–149. doi:10.1521/psyc.2012.75.2.135

59.

Galambos NL, Barker ET, Almeida DM (2003) Parents do matter: trajectories of change in externalizing and internalizing problems in early adolescence. Child Dev 74(2):578–594. doi:10.1111/1467-8624.7402017

60.

Rosenbloom SR, Way N (2004) Experiences of discrimination among African American, Asian American, and Latino adolescents in an urban high school. Youth Soc 35(4):420–451

61.

Williams DR, Neighbors HW, Jackson JS (2003) Racial/ethnic discrimination and health: findings from community studies. Am J Public Health 93(2):200–208

62.

Weems CF, Watts SE, Marsee MA, Taylor LK, Costa NM, Cannon MF, Carrion VG, Pina AA (2007) The psychosocial impact of Hurricane Katrina: contextual differences in psychological symptoms, social support, and discrimination. Behav Res Ther 45(10):2295–2306. doi:10.1016/j.brat.2007.04.013

63.

Orcutt HK, Erickson DJ, Wolfe J (2002) A prospective analysis of trauma exposure: the mediating role of PTSD symptomatology. J Trauma Stress 15(3):259–266. doi:10.1023/A:1015215630493

64.

Caughy MO, O'Campo PJ, Muntaner C (2003) When being alone might be better: neighborhood poverty, social capital, and child mental health. Soc Sci Med 57(2):227–237. doi:10.1016/S0277-9536(02)00342-8

65.

US Census Bureau (2010) Overview of race and Hispanic origin: 2010. 2010 Census Briefs, C2010BR-02
Acknowledgments
This manuscript was supported in part by grants R01DA025616-04S1 from the National Institute on Drug Abuse (NIDA), NIH, and T32MH18869 from the National Institute of Mental Health (NIMH), NIH. Views expressed in this article do not necessarily reflect those of the funding agencies acknowledged.
About this article
Cite this article
Andrews, A.R., Jobe-Shields, L., López, C.M. et al. Polyvictimization, income, and ethnic differences in trauma-related mental health during adolescence. Soc Psychiatry Psychiatr Epidemiol 50, 1223–1234 (2015). https://doi.org/10.1007/s00127-015-1077-3
Received:

Accepted:

Published:

Issue Date:
Keywords
Health disparities

Ethnic minority issues

PTSD

Depression

Trauma