Abstract
Objective
In the years following military deployment, soldiers may experience problems integrating into the community. However, little is known about the nature and prevalence of these problems and if they relate to posttraumatic symptomatology.
Methods
In a prospective, longitudinal study of Danish soldiers deployed to Afghanistan in 2009 (N = 743), we assessed community reintegration difficulties 2.5 years after home coming (study sample: N = 454). Furthermore, symptoms of posttraumatic stress disorder (PTSD) were assessed before, during, and after deployment. Trajectories of PTSD symptoms from a previously published latent growth mixture modeling analysis were used to address whether community reintegration difficulties differ as a result of course and level of PTSD symptoms.
Results
Between 3.6 and 18.0 % reported to have some, a lot, or extreme difficulties in reintegration domains such as interpersonal functioning, productivity, community involvement, and self-care. Mean level of reintegration difficulties differed significantly across six PTSD symptom trajectories (range 6.35–36.00); with more symptomatic trajectories experiencing greater community reintegration difficulties.
Conclusions
Reintegration difficulties after deployment are present in less than 20 % of Danish soldiers who return from Afghanistan. Difficulties are greater in individuals who follow symptomatic PTSD trajectories in the first years following deployment than in those who follow a low-stable trajectory with no or few symptoms.
This is a preview of subscription content, log in to check access.
Access options
Buy single article
Instant access to the full article PDF.
US$ 39.95
Price includes VAT for USA
Subscribe to journal
Immediate online access to all issues from 2019. Subscription will auto renew annually.
US$ 199
This is the net price. Taxes to be calculated in checkout.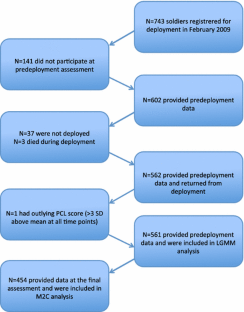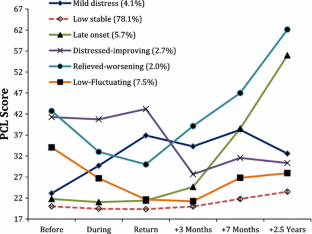 References
1.

Gates MA, Holowka DW, Vasterling JJ, Keane TM, Marx BP et al (2012) Posttraumatic stress disorder in veterans and military personnel: epidemiology, screening, and case recognition. Psychol Serv 9:361–382

2.

Sayer NA, Carlson KF, Frazier PA (2014) Reintegration challenges in U.S. service members and veterans following combat deployment. Soc Issues Policy Rev 8:33–73

3.

Smith MW, Schnurr PP, Rosenheck RA (2005) Employment outcomes and PTSD symptom severity. Mental Health Services Res 7:89–101

4.

Zatzick DF, Marmar CR, Weiss DS, Browner WS, Metzler TJ et al (1997) Posttraumatic stress disorder and functioning and quality of life outcomes in a nationally representative sample of male Vietnam veterans. Am J Psychiatry 154:1690–1695

5.

Savoca E, Rosenheck R (2000) The civilian labor market experiences of Vietnam-era veterans: the influence of psychiatric disorders. J Mental Health Policy Econ 3:199–207

6.

Iversen A, Nikolaou V, Greenberg N, Unwin C, Hull L et al (2005) What happens to British veterans when they leave the armed forces? Eur J Public Health 15:175–184

7.

Horton JL, Jacobson IG, Wong CA, Wells TS, Boyko EJ et al (2013) The impact of prior deployment experience on civilian employment after military service. Occup Environ Med 70:408–417

8.

Schnurr PP, Lunney CA, Bovin MJ, Marx BP (2009) Posttraumatic stress disorder and quality of life: extension of findings to veterans of the wars in Iraq and Afghanistan. Clin Psychol Rev 29:727–735

9.

Shea MT, Vujanovic AA, Mansfield AK, Sevin E, Liu FJ (2010) Posttraumatic stress disorder symptoms and functional impairment among OEF and OIF national guard and reserve veterans. J Trauma Stress 23:100–107

10.

Elbogen EB, Johnson SC, Wagner HR, Newton VM, Beckham JC (2012) Financial well-being and postdeployment adjustment among Iraq and Afghanistan war veterans. Mil Med 177:669–675

11.

Riggs DS, Byrne CA, Weathers FW, Litz BT (1998) The quality of the intimate relationships of male Vietnam veterans: problems associated with posttraumatic stress disorder. J Trauma Stress 11:87–101

12.

Allen ES, Rhoades GK, Stanley SM, Markman HJ (2010) Hitting home: relationships between recent deployment, posttraumatic stress symptoms, and marital functioning for army couples. J Fam Psychol 24:280–288

13.

Sayer NA, Frazier P, Orazem RJ, Murdoch M, Gravely A et al (2011) Military to civilian questionnaire: a measure of postdeployment community reintegration difficulty among veterans using Department of Veterans Affairs medical care. J Trauma Stress 24:660–670

14.

Sayer NA, Noorbaloochi S, Frazier P, Carlson K, Gravely A et al (2010) Reintegration problems and treatment interests among Iraq and Afghanistan combat veterans receiving VA medical care. Psychiatr Services 61:589–597

15.

Beder J, Coe R, Sommer D (2011) Women and men who have served in Afghanistan/Iraq: coming home. Soc Work Health Care 50:515–526

16.

Dickstein BD, Suvak M, Litz BT, Adler AB (2010) Heterogeneity in the course of posttraumatic stress disorder: trajectories of symptomatology. J Trauma Stress 23:331–339

17.

Berntsen D, Johannessen KB, Thomsen YD, Bertelsen M, Hoyle RH et al (2012) Peace and war: trajectories of posttraumatic stress disorder symptoms before, during, and after military deployment in Afghanistan. Psychol Sci 23:1557–1565

18.

Bonanno GA, Mancini AD, Horton JL, Powell TM, LeardMann CA et al (2012) Trajectories of trauma symptoms and resilience in deployed US military service members: prospective cohort study. Br J Psychiatry 200:317–323

19.

Orcutt HK, Erickson DJ, Wolfe J (2004) The course of PTSD symptoms among Gulf War Veterans: a growth mixture modeling approach. J Trauma Stress 17:195–202

20.

Weathers FW, Litz BT, Herman D, Huska J, Keane TM (1993) The PTSD Checklist (PCL): reliability, validity, and diagnostic utility. The annual convention of the International Society for Traumatic Stress Studies, San Antonio

21.

Blanchard EB, Jones-Alexander J, Buckley TC, Forneris CA (1996) Psychometric properties of the PTSD Checklist (PCL). Behav Res Ther 34:669–673

22.

Muthen LK, Muthen BO (1998–2012) Mplus User's Guide, Los Angeles

23.

Andersen SB, Karstoft KI, Bertelsen MB, Madsen T (2014) Latent trajectories of trauma symptoms and resilience: the 3-year longitudinal prospective USPER study of Danish veterans deployed in Afghanistan. J Clin Psychiatry 75(9):1001–1008

24.

Asparouhov T (2007) Wald test of mean equality for potential latent class predictors in mixture modeling. Technical Appendix

25.

Clark SL, Muthen BO (2009) Relating latent class analysis results to variables not included in the analysis

26.

Karstoft KI, Andersen SB, Bertelsen M, Madsen T (2013) Diagnostic accuracy of the posttraumatic stress disorder checklist—civilian version in a representative military sample. Psychol Assess 26:321–325
Conflict of interest
On behalf of all authors, the corresponding author states that there is no conflict of interest.
Electronic supplementary material
Below is the link to the electronic supplementary material.
About this article
Cite this article
Karstoft, K., Armour, C., Andersen, S.B. et al. Community integration after deployment to Afghanistan: a longitudinal investigation of Danish soldiers. Soc Psychiatry Psychiatr Epidemiol 50, 653–660 (2015). https://doi.org/10.1007/s00127-014-0973-2
Received:

Accepted:

Published:

Issue Date:
Keywords
Community reintegration

PTSD

Military

Operation enduring freedom

Longitudinal analysis

Mixture modeling