Abstract
Purpose
Mental illness stigma is a serious societal problem and a critical impediment to treatment seeking for mentally ill people. To improve the understanding of mental illness stigma, this study focuses on the simultaneous analysis of people's aetiological beliefs, attitudes (i.e. perceived dangerousness and social distance), and recommended treatments related to several mental disorders by devising an over-arching latent structure that could explain the relations among these variables.
Methods
Three hundred and sixty university students randomly received an unlabelled vignette depicting one of six mental disorders to be evaluated on the four variables on a Likert-type scale. A one-factor Latent Class Analysis (LCA) model was hypothesized, which comprised the four manifest variables as indicators and the mental disorder as external variable.
Results
The main findings were the following: (a) a one-factor LCA model was retrieved; (b) alcohol and drug addictions are the most strongly stigmatized; (c) a realistic opinion about the causes and treatment of schizophrenia, anxiety, bulimia, and depression was associated to lower prejudicial attitudes and social rejection.
Conclusion
Beyond the general appraisal of mental illness an individual might have, the results generally point to the acknowledgement of the specific features of different diagnostic categories. The implications of the present results are discussed in the framework of a better understanding of mental illness stigma.
This is a preview of subscription content, log in to check access.
Access options
Buy single article
Instant access to the full article PDF.
US$ 39.95
Price includes VAT for USA
Subscribe to journal
Immediate online access to all issues from 2019. Subscription will auto renew annually.
US$ 199
This is the net price. Taxes to be calculated in checkout.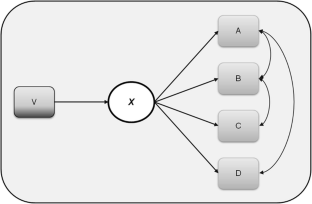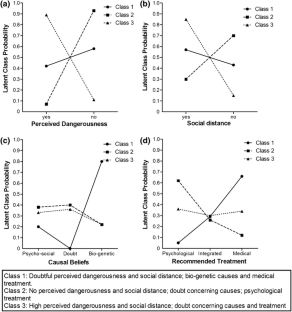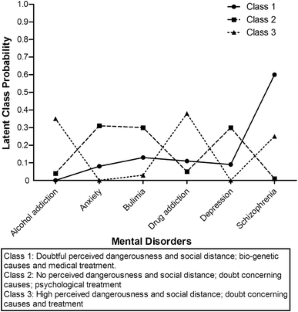 Notes
1.

The intermediate category for the causal beliefs and recommended treatment variables was included for the actual possibility of supporting at once different but not necessarily mutually independent beliefs, which can indeed be combined together. Further, the empirical distribution of the raw total scores supported this choice. Conversely, the raw score distribution of perceived dangerousness and social distance variables led to a simpler, binary transformation into categories representing the extreme endpoints of the two variables.
References
1.

Kendler KS, Prescott CA (2006) Genes, environment and psychopathology: understanding the causes of psychiatric and substance use disorders. Guilford Press, New York

2.

Coyne JC, Downey G (1991) Social factors and psychopathology: stress, social support, and coping processes. Annu Rev Psychol 42:401–425. doi:10.1146/annurev.ps.42.020191.002153

3.

Hinshaw SP (2007) The mark of shame: stigma of mental illness and an agenda for change. Oxford University Press, New York, NY

4.

Livingston JD, Boyd JE (2010) Correlates and consequences of internalized stigma for people living with mental illness: a systematic review and meta-analysis. Soc Sci Med 71:2150–2161. doi:10.1016/j.socscimed.2010.09.030

5.

Monteith LL, Pettit JW (2011) Implicit and explicit stigmatizing attitudes and stereotypes about depression. J Soc Clin Psychol 30:484–505. doi:10.1521/jscp.2011.30.5.484

6.

Schomerus G, Lucht M, Holzinger A et al (2011) The stigma of alcohol dependence compared with other mental disorders: a review of population studies. Alcohol Alcohol 46:105–112. doi:10.1093/alcalc/agq089

7.

McLellan AT, Lewis DC, O'Brien CP et al (2000) Drug dependence, a chronic medical illness: implications for treatment, insurance and outcomes evaluation. JAMA 284:1689–1695

8.

Klingemann H (2001) Alcohol and its social consequences: the forgotten dimension. WHO Regional Office for Europe, Copenhagen

9.

Room R (2005) Stigma social inequality and alcohol and drug use. Drug Alcohol Rev 24:143–155. doi:10.1080/09595230500102434

10.

Kuppin S, Carpiano KM (2006) Public conceptions of serious mental illness and substance abuse their causes and treatments: findings from the 1996 General Social Survey. Am J Public Health 96:1766–1771

11.

Angermeyer MC, Matschinger H (2003) Public beliefs about schizophrenia and depression: similarities and differences. Soc Psychiatry Psychiatr Epidemiol 38:526–534. doi:10.1007/s00127-003-0676-6

12.

Angermeyer MC, Matschinger H (2005) Causal beliefs and attitudes to people with schizophrenia. Trend analysis based on data from two population surveys in Germany. Br J Psychiatry 186:331–334. doi:10.1192/bjp.186.4.331

13.

Marie D, Miles B (2008) Social distance and perceived dangerousness across four diagnostic categories of mental disorder. Aust N Z J Psychiatry 42:126–133. doi:10.1080/00048670701787545

14.

Peluso ETP, Blay SL (2009) Public stigma in relation to individuals with depression. J Affect Disord 115:201–206. doi:10.1016/j.jad.2008.08.013

15.

Pescosolido BA, Martin JK, Long JS et al (2010) "A disease like any other"? A decade of change in public reactions to schizophrenia, depression, and alcohol dependence. Am J Psychiatry 167:1321–1330. doi:10.1176/appi.ajp.2010.09121743

16.

Jones EE, Farina A, Hastdorf A et al (1984) Social stigma: the psychology of marked relationships. Freeman, New York

17.

Feldman DB, Crandall CS (2007) Dimensions of mental illness stigma: what about mental illness causes social rejection? J Soc Clin Psychol 26:137–154. doi:10.1521/jscp.2007.26.2.137

18.

Angermeyer MC, Holzinger A, Carta MG, Schomerus G (2011) Biogenetic explanations and public acceptance of mental illness: systematic review of population studies. Br J Psychiatry 199:367–372. doi:10.1192/bjp.bp.110.085563

19.

Schomerus G, Schwahn C, Holzinger A, Corrigan PW, Grabe HJ et al (2012) Evolution of public attitudes about mental illness: a systematic review and meta-analysis. Acta Psychiatr Scand 125:440–452. doi:10.1111/j.1600-0447.2012.01826.x

20.

Kvaale EP, Haslam N, Gottdiener WH (2013) The 'side effects' of medicalization: a meta-analytic review of how biogenetic explanations affect stigma. Clin Psychol Rev 33:782–794. doi:10.1016/j.cpr.2013.06.002

21.

Lee AA, Laurent SM, Wykes TL, Kitchen Andren KA, Bourassa KA, McKibbin CL (2014) Genetic attributions and mental illness diagnosis: effects on perceptions of danger, social distance, and real helping decisions. Soc Psychiatry Psychiatr Epidemiol. doi:10.1007/s00127-013-0764-1

22.

Phelan JC, Yang LH, Cruz-Rojas R (2006) Effects of attributing serious mental illness to genetic causes on orientation to treatment. Psychiatr Services 57:382–387

23.

Read J, Harré N (2001) The role of biological and genetic causal beliefs in the stigmatisation of 'mental patients'. J Mental Health 10:223–235. doi:10.1080/09638230123129

24.

Mannarini S, Boffo M (2013) Assessing mental disorders causal beliefs: a latent dimension identification. Community Mental Health J 49:686–693. doi:10.1007/s10597-012-9581-3

25.

Dietrich S, Matschinger H, Angermeyer MC (2006) The relationship between biogenetic causal explanations and social distance toward people with mental disorders: results from a population survey in Germany. Int J Soc Psychiatry 52:166–174. doi:10.1177/0020764006061246

26.

Hagenaars JA, McCutcheon A (eds) (2006) Applied latent class analysis. Cambridge University Press, Cambridge

27.

Buizza C, Pioli R, Ponteri M et al (2005) Community attitudes towards mental illness and socio-demographic characteristics: an Italian study. Epidemiol Psichiatr Soc 14:154–162. doi:10.1017/S1121189X00006400

28.

Magliano L, Marasco C, Guarneri M et al (1999) A new questionnaire assessing the opinions of the relatives of patients with schizophrenia on the causes and social consequences of the disorder: reliability and validity. Eur Psychiatry 14:71–75. doi:10.1016/S0924-9338(99)80720-2

29.

Corrigan P, Markowitz F, Watson A et al (2003) An attribution model of public discrimination towards persons with mental illness. J Health Soc Behav 44:162–179. doi:10.2307/1519806

30.

Pingani L, Forghieri M, Ferrari S et al (2012) Stigma and discrimination toward mental illness: translation and validation of the Italian version of the attribution questionnaire-27 (AQ-27-I). Soc Psychiatry Psychiatr Epidemiol 47:993–999. doi:10.1007/s00127-011-0407-3

31.

Mannarini S, Boffo M, Balottin L (2013) Beliefs about the patient's role in the psychotherapeutic relationship: a latent trait approach. TPM Test Psychom Methodol Appl Psychol 20:277–294. doi:10.4473/TPM20.3.6

32.

Jorm AF, Christensen H, Griffiths KM (2006) The public's ability to recognize mental disorders and their beliefs about treatments: changes in Australia over 8 years. Aus N Z J Psychiatry 40:36–41. doi:10.1111/j.1440-1614.2006.01738.x

33.

Link BG, Phelan JC, Bresnahan M et al (1999) Public conceptions of mental illness: labels, causes, dangerousness and social distance. Am J Public Health 89:1328–1333. doi:10.2105/AJPH.89.9.1328

34.

American Psychiatric Association (2000) Diagnostic and statistical manual of mental disorders, 4th edn (text rev). Author, Washington, DC

35.

Bornovalova MA, Levy R, Gratz KL et al (2010) Understanding the heterogeneity of BDP symptoms though latent class analysis: initial results and clinical correlates among inner-city substance users. Psychol Assess 22:233–245. doi:10.1037/a0018493

36.

Campbell SB, Morgan-Lopez AA, Cox MJ et al (2009) A latent class analysis of mental depressive symptoms over 12 years and offspring adjustment in adolescence. J Abnorm Psychol 118:479–493. doi:10.1037/a0015923

37.

Garrett ES, Eaton WW, Zeger S (2002) Methods for evaluating the performance of diagnostic tests in the absence of a gold standard: a latent class model approach. Stat Med 21:1289–1307. doi:10.1002/sim.1105

38.

Romano E, Baillargeon RH, Wu H et al (2004) A new look at inter-informant agreement on conduct disorder using a latent approach. Psychiatr Res 129:75–89. doi:10.1016/j.psychres.2004.06.017

39.

Tsai J, Harpaz-Rotem I, Pilver CE et al (2014) Latent class analysis of personality disorders in adults with posttraumatic stress disorder: results from the National Epidemiologic Survey on Alcohol and Related Conditions. J Clin Psychiatry 75(3):276–284. doi:10.4088/JCP.13m08466

40.

Waller NG, Meehl PE (1998) Multivariate taxometric procedures: distinguishing types from continua. Advanced quantitative techniques in the social sciences, vol 9. Sage, Thousand Oaks

41.

Blanton H, Jaccard J (2006) Arbitrary metrics redux. Am Psychol 61:62–71. doi:10.1037/0003-066X.61.1.62A

42.

kaike H (1987) Factor analysis and AIC. Psychometrika 52:317–332. doi:10.1007/BF02294359

43.

Schwarz G (1978) Estimating the dimension of a model. Ann Stat 6:461–464. doi:10.1214/aos/1176344136

44.

Vermunt JK (1997) LEM A general program for the analysis of categorical data. Tilburg University, Department of Methodology and Statistics, Tilburg

45.

Schnittker J (2008) An uncertain revolution: why the rise of genetic model of mental illness has not increased tolerance. Soc Sci Med 67:1370–1381. doi:10.1016/j.socscimed.2008.07.007

46.

Crisp AH, Gelder MG, Rix S et al (2000) Stigmatization of people with mental illnesses. Br J Psychiatry 177:4–7. doi:10.1192/bjp.177.1.4

47.

Crisp AH, Gelder MG, Goddard E et al (2005) Stigmatization of people with mental illness: a follow-up study with the Changing Mind Campaign of the Royal College of Psychiatrists. World Psychiatry 4:106–113

48.

Peluso ETP, Blay SL (2008) Public perception of alcohol dependence. Rev Bras Psiquiatr 30:19–24. doi:10.1590/S1516-44462008000100004

49.

Peluso ETP, Blay SL (2008) Public perception of depression in the city of Sao Paulo. Rev Saúde Pública 42:41–48. doi:10.1590/S0034-89102008000100006

50.

Beck M, Angermeyer MC, Brähler E (2005) Is there a connection between right-wing extremism and social distancing from mentally ill people? Results from a representative survey among the adult German population. Psychiatr Praxis 32:68–72. doi:10.1055/s-2004-834554

51.

Phelan JC, Link BG, Dovidio JF (2008) Stigma and prejudice: one animal or two? Soc Sci Med 67:358–367. doi:10.1016/j.socscimed.2008.03.022

52.

Corrigan PW, Watson AV (2002) Understanding the impact of stigma on people with mental illness. World Psychiatry 1:16–20

53.

Thornicroft G, Rose D, Cassam A et al (2007) Stigma: ignorance, prejudice or discrimination? Br J Psychiatry 190:192–193. doi:10.1192/bjp.bp.106.025791

54.

Teachman BA, Wilson JG, Kamarovskaya I (2006) Implicit and explicit stigma of mental illness in diagnosed and healthy samples. J Soc Clin Psychol 25:75–95. doi:10.1521/jscp.2006.25.1.75

55.

Peris TS, Teachman BA, Nosek BA (2008) Implicit and explicit stigma of mental illness: links to clinical care. J Nerv Mental Dis 196:752–760. doi:10.1097/NMD.0b013e3181879dfd
Conflict of interest
On behalf of all authors, the corresponding author states that there is no conflict of interest.
About this article
Cite this article
Mannarini, S., Boffo, M. Anxiety, bulimia, drug and alcohol addiction, depression, and schizophrenia: what do you think about their aetiology, dangerousness, social distance, and treatment? A latent class analysis approach. Soc Psychiatry Psychiatr Epidemiol 50, 27–37 (2015). https://doi.org/10.1007/s00127-014-0925-x
Received:

Accepted:

Published:

Issue Date:
Keywords
Mental illness stigma

Aetiological beliefs

Dangerousness and social distance

Therapeutic treatment

Latent class analysis