Abstract
Purpose
Military personnel exposed to combat are at risk for experiencing post-traumatic distress that can progress over time following deployment. We hypothesized that progression of post-traumatic distress may be related to enhanced susceptibility to post-deployment stressors. This study aimed at examining the concept of stress sensitization prospectively in a sample of Dutch military personnel deployed in support of the conflicts in Afghanistan.
Method
In a cohort of soldiers (N = 814), symptoms of post-traumatic stress disorder (PTSD) were assessed before deployment as well as 2, 7, 14, and 26 months (N = 433; 53 %) after their return. Data were analyzed using latent growth modeling. Using multiple group analysis, we examined whether high combat stress exposure during deployment moderated the relation between post-deployment stressors and linear change in post-traumatic distress after deployment.
Results
A higher baseline level of post-traumatic distress was associated with more early life stressors (standardized regression coefficient = 0.30, p < 0.001). In addition, a stronger increase in posttraumatic distress during deployment was associated with more deployment stressors (standardized coefficient = 0.21, p < 0.001). A steeper linear increase in posttraumatic distress post-deployment (from 2 to 26 months) was predicted by more post-deployment stressors (standardized coefficient = 0.29, p < 0.001) in high combat stress exposed soldiers, but not in a less combat stress exposed group. The group difference in the predictive effect of post-deployment stressors on progression of post-traumatic distress was significant (χ²(1) = 7.85, p = 0.005).
Conclusions
Progression of post-traumatic distress following combat exposure may be related to sensitization to the effects of post-deployment stressors during the first year following return from deployment.
This is a preview of subscription content, log in to check access.
Access options
Buy single article
Instant access to the full article PDF.
US$ 39.95
Price includes VAT for USA
Subscribe to journal
Immediate online access to all issues from 2019. Subscription will auto renew annually.
US$ 199
This is the net price. Taxes to be calculated in checkout.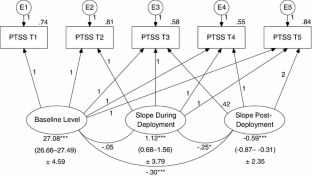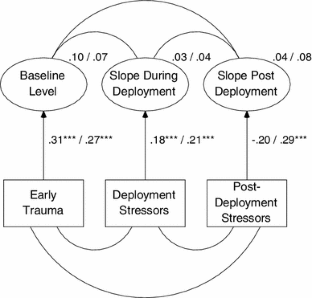 References
1.

Engelhard IM, van den Hout MA, Weerts J, Arntz A, Hox JJCM, McNally RJ (2007) Deployment-related stress and trauma in Dutch soldiers returning from Iraq: prospective study. Br J Psychiatry 191:140–145

2.

Hoge CW, Castro CA, Messer SC, McGurk D, Cotting DI, Koffman RL (2004) Combat duty in Iraq and Afghanistan, mental health problems, and barriers to care. N Engl J Med 351:13–22

3.

Thomas JL, Wilk JE, Riviere LA, McGurk D, Castro CA, Hoge CW (2010) Prevalence of mental health problems and functional impairment among active component and National Guard soldiers 3 and 12 months following combat in Iraq. Arch Gen Psychiatry 67:614–623

4.

Fear NT, Jones M, Murphy D, Hull L, Iversen AC, Coker B, Machell L, Sundin J, Woodhead C, Jones N, Greenberg N, Landau S, Dandeker C, Rona RJ, Hotopf M, Wessely S (2010) What are the consequences of deployment to Iraq and Afghanistan on the mental health of the UK armed forces? A cohort study. Lancet 375:1783–1797

5.

Dickstein BD, Suvak M, Litz BT, Amy BA (2010) Heterogeneity in the course of posttraumatic stress disorder: trajectories of symptomatology. J Trauma Stress 23:331–339

6.

Gray MJ, Bolton EE, Litz BT (2004) A longitudinal analysis of PTSD symptom course: delayed-onset PTSD in Somalia peacekeepers. J Consult Clin Psychol 72:909–913

7.

Grieger TA, Cozza SJ, Ursano RJ, Hoge C, Martinez PE, Engel CC, Wain HJ (2006) Posttraumatic stress disorder and depression in battle-injured soldiers. Am J Psychiatry 163:1777–1783

8.

Goodwin L, Jones M, Rona RJ, Sundin J, Wessely S, Fear NT (2012) Prevalence of delayed-onset posttraumatic stress disorder in military personnel: is there evidence for this disorder?: results of a prospective UK cohort study. J Nerv Ment Dis 200:429–437

9.

Solomon Z, Mikulincer M (2006) Trajectories of PTSD: a 20-year longitudinal study. Am J Psychiatry 163:659–666

10.

Prigerson HG, Maciejewski PK, Rosenheck RA (2001) Combat trauma: trauma with highest risk of delayed onset and unresolved post-traumatic stress disorder symptoms, unemployment, and abuse among men. J Nerv Ment Dis 189:99–108

11.

Smid GE, Mooren TTM, Van der Mast RC, Gersons BPR, Kleber RJ (2009) Delayed post-traumatic stress disorder: systematic review, meta-analysis, and metaregression analysis of prospective studies. J Clin Psychiatry 70:1572–1582

12.

Milliken CS, Auchterlonie JL, Hoge CW (2007) Longitudinal assessment of mental health problems among active and reserve component soldiers returning from the Iraq war. JAMA 298:2141–2148

13.

Thompson KE, Vasterling JJ, Benotsch EG, Brailey K, Constans J, Uddo M, Sutker PB (2004) Early symptom predictors of chronic distress in Gulf War veterans. J Nerv Ment Dis 192:146–152

14.

Li B, Mahan CM, Kang HK, Eisen SA, Engel CC (2011) Longitudinal health study of US 1991 Gulf War Veterans: changes in health status at 10-year follow-up. Am J Epidemiol 174:761–768

15.

Kang HK, Natelson BH, Mahan CM, Lee KY, Murphy FM (2003) Post-traumatic stress disorder and chronic fatigue syndrome-like illness among Gulf war veterans: a population-based survey of 30,000 veterans. Am J Epidemiol 157:141–148

16.

Smith TC, Wingard DL, Ryan MAK, Kritz-Silverstein D, Slymen DJ, Sallis JF, For the Millennium Cohort Study Team (2008) Prior assault and posttraumatic stress disorder after combat deployment. Epidemiology 19:505–512

17.

Smith TC, Ryan MAK, Wingard DL, Slymen DJ, Sallis JF, Kritz-Silverstein D (2008) New onset and persistent symptoms of post-traumatic stress disorder self reported after deployment and combat exposures: prospective population based US military cohort study. BMJ 336:366–371

18.

Brewin CR, Andrews B, Hejdenberg J, Stewart L (2012) Objective predictors of delayed-onset post-traumatic stress disorder occurring after military discharge. Psychol Med 42:2119–2126

19.

Vasterling JJ, Proctor SP, Friedman MJ, Hoge CW, Heeren T, King LA, King DW (2010) PTSD symptom increases in Iraq-deployed soldiers: comparison with non-deployed soldiers and associations with baseline symptoms, deployment experiences, and post-deployment stress. J Trauma Stress 23:41–51

20.

Andrews B, Brewin CR, Stewart L, Philpott R, Hejdenberg J (2009) Comparison of immediate-onset and delayed-onset post-traumatic stress disorder in military veterans. J Abnorm Psychol 118:767–777

21.

Horesh D, Solomon Z, Zerach G, Ein-Dor T (2011) Delayed-onset PTSD among war veterans: the role of life events throughout the life cycle. Soc Psychiatry Psychiatr Epidemiol 46:863–870

22.

Post RM, Weiss SRB (1998) Sensitization and kindling phenomena in mood, anxiety, and obsessive- compulsive disorders: the role of serotonergic mechanisms in illness progression. Biol Psychiatry 44:193–206

23.

Kandel ER, Schwartz JH (1982) Molecular biology of learning: modulation of transmitter release. Science 218:433–443

24.

McFarlane A (2010) The long-term costs of traumatic stress: intertwined physical and psychological consequences. World Psychiatry 9:3–10

25.

Smid GE, Van der Velden PG, Lensvelt-Mulders GJLM, Knipscheer JW, Gersons BPR, Kleber RJ (2012) Stress sensitization following a disaster: a prospective study. Psychol Med 42:1675–1686

26.

Bremner JDM, Bolus RP, Mayer EAM (2007) Psychometric properties of the early trauma inventory-self report. J Nerv Ment Dis 195:211–218

27.

Rademaker AR, Vermetten E, Geuze E, Muilwijk A, Kleber RJ (2008) Self-reported early trauma as a predictor of adult personality: a study in a military sample. J Clin Psychol 64:863–875

28.

van Zuiden M, Geuze E, Willemen HLDM, Vermetten E, Maas M, Heijnen CJ, Kavelaars A (2011) Pre-existing high glucocorticoid receptor number predicting development of post-traumatic stress symptoms after military deployment. Am J Psychiatry 168:89–96

29.

van Zelst WH, de Beurs E, Beekman ATF, Deeg DJH, Bramsen I, van Dyck R (2003) Criterion validity of the self-rating inventory for post-traumatic stress disorder (SRIP) in the community of older adults. J Affect Disord 76:229–235

30.

Hovens JE, Bramsen I, Van der Ploeg HM (2002) Self-rating inventory for post-traumatic stress disorder: review of the psychometric properties of a new brief Dutch screening instrument. Percept Mot Skills 94:996–1008

31.

Elhai JD, Engdahl RM, Palmieri PA, Naifeh JA, Schweinle A, Jacobs GA (2009) Assessing posttraumatic stress disorder with or without reference to a single, worst traumatic event: examining differences in factor structure. Psychol Assess 21:629–634

32.

Enders CK, Bandalos DL (2001) The relative performance of full information maximum likelihood estimation for missing data in structural equation models. Struct Equ Model 8:430–457

33.

Duncan TE, Duncan SC, Strycker LA (2006) An Introduction to Latent Variable Growth Curve Modeling: Concepts, Issues, and Applications. Lawrence Erlbaum Associates, Mahwah (NJ)

34.

Hu LT, Bentler PM (1999) Cutoff criteria for fit indexes in covariance structure analysis: conventional criteria versus new alternatives. Struct Equ Model 6:1–55

35.

Kaplan DW (2008) Structural Equation Modeling: Foundations and Extensions. Sage, Thousand Oaks (CA)

36.

Arbuckle JL (2009) Amos 18.0 User's Guide. Amos Development Corporation, Crawfordville, Florida

37.

Breslau N, Chilcoat HD, Kessler RC, Davis GC (1999) Previous exposure to trauma and PTSD effects of subsequent trauma: results from the Detroit area survey of trauma. Am J Psychiatry 156:902–907

38.

Walsh K (2012) National prevalence of posttraumatic stress disorder among sexually revictimized adolescent, college, and adult household-residing women. Arch Gen Psychiatry 69:935–942

39.

Grasso DJ, Ford JD, Briggs-Gowan MJ (2012) Early life trauma exposure and stress sensitivity in young children. J Pediatr Psychol 38:94–103

40.

Stam R (2007) PTSD and stress sensitisation: a tale of brain and body: part 1: human studies. Neurosci Biobehav Rev 31:530–557

41.

Van Wingen GA, Geuze E, Vermetten E, Fernández G (2011) Consequences of combat stress on brain functioning. Mol Psychiatry 16:583

42.

Morris MC, Compas BE, Garber J (2012) Relations among post-traumatic stress disorder, comorbid major depression, and HPA function: a systematic review and meta-analysis. Clin Psychol Rev 32:301–315

43.

van Zuiden M, Geuze E, Willemen HLDM, Vermetten E, Maas M, Amarouchi K, Kavelaars A, Heijnen CJ (2012) Glucocorticoid receptor pathway components predict post-traumatic stress disorder symptom development: a prospective study. Biol Psychiatry 71:309–316

44.

Hobfoll SE (2001) The influence of culture, community, and the nested-self in the stress process: advancing conservation of resources theory. Appl Psychol 50:337–421

45.

Scott CK, Sonis J, Creamer M, Dennis ML (2006) Maximizing follow-up in longitudinal studies of traumatized populations. J Trauma Stress 19:757–769

46.

Adler AB, Bliese PD, McGurk D, Hoge CW, Castro CA (2009) Battlemind debriefing and battlemind training as early interventions with soldiers returning from Iraq: randomization by platoon. J Consult Clin Psychol 77:928–940

47.

Marwaha S, Parsons N, Broome M (2013) Mood instability, mental illness and suicidal ideas: results from a household survey. Soc Psychiatry Psychiatr Epidemiol (Online) 1–7
Acknowledgments
Funded by a grant from the Dutch Ministry of Defense. The funders had no role in the design and conduct of the study; collection, management, analysis, and interpretation of the data; and preparation, review, or approval of the manuscript. Geert E. Smid, MD, PhD had full access to all of the data in the study and takes responsibility for the integrity of the data and the accuracy of the data analysis. The authors thank Col. Kees IJzerman, MD, MPH for his valuable comments and the commanders and troops for their time and effort. The authors also thank Kim Kroezen, Anne Muilwijk, Capt. Maurits Baatenburg de Jong, Capt. Jessie Smulders, Lt. Martijn Derks, and Sgt. Loes van den Boomen for organizing the data acquisition.
Conflict of interest
None.
Electronic supplementary material
Below is the link to the electronic supplementary material.
About this article
Cite this article
Smid, G.E., Kleber, R.J., Rademaker, A.R. et al. The role of stress sensitization in progression of posttraumatic distress following deployment. Soc Psychiatry Psychiatr Epidemiol 48, 1743–1754 (2013). https://doi.org/10.1007/s00127-013-0709-8
Received:

Accepted:

Published:

Issue Date:
Keywords
Post-traumatic stress disorder

Delayed onset

Stress sensitization

Military deployment