Abstract
Purpose
The current study aims to examine the potential use of the seven-item Center for Epidemiologic Studies Depression Scale (CES-D) short form (CES-D-SF).
Methods
Data were examined from the National Longitudinal Survey of Youth 1979. Participants responded to the 20-item CES-D (n = 8,858) in 1992, and to the 7-item CES-D-SF in 1994 (n = 8,500) and from 1998 to 2010 if aged 40 (n = 7,972) or 50 (n = 1,574) or over. Variables examined in 1979 were race, SES, and sex and in 1981 cognitive functioning. The CES-D-SF was examined for internal and test–retest reliability, unidimensionality with confirmatory factor analysis, and a cutoff score with receiver operator curve characteristics. Survival analysis was used to examine time period of first CES-D-SF suspected major depression episode, multinomial regression to examine the chronicity of CES-D-SF suspected major depression, and the course of depression with a Generalized Estimating Equation model.
Results
Compared to the CES-D, the CES-D-SF had higher internal consistency, and better unidimensionality based on confirmatory factor analysis. A CES-D-SF cutoff score ≥8 had acceptable specificity (0.97, 95 % CI 0.96, 0.97) and modest sensitivity (0.69, 95 % CI 0.67, 0.71) with the standard CES-D cutoff score of 16. Female sex and lower cognitive functioning were significantly (p < 0.05) associated with more CES-D-SF suspected depression that was more chronic based on a multinomial regression model, and occurred at a younger age based on a Cox regression model.
Conclusions
The seven-item CES-D-SF has acceptable psychometric properties, is associated with exposures documented to be associated with an increased likelihood of depression, and may be used to screen for suspected major depressive disorder in US community studies.
This is a preview of subscription content, log in to check access.
Access options
Buy single article
Instant access to the full article PDF.
US$ 39.95
Price includes VAT for USA
Subscribe to journal
Immediate online access to all issues from 2019. Subscription will auto renew annually.
US$ 199
This is the net price. Taxes to be calculated in checkout.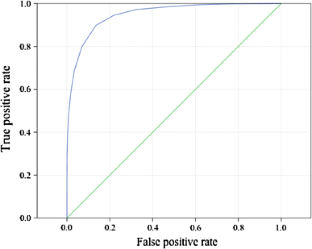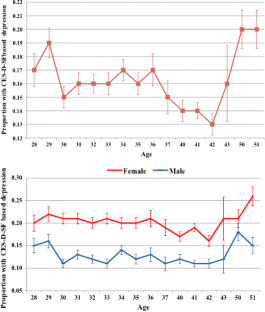 References
1.

Kessler RC, McGonagle KA, Zhao S, Nelson CB, Hughes M, Eshleman S et al (1994) Lifetime and 12-month prevalence of DSM-III-R psychiatric disorders in the United States. Results from the National Comorbidity Survey. Arch Gen Psychiatry 51(1):8–19

2.

Bromet E, Andrade LH, Hwang I, Sampson NA, Alonso J, de Girolamo G et al (2011) Cross-national epidemiology of DSM-IV major depressive episode. BMC Med 9:90

3.

Murray CJ, Lopez AD (1996) Evidence-based health policy—lessons from the Global Burden of Disease Study. Science 274(5288):740–743

4.

Radloff LS (1977) The CES-D Scale: a Self Report Depression Scale for research in the general. Appl Psychol Meas 1(3):385–401

5.

Shafer AB (2006) Meta-analysis of the factor structures of four depression questionnaires: Beck, CES-D, Hamilton, and Zung. J Clin Psychol 62(1):123–146

6.

Williams JW Jr, Noel PH, Cordes JA, Ramirez G, Pignone M (2002) Is this patient clinically depressed? JAMA 287(9):1160–1170

7.

Himmelfarb S, Murrell SA (1983) Reliability and validity of five mental health scales in older persons. J Gerontol 38(3):333–339

8.

Yang FM, Jones RN (2007) Center for Epidemiologic Studies-Depression Scale (CES-D) item response bias found with Mantel-Haenszel method was successfully replicated using latent variable modeling. J Clin Epidemiol 60(11):1195–1200

9.

Reichenberg A, Gorman JM, Dieterich DT (2005) Interferon-induced depression and cognitive impairment in hepatitis C virus patients: a 72 week prospective study. AIDS 19(Suppl 3):S174–S178

10.

Kohout FJ, Berkman LF, Evans DA, Cornoni-Huntley J (1993) Two shorter forms of the CES-D (Center for Epidemiological Studies Depression) depression symptoms index. J Aging Health 5(2):179–193

11.

Cole JC, Rabin AS, Smith TL, Kaufman AS (2004) Development and validation of a Rasch-derived CES-D short form. Psychol Assess 16(4):360–372

12.

Harder VS, Morral AR, Arkes J (2006) Marijuana use and depression among adults: testing for causal associations. Addiction 101(10):1463–1472

13.

Cseh A (2008) The effects of depressive symptoms on earnings. South Econ J 75(2):383–409

14.

Prause J, Dooley D, Huh J (2009) Income volatility and psychological depression. Am J Community Psychol 43(1–2):57–70

15.

Carlson DL (2011) Explaining the curvilinear relationship between age at first birth and depression among women. Soc Sci Med 72(4):494–503

16.

Santor DA, Coyne JC (1997) Shortening the CES-D to improve its ability to detect cases of depression. Psychol Assess 9(3):233–243

17.

Edwards MC, Cheavens JS, Heiy JE, Cukrowicz KC (2010) A reexamination of the factor structure of the Center for Epidemiologic Studies Depression Scale: is a one-factor model plausible? Psychol Assess 22(3):711–715

18.

Wood AM, Taylor PJ, Joseph S (2010) Does the CES-D measure a continuum from depression to happiness? Comparing substantive and artifactual models. Psychiatry Res 177(1–2):120–123

19.

Weissman MM, Sholomskas D, Pottenger M, Prusoff BA, Locke BZ (1977) Assessing depressive symptoms in five psychiatric populations: a validation study. Am J Epidemiol 106(3):203–214

20.

Boyd JH, Weissman MM, Thompson WD, Myers JK (1982) Screening for depression in a community sample. Understanding the discrepancies between depression symptom and diagnostic scales. Arch Gen Psychiatry 39(10):1195–1200

21.

Comstock GW, Helsing KJ (1976) Symptoms of depression in two communities. Psychol Med 6(4):551–563

22.

Eaton WW, Kessler LG (1981) Rates of symptoms of depression in a national sample. Am J Epidemiol 114(4):528–538

23.

Husaini BA, Neff JA (1981) Social class and depressive symptomatology. The role of life change events and locus of control. J Nerv Ment Dis 169(10):638–647

24.

Noll GA, Dubinsky M (1985) Prevalence and predictors of depression in a suburban county. J Community Psychol 13(1):13–19

25.

Husaini BA, Neff JA, Stone RH (1979) Psychiatric impairment in rural communities. J Community Psychol 7(2):137–146

26.

Muntaner C, Eaton WW, Miech R, O'Campo P (2004) Socioeconomic position and major mental disorders. Epidemiol Rev 26:53–62

27.

Eaton WW, Anthony JC, Gallo J, Cai G, Tien A, Romanoski A et al (1997) Natural history of Diagnostic Interview Schedule/DSM-IV major depression. The Baltimore Epidemiologic Catchment Area follow-up. Arch Gen Psychiatry 54(11):993–999

28.

Kessler RC, Foster C, Webster PS, House JS (1992) The relationship between age and depressive symptoms in two national surveys. Psychol Aging 7(1):119–126

29.

Dohrenwend BP, Levav I, Shrout PE, Schwartz S, Naveh G, Link BG et al (1992) Socioeconomic status and psychiatric disorders: the causation-selection issue. Science 255(5047):946–952

30.

Lorant V, Deliege D, Eaton W, Robert A, Philippot P, Ansseau M (2003) Socioeconomic inequalities in depression: a meta-analysis. Am J Epidemiol 157(2):98–112

31.

Walsh SD, Levine SZ, Levav I (2012) The association between depression and parental ethnic affiliation and socioeconomic status: a 27-year longitudinal US community study. Soc Psychiatry Psychiatr Epidemiol 47(7):1153–1158

32.

Lefkowitz MM, Tesiny EP (1985) Depression in children: prevalence and correlates. J Consult Clin Psychol 53(5):647–656

33.

Koenen KC, Moffitt TE, Roberts AL, Martin LT, Kubzansky L, Harrington H et al (2009) Childhood IQ and adult mental disorders: a test of the cognitive reserve hypothesis. Am J Psychiatry 166(1):50–57

34.

Bureau of Labor Statistics US (2008) Department of Labor National Longitudinal Survey of Youth 1979 cohort, 1979–2006 (rounds 1–21) [computer file]. Produced and distributed by the Center for Human Resource Research, The Ohio State University. Columbus, OH

35.

Baum CL 2nd, Ruhm CJ (2009) Age, socioeconomic status and obesity growth. J Health Econ 28(3):635–648

36.

Van Cleave J, Gortmaker SL, Perrin JM (2010) Dynamics of obesity and chronic health conditions among children and youth. JAMA 303(7):623–630

37.

Gortmaker SL, Must A, Perrin JM, Sobol AM, Dietz WH (1993) Social and economic consequences of overweight in adolescence and young adulthood. N Engl J Med 329(14):1008–1012

38.

Ganzach Y (1998) Intelligence and job satisfaction. Acad Manag J 41(5):526–539

39.

Bock RD, Moore EGJ (1986) Advantage and disadvantage: a profile of American youth. Lawrence Erlbaum Associates, Mahwah

40.

Levine SZ (2011) Elaboration on the association between IQ and parental SES with subsequent crime. Personal Individ Differ 50(8):1233–1237

41.

Jöreskog KG, Sörbom D (1993) LISREL 8: structural equation modeling with the SIMPLIS command language. Scientific Software, Chicago

42.

Hu LT, Bentler PM (1999) Cutoff criteria for fit indexes in covariance structure analysis: conventional criteria versus new alternatives. Struct Equ Model 6(1):1–55

43.

Browne MW, Cudeck R (1989) Single sample cross-validation indexes for covariance-structures. Multivar Behav Res 24(4):445–455

44.

Beekman AT, Geerlings SW, Deeg DJ, Smit JH, Schoevers RS, de Beurs E et al (2002) The natural history of late-life depression: a 6-year prospective study in the community. Arch Gen Psychiatry 59(7):605–611

45.

Lewinsohn PM, Rohde P, Seeley JR, Klein DN, Gotlib IH (2000) Natural course of adolescent major depressive disorder in a community sample: predictors of recurrence in young adults. Am J Psychiatry 157(10):1584–1591

46.

Frank E, Prien RF, Jarrett RB, Keller MB, Kupfer DJ, Lavori PW et al (1991) Conceptualization and rationale for consensus definitions of terms in major depressive disorder. Remission, recovery, relapse, and recurrence. Arch Gen Psychiatry 48(9):851–855

47.

Cella D, Yount S, Rothrock N, Gershon R, Cook K, Reeve B et al (2007) The Patient-Reported Outcomes Measurement Information System (PROMIS): progress of an NIH Roadmap cooperative group during its first two years. Med Care 45(5 Suppl 1):S3–S11

48.

Reeve BB, Hays RD, Bjorner JB, Cook KF, Crane PK, Teresi JA et al (2007) Psychometric evaluation and calibration of health-related quality of life item banks: plans for the Patient-Reported Outcomes Measurement Information System (PROMIS). Med Care 45(5 Suppl 1):S22–S31

49.

Teresi JA, Fleishman JA (2007) Differential item functioning and health assessment. Qual Life Res 16(Suppl 1):33–42
Electronic supplementary material
Below is the link to the electronic supplementary material.
About this article
Cite this article
Levine, S.Z. Evaluating the seven-item Center for Epidemiologic Studies Depression Scale short-form: a longitudinal US community study. Soc Psychiatry Psychiatr Epidemiol 48, 1519–1526 (2013). https://doi.org/10.1007/s00127-012-0650-2
Received:

Accepted:

Published:

Issue Date:
Keywords
Psychometrics

CES-D

Short-form

Screening

Longitudinal