Abstract
Purpose
Deficits in social functioning are a core feature of schizophrenia and are influenced by both symptomatic and neurocognitive variables. In the present study we aimed to determine the reliability and validity of the Portuguese version of the Personal and Social Performance (PSP) scale, and possible correlations with measures of cognitive functioning.
Methods
One-hundred and four community and inpatients with schizophrenia were assessed using measures of social functioning and symptom severity alongside measures of executive function, processing speed, and verbal memory.
Results
Convergent validity with the GAF in the four domains of the PSP varied from 0.357 to 0.899. Reliability was found to be satisfactory, with a Cronbach's alpha coefficient of 0.789. Inter-rater reliability in the four domains of the PSP varied from 0.430 to 0.954. Low-functioning patients (PSP < 70) were older, had longer duration of illness, were more symptomatic and had worse cognitive performances, as compared with high-functioning patients (PSP ≥ 70). In a regression model, deficits in social functioning were strongly predicted both by symptomatic and neurocognitive variables; these together accounted for up to 62% of the variance.
Conclusions
The present study supports the reliability and validity of the Portuguese language version of the PSP and further supports the original measure. The co-administration of brief cognitive assessments with measures of functioning may lead to more focused interventions, possibly improving outcomes in this group.
This is a preview of subscription content, log in to check access.
Access options
Buy single article
Instant access to the full article PDF.
US$ 39.95
Price includes VAT for USA
Subscribe to journal
Immediate online access to all issues from 2019. Subscription will auto renew annually.
US$ 199
This is the net price. Taxes to be calculated in checkout.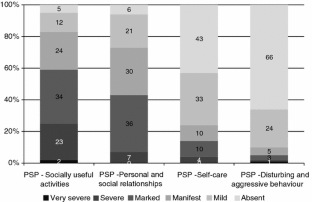 References
1.

Apiquian R, Elena Ulloa R, Herrera-Estrella M, Moreno-Gómez A, Erosa S, Contreras V, Nicolini H (2009) Validity of the Spanish version of the Personal and Social Performance scale in schizophrenia. Schizophr Res 112:181–186

2.

Burns T, Patrick D (2007) Social functioning as an outcome measure in schizophrenia studies. Acta Psychiatr Scand 16:403–418

3.

Priebe S (2007) Social outcomes in schizophrenia. Br J Psychiatry Suppl 50:S15–S20

4.

American Psychiatric Association DSM-IV-TR (2000) Diagnostic and statistical manual of mental disorders DSM-IV-TR (Text revision), Washington

5.

Lambert M, Naber D (2004) Current issues in schizophrenia: overview of patient acceptability, functioning capacity and quality of life. CNS Drugs 18(Suppl 2):5–17 discussion 41-43

6.

Rosa AR, Sánchez-Moreno J, Martínez-Aran A, Salamero M, Torrent C, Reinares M, Comes M, Colom F, Van Riel W, Ayuso-Mateos JL, Kapczinski F, Vieta E (2007) Validity and reliability of the Functioning Assessment Short Test (FAST) in bipolar disorder. Clin Pract Epidemiol Mental Health 3:1–8

7.

Bosc M, Dubini A, Polin V (1997) Development and validation of a social functioning scale, the Social Adaptation Self-evaluation Scale. Eur Neuropsychopharmacol 7(Suppl 1):57–70

8.

Endicott J, Spitzer RL, Fleiss JL, Cohen J (1976) The global assessment scale. A procedure for measuring overall severity of psychiatric disturbance. Arch Gen Psychiatry 33:766–771

9.

Morosini PL, Magliano L, Brambilla L, Ugolini S, Pioli R (2000) Development, reliability and acceptability of a new version of the DSM-IV Social and Occupational Functioning Assessment Scale (SOFAS) to assess routine social functioning. Acta Psychiatr Scand 101:323–329

10.

Juckel G, Schaub D, Fuchs N, Naumann U, Uhl I, Witthaus H, Hargarter L, Bierhoff HW, Brüne M (2008) Validation of the Personal and Social Performance (PSP) Scale in a German sample of acutely ill patients with schizophrenia. Schizophr Res 104:287–293

11.

Srisurapanont M, Arunpongpaisal S, Chuntaruchikapong S, Silpakit C, Khuangsirikul V, Karnjanathanalers N, Samanwongthai U (2008) Cross-cultural validation and inter-rater reliability of the Personal and Social Performance scale, Thai version. J Med Assoc Thai 91:1603–1608

12.

Tianmei S, Liang S, Yun'ai S, Chenghua T, Jun Y, Jia C, Xueni L, Qi L, Yantao M, Weihua Z, Hongyan Z (2011) The Chinese version of the Personal and Social Performance Scale (PSP): validity and reliability. Psychiatry Res 185:275–279

13.

Schaub D, Brüne M, Jaspen E, Pajonk FG, Bierhoff HW, Juckel G (2011) The illness and everyday living: close interplay of psychopathological syndromes and psychosocial functioning in chronic schizophrenia. Eur Arch Psychiatry Clin Neurosci 261:85–93

14.

Green MF, Kern RS, Heaton RK (2004) Longitudinal studies of cognition and functional outcome in schizophrenia: implications for MATRICS. Schizophr Res 72:41–51

15.

Kurtz MM (2006) Symptoms versus neurocognitive skills as correlates of everyday functioning in severe mental illness. Expert Rev Neurother 6:47–56

16.

Kurtz MM, Wexler BE, Fujimoto M, Shagan DS, Seltzer JC (2008) Symptoms versus neurocognition as predictors of change in life skills in schizophrenia after outpatient rehabilitation. Schizophr Res 102:303–311

17.

Puig O, Penadés R, Gastó C, Catalán R, Torres A, Salamero M (2008) Verbal memory, negative symptomatology and prediction of psychosocial functioning in schizophrenia. Psychiatry Res 158:11–17

18.

Bowie CR, Reichenberg A, Patterson TL, Heaton RK, Harvey PD (2006) Determinants of real-world functional performance in schizophrenia subjects: correlations with cognition, functional capacity, and symptoms. Am J Psychiatry 163:418–425

19.

Bowie CR, Leung WW, Reichenberg A, McClure MM, Patterson TL, Heaton RK, Harvey PD (2008) Predicting schizophrenia patients' real-world behavior with specific neuropsychological and functional capacity measures. Biol Psychiatry 63:505–511

20.

Evans JD, Bond GR, Meyer PS, Kim HW, Lysaker PH, Gibson PJ, Tunis S (2004) Cognitive and clinical predictors of success in vocational rehabilitation in schizophrenia. Schizophr Res 70:331–342

21.

Lipkovich IA, Deberdt W, Csernansky JG, Sabbe B, Keefe RS, Kollack-Walker S (2009) Relationships among neurocognition, symptoms and functioning in patients with schizophrenia: a path-analytic approach for associations at baseline and following 24 weeks of antipsychotic drug therapy. BMC Psychiatry 9:44

22.

Sheehan DV, Lecrubier Y, Sheehan KH, Amorim P, Janavs J, Weiller E, Hergueta T, Baker R, Dunbar GC (1998) The Mini-International Neuropsychiatric Interview (M.I.N.I.): the development and validation of a structured diagnostic psychiatric interview for DSM-IV and ICD-10. J Clin Psychiatry 59:22–33 (Portuguese version: Guterres T, Levi P, Amorim P, Lisbon, PORTUGAL)

23.

Kay SR, Fiszbein A, Opler LA (1987) The positive and negative syndrome scale (PANSS) for schizophrenia. Schizophr Bull 13:261–276

24.

Kawata AK, Revicki DA (2008) Psychometric properties of the Personal and Social Performance scale (PSP) among individuals with schizophrenia living in the community. Qual Life Res 1247–1256

25.

Lezak M, Howieson DB, Lorine DW, Hannay J, Fischer JS (2004) Neuropsychological assessment. Oxford University Press, Oxford

26.

Strauss E, Sherman SEM (2006) A compendium of neuropsychological tests: administration, norms and commentary, 3rd edn. Oxford University Press, New York

27.

Marshall M, Lewis S, Lockwood A, Drake R, Jones P, Croudace T (2005) Association between duration of untreated psychosis and outcome in cohorts of first-episode patients: a systematic review. Arch Gen Psychiatry 2:975–983

28.

Milev P, Ho BC, Arndt S, Andreasen NC (2005) Predictive values of neurocognition and negative symptoms on functional outcome in schizophrenia: a longitudinal first-episode study with 7-year follow-up. Am J Psychiatry 162:495–506

29.

Siegel SJ, Irani F, Brensinger CM, Kohler CG, Bilker WB, Ragland JD, Kanes SJ, Gur RC, Gur RE (2006) Prognostic variables at intake and long-term level of function in schizophrenia. Am J Psychiatry 163:433–441

30.

Ran MS, Chen S, Chen EY, Ran BY, Tang CP, Lin FR, Li L, Li SG, Mao WJ, Hu SH (2010) Risk factors for poor work functioning of persons with schizophrenia in rural China. Soc Psychiatry Psychiatr Epidemiol. (in press)

31.

Erol A, Keleş Unal E, Tunç Aydin E, Mete L (2009) Predictors of social functioning in schizophrenia. Turk Psikiyatri Derg 20:313–321

32.

Fakhoury WK, Kaiser W, Roeder-Wanner UU, Priebe S (2002) Subjective evaluation: is there more than one criterion? Schizophrenia Bull 28:319–327

33.

Couture SM, Penn DL, Roberts DL (2006) The functional significance of social cognition in schizophrenia: a review. Schizophrenia Bull 32(Suppl 1):44–63

34.

Harvey PD, Penn D (2010) Social cognition: the key factor predicting social outcome in people with schizophrenia? Psychiatry (Edgmont) 2:41–44

35.

Figueira ML, Brissos S (2011) Measuring psychosocial outcomes in schizophrenia patients. Curr Opin Psychiatry 24:91–99
Acknowledgments
This study was supported by an unrestricted educational grant from Janssen-Cilag Pharmaceutical, Portugal. Sofia Brissos received support to attend a residential workshop on Social Functioning in Schizophrenia, in Corpus Christy College, at the University of Oxford, UK. The authors thank Prof. Vasco Videira Dias for training in the neurocognitive measures, and advice on neurocognitive data analysis.
About this article
Cite this article
Brissos, S., Palhavã, F., Marques, J.G. et al. The Portuguese version of the Personal and Social Performance Scale (PSP): reliability, validity, and relationship with cognitive measures in hospitalized and community schizophrenia patients. Soc Psychiatry Psychiatr Epidemiol 47, 1077–1086 (2012). https://doi.org/10.1007/s00127-011-0412-6
Received:

Accepted:

Published:

Issue Date:
Keywords
Disability neurocognition

Psychometric properties

Social functioning

Validity