Abstract
Objective
Although the association between age and depression has been previously demonstrated, uncertainty remains because of the confounding relationship existing between age and cohort. A study by Yang (J Health Soc Behav 48(1):16, 2007) has evidenced important cohort effects and age-by-cohort interactions in depressive symptoms among US citizens. A crucial limitation, however, is that this study confines itself to elderly population. The objective of the present study is to bring further clarification to the association between age, cohort membership and depressive symptoms, by analyzing a sample with a wider age range.
Methods
The Panel Study of Belgian Households is a prospective longitudinal survey, following adults ages 25–74, annually from 1992 to 2002. Missing data were replaced using multiple imputation, allowing for a complete dataset (N = 7,000) at each wave. Respondents were classified into one of five birth cohorts: 1918–1927; 1928–1937; 1938–1947; 1948–1957; 1958–1967. Frequency of depressive symptoms was reported using a modified version of the Health and Daily Living form. Growth curve modeling was used to determine the effect of age and cohort on depression trajectory.
Results
All cohorts differed significantly from one another, with recent cohorts always obtaining the highest mean HDL-depression score. The intensity of depressive symptoms increases linearly with age, but significant age-by-cohorts interactions were detected, indicating that the relationship between age and depression varies across cohorts. No evidence of a WW2 effect was found.
Conclusion
The association between age and depression has to take cohort membership into account. Cohort replacement effects explain the increase in depression in Belgium.
This is a preview of subscription content, log in to check access.
Access options
Buy single article
Instant access to the full article PDF.
US$ 39.95
Price includes VAT for USA
Subscribe to journal
Immediate online access to all issues from 2019. Subscription will auto renew annually.
US$ 199
This is the net price. Taxes to be calculated in checkout.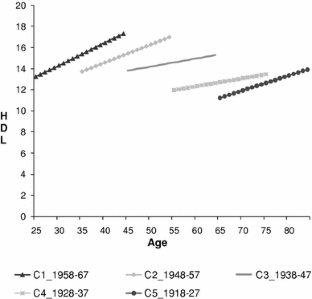 Notes
1.

Imputation models including 143 depression variables (13 items measured at 11 time points) become practically impossible to estimate.

2.

Selection models (simultaneously modeling the dependent variable and the missingness process) or pattern-mixture models (PMM) (distinguishing respondents by their missingness pattern) were developed to deal with data where the missingness process is not at random (MNAR). These models require a rigorous and relatively complex sensitivity analysis [38], as their results can be highly dependent on untestable assumptions about the missingness model (for selection models) or the choice for so-called identifying restrictions (for PMM).

3.

Age must be measured on the same scale for respondents from different cohorts, as we want to estimate pure cohort effects, i.e. under control for the differences in the age composition of the cohorts [47:405]. Thus, grand-median centering of the age variable is preferred over cohort-median centering.
References
1.

Mathers CD, Loncar D (2006) Projections of global mortality and burden of disease from 2002 to 2030. PLoS Med 3(11):2011–2030

2.

Baumeister H, Harter M (2007) Prevalence of mental disorders based on general population surveys. Soc Psychiatry Psychiatr Epidemiol 42(7):537–546

3.

Wittchen HU, Jacobi F (2005) Size and burden of mental disorders in Europe—a critical review and appraisal of 27 studies. Eur Neuropsychopharmacol 15(4):357–376

4.

Kessler R, Birnbaum H, Shahly V, Bromet E, Hwang I, McLaughlin K, Sampson N, Andrade L, de Girolamo G, Demyttenaere K (2009) Age differences in the prevalence and co-morbidity of dsm-iv major depressive episodes: results from the who world mental health survey initiative. Depress Anxiety 0:1–14

5.

Fombonne E (1994) Increased rates of depression: update of epidemiological findings and analytical problems. Acta Psychiatr Scand 90(3):145–156

6.

Twenge J, Gentile B, DeWall C, Ma D, Lacefield K, Schurtz D (2010) Birth cohort increases in psychopathology among young Americans, 1938–2007: a cross-temporal meta-analysis of the MMPI. Clin Psychol Rev 30:145–154

7.

Wauterickx N, Bracke P (2005) Unipolar depression in the belgian population—trends and sex differences in an eight-wave sample. Soc Psychiatry Psychiatr Epidemiol 40(9):691–699

8.

Riley M (1973) Aging and cohort succession: interpretations and misinterpretations. Public Opin Q 37(1):35–49

9.

Riley M (1987) On the significance of age in sociology. Am Sociol Rev 52(1):1–14

10.

Ryder NB (1965) The cohort as a concept in the study of social-change. Am Sociol Rev 30(6):843–861

11.

Yang Y (2007) Is old age depressing? Growth trajectories and cohort variations in late-life depression. J Health Soc Behav 48(1):16

12.

Mirowsky J, Ross C (1992) Age and depression. J Health Soc Behav 33(3):187–205

13.

Klerman G (1988) The current age of youthful melancholia. Evidence for increase in depression among adolescents and young adults. Br J Psychiatry 152(1):4

14.

Jorm A (2000) Does old age reduce the risk of anxiety and depression? A review of epidemiological studies across the adult life span. Psychol Med 30(01):11–22

15.

Jorm A, Windsor T, Dear K, Anstey K, Christensen H, Rodgers B (2005) Age group differences in psychological distress: the role of psychosocial risk factors that vary with age. Psychol Med 35(09):1253–1263

16.

Kessler R, Birnbaum H, Bromet E, Hwang I, Sampson N, Shahly V (2010) Age differences in major depression: results from the national comorbidity survey replication (ncs-r). Psychol Med 40(02):225–237

17.

Scott K, Von Korff M, Alonso J, Angermeyer M, Bromet E, Bruffaerts R, de Girolamo G, de Graaf R, Fernandez A, Gureje O (2008) Age patterns in the prevalence of dsm-iv depressive/anxiety disorders with and without physical co-morbidity. Psychol Med 38(11):1659–1669

18.

Stordal E, Krüger M, Dahl N, Krüger Ø, Mykletun A, Dahl A (2001) Depression in relation to age and gender in the general population: the nord-trøndelag health study (hunt). Acta Psychiatr Scand 104(3):210–216

19.

Stordal E, Mykletun A, Dahl A (2003) The association between age and depression in the general population: a multivariate examination. Acta Psychiatr Scand 107(2):132–141

20.

Yang Y, Lee L (2009) Sex and race disparities in health: cohort variations in life course patterns. Soc Forces 87(4):2093–2124

21.

Eckersley R (2006) Is modern western culture a health hazard? Int J Epidemiol 35(2):252

22.

Murphy J, Laird N, Monson R, Sobol A, Leighton A (2000) Incidence of depression in the stirling county study: historical and comparative perspectives. Psychol Med 30(03):505–514

23.

Roberts R, Lee E, Roberts C (1991) Changes in prevalence of depressive symptoms in alameda county: age, period, and cohort trends. J Aging Health 3(1):66–86

24.

Bonnewyn A, Bruffaerts R, Vilagut G, Almansa J, Demyttenaere K (2007) Lifetime risk and age-of-onset of mental disorders in the belgian general population. Soc Psychiatry Psychiatr Epidemiol 42(7):522–529

25.

Klerman G, Weissman MM (1989) Increasing rates of depression. JAMA 261(15):2229–2235

26.

Kessler R, McGonagle K, Nelson C, Hughes M, Swartz M, Blazer D (1994) Sex and depression in the national comorbidity survey II: cohort effects. J Affect Disord 30(1):15–26

27.

Lewinsohn PM, Rohde P, Seeley JR, Fischer SA (1993) Age-cohort changes in the lifetime occurrence of depression and other mental-disorders. J Abnorm Psychol 102(1):110–120

28.

Chen H, Cohen P, Kasen S (2007) Cohort differences in self-rated health: evidence from a three-decade, community-based, longitudinal study of women. Am J Epidemiol 166(4):439–446

29.

Kasen S, Cohen P, Chen H, Castille D (2003) Depression in adult women: age changes and cohort effects. Am J Public Health 93(12):2061–2066

30.

Elder GH (1998) The life course as developmental theory. Child Dev 69(1):1–12

31.

Gallo JJ, Anthony JC, Muthen BO (1994) Age-differences in the symptoms of depression—a latent trait analysis. J Gerontol 49(6):P251–P264

32.

Bracke P, Wauterickx N (2003) Complaints of depression in a representative sample of the belgian population. Arch Pub Health 61(5):223–247

33.

Graham JW (2009) Missing data analysis: making it work in the real world. Annu Rev Psychol 60:549–576

34.

McKnight PE, McKnight KM, Sidani S, Figueredo AJ (2007) Missing data: a gentle introduction. The Guilford Press, New York

35.

Rubin DB (1996) Multiple imputation after 18 + years. J Am Stat Assoc 91(434):473–489

36.

Schafer J (1997) Analysis of incomplete multivariate data. Chapman & Hall/CRC

37.

Graham JW, Olchowski AE, Gilreath TD (2007) How many imputations are really needed? Some practical clarifications of multiple imputation theory. Prev Sci 8(3):206–213

38.

Verbeke G, Molenberghs G (2000) Linear mixed models for longitudinal data. Springer, New York

39.

Buhi ER, Goodson P, Neilands TB (2008) Out of sight, not out of mind: Strategies for handling missing data. Am J Health Behav 32(1):83–92

40.

Shrive F, Stuart H, Quan H, Ghali W (2006) Dealing with missing data in a multi-question depression scale: a comparison of imputation methods. BMC Med Res Methodol 6(1):57

41.

Moos RH, Cronkite RC, Billings AG, Finney JW (1985) Health and daily living form manual, revised version. Social Ecological Laboratory, Veterans Administration and Stanford University Medical Centers, Stanford

42.

Angst J, Gamma A, Gastpar M, Lepine JP, Mendlewicz J, Tylee A (2002) Gender differences in depression—epidemiological findings from the European DEPRES I and II studies. Eur Arch Psychiatry Clin Neurosci 252(5):201–209

43.

Bracke P (1996) Geslachtsverschillen in depressief gedrag in een representatieve steekproef van de vlaamse bevolking: De validiteit van een zelf-rapportageschaal. Arch Pub Health 54(7-8):275–300

44.

Bracke P (1998) Sex differences in the course of depression: evidence from a longitudinal study of a representative sample of the Belgian population. Soc Psychiatry Psychiatr Epidemiol 33(9):420–429

45.

Bracke P (2000) The three-year persistence of depressive symptoms in men and women. Soc Sci Med 51(1):51–64

46.

Schlomer GL, Bauman S, Card NA (2010) Best practices for missing data management in counseling psychology. J Couns Psychol 57(1):1

47.

Raudenbush SW, Chan WS (1992) Growth curve analysis in accelerated longitudinal designs. J Res Crime Del 29(4):387

48.

Van de Velde S, Bracke P, Levecque K, Meuleman B (2010) Gender differences in depression in 25 European countries after eliminating measurement bias in the CES-D 8. Soc Sci Res 39(3):396–404

49.

Zimmerman F, Katon W (2005) Socioeconomic status, depression disparities, and financial strain: what lies behind the income-depression relationship? Health Econ 14(12):1197–1215

50.

Raudenbush SW, Bryk AS (2002) Hierarchical linear models: applications and data analysis methods. Advanced quantitative techniques in the social sciences, vol 1, 2nd edn. Sage Publications, Thousand Oaks

51.

Singer J, Willett J (2003) Applied longitudinal data analysis: modeling change and event occurrence. Oxford University Press, USA

52.

Boyle MH, Willms JD (2001) Multilevel modelling of hierarchical data in developmental studies. J Child Psychol Psychiatry 42(1):141–162

53.

Twenge J (2000) The age of anxiety? The birth cohort change in anxiety and neuroticism, 1952-1993. J Pers Soc Psychol 79(6):1007–1021

54.

Ehrenberg A (1998) La fatigue d'être soi : Dépression et société. O. Jacob, Paris

55.

Schwartz B (2004) The tyranny of choice. Scientific American Mind, pp 71–75

56.

Whitley R (2008) Postmodernity and mental health. Harv Rev Psychiatry 16(6):352–364

57.

Horwitz A, Wakefield J (2009) The medicalization of sadness: how psychiatry transformed a natural emotion into a mental disorder. Salute e Società 8(2):49–66

58.

Rose N (2003) Neurochemical selves. Society 41(1):46–59

59.

Colla J, Buka S, Harrington D, Murphy JM (2006) Depression and modernization: across-cultural study of women. Soc Psychiatry Psychiatr Epidemiol 41(4):271–279

60.

Stevenson B, Wolfers J (2007) Marriage and divorce: changes and their driving forces. J Econ Perspect 21(2):27–52

61.

Mason K, Mason W, Winsborough H, Poole W (1973) Some methodological issues in cohort analysis of archival data. Am Sociol Rev 38(2):242–258
Acknowledgments
The first author is thankful to the Fonds québécois de la recherche sur la société et la culture (FQRSC) from which she received a doctoral funding and to the Québec inter-university center for social statistics (QICSS) which allowed her stay at Ghent University and led to the realization of this project.
About this article
Cite this article
Brault, M., Meuleman, B. & Bracke, P. Depressive symptoms in the Belgian population: disentangling age and cohort effects. Soc Psychiatry Psychiatr Epidemiol 47, 903–915 (2012). https://doi.org/10.1007/s00127-011-0398-0
Received:

Accepted:

Published:

Issue Date:
Keywords
Depressive symptoms

Age effects

Cohort effects

Growth curve modelling

Belgium