Abstract
Purpose
This study assessed the distribution of posttraumatic stress disorder (PTSD) symptoms and psychosis indicators among a large sample of individuals with a lifetime diagnosis of PTSD. The identification of a psychotic PTSD subtype was also predicted.
Method
Using data from the National Comorbidity Survey a latent class analysis was conducted on the PTSD symptoms of intrusion, avoidance, and hyperarousal and the psychosis hallucination and delusion indicators.
Results
Results indicated four latent classes, two of which had relatively high probabilities of endorsing the hallucination and delusion indicators. These classes were associated with a broad range of traumatic experiences. One particular class had high probabilities of endorsing both the psychosis indicators and the PTSD symptoms and was associated with a broad range of comorbid psychiatric disorders.
Conclusion
There was a candidate class that met the characteristics expected to be evident in a psychotic PTSD subtype.
This is a preview of subscription content, log in to check access.
Access options
Buy single article
Instant access to the full article PDF.
US$ 39.95
Price includes VAT for USA
Subscribe to journal
Immediate online access to all issues from 2019. Subscription will auto renew annually.
US$ 199
This is the net price. Taxes to be calculated in checkout.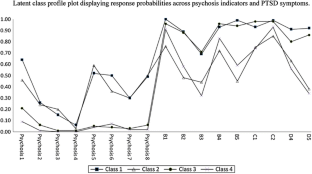 References
1.

American Psychiatric Association (1994) Diagnostic and statistical manual of mental disorders, 4th edn. American Psychiatric Association, Washington

2.

Bebbington PE, Kuipers L (1992) Social causation of schizophrenia. In: Bhugra D, Leff JP (eds) Principles of social psychiatry. Blackwell, Oxford

3.

Janssen I, Krabbendam L, Bak M, Hanssen M, Vollebergh W, de Graaf R et al (2004) Childhood abuse as a risk factor for psychotic experiences. Acta Psychiatr Scand 109:38–45

4.

Shevlin M, Dorahy M, Adamson G (2007) Childhood traumas and hallucinations: an analysis of the National Comorbidity Survey. J Psychiatr Res 41:222–228

5.

Shevlin M, Dorahy MJ, Adamson G (2007) Trauma and psychosis: an analysis of the National Comorbidity Survey. Am J Psychiatry 164:166–169

6.

Elklit A, Shevlin M (2010) Female sexual victimization predicts psychosis: a case-control study based on the Danish registry system. Schizophr Bull. doi:10.1093/schbul/sbq048

7.

Hamner MB, Frueh BC, Ulmer HG, Arana GW (1999) Psychotic features and illness severity in combat veterans with chronic posttraumatic stress disorder. Biol Psychiatry 45:846–852

8.

Hamner MB, Fossey MD (1993) Psychotic symptoms associated with posttraumatic-stress-disorder. Neuropsychopharmacology 9:S121–S122

9.

Hamner MB (1997) Psychotic features and combat-associated PTSD. Depress Anxiety 5:34–38

10.

Morrison APSC, Read J, Turkington D (2005) Trauma and psychosis: theoretical and clinical implications. Acta Psychiatr Scand 112:327–329

11.

Seedat S, Stein MB, Oosthuizen PP, Emsley RA, Stein DJ (2003) Linking posttraumatic stress disorder and psychosis—a look at epidemiology, phenomenology, and treatment. J Nerv Ment Dis 191:675–681

12.

Sautter FJ, Brailey K, Uddo MM, Hamilton MF, Beard MG, Borges AH (1999) PTSD and comorbid psychotic disorder: comparison with veterans diagnosed with PTSD or psychotic disorder. J Trauma Stress 12:73–88

13.

Ivezic S, Bagaric A, Oruc L, Mimica N, Ljubin T (2000) Psychotic symptoms and comorbid psychiatric disorders in a Croation combat related posttraumatic stress disorder sample. Croat Med J 41:179–183

14.

Sareen J, Cox BJ, Goodwin RD, Asmundson GJG (2005) Co-occurrence of posttraumatic stress disorder with positive psychotic symptoms in a nationally representative sample. J Trauma Stress 18:313–322

15.

Braakman MH, Kortman FAM, van den Brink W (2009) Validity of 'posttraumatic stress disorder with secondary psychotic features': a review of the evidence. Acta Psychiatr Scand 199:15–24

16.

David D, Kutcher GS, Jackson EI, Mellman TA (1999) Psychotic symptoms in combat-related posttraumatic stress disorder. J Clin Psychiatry 60:29–32

17.

Kastelan A, Franciskovic T, Moro L, Roncevic-Grzeta I, Grkovic J, Jurcan V et al (2007) Psychotic symptoms in combat-related post-traumatic stress disorder. Mil Med 172:273–277

18.

Kessler RC (1994) The National Comorbidity Survey of the United States. Int Rev Psychiatry 6:365–376

19.

American Psychiatric Association (1987) Diagnostic and statistical manual of mental disorders, 3rd edn, revised (DSM-III-R). American Psychiatric Association, Washington

20.

World Health Organization (1990) Composite International Diagnostic Interview (CIDI), version 1.0. World Health Organization

21.

Simms LJ, Watson D, Doebbeling BN (2002) Confirmatory factor analyses of posttraumatic stress symptoms in deployed and nondeployed veterans of the Gulf War. J Abnorm Psychol 111:637–647

22.

Elklit A, Armour C, Shevlin M (2010) Testing alternative factor models of PTSD and the robustness of the dysphoria factor. J Anxiety Disord 24:147–154

23.

Armour C, Shevlin M (2010) Testing the dimensionality of PTSD and the specificity of the dysphoria factor. J Loss Trauma 15:11–27

24.

Ford JD, Elhai JD, Ruggiero KJ, Frueh BC (2009) Refining posttraumatic stress disorder diagnosis: evaluation of symptom criteria with the National Survey of Adolescents. J Clin Psychiatry 70:748–755

25.

Spitzer RL, First MB, Wakefield JC (2007) Saving PTSD from itself in DSM-V. J Anxiety Disord 21:233–241

26.

Morrison AP, Frame L, Larkin W (2003) Relationships between trauma and psychosis: a review and integration. Br J Clin Psychol 42:331–353

27.

Spitzer RL, Williams JBW, Gibbon M, First MB (1992) The Structured Clinical Interview for DSM-III-R (SCID) I: history, rationale, and description. Arch Gen Psychiatry 49:624–629

28.

Kessler RC, Borges G, Walters EE (1999) Prevalence of and risk factors for lifetime suicide attempts in the national comorbidity survey. Arch Gen Psychiatry 56:17–626

29.

Wittchen HU, Robins LN, Cottler LB, Sartorius N, Burke JD, Regier D (1991) Cross-cultural feasibility, reliability and sources of variance of the Composite International Diagnostic Interview (CIDI). Br J Psychiatry 159:645–653

30.

Cottler LB, Robins LN, Grant BF, Blaine J, Towle LH, Wittchen HU et al (1991) The CIDI-core substance-abuse and dependence questions—cross-cultural and nosological issues. Br J Psychiatry 159:653–658

31.

Wacker HR, Battegay R, Muellejans R, Schloesser C (1990) Using the CIDI-C in the general-population. Psychiatry: A World Perspective 900:138–143

32.

Janca A, Robins LN, Bucholz KK, Early TS, Shayka JJ (1992) Comparison of Composite International Diagnostic Interview and Clinical DSM-III-R Criteria Checklist Diagnoses. Acta Psychiatr Scand 85:440–443

33.

Schafer JL, Graham JW (2002) Missing data: our view of the state of the art. Psychol Methods 7:147–177

34.

Akaike H (1987) Factor analysis and AIC. Psychometrika 52:317–332

35.

Scwartz G (1978) Estimating the dimension of a model. Ann Stat 6:461–464

36.

Sclove SL (1987) Application of model selection criteria to some problems in multivariate analysis. Psychometrika 52:333–343

37.

McLachlan GJ, Peel D (2000) Finite mixture models. New York, Wiley-Interscience

38.

Ramaswamy V, DeSarbo W, Reibstein D, Robinson W (1993) An empirical pooling approach for estimating marketing mix elasticities with PIMS data. Marketing Sci 12:103–124

39.

Nylund KL, Asparoutiov T, Muthen BO (2007) Deciding on the number of classes in latent class analysis and growth mixture modeling: a Monte Carlo simulation study. Struct Equ Model 14:535–569

40.

Muthen BO, Muthen L (1998–2007) Mplus Users Guide, 5th edn. Muthen & Muthen, Los Angeles

41.

Scott J, Welham J, Martin G, Bor W, Najman J, O'Callaghan M et al (2008) Demographic correlates of psychotic-like experiences in young Australian adults. Acta Psychiatr Scand 118:230–237

42.

Johns LC, Hemsley D, Kuipers E (2002) A comparison of auditory hallucinations in a psychiatric and non-psychiatric group. Br J Clin Psychol 41:81–86

43.

Bebbington PE, Bhugra D, Brugha T, Singleton N, Farrell M, Jenkins R et al (2004) Psychosis, victimisation and childhood disadvantage—evidence from the second British National Survey of Psychiatric Morbidity. Br J Psychiatry 185:220–226

44.

Mueser KT, Essock SM, Haines M, Wolfe R, Xie HY (2004) Posttraumatic stress disorder, supported employment, and outcomes in people with severe mental illness. CNS Spectr 9:913–925

45.

Shaw K, McFarlane AC, Bookless C, Air T (2002) The aetiology of postpsychotic posttraumatic stress disorder following a psychotic episode. J Trauma Stress 15:39–47

46.

Bendall S, McGorry P, Krstev H (2006) The trauma of being psychotic: an analysis of posttraumatic stress disorder in response to acute psychosis. In: Larkin W, Morrison AP (eds) Trauma and psychosis: new directions for theory and therapy. Routledge, London, pp 58–74

47.

Cresswell CM, Kuipers L, Power MJ (1992) Social networks and support in long-term psychiatric-patients. Psychol Med 22:1019–1026

48.

Bebbington PE, Kuipers L (1994) The social management of long standing schizophrenia: the deployment of service resources. Clinician 12:17–29

49.

Butzlaff RL, Hooley JM (1998) Expressed emotion and psychiatric relapse—a meta-analysis. Arch Gen Psychiatry 55:547–552
About this article
Cite this article
Shevlin, M., Armour, C., Murphy, J. et al. Evidence for a psychotic posttraumatic stress disorder subtype based on the National Comorbidity Survey. Soc Psychiatry Psychiatr Epidemiol 46, 1069–1078 (2011). https://doi.org/10.1007/s00127-010-0281-4
Received:

Accepted:

Published:

Issue Date:
Keywords
Psychotic PTSD

Community sample

Latent class analysis