Abstract
Purpose
To describe and validate the 'DAWBA bands'. These are novel ordered-categorical measures of child mental health, based on the structured sections of the Development and Well-Being Assessment (DAWBA).
Methods
We developed computer algorithms to generate parent, teacher, child and multi-informant DAWBA bands for individual disorders and for groups of disorder (e.g. 'any emotional disorder'). The top two (out of 6) levels of the DAWBA bands were used as computer-generated DAWBA diagnoses. We validated these DAWBA bands in 7,912 British children (7–19 years) and 1,364 Norwegian children (11–13 years), using clinician-rated DAWBA diagnoses as a gold standard.
Results
In general, the prevalence of clinician-rated diagnosis increased monotonically across all levels of the DAWBA bands, and also showed a dose–response association with service use and risk factors. The prevalence estimates of the computer-generated DAWBA diagnoses were of roughly comparable magnitude to the prevalence estimates from the clinician-generated diagnoses, but the estimates were not always very close. In contrast, the estimated effect sizes, significance levels and substantive conclusions regarding risk factor associations were very similar or identical. The multi-informant and parent DAWBA bands performed especially well in these regards.
Conclusion
Computer-generated DAWBA bands avoid the cost and delay occasioned by clinical rating. They may, therefore, sometimes provide a useful alternative to clinician-rated diagnoses, when studying associations with risk factors, generating rough prevalence estimates or implementing routine mental health screening.
This is a preview of subscription content, log in to check access.
Access options
Buy single article
Instant access to the full article PDF.
US$ 39.95
Price includes VAT for USA
Subscribe to journal
Immediate online access to all issues from 2019. Subscription will auto renew annually.
US$ 199
This is the net price. Taxes to be calculated in checkout.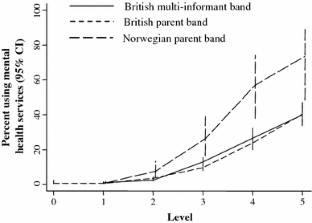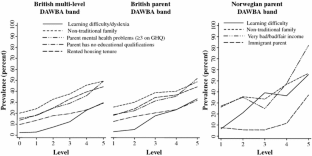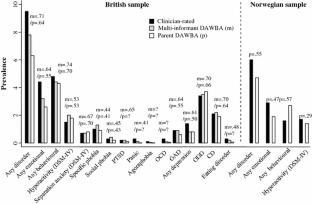 References
1.

Angold A (2002) Diagnostic interviews with parents and children. In: Rutter M, Taylor EA (eds) Child and adolescent psychiatry. Blackwell, Oxford

2.

Breslau N (1987) Inquiring about the bizarre: false positives in Diagnostic Interview Schedule for Children (DISC) ascertainment of obsessions, compulsions, and psychotic symptoms. J Am Acad Child Adolesc Psychiatry 26(5):639–644

3.

Goodman R, Scott S (1997) Child psychiatry. Blackwell Scientific Publications, Oxford

4.

Goodman R et al (1996) Rating child psychiatric caseness from detailed case histories. J Child Psychol Psychiatry 37(4):369–379

5.

Ford T, Goodman R, Meltzer H (2003) The British Child and Adolescent Mental Health Survey 1999: the prevalence of DSM-IV disorders. J Am Acad Child Adolesc Psychiatry 42(10):1203–1211

6.

Goodman R et al (2000) The development and well-being assessment: description and initial validation of an integrated assessment of child and adolescent psychopathology. J Child Psychol Psychiatry 41(5):645–655

7.

Angold A (1989) Structured assessments of psychopathology in children and adolescents. In: Thompson C (ed) The instruments of psychiatric research. Wiley, New York

8.

Loeber R et al (1991) Differences and similarities between children, mothers, and teachers as informants on disruptive child behavior. J Abnorm Child Psychol 19(1):75–95

9.

American Psychiatric Association (1994) Diagnostic and statistical manual of mental disorders, 4th edition (DSM-IV). American Psychiatric Association, Washington, DC

10.

WHO (1993) The ICD-10 classification of mental and behavioural disorders; diagnostic criteria for research. World Health Organisation, Geneva

11.

Meltzer H et al (2003) Persistence, onset, risk factors and outcomes of childhood mental disorders. The Stationery Office, London

12.

Heiervang E et al (2007) Psychiatric disorders in Norwegian 8- to 10-year-olds: an epidemiological survey of prevalence, risk factors, and service use. J Am Acad Child Adolesc Psychiatry 46(4):438–447

13.

Meltzer H et al (2000) Mental health of children and adolescents in Great Britain. The Stationery Office, London

14.

Heiervang E, Goodman R (2010) Advantages and limitations of web-based surveys: evidence from a child mental health survey. Soc Psychiatry Psychiatr Epidemiol

15.

Green H et al (2005) Mental health of children and young people in Great Britain, 2004. MacMillan, Palgrave

16.

Parry-Langdon N (2008) Three years on: survey of the development and emotional well-being of children and young people. Office for National Statistics, Cardiff

17.

Heiervang E, Goodman A, Goodman R (2008) The Nordic advantage in child mental health: separating health differences from reporting style in a cross-cultural comparison of psychopathology. J Child Psychol Psychiatry 49(6):678–685

18.

Ford T et al (2008) Predictors of service use for mental health problems among British schoolchildren. Child Adolesc Ment Health 13(1):32–40

19.

Goldberg DP, Williams P (1998) A user's guide to the General Health Questionnaire. NFER-Nelson, Windsor
Conflict of interest statement
AG and RG are directors and RG is the owner of Youthinmind, which provides no-cost and low-cost software and web sites related to the DAWBA. SC consulted to Youthinmind in the development of the DAWBA bands. EH is the director and owner of Careahead, which provides teaching and supervision to clinics on the use of the DAWBA. EH and RG's opportunities to charge for clinical rating of the DAWBA may be reduced by the findings of this paper.
Electronic supplementary material
Below is the link to the electronic supplementary material.
About this article
Cite this article
Goodman, A., Heiervang, E., Collishaw, S. et al. The 'DAWBA bands' as an ordered-categorical measure of child mental health: description and validation in British and Norwegian samples. Soc Psychiatry Psychiatr Epidemiol 46, 521–532 (2011). https://doi.org/10.1007/s00127-010-0219-x
Received:

Accepted:

Published:

Issue Date:
Keywords
Computer-generated diagnoses

Diagnostic interview

Child mental health

Prevalence

Associations