Abstract
Objective
Previous research has suggested that psychosis is better described as a continuum rather than a dichotomous entity. This study aimed to describe the distribution of positive psychosis-like symptoms in two large community samples using an item response mixture model.
Method
An item response mixture model was used to explain the pattern of psychosis-like symptom endorsement. This model incorporated two elements. First, a continuous non-normal latent variable to explain the observed pattern of data. Second, a categorical latent variable to explain the variation in the continuous non-normal latent variable.
Results
For both samples, representing broadly and narrowly defined psychosis, the best fitting model was a four-class solution. In both cases, the classes differed quantitatively rather than qualitatively.
Conclusions
The analysis showed that psychosis-like symptoms at the population level could be best explained by four classes that appeared to represent an underlying continuum.
This is a preview of subscription content, log in to check access.
We're sorry, something doesn't seem to be working properly.
Please try refreshing the page. If that doesn't work, please contact support so we can address the problem.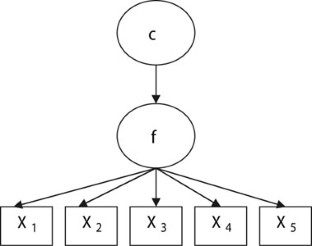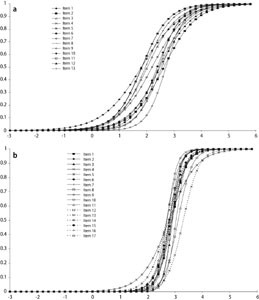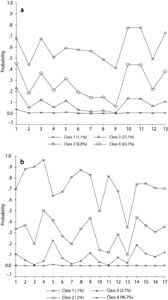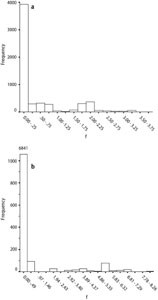 References
1.

Aitkin M (1999) A general maximum likelihood analysis of variance components in generalized linear models. Biometrics 55:117–128

2.

Akaike H (1987) Factor analysis and the AIC. Psychometrika 52:317–332

3.

Andreasen NC (1984) The Scale for Assessment of Positive Symptoms. Iowa City: University of Iowa

4.

Bijl RV, van Zessen G, Ravelli A, de Rijk C, en Langendoen Y (1998) The Netherlands Mental Health Survey and Incidence Study (NEMESIS): objectives and design. Soc Psychiatry Psychiatr Epidemiol 33:581–586

5.

Hanssen MSS, Bijl RV, Vollebergh W, van Os J (2003) Self-reported psychotic experiences in the general population: a valid screening tool for DSM-III-R psychotic disorders? Acta Psychiatr Scand 10:369–377

6.

Johns LC, Nazroo JY, Bebbington P, Kuipers E (2002) Occurrence of hallucinatory experiences in a community sample and ethnic variations. Br J Psychiat 180:174–178

7.

Johns LC, van Os J (2001) The continuity of psychotic experiences in the general population. Clin Psychol Rev 21:1125–1141

8.

Kang T, Cohen AS (2007) IRT model selection methods for dichotomous items. Appl Psychol Meas 31:331–358

9.

Kendler KS, Gallagher TJ, Abelson JM, Kessler RC (1996) Lifetime prevalence, demographic risk factors, and diagnostic validity of nonaffective psychosis as assessed in a US community sample: the national comorbidity survey. Arch Gen Psychiat 53:1022–1031

10.

Kendler KS, Karkowski LM, Walsh D (1998) The structure of psychosis: latent class analysis of probands from the Roscommon Family Study. Arch Gen Psychiat 55:492–499

11.

Kessler RC (1994) The National Comorbidity Survey of the United States. Int Rev Psychiat 6:365–376

12.

Krabbendam L, Myin-Germeys I, van Os J (2004) The expanding psychosis phenotype. Int J Psych Psychol Ther 4:411–420

13.

Lo Y, Mendell N, Rubin DB (2001) Testing the number of components in a normal mixture. Biometrika 88:767–778

14.

McGuffin P, Farmer AE, Harvey IH (1991) A polydiagnostic application of operational criteria in studies of psychotic illness: development and reliability of the OPCRIT system. Arch Gen Psychiat 48:764–770

15.

Murray V, McKee I, Miller PM, et al. (2005) Dimensions and classes of psychosis in a population cohort: a four class, four dimension model of schizophrenia and affective psychoses. Psychol Med 35:499–510

16.

Muthén B, Asparouhov T (2006) Item response mixture modeling: application to tobacco dependence criteria. Addict Behav 31:1050–1066

17.

Muthén L, Muthén B (1998–2006) Mplus user guide. Version 4. Los Angeles: Statmodel

18.

Nylund KL, Asparouhov T, Muthen B (2006) Deciding on the number of classes in latent class analysis, growth mixture modeling. A Monte Carlo simulation study. Downloaded from http://www.statmodel.com/download/LCA_tech11_nylund_v83.pdf on 30th September 2006

19.

Peralta V, Cuesta MJ (1998) Factor structure and clinical validity of competing models of positive symptoms in schizophrenia. Biol Psychiatry 44:107–114

20.

Peters ER, Joseph SA, Garety PA (1999) Measurement of delusional ideation in the normal population: introducing the PDI (Peters et al. Delusions Inventory). Schizophr Bull 25:553–576

21.

Schwartz G (1978) Estimating the dimension of a model. Ann Stat 6:461–464

22.

Sclove SL (1987) Application of model-selection criteria to some problems in multivariate analysis. Psychometrika 52:333–343

23.

Serretti A, Olgiati P (2004) Dimensions of major psychoses: a confirmatory factor analysis of six competing models. Psychiat Res 127:101–109

24.

Shevlin M, Murphy J, Dorahy M, Adamson G (2007) The distribution of positive psychosis-like symptoms in the population: a latent class analysis of the National Comorbidity Survey. Schizophr Res 89:101–109

25.

Spitzer RL, Williams JBW, Gibbon M, First MB (1992) The Structured Clinical Interview for DSM-III-R (SCID), I: history, rationale, and description. Arch Gen Psychiat 49:624–629

26.

Stefanis NC, Hanssen M, Smirnis NK, Avramopoulos DA, Evdokimidis IK, Stefanis CN, Verdoux H, van Os J (2002) Evidence that three dimensions of psychosis have a distribution in the general population. Psychol Med 32:347–358

27.

Wittchen H-U, Kessler RC (2005) Modifications of the CIDI in the National Comorbidity Survey: the development of the UM-CIDI: NCS Working Paper #2 (1994). Available at: http://www.hcp.med.harvard.edu/ncs/ftpdir/um-cidi.pdf/, accessed July 2005
About this article
Cite this article
Shevlin, M., Adamson, G., Vollebergh, W. et al. An application of item response mixture modelling to psychosis indicators in two large community samples. Soc Psychiat Epidemiol 42, 771–779 (2007). https://doi.org/10.1007/s00127-007-0244-6
Received:

Accepted:

Published:

Issue Date:
Key words
psychosis

IRT

latent class analysis

hybrid model