Abstract
Objective
To study the prevalence of behavioural and emotional problems and the scope of symptoms in preschool children. The results serve as baseline in a 4-year follow-up study.
Method
The sample consisted of 1887 preschool children who started primary level education within 6 months upon data collection. The sample represented the complete 1-year intake of all first year primary school children in a northern German town of 254,000 residents. The data were collected with standardized parent questionnaires.
Results
The 6-month prevalence of behavioural and emotional symptoms was 12.4%. The overall score for internalizing symptoms (INT) was significantly higher than the score for externalizing symptoms (EXT). The disturbed children had the highest mean scores on the syndrome scale "Anxious or Depressed".
Conclusions
The level of psychopathology in preschool children was already as high as levels seen elsewhere in school children. The predominant role of INT was unexpected, particularly for boys. The attention of child mental health services need to focus on preschool children as on school children and on INT as much as on EXT, especially in boys.
This is a preview of subscription content, log in to check access.
Access options
Buy single article
Instant access to the full article PDF.
US$ 39.95
Price includes VAT for USA
Subscribe to journal
Immediate online access to all issues from 2019. Subscription will auto renew annually.
US$ 199
This is the net price. Taxes to be calculated in checkout.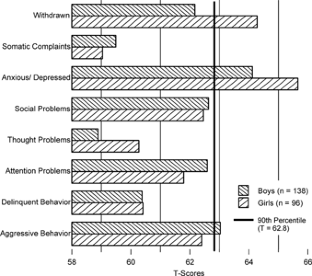 References
1.

Campbell SB (1995) Behaviour problems in preschool children: A review of recent research. J Child Psychol Psychiatry 36:113–149

2.

Steinhausen H-C (1997) Child and adolescent psychiatry disorders in a public service over seventy years. Eur Child Adolesc Psychiatry 6:42–48

3.

Verhulst FC, van der Ende J (1997) Factors associated with child mental health service use in the community. J Am Acad Child Adolesc Psychiatry 36:901–909

4.

Roberts RE, Attkisson CC, Rosenblatt A (1998) Prevalence of psychopathology among children and adolescents. Am J Psychiatry 155:715–725

5.

Ferdinand RF, Visser JH, Hoogerheide KN, der Ende J, Kasius MC, Koot HM, Verhulst FC (2004) Improving estimation of the prognosis of childhood psychopathology; combination of DSM-III-R/DISC diagnoses and CBCL scores. J Child Psychol Psychiatry 45:599–608

6.

Costello EJ, Mustillo S, Erkanli A, Keeler G, Angold A (2003) Prevalence and development of psychiatric disorders in childhood and adolescence. Arch Gen Psychiatry 60:837–844

7.

Kim-Cohen J, Caspi A, Moffitt TE, Harrington H, Milne BJ, Poulton R (2003) Prior juvenile diagnoses in adults with mental disorder: developmental follow-back of a prospective-longitudinal cohort. Arch Gen Psychiatry 60:709–717

8.

Ford T, Goodman R, Meltzer H (2003) The British child and adolescent mental health survey 1999: the prevalence of DSM-IV disorders. J Am Acad Child Adolesc Psychiatry 42:1203–1211

9.

Bongers I, Koot H, van der Ende J, Verhulst FC (2003) The normative development of child and adolescent problem behaviour. J Abnorm Psychol 112:179–192

10.

Keiley MK, Bates JE, Dodge KA, Pettit GS (2000) A cross-domain growth analysis: externalizing and internalizing behaviours during 8 years of childhood. J Abnorm Child Psychol 28:161–179

11.

Stanger C, Achenbach TM, Verhulst FC (1997) Accelerated longitudinal comparisons of aggressive versus delinquent syndromes. Dev Psychopathol 9:43–58

12.

Richman N, Stevenson J, Graham PJ (1982) Preschool to school: a behavioural study. Academic Press, London

13.

Zahn-Waxler C, Klimes-Dougan B, Slattery MJ (2000) Internalizing problems of childhood and adolescence: prospects, pitfalls, and progress in understanding the development of anxiety and depression. Dev Psychopathol 12:443–466

14.

Gesundheitsamt Muenster (1995) Gesundheitsbericht ueber 5-jaehrige Kindergartenkinder in Muenster. Eigendruck, Muenster

15.

Achenbach TM (1991) Manual for the child behaviour checklist/4-18 and 1991 profile. Department of Psychiatry, University of Vermont, Burlington, VT

16.

Arbeitsgruppe Deutsche Child Behaviour Checklist (1998) German version of the child behaviour checklist. (2nd ed). AG Kinder-, Jugend- und Familiendiagnostik, Cologne

17.

Tyson EH (2004) Ethnic differences using behaviour rating scales to assess the mental health of children: a conceptual and psychometric critique. Child Psychiatry Hum Dev 34:167–201

18.

Verhulst FC, Achenbach TM (1995) Empirically based assessment and taxonomy of psychopathology: cross-cultural applications; a review. Eur Child Adolesc Psychiatry 4:61–76

19.

Edelbrock C, Costello AJ (1988) Convergence between statistically derived behaviour problem syndromes and child psychiatric diagnosis. J Abnorm Child Psychol 16:219–231

20.

Eisenberg N, Cumberland A, Spinrad TL, Fabes RA, Shepard SA, Reiser M, Murphy BC, Losoya SH, Guthrie IK (2001) The relations of regulation and emotionality to children's externalizing and internalizing problem behavior. Child Dev 72:1112–1134

21.

Haffner J, Esther C, Münch H, Parzer P, Raue B, Steen R, Klett M, Resch F (2002) Verhaltensauffälligkeiten im Einschulungsalter aus elterlicher Perspektive: Ergebnisse zu Prävalenz und Risikofaktoren in einer epidemiologischen Studie. Prax-Kinderpsychol-Kinderpsychiatr 51:675–696

22.

Lehmkuhl G, Döpfner M, Plück J, Berner W, Fegert JM, Huss M, Lenz K, Schmeck K, Lehmkuhl U, Poustka F (1998) Haeufigkeiten psychischer Auffälligkeiten und somatischer Beschwerden bei vier- bis zehnjährigen Kindern in Deutschland im Urteil der Eltern: ein Vergleich normorientierter und kriterienorientierter Modelle. Z Kinder Jugendpsychiatr 26:83–96

23.

Schmeck K, Poustka F, Döpfner M, Plück J, Berner W, Lehmkuhl G, Fegert JM, Lenz K, Huss M, Lehmkuhl K (2001) Discriminant validity of the child behaviour checklist CBCL-4/18 in German samples. Eur Child Adolesc Psychiatry 10:240–247

24.

Crijnen AAM, Achenbach TM, Verhulst FC (1997) Comparisións of problems reported by parents of chuildren in twelve cultures: total problems, externalizing, and internalizing. J Am Acad Child Adolesc Psychiatry 36:1269–1277

25.

Döpfner M, Plück J, Berner W, Fegert JM, Huss M, Lenz K, Schmeck K, Lehmkuhl U, Poustka F, Lehmkuhl G (1997) Psychische Auffaelligkeiten von Kindern und Jugendlichen in Deutschland—Ergebnisse einer repraesentativen Studie: Methodik, Alters-, Geschlechts- und Beurteilereffekte. Z Kinder Jugendpsychiatr 25:218–233

26.

Silverthorn P, Frick PJ (1999) Developmental pathways to antisocial behaviour: the delayed-onset pathway in girls. Dev Psychopathol 11:101–126
About this article
Cite this article
Furniss, T., Beyer, T. & Guggenmos, J. Prevalence of behavioural and emotional problems among six-years-old preschool children. Soc Psychiat Epidemiol 41, 394–399 (2006). https://doi.org/10.1007/s00127-006-0045-3
Accepted:

Published:

Issue Date:
Key words
epidemiology

preschool children

child psychiatry

internalizing symptoms