Abstract
Background
The field of psychiatric epidemiology has yielded several large and important studies of the prevalence of psychiatric disorders. These surveys have been enhanced by the inclusion of methodologies that reflect the needs for care of the population in question. Clinical studies of psychiatric disorders and unmet needs have focussed on identifying needs and correlating them with service evaluation and satisfaction measures. The association between prevalence, service use and unmet need requires review in order to establish whether there are trends and consistent findings.
Method
Peer-reviewed studies involving the assessment of need up to the present were included. These were of two broad groups: population-based studies and clinical studies. Studies based on outcome measures, review articles, and child psychiatry, old age, and intellectual disability samples were excluded. We conducted a search of MEDLINE and PSYCHINFO using the key words, "mental health needs","assessment of need", and "needs assessment". In addition, we hand-searched key journals and sought personal communication with researchers in the field.
Results
A total of 14 population studies and 19 clinical studies were retrieved. The percentage of the general population who reported at least one need for care ranged from 9.5% to 13.8%. The numbers of needs in psychiatric patients ranged from 3.3 to 8.6. Correlates of unmet need include: unemployment, single status, low quality of life and high disability scores, and the presence of certain psychiatric diagnoses, such as affective psychosis and personality disorders. Higher rates of met need and service satisfaction are correlated with a longer duration of service contact.
Conclusion
The assessment of need to date has been established either by service use data to make inferences about unmet need, by asking limited guided questions about needs, or by using established needs assessment instruments. The high prevalence of psychiatric disorders and the weak correlation between disorder and unmet need require a combined approach towards service development.
This is a preview of subscription content, log in to check access.
We're sorry, something doesn't seem to be working properly.
Please try refreshing the page. If that doesn't work, please contact support so we can address the problem.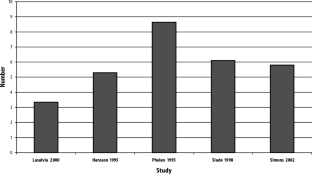 Abbreviations
ADL:

Activities of daily living

AUDI:

Alcohol use disorders identification test

BPRS:

Brief psychiatric rating scale

CAN:

Camberwell Assessment of Need

CANSAS:

Camberwell Assessment of Need, Short Assessment Scale

CIDI:

Composite international diagnostic interview

CIS-R:

Clinical interview schedule

DAS:

Disability assessment schedule

DISSA:

Diagnostic interview schedule, self-administered

ESMS:

European mapping service schedule

GAF:

Global Assessment of Function

GHQ:

General health questionnaire

HoNOS:

Health of the nation outcome scale

LEDs:

Life events and difficulty schedule

LqoLP:

Lancashire quality of life profile

LTE:

List of traumatic events

NFCAS-C:

Needs for care assessment-community version

PNCQ:

Perceived Needs for Care Questionnaire

PSE:

Present state examination;SAS-SR|Social assessment schedule, self-report

SAS-SR:

Social assessment schedule, self-report

SCAN:

Composite instrument using Present State Examination, IGC, CHS

SCID:

Structured Clinical Interview for DSM-IV

SCL-90:

Symptom checklist 90

SRPS:

Social role performance schedule

UM-CIDI:

University of Michigan-Composite International Diagnostic Interview

VSSS:

Verona service satisfaction scale

WMH:

World Mental Health Survey

12-SFHS:

12-item short-form health survey
References
1.

Bebbington PE (1990) Population surveys of psychiatric disorder and the need for treatment. Soc Psychiatry Psychiatr Epidemiol 25:33–40

2.

Bebbington PE, Brewin CR, Marsden L, Lesage A (1996) Measuring the need for psychiatric treatment in the general population: the community version of the MRC Needs for Care Assessment. Psychol Med 26:229–236

3.

Bebbington PE, Marsden L, Brewin CR (1997) The need for psychiatric treatment in the general population. Psychol Med 27: 821–834

4.

Bebbington PE, Meltzer H, Brugha TS, Farrell M, Jenkins R, Ceresa C, Lewis G (2000) Unequal access and unmet need: neurotic disorders and the use of primary care services. Psychol Med 30:1359–1367

5.

Bengsston-Tops A, Hansson L (1999) Clinical and social needs of schizophrenic patients living in the community: the relationship between needs and subjective quality of life. Soc Psychiatry Psychiatr Epidemiol 34:513–518

6.

Bijl RV, Ravelli A (2000) Psychiatric morbidity, service use, and need for care in the general population: results of the Netherlands Mental Health Survey and Incidence Study. Am J Public Health 90:602–607

7.

Brewin CR, Wing JK, Mangen SP, Brugha TS, MacCarthy B (1987) Principles and practice of measuring needs in the long-term mentally ill: the MRC Needs for Care Assessment. Psychol Med 17:971–981

8.

Brewin CR, Wing JK, Mangen SP, Brugha TS, MacCarthy B, Lesage A (1988) Needs for care among the long-term mentally ill: a report from the Camberwell High Contact Survey. Psychol Med 18:457–468

9.

Gallagher J, Teesson M (2000) Measuring disability, need and outcome in Australian mental health services. Aust N Z J Psychiatry 34:850–855

10.

Hansson L, Bjorkman T, Svensson B (1995) The assessment of needs in psychiatric patients – Interrater reliability of the Swedish version of the Camberwell Assessment of Needs instrument and results from a cross-sectional study. Acta Psychiatr Scand 92:285–293

11.

Henderson C, Phelan M, Loftus L, Dall'Agnola R, Ruggeri M (1999) Comparison of patient satisfaction with community-based vs. hospital psychiatric services. Acta Psychiatr Scand 99:188–195

12.

Issakidis C, Teeson M (1999) Measurement of need for care: a trial of the Camberwell assessment of need and the health of the nation outcome scales. Aust N Z J Psychiatry 33:754–759

13.

Katz SJ, Kessler RC, Frank RG, Leaf P, Lin E, Edland M (1997) The use of outpatient mental health services in the United States and Ontario: the impact of mental morbidity and perceived need for care. Am J Public Health 87:1136–1143

14.

Kessler RC, McGonagle KA, Zhao A, Nelson CB, Hughes M, Eshleman S, Wittchen H, Kendler K (1994) Lifetime and 12-month prevalence of DSM-III-R psychiatric disorders in the United States. Results from the National Comorbidity Survey. Arch Gen Psychiatry 51:8–19

15.

Lasalvia A, Ruggeri M, Mazzi MA, Dall'Agnola RB (2000) The perception of needs for care in staff and patients in community-based mental health services. The South-Verona Outcome Project 3. Acta Psychiatr Scand 102:366–375

16.

Leese M, Johnson S, Slade M, Parkman S, Kelly F, Phelan M, Thornicroft G (1998) User perspective on needs and satisfaction with mental health services. Br J Psychiatry 173:409–415

17.

Lefebre J, Cyr M, Lesage A, Fournier L, Toupin J (2000) Unmet needs in the community: can existing services meet them? Acta Psychiatr Scand 102:65–70

18.

Lehtinen V, Joukamaa E, Jyrkinen E, Raitsailo R, Maatela J, Aromaa A (1990) Need for mental health services of the adult population in Finland: results from the Mini Finland Health Survey. Acta Psychiatr Scand 81:426–431

19.

Lesage AD, Fournier L, Cyr M, Toupin J, Fabian J, Gaudette G, Vanier C, Bebbington PE, Brewin CR (1996) The reliability of the community version of the MRC needs for care assessment. Psychol Med 26:237–243

20.

Lin E, Goering P, Offord D, Campbell D, Boyle M (1996) The use of mental health services in Ontario: epidemiologic findings. Can J Psychiatry 41:572–577

21.

McCrone P, Leese M, Thornicroft G, Schene A, Knudsen HC, Vasquez-Barquero JL, Tansella M, Becker T, Chisholm D, for the Epsilon Study Group (2001) A comparison of needs of patients with schizophrenia in five European countries: the Epsilon study. Acta Psychiatr Scand 103:370–379

22.

Meadows G, Burgess P, Fossey E, Harvey C (2000a) Perceived need for mental health care, findings from the Australian National Survey of Mental Health and Wellbeing. Psychol Med 30:645–656

23.

Meadows G, Harvey C, Fossey E, Burgess P (2000b) Assessing perceived need for mental health care in a community survey: development of the Perceived Need for Care Questionnaire (PNCQ). Soc Psychiatry Psychiatr Epidemiol 35:427–435

24.

Meadows G, Burgess P, Bobevski I, Fossey E, Harvey C, Liaw S-T (2002) Perceived need for mental health care: influences of diagnosis, demography and disability. Psychol Med 32:299–309

25.

Parkman S, Davies S, Leese M, Phelan M, Thornicroft G (1997) Ethnic differences in satisfaction with mental services among representative people with psychosis in South London: PRISM Study 4. Br J Psychiatry 171:260–264

26.

Phelan M, Slade M, Thornicroft G et al (1995) The Camberwell Assessment of Need: the validity and reliability of an instrument to assess the need of people with severe mental illness. Br J Psychiatry 167:589–595

27.

Simons L, Petch A (2002) Needs assessment and discharge: a Scottish perspective. J Psychiatr Ment Health Nurs 9:435–445

28.

Slade M, Phelan M, Thornicroft G (1998) A comparison of needs assessed by staff and by an epidemiologically representative sample of patients with psychosis. Psychol Med 28:543–550

29.

Slade M, Leese M, Taylor R, Thornicroft G (1999a) The association between needs and quality of life in epidemiologically representative sample of patients with psychosis. Acta Psychiatr Scand 100:149–157

30.

Slade M, Beck A, Bindman J, Thornicroft G, Wright S (1999) Rou- tine clinical outcome measures for patients with severe mental illness: CANSAS and HoNOS. Br J Psychiatry 174:404–408

31.

Wells K, Klap R, Koike A, Sherbourne C (2001) Ethnic disparities in unmet need for alcoholism, drug abuse, and mental health care. Am J Psychiatry 158:2027–2032

32.

Wiersma D, Nienhuis FJ, Giel R, Sloof CJ (1998) Stability and change in needs of patients with schizophrenic disorders: a 15and 17-year follow-up from first onset of psychosis, and a comparison between "objective" and "subjective" assessments of needs for care. Soc Psychiatry Psychiatr Epidemiol 33:49–56

33.

The World Mental Health Survey Consortium (2004) Prevalence, severity, and unmet need for treatment of mental disorders in the World Health Organization World Mental Health Surveys. JAMA 291:2581–2590
About this article
Cite this article
Joska, J., Flisher, A.J. The assessment of need for mental health services. Soc Psychiat Epidemiol 40, 529–539 (2005). https://doi.org/10.1007/s00127-005-0920-3
Keywords
assessment of need

mental health services

psychiatric epidemiology

South Africa