Abstract
Background
Migration has become a major political and social concern in West European societies.
Methods
A case–control method was used to analyse the utilisation of inpatient mental health services by immigrants from a catchment area in Switzerland over a 7-year period.
Results
Compared to natives, immigrants had fewer psychiatric hospitalisations, but more emergency and compulsory admissions. During inpatient treatment, they received less psycho-, ergo- and physiotherapy. Other therapies as well as compulsory measures were at comparable rates, as was the frequency of irregular discharge. They spent shorter periods as inpatients and the rate of psychiatric readmissions was significantly lower. Comparison of different countries of origin revealed that only patients from West and North Europe were comparable to natives regarding type of referral, inpatient treatment, and longitudinal measures of service utilisation. Even after accounting for effects of social class, immigrants from South Europe, former Yugoslavia, Turkey, East Europe and more distant countries spent significantly shorter time in inpatient treatment, compared to Swiss control patients.
Conclusions
Results of this study clearly point to an underutilisation of inpatient facilities among immigrants with mental disorders, and to disadvantages in psychiatric inpatient care. This, however, does not pertain to all foreign patients to the same extent: inequalities of mental health service use are particularly pronounced in immigrants from more distant countries.
This is a preview of subscription content, log in to check access.
Access options
Buy single article
Instant access to the full article PDF.
US$ 39.95
Price includes VAT for USA
Subscribe to journal
Immediate online access to all issues from 2019. Subscription will auto renew annually.
US$ 199
This is the net price. Taxes to be calculated in checkout.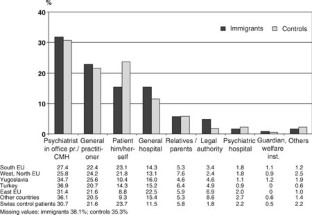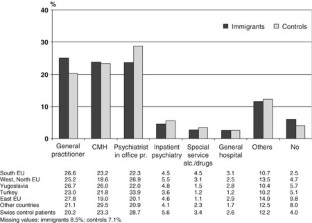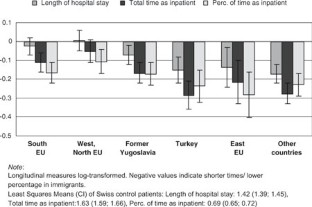 References
1.

Freeman GP (1997) Immigration as a source of political discontent and frustration in Western democracies. Stud Comp Int Dev 32:42–64

2.

Hutchinson G, Haasen C (2004) Migration and schizophrenia: the challenges for European psychiatry and implications for the future. Soc Psychiatry Psychiatr Epidemiol 39:350–357

3.

Swiss Federal Statistical Office (2005) http://www.bfs.admin.ch/bfs/portal/de/index/themen/bevoelkerung/uebersicht/blank/wichtigste_kennzahlen.html. 19–09–2005

4.

Ødegård O (1932) Emigration and insanity: a study of mental disease among Norwegian born population in Minnesota. Acta Psychiatr Neurol 7:1–206

5.

Cantor-Graae E, Pedersen CB, McNeil TF, Mortensen PB (2003) Migration as a risk factor for schizophrenia: a Danish population-based cohort study. Br J Psychiatry 182:117–122

6.

Vollebergh WA, ten Have M, Dekovic M, Oosterwegel A, Pels T, Veenstra R, et al. (2005) Mental health in immigrant children in the Netherlands. Soc Psychiatry Psychiatr Epidemiol 40:489–496

7.

Bhugra D (2002) Ethnic factors and service utilization. Curr Opin Psychiatry 15:201–204

8.

Steel Z, Silove D, Chey T, Bauman A, Phan T, Phan T (2005) Mental disorders, disability and health service use amongst Vietnamese refugees and the host Australian population. Acta Psychiatr Scand 111:300–309

9.

McCrone P, Bhui K, Craig T, Mohamud S, Warfa N, Stansfeld SA, et al. (2005) Mental health needs, service use and costs among Somali refugees in the UK. Acta Psychiatr Scand 111:351–357

10.

Lorant V, Kampfl D, Seghers A, Deliege D, Closon MC, Ansseau M (2003) Socio-economic differences in psychiatric in-patient care. Acta Psychiatr Scand 107:170–177

11.

Drukker M, Driessen G, Krabbendam L, van Os J (2004) The wider social environment and mental health service use. Acta Psychiatr Scand 110:119–129

12.

Gotor L, Gonzalez-Juarez C (2004) Psychiatric hospitalization and continuity of care in immigrants treated in Madrid (Spain). Soc Psychiatry Psychiatr Epidemiol 39(7):560–568

13.

Have M, Oldehinkel A, Vollebergh W, Ormel J (2003) Does educational background explain inequalities in care service use for mental health problems in the Dutch general population? Acta Psychiatr Scand 107:178–187

14.

Commander MJ, Odell S, Sashidharan SP, Surtees PG (1999) Psychiatric morbidity in people born in Ireland. Soc Psychiatry Psychiatr Epidemiol 34:565–569

15.

Fossion P, Ledoux Y, Valente F, Servais L, Staner L, Pelc I, et al. (2002) Psychiatric disorders and social characteristics among second-generation Moroccan migrants in Belgium: an age-and gender-controlled study conducted in a psychiatric emergency department. Eur Psychiatry 17:443–450

16.

Fossion P, Servais L, Rejas MC, Ledoux Y, Pelc I, Minner P (2004) Psychosis, migration and social environment: an age- and gender-controlled study. Eur Psychiatry 19:338–343

17.

Haasen C, Yagdiran O, Mass R, Krausz M (2001) Schizophrenic disorders among Turkish migrants in Germany. A controlled clinical study. Psychopathology 34:203–208

18.

Schrier AC, van de Wetering BJ, Mulder PG, Selten JP (2001) Point prevalence of schizophrenia in immigrant groups in Rotterdam: data from outpatient facilities. Eur Psychiatry 16:162–166

19.

Lay B, Lauber C, Rossler W (2005) Are immigrants at a disadvantage in psychiatric in-patient care? Acta Psychiatr Scand 111:358–366

20.

Christen S, Christen L, Meyer PC, Eichenberger A (2003) Length of inpatient stay in psychiatric hospitals – record linkage. Research Report of the Psychiatric University Hospital Zurich 8[1] ISBN-Nr. 3-907620-32-1

21.

World Health Organisation (1993) The International Statistical Classification of Diseases and Related Health Problems, 10th revision. Chapter V (F). German Version. Huber, Bern Göttingen, Toronto, Seattle

22.

Brown H, Prescott R (2000) Applied mixed models in medicine. Wiley, Chichester

23.

Zolkowska K, Cantor-Graae E, McNeil TF (2001) Increased rates of psychosis among immigrants to Sweden: is migration a risk factor for psychosis? Psychol Med 31:669–678

24.

Gupta S (1991) Psychosis in migrants from the Indian subcontinent and English-born controls. A preliminary study on the use of psychiatric services. Br J Psychiatry 159:222–225

25.

Phan T (2000) Investigating the use of services for Vietnamese with mental illness. J Community Health 25:411–425

26.

Smaje C, Grand JL (1997) Ethnicity, equity and the use of health services in the British NHS. Soc Sci Med 45:485–496

27.

Stronks K, Ravelli AC, Reijneveld SA (2001) Immigrants in the Netherlands: equal access for equal needs? J Epidemiol Community Health 55:701–707

28.

Weiss MG, Yilmaz AT (2001) Euro-international perspectives. In: Yilmaz AT, Weiss MG, Riecher-Rössler A (eds) Cultural psychiatry: Euro-international perspectives. Basel, Karger, pp1–10

29.

Iversen VC, Morken G (2003) Acute admissions among immigrants and asylum seekers to a psychiatric hospital in Norway. Soc Psychiatry Psychiatr Epidemiol 38:515–519

30.

Klimidis S, McKenzie DP, Lewis J, Minas IH (2000) Continuity of contact with psychiatric services: immigrant and Australian-born patients. Soc Psychiatry Psychiatr Epidemiol 35:554–563

31.

Bruxner G, Burvill P, Fazio S, Febbo S (1997) Aspects of psychiatric admissions of migrants to hospitals in Perth, Western Australia. Aust NZ J Psychiatry 31:532–542

32.

Cochrane R, Bal SS (1989) Mental hospital admission rates of immigrants to England: a comparison of 1971 and 1981. Soc Psychiatry Psychiatr Epidemiol 24:2–11

33.

Shaikh A (1985) Cross-cultural comparison: psychiatric admission of Asian and indigenous patients in Leicestershire. Int J Soc Psychiatry 31:3–11

34.

Wijesinghe CP, Clancy DJ (1991) Schizophrenia in migrants living in the western region of Melbourne. Aust NZ J Psychiatry 25:350–357

35.

Trauer T (1995) Ethnic differences in the utilisation of public psychiatric services in an area of suburban Melbourne. Aust NZ J Psychiatry 29:615–623

36.

Bhugra D (2004) Migration and mental health. Acta Psychiatr Scand 109:243–258

37.

OECD Health Data (2005) http://www.oecd.org/dataoecd/3/62/31938359.pdf http://www.oecd.org/dataoecd/10/20/2789777.pdf

38.

Burnett R, Mallett R, Bhugra D, Hutchinson G, Der G, Leff J (1999) The first contact of patients with schizophrenia with psychiatric services: social factors and pathways to care in a multi-ethnic population. Psychol Med 29:475–483

39.

Cole E, Leavey G, King M, Johnson-Sabine E, Hoar A (1995) Pathways to care for patients with a first episode of psychosis. A comparison of ethnic groups. Br J Psychiatry 167:770–776

40.

Davies S, Thornicroft G, Leese M, Higgingbotham A, Phelan M (1996) Ethnic differences in risk of compulsory psychiatric admission among representative cases of psychosis in London. BMJ 312:533–537

41.

Parkman S, Davies S, Leese M, Phelan M, Thornicroft G (1997) Ethnic differences in satisfaction with mental health services among representative people with psychosis in south London: PRiSM study 4. Br J Psychiatry 171:260–264
About this article
Cite this article
Lay, B., Lauber, C., Nordt, C. et al. Patterns of inpatient care for immigrants in Switzerland. Soc Psychiat Epidemiol 41, 199–207 (2006). https://doi.org/10.1007/s00127-005-0014-2
Accepted:

Published:

Issue Date:
Keywords
migration

mental disorders

psychiatric hospitalisation

service utilisation