Abstract
The historic mining district of Pitkäranta in the Ladoga region, Fennoscandian Shield, was exploited for Fe, Cu, Zn, Pb, Sn and Ag in the nineteenth to twentieth centuries. The Pitkäranta region is dominated by Palaeoproterozoic supracrustal rocks, which, together with gneissic Archaean dome structures, constitute an allochthonous terrane complex that amalgamated to the Archaean continent during the Svecokarelian orogeny at 1.9–1.8 Ga. This crustal complex was intruded by 1.8 Ga Late orogenic granites, 1.54 Ga anorogenic rapakivi granites and 1.45 Ga dolerites. The polymetallic skarn ores of Pitkäranta extend over a 25-km-long zone in Palaeoproterozoic supracrustal rocks and formed from hydrothermal solutions, which emanated from the anorogenic rapakivi granites and reacted with marble layers. Four major ore types are recognised after the dominating metal: Fe, Cu, Sn and Zn, respectively. These types are not restricted to individual mines or mine fields but represent end members in zonation patterns within each ore body. Pitkäranta was the second discovery site in the world for indium but has been without modern documentation for more than 75 years. The indium contents in the ores are up to 600 ppm, in most cases sphalerite-hosted. The only roquesite-bearing sample in this study had an indium grade of 291 ppm and an In/Zn ratio of 51 (close to the criteria for the limiting conditions for creating an In-rich mineral). The Pitkäranta ores have a potential for future small-scale exploitation, but all such plans are hampered by high contents if Bi, Cd and As.
This is a preview of subscription content, log in to check access.
Access options
Buy single article
Instant access to the full article PDF.
US$ 39.95
Price includes VAT for USA
Subscribe to journal
Immediate online access to all issues from 2019. Subscription will auto renew annually.
US$ 199
This is the net price. Taxes to be calculated in checkout.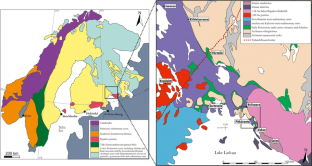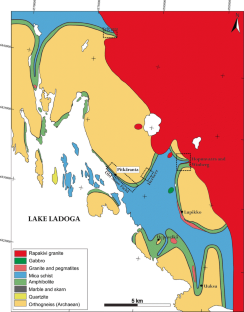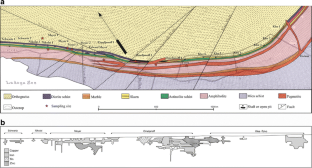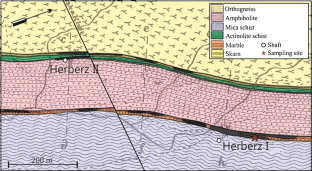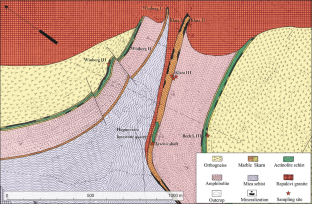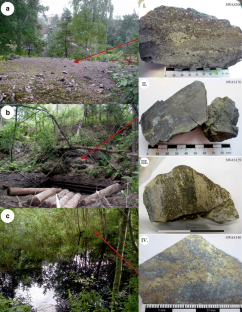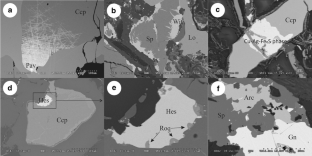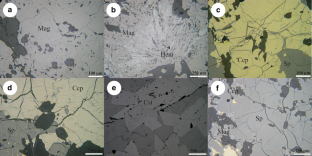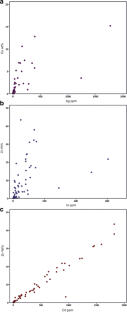 References
ActlabLtd. (2015) Ultratrace 3 - Total Digestion - ICP and ICP/MS, INAA. http://www.actlabs.com/page.aspx?page=508&app=226&cat1=549&tp=12&lk=no&menu=64&print=yes. Accessed 3 Feb 2015

Amelin YV, Beljaev A, Larin A, Neymark L, Stepanov K (1991) Salmi batholith and Pitkäranta ore field in Soviet Karelia. Rapakivi granites and related rocks symposium, IGCP Project 315, excursion volume, University of Helsinki

Amelin YV, Larin AM, Tucker RD (1997) Chronology of multi-phase emplacement of the Salmi rapakivi granite-anorthosite complex, Baltic Shield: implications for magmatic evolution. Contrib Mineral Petrol 127:353–368

Bettencourt JS, Tosdal RM, Leite WB, Payolla BL (1999) Mesoproterozoic rapakivi granites of the Rondonia Tin Province, southwestern border of the Amazonian craton, Brazil—I. Reconnaiscance U-Pb geochronology and regional implications. Precambrian Res 95:41–67

Breithaupt JFA (1849) Die Paragenesis der Mineralien: Mineralogisch, geognostisch und chemisch beleuchtet, mit besonderer Rücksicht auf Bergbau. Freiberg

Cook NJ, Sundblad K, Valkama M, Nygård R, Ciobanu CL, Danyushevsky L (2011) Indium mineralisation in A-type granites in southeastern Finland: insights into mineralogy and partitioning between coexisting minerals. Chem Geol 284:62–73

Dill HG, Garrido MM, Melcher F, Gomez MC, Weber B, Luna LI, Bahr A (2013) Sulfidic and non-sulfidic indium mineralization of the epithermal Au-Cu-Zn-Pb-Ag deposit San Roque (Provincia Rio Negro, SE Argentina)—with special reference to the "indium window" in zinc sulphide. Ore Geol Rev 51:103–128

Erämetsä O (1938) Über die Verbreitung des Indiums in Finnischen Mineralen und über seine Trennung von anderen Metallen, Ann Acad Scie Fenn A 51. Helsinki

Eskola P (1948) The problem of mantled gneiss domes. Q J Geol Soc 104:461–476

Eskola P (1951) Around Pitkäranta. Ann Acad Scie Fenn A Geol Geogr 27. Helsinki

Fuhrmann (1810) Mineralogical description of some part of New and Old Finland. Min J St. Petersburg. In Russian

Gaál G, Gorbatschev R (1987) An outline of the Precambrian evolution of the Baltic Shield. Precambrian Res 35:15–52

Gadolin A (1856) Beobachtungen über einige Mineralien aus Pitkäranta in Finnland. Verhandlungen der Russischen Mineralogische Gesellschaft, St Petersburg

von Groddeck A (1879) Die Lehre v. d. Lagerstätten der Erze. Leipzig

Haapala I (1995) Metallogeny of the rapakivi granites. Mineral Petrol 54:149–160

Isokangas P (1976) Suomen malmeista ja niiden etsimisestä. Geologi 28:1–9

Jossa G (1834) News on tin and copper discoveries at Pitkäranta, Finland. Min J St. Petersburg IV, p. 157. In Russian

Khazov RA (1973) Geological features of tin-mineralization in the Northern Ladoga district. Proc Acad Sci Karel filial 15. Petrozavodsk

Laajoki K (2005) Karelian supracrustal rocks. In: Lehtinen M, Nurmi PA, Rämö OT (eds) Precambrian geology of Finland—key to the evolution of the Fennoscandian Shield. Elsevier B.V, Amsterdam, pp 279–342

Larin AM (1980) Pecularities in the zonality of the mineralization in the Pitkäranta ore district. Bull Moscow Naturalists, Geol. section. 55, no. 3, Moscow, pp. 73–82 in Russian

Larin AM, Neymark LA, Gorochovskij BM, Ovchinnikova GV (1990) Link between complex skarn ores of Pitkäranta region and Salmi rapakivi granites: Pb isotope evidence. Geological series 5, Akad Nauk, SSSR, Moscow, pp. 47–57

Lubnina V, Mertanen S, Söderlund U, Bogdanova S, Vasilieva T, Frank-Kamenetsky D (2010) A new key pole for the East European Craton at 1452 Ma: palaeomagnetic and geochronological constraints from mafic rocks in the Lake Ladoga region (Russian Karelia). Precambrian Res 183:442–462

Meinert LD, Dipple GM, Nicolescu S (2005) World skarn deposits. Econ Geol 100th Anniversary volume: 299–336

Murakami H, Ishihara S (2013) Trace elements of indium-bearing sphalerite from tin-polymetallic deposits in Bolivia, China and Japan: a femto-second LA-ICPMS study. Ore Geol Rev 53:223–243

Palmunen MK (1939) Pitkäranta: vv. 1934–1938 suoritettujen vuoriteknillisten tutkimusten valossa. Geological Survey of Finland. Geotechnical publications 44

Park AF (1985) Accretion tectonism in the Proterozoic Svecokarelides of the Baltic Shield. Geology 13:725–729

Park AF (1991) Continental growth by accretion: a tectonostratigrafic terrane analysis of the evolution of the western and central Baltic Shield, 2.50-1.75 Ga. Geol Soc Am Bull 103:522–537

Puustinen K (2003) Suomen kaivosteollisuus ja mineraalisten raaka-aineiden tuotanto vuosina 1530–2001: historiallinen katsaus erityisesti tuotantolukujen valossa. Geological Survey of Finland

Reich F, Richer T (1863a) Vörlaufige Notiz über ein neues Metall. J Prakt Chem 89:441–442

Reich F, Richer T (1863b) Ueber das Indium. J Prakt Chem 90:172–176

Saksela M (1948) Outokummun kuparimalmin löytö. Geological Survey of Finland. Geotechnical publications 47

Saksela M (1951) Zur Mineralogie und Entstehung der Pitkäranta-Erze. Bull Comm Géol Finlande 154:182–230

Seifert T, Sandmann D (2006) Mineralogy and geochemistry of indium-bearing polymetallic vein-type deposit: implications for host minerals from the Freiberg district, eastern Erzgebirge, Germany. Ore Geol Rev 28:1–31

Smirnov VI (ed) (1977) Ore deposit of the USSR, volume III. Pitman Publishing, London, pp 243–246

Sundblad K (1991) Lead isotopic evidence for the orgin of 1.8-1.4 Ga ores and granitoids in the southeastern part of the Fennoscandian shield. Precambrian Res 51:265–281

Trüstedt O (1904) Om Keliwaara nyupptäckta malmfält vid Ladoga. Teknikern 374:252–253

Trüstedt O (1907) Die Erzlagerstätten von Pitkäranta am Ladoga-See. Bull Comm Géol Finlande no 19. Helsingfors

Trüstedt O (1908) Bidrag till Pitkäranta malmfälts historik. Helsingfors tidnings och tryckeri-aktiebolagets tryckeri. Geotechnical publications 2. Geological Survey of Finland

Törnebohm AE (1875): Geognostisk beskrifning öfver Persbergets grufvefält. Sveriges Geologiska Undersökning C14

Törnebohm AE (1891) Om Pitkäranta malmfält och dess omgifningar. Geol Fören Stockholm Förh 13:313–334

Valkama M (2009) An ore petrological and geochemical study of the polymetallic skarn ores at Pitkäranta, Ladoga, Karelia, Russia. MSc thesis, University of Turku

Valkama M, Sundblad K, Nygård R, Cook NJ (2016) Mineralogy and geochemistry of indium-bearing polymetallic veins in the Sarvlaxviken area, Lovisa, Finland. Ore Geol Rev 75:206–219

Vernadsky V (1910) Notes on the distribution of chemical elements in the Earth's crust. Bull Acad Imp Sci Saint-Petersbourg VI Series, Tome IV, N 14:1129–1148. In Russian

Wiik FJ (1880) Mineralog. meddel. Öfv. af Finska Vet.-Soc. Förh. XXII

Wiik FJ (1882) Öfv. af Finska Vet.-Soc. Förh. XXIV No. 7:36–44

Wiik FJ (1883) Öfv. af Finska Vet.-Soc. Förh. XXV No. 8:115

Zebrikoff M (1863) Some words about copper and tin mining in Pitkäranta. Mar J T66:5. In Russian
Acknowledgments
Financial support for these investigations was received from the K.H. Renlund Foundation as well as University of Turku Graduate School—Doctoral Programme in Biology, Geography and Geology. The authors wish to thank Oleg Lavrov for enthusiastic assistance in the field work and Arto Peltola for technical support in the laboratory. We also wish to acknowledge the reviewers for their constructive comments on the manuscript.
Additional information
Editorial handling: T. Wagner
Electronic supplementary material
Below is the link to the electronic supplementary material.
About this article
Cite this article
Valkama, M., Sundblad, K., Cook, N.J. et al. Geochemistry and petrology of the indium-bearing polymetallic skarn ores at Pitkäranta, Ladoga Karelia, Russia. Miner Deposita 51, 823–839 (2016). https://doi.org/10.1007/s00126-016-0641-4
Received:

Accepted:

Published:

Issue Date:
Keywords
Pitkäranta

Polymetallic

Indium

Skarn

Ore

Rapakivi