Abstract
The Achmmach tin mineralization (NE of the Moroccan Central Massif) is associated with tourmaline-rich alteration halos, veins, and faults hosted in sandstones and metapelites of the Upper Visean-Namurian. These deposits are reported to be late Hercynian in age and related to the emplacement of late-orogenic granite not outcropping in the studied area. Structural and paragenetic studies of the Achmmach tin deposit were conducted in order to establish a general model of the mineralization. From field constraints, the late Hercynian phase is marked by a transition from transpression to extension with deformation conditions evolving from ductile to brittle environments. The transpression (horizontal shortening direction roughly trending E-W) is coeval with the emplacement of the first tourmaline halos along several conjugated trends (N070, N020, and N120). Thereafter, a tourmaline-rich breccia formed in response to the fracturing of early tourmaline-altered rocks. Subsequently, during the extensional phase, these structures were reactivated as normal faults and breccias, allowing the formation of the main tin mineralization (cassiterite) associated with a wide variety of sulfides (arsenopyrite, chalcopyrite, sphalerite, galena, pyrrhotite, bismuthinite, pyrite, and stannite). This evolution ends with fluorite and carbonate deposition. The hydrothermal fluid flow velocity, calculated by applying statistical measures on the tourmaline growth bands, varies with the lithology. Values are lower in metapelites and higher in breccia. In the general evolution model proposed here, tourmaline alteration makes the rock more competent, allowing for brittle fracturing and generation of open space where the main Sn mineralization was precipitated.
This is a preview of subscription content, log in to check access.
Access options
Buy single article
Instant access to the full article PDF.
US$ 39.95
Price includes VAT for USA
Subscribe to journal
Immediate online access to all issues from 2019. Subscription will auto renew annually.
US$ 199
This is the net price. Taxes to be calculated in checkout.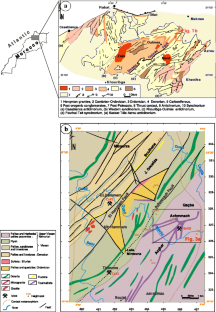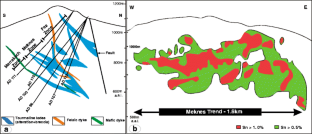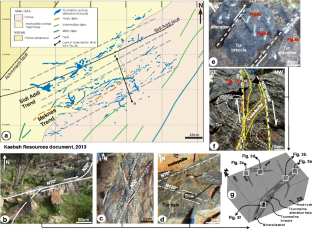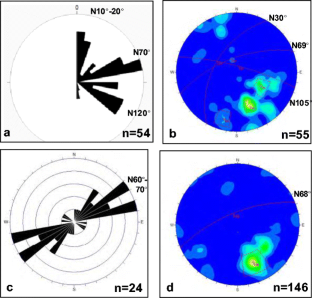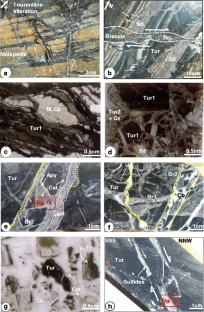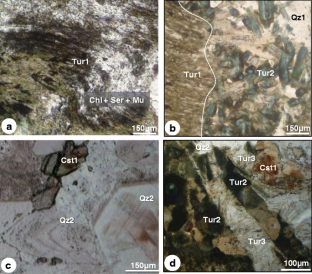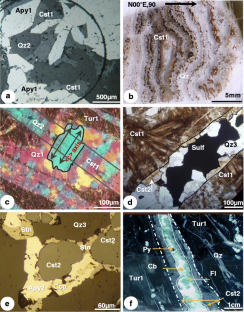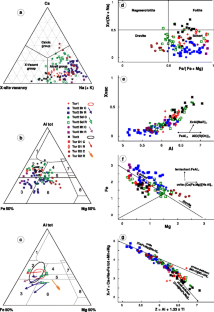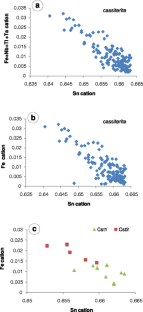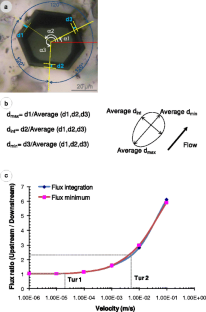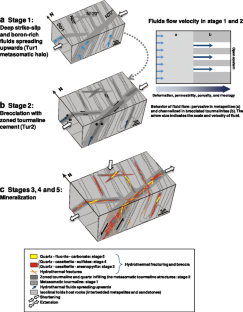 References
Agard J (1966) Données nouvelles sur le district fluorifère d'El Hammam-Berkamène (Maroc Central). Rapport Service d'Etude des Gîtes Minéraux, no 843, Rabat

Aissa M (1997) Etude des interactions fluides minéraux des skarns à Sn, W, B d'El Hammam (Maroc central). Facteurs physico-chimiques contrôlant le développement du stade stannifère. Thèse Doctorat d'Etat, Univ My Ismail, Meknès

Barodi EB, Chbihi A (1998) Les gisements stannifères d'Achmmach, Maroc. Chron Rech Min 531–532:55–63

Benabbou M (1990) Evolution stratigraphique et structurale au cours du paléozoïque de la bordure nord du massif central (région d'Agourai, Maroc). Unpubl Thesis Univ Fès

Bouabdellah M, Banks D, Klügel A (2010) Comments on "A late Triassic 40 Ar/ 39 Ar age for the El Hammam high-REE fluorite deposit (Morocco): mineralization related to the Central Atlantic Magmatic Province?" by Cheilletz et al. (Mineralium Deposita 45:323–329, 2010). Miner Deposita 45:729–731

Bouchot V, Ledru P, Lerouge C, Lescuyer JL, Milesi JP (2005) Late Variscan mineralizing systems related to orogenic processes: the French Massif Central. Ore Geol Rev 27:169–197

Boushaba A (1996) Le massif granitique du Ment (Massif central marocain hercynien) dans son contexte tectono-métamorphique régional et les manifestations hydrothermales associées. Thèse d'Etat INPL Nancy

Boushaba A, Marignac C (2009) La nature des fluides hydrothermaux des tourmalinites du massif granitique permien du Ment (Maroc central): Couplage de la minéralogie des tourmalines et de l'étude des inclusions fluides. Collection EDYTEM 9:33–48

Boutaleb M (1988) L'évolution tectono-métamorphique, magmatique et hydrothermale du district stanno-wolframifères de Walmès (Maroc central): Implications métallogéniques. Thèse Doct Etat INPL Nancy

Burg JP, Van Den Driessche J, Brun JP (1994) Syn- to post-thickening extension: modes and consequences. C R Acad Sci Paris 319II:1019–1032

Cavarretta G, Puxeddu M (1990) Schorl-Dravite tourmalines deposited by hydrothermal magmatic fluids during early evolution of the Larderello geothermal field, Italy. Econ Geol 85:1236–1251

Cerny P, Blevin PL, Cuney M, London D (2005) Granite-related ore deposits. Econ Geol. One Hundredth Anniversary Volume 1905–2005. Society of Economic Geologists Inc Littleton CO USA 337–370

Chauris L (1980) Les Gisements d'Abbaretz et de Saint-Renan, Massif armoricain: Sn, W. 26 R C.G.I. 60p

Chbihi A, Gmira A (1998) La fluorine au Maroc: cas de la mine d'El Hammam. Chron Rech Min 531–532:117–126

Cheilletz A, Gasquet D, Filali F, Archibald DA, Nespolo M (2010) A late Triassic 40Ar/39Ar age for the El Hammam high-REE fluorine deposit (Morocco): mineralization related to the Central Atlantic Magmatic Province? Miner Deposita 45:323–329

Chernov AA (1992) How does the flow within the boundary layer influence morphological stability of a vicinal face. J Crystal Growth 118:333–347

Coromina G, Fabbri O (2004) Late Palaeozoic NE–SW ductile–brittle extension in the La Serre horst, eastern France. Compt Rendus Geosci 336:75–84

Curie P (1908) Œuvres, 118p. Gautier-Villars, Paris, Société Française de Physique. Reprinted: Archives contemporaines, Paris 1984

Eldursi K, Branquet Y, Guillou-Frottier L, Marcoux E (2009) Numerical investigation of transient hydrothermal processes around intrusions: heat-transfer and fluid-circulation controlled mineralization patterns. Earth Planet Sci Lett 288:70–83

Ferry J, Wing B, Penniston-Dorland S, Rumble D (2002) The direction of fluid flow during contact metamorphism of siliceous carbonate rocks: new data for the Monzoni and Predazzo aureoles, northern Italy, and a global review. Contrib Mineral Petrol 142:679–699

Foit FF Jr, Fuchs Y, Meyers PE (1989) Chemistry of alkali-deficient schorls from two tourmaline-dumortierite deposits. Am Mineral 74:1317–1324

Fuchs Y (1987) Zonalité des différents types de la tourmaline dans le système hydrothermal de Novazza (Alpes Bergamasques, Italie du Nord). C R Acad Sci Paris t305 série II:1507–1510

Fuchs Y, Lagache M (1994) La transformation chlorite–tourmaline en milieu hydrothermal, exemples naturels et approche expérimentale. C R Acad Sci Paris II 319:907–912

Garside J, Janssen-van Rosmalen R, Bennema P (1975) Verification of crystal growth rate equation. J Crystal Growth 29:353–366

Giuliani G (1984) Les concentrations filoniennes à Tungstène-Etain du massif granitique de Zaër (Maroc central): Minéralisations et phases fluides associées. Miner Deposita 19:193–201

Halls C (1994) Energy and mechanism in the magmato-hydrothermal evolution of the Cornubian Batholith: a review. In: Seltmann R, Kämpf H, Möller P (eds) Metallogeny of collisional orogens. Czech Geological Survey, Prague, pp 274–294

Harcouet-Menou V, Guillou-Frottier L, Bonneville A, Adler PM, Mourzenko V (2009) Hydrothermal convection in and around mineralized fault zones: insights from two- and three-dimensional numerical modeling applied to the Ashanti belt, Ghana. Geofluids 9:116–137

Hawthorne FC, Henry DJ (1999) Classification of the minerals of the tourmaline group. Eur J Mineral 11:201–215

Henry DJ, Guidotti CV (1985) Tourmaline as a petrogenetic indicator mineral: an example from the staurolite-grade metapelites of NW Maine. Am Mineral 70:1–15

Henry DJ, Dutrow BL, Selverstone J (2002) Compositional asymmetry in replacement tourmaline–an example from the Tauern Window, Eastern Alps. Geol Mater Res 4(2):1–18

Hoepffner C, Houari MR, Bouabdelli M (2006) Tectonics of the North African Variscides (Morocco, western Algeria): an outline. Compt Rendus Geosci 338:25–40

Ingebritsen SE, Appold MS (2012) The physical hydrogeology for ore deposits. Econ Geol 107:559–584

Izart A, Chevremont P, Tahiri A, El Boursoumi A, Thieblemont D (2001) Carte Géologique du Maroc au 1/50.000 : Feuille de Bouqachmir. Notes et Mém Serv Géol Maroc 411 bis, Rabat

Izoret L, Marnier G, Dussausoy Y (1985) Caractérisation cristallochimique de la cassitérite des gisements d'étain et de tungstène de Galice, Espagne. Can Mineral 23:221–231

Jébrak M (1985) Contribution à l'histoire naturelle des filons F-Ba du domaine varisque. Essai de caractérisation structurale et géochimique des filons en extension et en décrochements. Massifs centraux français et marocains. Doc BRGM, Orléans 99

Jébrak M (1992) Les textures intra-filoniennes, marqueurs des conditions hydrauliques et tectoniques. Chron Rech Min 506:55–65

Jébrak M (1997) Hydrothermal breccias in vein-type ore deposits: a review of mechanisms, morphology and size distribution. Ore Geol Rev 12:111–134

Jiang SY, Yu JM, Lu JJ (2004) Trace and rare earth element geochemistry in tourmaline from the Yunlong tin deposit, Yunnan, China: implication for migmatitic–hydrothermal fluid evolution and ore genesis. Chem Geol 209:193–213

Jiang SY, Radvanec M, Nakamura E, Palmer M, Kobayashi K, Zhao HX, Zhao KD (2008) Chemical and boron isotopic variations of tourmaline in the Hnilec granite-related hydrothermal system, Slovakia: constraints on magmatic and metamorphic fluid evolution. Lithos 106:1–11

Kasbah Resources Limited (2013) Mineral resource estimate for Achmmach Tin Project in 2012 and 2013 annual reports. http://www.kasbahresources.com/index.php/investor-centre/annual-reports

Kesler SE, Stoiber RE, Billings GK (1972) Direction of flow of mineralizing solutions at Pine Point, N.W.T. Econ Geol 67:19–24

Kontak DJ, Clark AH (2002) Genesis of the Giant Bonanza San Rafael lode tin deposit, Peru: origin and significance of pervasive alteration. Econ Geol 97:1741–1777

Lagarde JL (1985) Cisaillements ductiles et plutons granitiques contemporains de la déformation hercynienne post-viséenne de la Meseta marocaine. Hercynia 1:29–37

Lagarde JL, Aït Omar S, Roddaz B (1990) Structural characteristics of granitic plutons emplaced during weak regional deformation: examples from late carboniferous plutons, Morocco. J Struct Geol 12:805–821

Lehmann B (1990) Metallogeny of tin. Springer, Berlin, 211 p

London D, Manning DAC (1995) Chemical variation and significance of tourmaline from Southwest England. Econ Geol 90:495–519

Manning CE, Ingebritsen SE (1999) Permeability of the continental crust: implications of geothermal data and metamorphic systems. Rev Geophys 37:127–150

Michard A (1976) Eléments de géologie marocaine. Notes et Mém Serv Géol Maroc 252:408

Michard A, Hoepffner C, Soulaimani A, Baidder L (2008) The Variscan Belt. In: Michard A, Saddiqi O, Chalouan A, Frizon de Lamotte D. Eds Continental evolution: the geology of Morocco. Springer pp 65–131

Mlynarczyk MSJ, Williams-Jones AE (2006) Zoned tourmaline associated with cassiterite: implications for fluid evolution and tin mineralization in the San Rafael Sn–Cu deposit, southeastern Peru. Can Mineral 44:347–365

Mrini Z, Rafi A, Duthou JL, Vidal P (1992) Chronologie Rb/Sr des granites varisques du Maroc: Conséquences. Bull Soc Géol France 163:429–443

Newhouse WH (1941) The direction of flow of mineralizing solutions. Society of Economic Geologists. Econ Geol 36:612–629

Oliver NHS (1996) Review and classification of structural controls on fluid flow during regional metamorphism. J Metamorph Geol 14:477–492

Plimer IR (1987) Fundamental parameters for the formation of granite-related tin deposits. Geol Rundsch 76(1):23–40

Prieto M, Amoros JL (1981) On the influence of hydrodynamic environment on crystal growth. Bull Mineral 104:114–119

Rahho H (1996) Evolution tectono-métamorphique hercynienne du paléozoïque d'El Hammam (Maroc Central Septentrional): Analyse de la fracturation et mécanismes de mise en place des minéralisations. Unpubl thesis Univ Mohamed V Rabat

Saber H, El Wartiti M (1996) Histoire sédimentaire et tectonique tardi-hercynienne des bassins de l'Oued Zat et Ida Ou Zal (Haut-Atlas Occidental, Maroc): bassins en transtension sur décrochements. J Afr Earth Sci 22(3):301–309

Shore M, Fowler A (1996) Oscillatory zoning in minerals: a common phenomenon. Can Mineral 34:1111–1126

Sibson RH (1986) Brecciation processes in fault zones: inferences from earthquake rupturing. Pure Appl Geophys 124:161–175

Sizaret S, Fedioun I, Barbanson L, Chen Y (2006) Crystallization in flow part II: modelling crystal growth kinetics controlled by boundary layer thickness. Geophys J Int 167:1027–1034

Sizaret S, Branquet Y, Gloaguen E, Chauvet A, Barbanson L, Chen Y (2009) Estimating the local paleo-fluid flow velocity: new textural method and application to metasomatism. Earth Planet Sci Lett 280:71–82

Slack JF (2002) Tourmaline associations with hydrothermal ore deposits. In Grew ES, Anovitz LM (eds) Boron. Mineralogy, Petrology and Geochemistry (second printing with corrections and additions): Rev Mineral 33:559–644

Slack JF, Trumbull RB (2011) Tourmaline as a recorder of ore-forming processes. Elements 7:321–326

Slack JF, Palmer MR, Stevens BJ, Barnes RC (1993) Origin and significance of tourmaline-rich rocks in the Broken Hill District, Australia. Econ Geol 88:505–541

Sonnet J (1981) Les skarns à tungstène, étain et bore de la région d'El Hammam (Maroc Central). Thèse Doct Sc Appliquées, Univ Catholique Louvain , Belgium

Steven NM, Moore JM (1995) Tourmalinite mineralization in the Late Proterozoic Kuiseb Formation of the Damara Orogen, central Namibia: evidence for a replacement origin. Econ Geol 90:1017–1098

Tahiri A (1991) Le Maroc central septentrional: stratigraphie, sédimentologie et tectonique du Paléozoïque; un exemple du passage des zones internes aux zones externes de la chaîne hercynienne du Maroc. State Thesis Univ Brest

Tahiri A (1994) Tectonique hercynienne de l'anticlinorium de Khouribga-Oulmès et du synclinorium de Fourhal. Bull Inst Sci Rabat 18:125–144

Taylor RG (1979) Geology of tin deposits. Elsevier, New York

Torres-Ruiz J, Pesquera A, Gil-Crespo PP, Vellila N (2003) Origin and petrogenetic implications of tourmaline-rich rocks in the Sierra Nevada (Betic Cordillera, south-eastern Spain). Chem Geol 197:55–86

Van den Bosch J (1971) Carte gravimétrique du Maroc au 1/50 000. Notes et Mém Serv Géol Maroc 252p

Van den Bleeken G, Corteel C, Van den Haute P (2007) Epigenetic to low-grade tourmaline in the Gdoumont metaconglomerates (Belgium): a sensitive probe of its chemical environment of formation. Lithos 95:165–176

Williamson BJ, Spratt J, Adams JT, Tindle AG, Stanley CJ (2000) Geochemical constraints from zoned hydrothermal tourmalines on fluid evolution and Sn mineralization: an example from fault breccias at Roche, SW England. J Petrol 41:1439–1453
Acknowledgments
The authors thank the Kasbah Resources company for constant logistical support, datasets, and scientific support during the entire period of this study. In particular, we would like to thank Wayne Bramwell (Managing Director) for facilitating access, sampling (outcrop and core drill), and logistics, Jeffrey Lindhorst (Exploration Manager), Pierre Chaponniere (Resource Development Manager), Pierrick Couderc, Mustapha Seghir for field assistance and fruitful discussions. We also acknowledge the FSM (Faculté des Sciences de Meknès), the ISTO laboratory (Institut des Sciences de la Terre d'Orléans) for analytical help, the BRGM (Bureau de Recherche Géologique et Minière), and all the persons who contributed to this work: Gabriel Badin and Sylvain Janiec for thin section preparation, and Olivier Rouer and Ida Decarlo for SEM and Electron microprobe analyses. The authors would like to thank the Editors, Georges Beaudoin and Thomas Bissig, as well as Abdellah Boushaba and an anonymous reviewer whose comments have greatly helped to improve this manuscript. This work was funded by the Committee for Integrated Action (Volubilis, N° MA/09/210) in the framework of scientific cooperation between Morocco and France.
Additional information
Editorial handling: T. Bissig and G. Beaudoin
About this article
Cite this article
Mahjoubi, E.M., Chauvet, A., Badra, L. et al. Structural, mineralogical, and paleoflow velocity constraints on Hercynian tin mineralization: the Achmmach prospect of the Moroccan Central Massif. Miner Deposita 51, 431–451 (2016). https://doi.org/10.1007/s00126-015-0613-0
Received:

Accepted:

Published:

Issue Date:
Keywords
Structural control

Breccias

Cassiterite

Tourmaline

Achmmach tin deposit

Hercynian Central Massif

Morocco