Abstract
Manganese ore in the Cenomanian-Turonian dolostone of the Imini district (south of the High Atlas, Morocco) displays a high Mn content due to the occurrence of pyrolusite, cryptomelane, hollandite sensu stricto, coronadite, romanechite, and lithiophorite. The orebodies occur mainly as three stratabound layers along the ~25-km-long ore belt following a WSW-ENE direction. Using scanning electron microscopy (SEM-EDS) coupled with X-ray diffraction (XRD), we here refine the mineralogy and petrology of Mn oxides and oxyhydroxides in order to constrain the paragenetic sequence and define the main processes of ore formation. Deposition and concentration of Mn oxyhydroxides follow a two-step sequence after dolomitization: (1) replacement of dolomite fabric (dolomite micrite and dolomite rhombs) by hollandite group minerals leading to a textural conservation and then (2) neoformation of collomorphous aggregates in an opened and brecciated system. These observations are consistent with a multistage evolution including multiple reworking and brecciation. Pyrolusite is the main Mn oxide observed in the Imini district during both early and late stages. The superficial environment provides supergene conditions suitable for the deposition of only Mn oxyhydroxides. This supergene environment and the occurrence of multiple bands of hollandite group minerals indicate an external migration (allochthonous supply) of Mn and associated elements, contemporaneous to an in situ chemical and mechanical dissolution of the host dolostone. The lithological heterogeneities of dolostone and its chemical environment compared to less permeable surrounding rocks may have provided the conditions to concentrate Mn oxides and oxyhydroxides.
This is a preview of subscription content, log in to check access.
Access options
Buy single article
Instant access to the full article PDF.
US$ 39.95
Price includes VAT for USA
Subscribe to journal
Immediate online access to all issues from 2019. Subscription will auto renew annually.
US$ 199
This is the net price. Taxes to be calculated in checkout.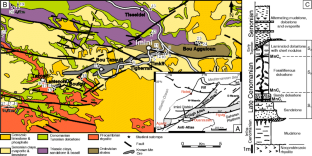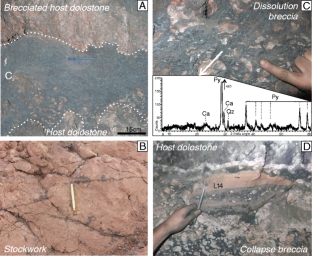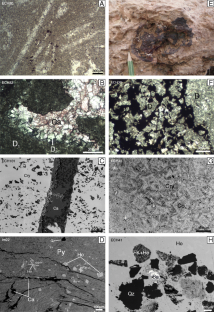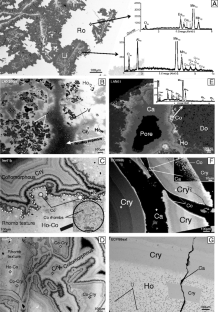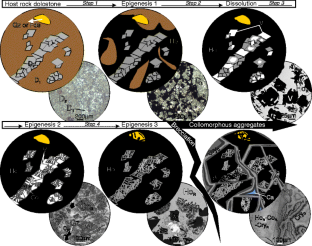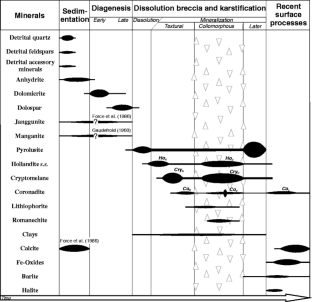 References
Beaudoin B, Lesavre A, Pélissonnier H (1976) Action des eaux superficielles dans le gisement de manganèse d'Imini (Maroc). Bull Soc Geol Fr 18:95–100

Bouladon J, Jouravsky G (1952) Géologie des Gîtes minéraux marocains. Notes Mém Serv Géol Maroc 87:44–80

Crerar D, Cormick R, Barnes H (1980) Geochemistry of manganese: an overview. Geol Geochem Manganese 1:63–77

Decrée S, Deloule E, Ruffet G, Dewaele S, Mees F, Marignac C, Yans J, De Putter T (2010a) Geodynamic and climate controls in the formation of Mio-Pliocene world-class oxidized cobalt and manganese ores in Katanga province, DR Congo. Mineral Deposita 45:621–629

Decrée S, Ruffet G, De Putter T, Baele JM, Recourt P, Jamoussi F, Yans J (2010b) Complex Mn oxides in the Tamra iron mine: Ar-Ar geochronology and efficient traps for metal pollutants in a Fe-Pb-Zn mine environment. J Afr Earth Sci 57:249–261

Force E, Back W, Spiker E, Knauth L (1986) A ground-water mixing model for the origin of the Imini manganese deposit (Cretaceous) of Morocco. Econ Geol 81:65–79

Frizon de Lamotte D, Saint-Bézar B, Bracène R, Mercier E (2000) The two main steps of the Atlas building and geodynamics of the western Mediterranean. Tectonics 19:740–761

Frizon de Lamotte D, Leturmy P, Missenard Y, Khomsi S, Ruiz G, Saddiqi O, Guillocheau F, Michard A (2009) Mesozoic and Cenozoic vertical movements in the Atlas system (Algeria, Morocco, Tunisia): an overview. Tectonophysics 475:9–28

Gaudefroy G (1960) Caractères distinctifs de la pyrolusite – ex manganite (application au minerai de l'Imini). Notes Serv Géol Marocain 19:77–86

Gebert H (1989) Schichtgebundene Manganlagerstätten. Enke Verlag, Stuttgart

Gutzmer J, Beukes N, Rhalmi M, Mukhopadhyay J (2006) Cretaceous karstic cave-fill manganese-lead-barium deposits of Imini, Morocco. Econ Geol 101:385–405

Hem JD (1963) Chemical equilibria and rates of manganese oxidation. US Government Printing Office, US Geological Survey

Lalaoui MD (1987) Étude sédimentologique et métallogénique du gisement manganésifère de l'Imini. PhD Thesis (Unpubl.), Université de Marrakech, Marrakech, 159p

Lalaoui MD, Beauchamp J, Sagon JP (1991) Le gisement de manganèse de l'Imini (Maroc): un dépôt sur la ligne de rivage. Chroniques Rech Min 502:23–36

Lesavre A (1975) Le gisement de manganèse d'Imini (Maroc). PhD Thesis (Unpubl.), Université Pierre-et-Marie-Curie, Paris, 101p

Neltner L (1933) Le manganèse dans les possessions françaises : Les Ressources Minérales de la France d'Outremer. Publ Bur d'Etudes Géol Min Coloniales 2:81–144

Nicholson K (1992) Contrasting mineralogical-geochemical signatures of manganese oxides; guides to metallogenesis. Econ Geol 65:1253–1264

Orcel J (1942) La Coronadite et le minerai qui la renferme dans les gîtes de manganèse de l'Imini (Sud Marocain). Bull Soc Fr Minér 65:73–111

Pokrovsky OS, Golubev SV, Schott J, Castillo A (2009) Calcite, dolomite and magnesite dissolution kinetics in aqueous solutions at acid to circumneutral pH, 25 to 150 °C and 1 to 55 atm pCO2: new constraints on CO2 sequestration in sedimentary basins. Chem Geol 265:20–32

Post JE (1999) Manganese oxides mineral: crystal structure, economic and environmental significance. Proc Natl Acad Sci U S A 96:3447–3454

Pouit G (1964) Les gîtes de manganèse marocains encaissés dans les Formations carbonatées : éléments pour une synthèse. Chron Min Rech Min 337:371–380

Pouit G (1976) La concentration de manganèse de l'Imini (Maroc) peut-elle être d'origine karstique ? C R Somm Soc Géol France 5:227–229

Pouit G (1980) Manganèse. Notes Mém Serv Géol Maroc 13:61–67

Rhalmi M (1992) Les systèmes sédimentaires cénomano-turoniens et sénoniens de la région manganésifère d'Imini (Haut-Atlas Central, Maroc) et leur évolution diagénétique. PhD Thesis (Unpubl.) University Bourgogne, Dijon, 168p

Rhalmi M, Pascal A, Lang J (1997) Contrôle sédimentaire et diagénétique de la minéralisation manganésifère au cours du Crétacé Supérieur dans la région d'Imini (Haut-Atlas central, Maroc). C R Acad Sci 324:213–220

Rhalmi M, Pascal A, Chellai E (2000) Litho-biostratigraphie, diagenèse et paléogéographie au Cénomanien supérieur-Turonien inférieur des bassins sud-atlasiques marocains. Géol Alp 76:135–149

Thein J (1990) Paleogeography and geochemistry of the "Cenomano-Turonian" formations in the manganese district of Imini (Morocco) and their relation to ore deposition. Ore Geol Rev 5:257–291

Turner S, Buseck PR (1979) Manganese oxide tunnel structures and their intergrowths. Science 203:456–458

Zouhri S, Kchikach A, Saddiqi O, El Haïmer FZ, Baidder L, Michard A (2008) The cretaceous-tertiary plateaus. In: Michard A et al (eds) Continental evolution: the geology of Morocco. Springer-Verlag, Berlin, pp 331–358
Acknowledgments
We thank the IMINI mine and the Société Anonyme Chérifienne d'Études Minières (SACEM) for giving the field authorizations and advice on the location of sampling sites. Thanks are due to two anonymous reviewers who greatly improved this manuscript as well as A. Cheilletz and B. Lehmann for their careful editing.
Additional information
Editorial handling: A. Cheilletz
About this article
Cite this article
Dekoninck, A., Bernard, A., Barbarand, J. et al. Detailed mineralogy and petrology of manganese oxyhydroxide deposits of the Imini district (Morocco). Miner Deposita 51, 13–23 (2016). https://doi.org/10.1007/s00126-015-0590-3
Received:

Accepted:

Published:

Issue Date:
Keywords
Imini

Manganese deposits

Weathering

Cretaceous dolostone

Hollandite group minerals