Abstract
The first systematic analyses of the trace and rare earth element (REE) distribution in uraninite from various gold-bearing conglomerates of the Mesoarchaean Central Rand Group in South Africa's Witwatersrand Basin by in situ laser ablation-inductively coupled plasma-mass spectrometry confirms a placer origin for the uraninite and a magmatogenic provenance thereof. The chemistry of commonly rounded to sub-rounded uraninite is highly variable from grain to grain but generally marked by elevated Th, W, Bi, Mo, Ta, Y, REE contents and unusually high Au concentrations. Especially, the high Th contents and the chondrite-normalised REE patterns are incompatible with post-sedimentary hydrothermal genetic models for the U mineralisation and point to derivation of the detrital uraninite from a high-temperature, magmatogenic, presumably granitic to pegmatitic source. The elevated Au concentrations (of as much as 67 ppm) in this uraninite are unique to the Witwatersrand and hint at a granitic hinterland that was enriched in both U and Au, thus presenting a potential source domain for some of the detrital gold in the Witwatersrand conglomerates. Minute fracture fills of brannerite in close proximity to the larger, rounded uraninite grains are devoid of detectable Bi, Mo, REE and Au and have only very low concentrations of Th, W, Ta and Y. This is explicable by crystallisation from a low-temperature hydrothermal fluid. Thus, Witwatersrand U phases show, analogous to many other ore constituents, such as pyrite and gold, clear evidence of partial, short-range mobilisation of originally detrital particles by post-sedimentary fluids.
This is a preview of subscription content, log in to check access.
Access options
Buy single article
Instant access to the full article PDF.
US$ 39.95
Price includes VAT for USA
Subscribe to journal
Immediate online access to all issues from 2019. Subscription will auto renew annually.
US$ 199
This is the net price. Taxes to be calculated in checkout.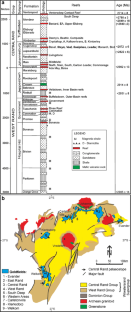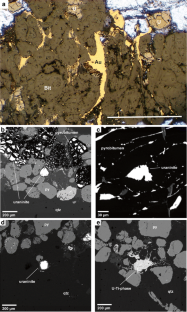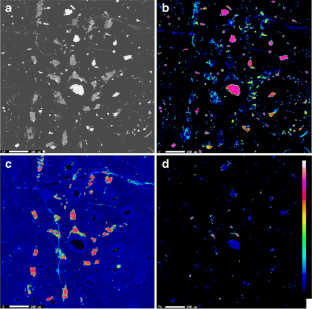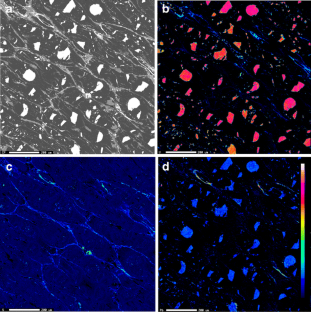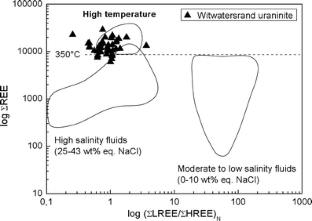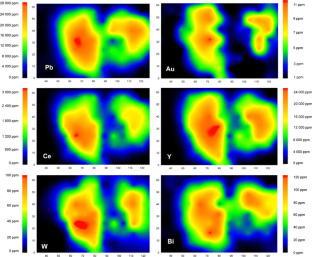 References
Anders E, Grevesse N (1989) Abundances of the elements: meteoritic and solar. GeochimCosmochimActa 53:197–214

Barnicoat AC, Henderson IHC, Knipe RJ, Yardley BWD, Napier RW, Fox NPC, Kenyon AK, Muntingh DJ, Strydom D, Winkler KS, Lawrence SR, Cornford C (1997) Hydrothermal gold mineralization in the Witwatersrand basin. Nature 386:820–824

Buck SG, Minter WEL (1985) Placer formation by fluvial degradation of an alluvial fan sequence: the Proterozoic Carbon Leader placer, Witwatersrand Supergroup, South Africa. J Geol Soc Lond 142:757–764

Depiné M, Frimmel HE, von Seckendorff V, Harris C (2010) Pre-Witwatersrand LREE and potassic high-T alteration of mafic hinterland to the Central Rand Basin, South Africa. IMA2010, 20th General Meeting Internatl. Mineralog. Association, 21–27, August 2010, Budapest. Acta Mineralogica-Petrographica 6:256

Drennan GR, Robb LJ, Meyer FM, Armstrong RA, de Bruiyn H (1990) The nature of the Archaean basement in the hinterland of the Witwatersrand Basin: II. A crustal profile west of the Welkom Goldfield and comparisons with the Vredefort crustal profile. S Afr J Geol 93:41–53

Drennan GR, Robb LJ (2006) The nature of hydrocarbons and related fluids in the Witwatersrand Basin, South Africa; their role in metal distribution. In: Reimold WU, Gibson RL, Processes on the Early Earth. Geol Soc Amer Spec Paper 405:353–385

England GL, Rasmussen B, Krapez B, Groves DI (2002) Palaeoenvironmental significance of rounded pyrite in siliciclastic sequences of the Late Archaean Witwatersrand Basin: oxygen–deficient atmosphere or hydrothermal evolution. Sedimentology 49:1122–1156

Feather CE (1981) Some aspects of Witwatersrand mineralization with special reference to uranium minerals. US GeolSurv Prof Papers 1161, pp Q1–Q28

Feather CE, Koen GM (1975) The mineralogy of the Witwatersrand reefs. Miner Sci Eng 7:189–224

Frimmel HE (1994) Metamorphism of Witwatersrand gold. Explor Min Geol 3:357–370

Frimmel HE (2005) Archaean atmospheric evolution: evidence from the Witwatersrand gold fields, South Africa. Earth Sci Rev 70:1–46

Frimmel HE (2008) Earth's continental crustal gold endowment. Earth Planet Sci Lett 267:45–55

Frimmel HE (2010) Verfügbarkeit von natürlich vorkommendem Uran. Unpublished Report Deutscher Bundestag, Büro für Technikfolgen-Abschätzung beim Deutschen Bundestag, Berlin. pp 123

Frimmel HE, Hallbauer DK, Gartz VH (1999) Gold mobilizing fluids in the Witwatersrand Basin: composition and possible sources. Mineral Petrol 66:55–81

Frimmel HE, Groves DI, Kirk J, Ruiz J, Chesley J, Minter WEL (2005) The formation and preservation of the Witwatersrand goldfields, the largest gold province in the world. In: Hedenquist JW, Thompson JFH, Goldfarb RJ, Richards JP (eds) Economic geology one hundredth anniversary volume. Society of Economic Geologists, Littleton, pp 769–797

Frimmel HE, Zeh A, Lehrmann B, Hallbauer D, Frank W (2009) Geochemical and geochronological constraints on the nature of the immediate basement next to the Mesoarchaean auriferous Witwatersrand Basin, South Africa. J Petrol 50:2187–2220

Frimmel HE, Schedel S, Brätz H (2012) The chemistry of uraninite as possible forensic tool for provenance analysis. GeoHannover 2012, GeoRohstoffe für das 21. Jahrhundert, 1st-3rd Oct, Hannover. Schriftenreihe der Deutsche Gesellschaft für Geowissenschaften 80:90

Garayp E (1991) The UCT-Vaal Reef Project—final report. Unpublished Report, Department of Geology, University of Cape Town, pp 69

Grandstaff DE (1981) Microprobe analyses of uranium and thorium in uraninite from the Witwatersrand, South Africa, and Blind River, Ontario, Canada. In: Armstrong, F.C. (ed) Genesis of uranium– and gold–bearing Precambrian quartz-pebble conglomerates. U.S. Geological Survey Professional Paper, J1–J5

Graton LC (1930) Hydrothermal origin of the Rand gold deposits: part I. Testimony of the conglomerates. Econ Geol 25(suppl 3):1–185

Hallbauer DK (1986) The mineralogy and geochemistry of Witwatersrand pyrite, gold, uranium, and carbonaceous matter. In: Anhaeusser CR, Maske S (eds) Mineral deposits of Southern Africa. Geological Society of South Africa, Johannesburg, p 731–752

Hallbauer DK, Barton JM (1987) The fossil gold placers of the Witwatersrand. Gold Bulletin 20:68–79

Horscroft FDM, Mossman DJ, Reimer TO, Hennigh Q (2011) Witwatersrand metallogenesis: the case for (modified) syngenesis. SEPM Special Publication 101:75–95

Janeczek J, Ewing RC (1992) Structural formula of uraninite. J Nucl Mater 190:128–132

Klemd R (1999) A comparison of fluids causing post-depositional hydrothermal alteration in Archaean basement granitoids and the Witwatersrand Basin. Miner Petrol 66:111–122

Klemd R, Hallbauer DK (1987) Hydrothermally altered peraluminous granites as a provenance model for Witwatersrand sediments. Mineralium Deposita 22:227–235

Koenig AE, Rogers RR, Trueman CN (2009) Visualizing fossilization using laser ablation ICP-MS maps of trace elements in Late Cretaceous bones. Geology 37:511–514

Kositcin N, McNaughton NJ, Griffin BJ, Fletcher IR, Groves DI, Rasmussen B (2003) Textural and geochemical discrimination between xenotime of different origin in the Archaean Witwatersrand Basin, South Africa. Geochimica et Cosmochimica Acta 67:709–731

Kositcin N, Krapez B (2004) SHRIMP U-Pb detrital zircon geochronology of the Late Archaean Witwatersrand Basin of South Africa: relation between zircon provenance age spectra and basin evolution. Precambrian Research 129:141–168

Krupp R, Oberthür T, Hirdes W (1994) The early Precambrian atmosphere and hydrosphere: thermodynamic constraints from mineral deposits. Econ Geol 89:1581–1598

Kirk J, Ruiz J, Chesley J, Walshe J, England G (2002) A major Archaean gold and crust-forming event in the Kaapvaal Craton, South Africa. Science 297:1856–1858

Law JDM, Phillips GN (2005) Hydrothermal replacement model for Witwatersrand gold. In: Hedenquist JW, Thompson JFH, Goldfarb RJ, Richards JP (eds) Economic geology: one hundredth anniversary volume. Society of Economic Geologists, Littleton, pp 799–811

Mellor ET (1916) The conglomerates of the Witwatersrand. Transactions of the Institute of Mining and Metallurgy 25:226–348

Mercadier J, Cuney M, Lach P, Boiron MC, Bonhoure J, Richard A, Leisen M, Kister P (2011) Origin of uranium deposits revealed by their rare earth element signature. Terra Nova 23:264–269

Minter WEL (1978) A sedimentological synthesis of placer gold, uranium and pyrite concentrations in Proterozoic Witwatersrand sediments. In: Miall AD (ed) Fluvial sedimentology. Canadian Society of Petroleum Geologists, Calgary, pp 801–829

Mossman DJ, Minter WEL, Dutkiewicz A, Hallbauer DK, George SC, Hennigh Q, Reimer TO, Horscroft FD (2008) The indigenous origin of Witwatersrand "carbon". Precambrian Research 164:173–186

Oberthür T (1983) Metallogenetische Überlegungen zur Bildung des Carbon Leader Reef, Carletonville Goldfield, Witwatersrand, Südafrika. Unpubl. PhD thesis, University of Cologne

Pearce NJG, Perkins WT, Westgate JA, Gorton MP, Jackson SE, Neal CR, Chenery SP (1997) A compilation of new and published major and trace element data for NIST SRM 610 and NIST SRM 612 glass reference materials. Geostandards Newsletter 21:115–144

Phillips GN, Myers RE (1989) Witwatersrand gold fields: part II. An origin for Witwatersrand gold during metamorphism and associated alteration. In: Keays RR, Ramsay WRH, Groves DI (eds) The geology of gold deposits: The perspective in 1988. Economic Geology Monograph vol. 6, Society of Economic Geologists, pp 598–608

Phillips GN, Law JDM (1994) Metamorphism of the Witwatersrand gold fields: a review. Ore Geology Reviews 9:1–31

Phillips GN, Law JDM, Stevens G (1997) Alteration, heat, and Witwatersrand gold: 111 years after Harrison and Langlaagte. S Afr J Geol 100:377–392

Phillips GN, Powell R (2011) Origin of Witwatersrand gold: a metamorphic devolatilisation-hydrothermal replacement model. Applied Earth Sciences (Trans Inst Min Metall B) 120:112–129

Pretorius DA (1991) The sources of Witwatersrand gold and uranium: A continued difference of opinion. In: Hutchinson RW, Grauch RI (eds) Historical perspectives of genetic concepts and case histories of famous discoveries. Economic Geology Monographs vol. 8, Society of Economic Geologists, pp 139–163

Ramdohr P (1958) New observations on the ores of the Witwatersrand in South Africa and their genetic significance. Transactions of the Geological Society of South Africa 61:1–50

Rantzsch U, Gauert CDK, Van der Westhuizen WA, Duhamel I, Cuney M, Beukes GJ (2011) Mineral chemical study of U-bearing minerals from the Dominion Reefs. South AfricaMineralium Deposita 46:187–196

Reimer TO (1987) The Late Archaean Dominion conglomerates (South Africa): new aspects of their derivation and their relationship with those of the Witwatersrand. Neues Jahrbuch für Mineralogie, Abhandlungen 158:13–46

Robb LJ, Meyer FM, Ferraz MF, Drennan GR (1990) The distribution of radioelements in Archaean granites of the Kaapvaal Craton, with implications for the source of uranium in the Witwatersrand Basin. South African Journal of Geology 93:5–40

Robb LJ, Meyer FM (1990) The nature of the Witwatersrand hinterland: conjectures on the source-area problem. Econ Geol 85:511–536

Robb LJ, Robb VM (1998) Gold in the Witwatersrand Basin. In: Wilson MGC, Anhaeusser CR (eds) The mineral resources of South Africa. Council for Geoscience, Pretoria, vol.16, pp 294–349

Robb LJ, Charlesworth EG, Drennan GR, Gibson RL, Tongu EL (1997) Tectono-metamorphic setting and paragenetic sequence of Au-U mineralisation in the Archaean Witwatersrand Basin, South Africa. Australian Journal of Earth Sciences 44:353–371

Schidlowski M (1981) Uraniferous constituents of the Witwatersrand conglomerates: ore-microscopic observations and implications for Witwatersrand metallogeny. US Geol Surv Prof Paper 1161:N1–N29

Shannon RD (1976) Revised effective ionic radii and systematic studies of interatomic distances in halides and chalcogenides. Acta Crystallographica, Series A 32:751–767

Stevens G, Gibson RL, Droop GTR (1997) Mid-crustal granulite facies metamorphism in the central Kaapvaal craton: the Bushveld Complex connection. Precambrian Res 82:113–132

Van Achterbergh E, Ryan CG, Griffin WL (2000) Glitter: on–line interactive data reduction for the Laser Ablation ICP–MS Microprobe. Ninth Annual V. M. Goldschmidt Conference, August 22–27, 1999, Cambridge, Massachusetts, abstract no. 7215

Wagner PA (1929) Platinum deposits and mines of South Africa. Oliver and Boyd, Edinburgh

Young RB (1917) The blanket of the S. African goldfields. Gurney and Jackson, London, p 26
Acknowledgments
H. Brätz and U. Schüßler helped with LA-ICP-MS and EMP analyses, respectively. We thank W.E.L. Minter for providing some of the analysed samples from historic mine sites. J. Mercadier and L. Robb are thanked for their thorough reviews of the original manuscript. Financial support from the Deutsche Forschungsgemeinschaft (DFG grants FR2183/3-1 and FR2183/3-2) is gratefully acknowledged.
Additional information
Editorial handling: B. Lehmann
Electronic supplementary material
Below is the link to the electronic supplementary material.
Representative electron microprobe analyses of individual uraninite grains from Central Rand Group conglomerate beds (XLSX 13 kb)
LA-ICP-MS analyses of individual uraninite grains from Central Rand conglomerates (XLSX 45 kb)
About this article
Cite this article
Depiné, M., Frimmel, H.E., Emsbo, P. et al. Trace element distribution in uraninite from Mesoarchaean Witwatersrand conglomerates (South Africa) supports placer model and magmatogenic source. Miner Deposita 48, 423–435 (2013). https://doi.org/10.1007/s00126-013-0458-3
Received:

Accepted:

Published:

Issue Date:
Keywords
Uraninite

Witwatersrand

Trace elements

Gold

Archaean atmosphere