Early-life factors contributing to type 1 diabetes
Abstract
The incidence of type 1 diabetes has increased since the mid-twentieth century at a rate that is too rapid to be attributed to genetic predisposition alone. While the disease can occur at any age, mounting evidence from longitudinal cohort studies of at-risk children indicate that type 1 diabetes associated autoantibodies can be present from the first year of life, and that those who develop type 1 diabetes at a young age have a more aggressive form of the disease. This corroborates the hypothesis that environmental exposures in early life contribute to type 1 diabetes risk, whether related to maternal influences on the fetus during pregnancy, neonatal factors or later effects during infancy and early childhood. Studies to date show a range of environmental triggers acting at different time points, suggesting a multifactorial model of genetic and environmental factors in the pathogenesis of type 1 diabetes, which integrally involves a dialogue between the immune system and pancreatic beta cells. For example, breastfeeding may have a weak protective effect on type 1 diabetes risk, while use of an extensively hydrolysed formula does not. Additionally, exposure to being overweight pre-conception, both in utero and postnatally, is associated with increased risk of type 1 diabetes. Epidemiological, clinical and pathological studies in humans support a role for viral infections, particularly enteroviruses, in type 1 diabetes, but definitive proof is lacking. The role of the early microbiome and its perturbations in islet autoimmunity and type 1 diabetes is the subject of investigation in ongoing cohort studies. Understanding the interactions between environmental exposures and the human genome and metagenome, particularly across ethnically diverse populations, will be critical for the development of future strategies for primary prevention of type 1 diabetes.
Keywords
Child 
Diet 
Enterovirus 
Gene–environment interaction 
Life course development 
Microbiome 
Pregnancy 
Review 
Type 1 diabetes 
Virus 
Abbreviations
CVB

Coxsackievirus group B

DAISY

Diabetes Autoimmunity Study in the Young

DIPP

Diabetes Prediction and Prevention

ENDIA

Environmental Determinants of Islet Autoimmunity

ER

Endoplasmic reticulum

FDR

First-degree relative

GRS

Genetic risk score

IA

Islet autoimmunity

rRNA

Ribosomal RNA

SCFA

Short-chain fatty acid

TEDDY

The Environmental Determinants of Diabetes in the Young

TRIGR

Trial to Reduce Insulin-Dependent Diabetes Mellitus in the Genetically at Risk

VIGR

Viruses In the Genetically at Risk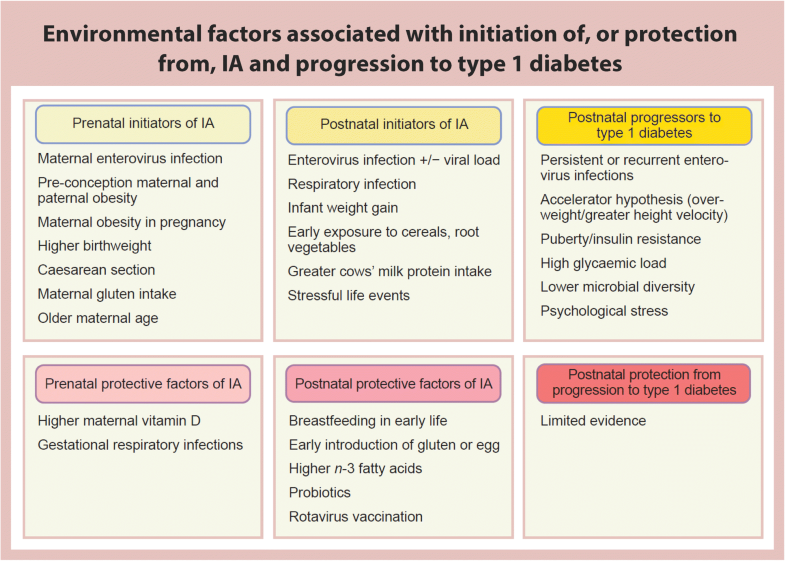 Notes
Contribution statement
All authors contributed to the conception and design, interpretation and critical appraisal of data, drafting of the review and revising it critically for important intellectual content. All authors approved of the version to be published.
Funding
MEC is supported by an Australian National Health and Medical Research Council (NHMRC) Practitioner fellowship (APP1045777) and a JDRF International grant (3-SRA-2017-417-A-N). SRI is supported by an Australian Government Research Training Program Scholarship. EEH-W is supported by grants from JDRF (3-SRA-2019-730-S-B, 2-SRA-2019-703-M-B) and a Children's Hospital Foundation grant (WIS0202018). The ENDIA Study is supported by JDRF Australia, the recipient of the Australian Research Council Special Research Initiative in Type 1 Juvenile Diabetes, The Leona M. and Harry B. Helmsley Charitable Trust, JDRF International and the JDRF/NHMRC Centre of Research Excellence for the Protection of Pancreatic Beta Cells (APP1078106; JJC, MEC, MP, WDR).
Duality of interests
The authors declare that there is no duality of interest associated with this manuscript.
Copyright information
© Springer-Verlag GmbH Germany, part of Springer Nature 2019