Short-term strength and balance training does not improve quality of life but improves functional status in individuals with diabetic peripheral neuropathy: a randomised controlled trial
Abstract
Aims/hypothesis
The aim of this study was to test the effectiveness of a structured strength and balance training intervention in improving health-related quality of life (HRQoL) and functional status in individuals with diabetic peripheral neuropathy (DPN).
Methods
The study was a single-blind parallel-group randomised controlled trial comparing 2 months of once-weekly home-based strength and balance training against standard medical therapy. Participants were patients with physician-diagnosed type 2 diabetes and neuropathy recruited from five public sector institutions in Singapore between July 2014 and October 2017. Participants were block-randomised to intervention or control arms. Outcomes were assessed at baseline, 2 months and 6 months by a trained assessor blinded to group assignment. Primary outcomes were change in physical component summary (PCS) score of SF-36v2 (a 36-item generic HRQoL instrument that has been validated for use in Singapore) and EQ-5D-5L index score (derived from a five-item generic HRQoL instrument [EQ-5D-5L]) over 6 months. Secondary outcomes were change in functional status (timed up-and-go [TUG], five times sit-to-stand [FTSTS], functional reach, static balance, ankle muscle strength and knee range of motion) and balance confidence over 6 months. Mean differences in scores between groups were compared using mixed models.
Results
Of the 143 participants randomised (intervention, n = 70; control, n = 73), 67 participants were included in each arm for the final intention-to-treat analysis. The two groups were similar, except in terms of sex. There were no significant differences between groups on the primary outcomes of PCS score (mean difference [MD] 1.56 [95% CI −1.75, 4.87]; p = 0.355) and EQ-5D-5L index score (MD 0.02 [95% CI −0.01, 0.06]; p = 0.175). There were significant improvements in TUG test performance (MD −1.14 [95% CI −2.18, −0.1] s; p = 0.032), FTSTS test performance (MD −1.31 [95% CI −2.12, −0.51] s; p = 0.001), ankle muscle strength (MD 4.18 [95% CI 0.4, 7.92] N; p = 0.031), knee range of motion (MD 6.82 [95% CI 2.87, 10.78]°; p = 0.001) and balance confidence score (MD 6.17 [95% CI 1.89, 10.44]; p = 0.005). No adverse events due to study participation or study intervention were reported.
Conclusions/interpretation
Short-term structured strength and balance training did not influence HRQoL but produced sustained improvements in functional status and balance confidence at 6 months. More intensive interventions may be needed to influence HRQoL in these individuals. However, this intervention may be a useful treatment option for individuals with DPN to reduce the risk of falls and injuries.
Trial registration
ClinicalTrials.gov NCT02115932
Funding
This work was supported by the National Medical Research Council, Singapore.
Keywords
Balance 
Diabetes 
Diabetic neuropathy 
Functional ability 
Muscle strength 
Physical therapy 
Quality of life 
Abbreviations
ABC

Activities-specific balance confidence

DPN

Diabetic peripheral neuropathy

FTSTS

Five times sit-to-stand test

HRQoL

Health-related quality of life

MCS

Mental component summary

PCS

Physical component summary

TUG

Timed up-and-go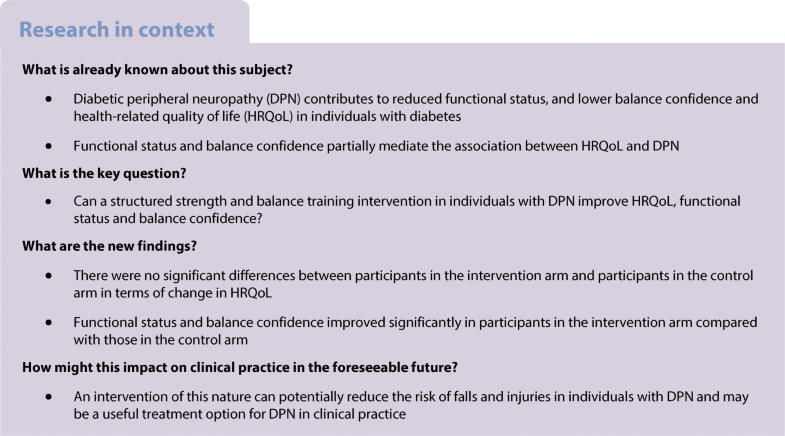 Notes
Acknowledgements
The authors thank D. Natarajan, M. Wong, K. T. Dar and T. Riandini (Saw Swee Hock School of Public Health, National University of Singapore) and staff at the participating centres for their help in participant recruitment and data collection for the study. The authors also thank all study participants for their contribution to the study.
Contribution statement
KV conceived the study, supervised the project and drafted the manuscript. BCT advised on the statistical design of the study, conducted statistical analysis and guided interpretation and was involved in data collection. EYHK, ST, KC, SWH, MP, HLW, GK and EST contributed to study conception, design and data collection. All authors reviewed the manuscript, contributed to the discussion of study findings and gave final approval of the version to be submitted. KV is the guarantor of this work and, as such, had full access to all the data in the study and takes responsibility for the integrity of the data and the accuracy of the data analysis.
Funding
This work was supported by the National Medical Research Council, Singapore (grant no. NMRC/TA/0022/2014). The study sponsor was not involved in the design of the study, the collection, analysis, and interpretation of data, writing the report or the decision to submit the report for publication.
Duality of interest
The authors declare that there is no duality of interest associated with this manuscript.
Copyright information
© The Author(s) 2019
Open Access This article is distributed under the terms of the Creative Commons Attribution 4.0 International License (http://creativecommons.org/licenses/by/4.0/), which permits unrestricted use, distribution, and reproduction in any medium, provided you give appropriate credit to the original author(s) and the source, provide a link to the Creative Commons license, and indicate if changes were made.