Breastfeeding at night is rarely followed by hypoglycaemia in women with type 1 diabetes using carbohydrate counting and flexible insulin therapy
Abstract
Aims/hypothesis
Hypoglycaemia in association with breastfeeding is a feared condition in mothers with type 1 diabetes. Thus, routine carbohydrate intake at each breastfeed, particularly at night, is often recommended despite lack of evidence. We aimed to evaluate glucose levels during breastfeeding, focusing on whether night-time breastfeeding induced hypoglycaemia in mothers with type 1 diabetes.
Methods
Of 43 consecutive mothers with type 1 diabetes, 33 (77%) were included prospectively 1 month after a singleton delivery. Twenty-six mothers (mean [SD] age 30.7 [5.8] years, mean [SD] duration of diabetes 18.6 [10.3] years) were breastfeeding and seven mothers (mean [SD] age 31.7 [5.6] years, mean [SD] duration of diabetes 20.4 [6.2] years) were bottle-feeding their infants with formula. All were experienced in carbohydrate counting using individually tailored insulin therapy with insulin analogues (45% on insulin pump, 55% on multiple daily injections). Thirty-two women with type 1 diabetes, matched for age ±1 year and BMI ±1 kg/m2, who had not given birth or breastfed in the previous year, served as a control group. Blinded continuous glucose monitoring (CGM) for 6 days was applied at 1, 2 and 6 months postpartum in the breastfeeding mothers who recorded breastfeeds and carbohydrate intake at each CGM period. CGM was applied at 1 month postpartum in the formula-feeding mothers and once in the control women. The insulin dose was individually tailored after each CGM period.
Results
The percentage of night-time spent with CGM <4.0 mmol/l was low (4.6%, 3.1% and 2.7% at each CGM period in the breastfeeding mothers vs 1.6% in the control women, p = 0.77), and the breastfeeding mothers spent a greater proportion of the night-time in the target range of 4.0–10.0 mmol/l (p = 0.01). Symptomatic hypoglycaemia occurred two or three times per week at 1, 2 and 6 months postpartum in both breastfeeding mothers and the control women. Severe hypoglycaemia was reported by one mother (3%) during the 6 month postpartum period and by one control woman (3%) in the previous year (p = 0.74). In breastfeeding mothers at 1 month, the insulin dose was 18% (−67% to +48%) lower than before pregnancy (p = 0.04). In total, carbohydrate was not consumed in relation to 438 recorded night-time breastfeeds, and CGM <4.0 mmol/l within 3 h occurred after 20 (4.6%) of these breastfeeds.
Conclusions/interpretation
The percentage of night-time spent in hypoglycaemia was low in the breastfeeding mothers with type 1 diabetes and was similar in the control women. Breastfeeding at night-time rarely induced hypoglycaemia. The historical recommendation of routine carbohydrate intake at night-time breastfeeding may be obsolete in mothers with type 1 diabetes who have properly reduced insulin dose with sufficient carbohydrate intake.
Keywords
Breastfeeding 
Carbohydrate counting 
Continuous glucose monitoring 
Gestational weight gain retention 
Hypoglycaemia 
Insulin dose 
Insulin pump therapy 
Type 1 diabetes 
Abbreviations
CGM

Continuous glucose monitoring

IOM

Institute of Medicine

SMPG

Self-monitoring of plasma glucose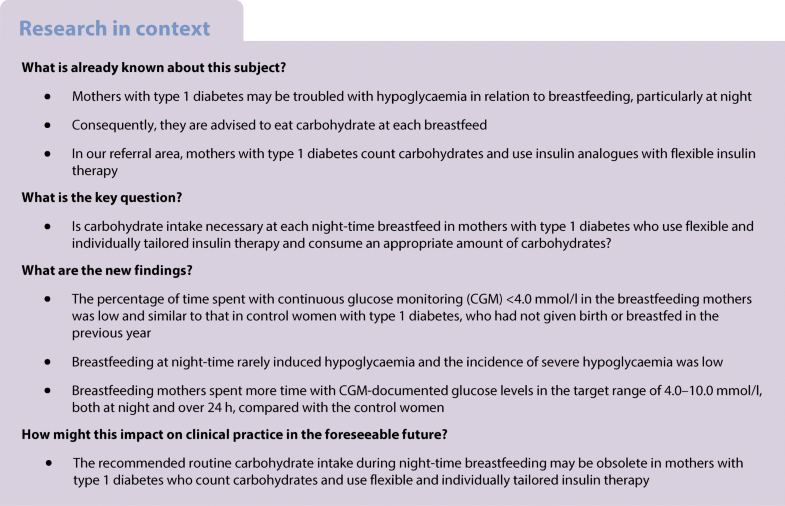 Notes
Acknowledgements
We are grateful to the women who participated in this study. We thank registered nurse M. Glindorf and patient coordinator L. Løndam at the Steno Diabetes Center Copenhagen, Denmark, for practical help during the conduction of this study. Some of the data were presented as an abstract at the 78th ADA Annual Meeting in 2018 and at the 54th EASD Annual Meeting in 2018.
Data availability
Data can be obtained by contacting the corresponding author.
Contribution statement
All authors contributed to the conception and design of the study, acquired the data and analysed and interpreted data. LR drafted the article. ABR, SE, ALS, HUA, PD and ERM revised drafts critically for important intellectual content. All authors gave final approval of the version to be published. LR is responsible for the integrity of the work as a whole.
Funding
This research received a grant from the Beckett Foundation. There was no public or commercial funding. Ascensia Diabetes Care Denmark Aps provided the glucometers ContourNext free of charge. The iPro2 Professional CGM devices were purchased at the regular cost negotiated with the Capital Region of Copenhagen.
Duality of interest
HUA owns stocks in Novo Nordisk A/S and participates in advisory boards for AstraZeneca and Novo Nordisk A/S. PD and ERM are participating in multicentre and multinational clinical studies on the use of insulin in pregnant women with pre-existing diabetes in collaboration with Novo Nordisk; no personal honorarium is involved. PD and ERM are in the speaker's bureau of Novo Nordisk. All other authors declare that there is no duality of interest associated with their contribution to this manuscript.
Copyright information
© Springer-Verlag GmbH Germany, part of Springer Nature 2019