Genetic variants of gestational diabetes mellitus: a study of 112 SNPs among 8722 women in two independent populations
Abstract
Aims/hypothesis
Gestational diabetes mellitus (GDM) is a common complication of pregnancy that has substantial short- and long-term adverse health implications for women and their children. However, large-scale studies on genetic risk loci for GDM remain sparse.
Methods
We conducted a case–control study among 2636 women with GDM and 6086 non-GDM control women from the Nurses' Health Study II and the Danish National Birth Cohort. A total of 112 susceptibility genetic variants confirmed by genome-wide association studies for type 2 diabetes were selected and measured. A weighted genetic risk score (GRS) was created based on variants that were significantly associated with risk of GDM after correcting for the false discovery rate.
Results
For the first time, we identified eight variants associated with GDM, namely rs7957197 (HNF1A), rs10814916 (GLIS3), rs3802177 (SLC30A8), rs9379084 (RREB1), rs34872471 (TCF7L2), rs7903146 (TCF7L2), rs11787792 (GPSM1) and rs7041847 (GLIS3). In addition, we confirmed three variants, rs10830963 (MTNR1B), rs1387153 (MTNR1B) and rs4506565 (TCF7L2), that had previously been significantly associated with GDM risk. Furthermore, compared with participants in the first (lowest) quartile of weighted GRS based on these 11 SNPs, the ORs for GDM were 1.07 (95% CI 0.93, 1.22), 1.23 (95% CI 1.07, 1.41) and 1.53 (95% CI 1.34, 1.74) for participants in the second, third and fourth (highest) quartiles, respectively. The significant positive associations between the weighted GRS and risk of GDM persisted across most of the strata of major risk factors for GDM, including family history of type 2 diabetes, smoking status, BMI and age.
Conclusions/interpretation
In this large-scale case–control study with women from two independent populations, eight novel GDM SNPs were identified. These findings offer the potential to improve our understanding of the aetiology of GDM, and particularly of biological mechanisms related to beta cell function.
Keywords
Genetic risk score 
Genetic variants 
Gestational diabetes mellitus 
Abbreviations
DNBC

Danish National Birth Cohort

DWH

Diabetes & Women's Health study

FDR

False discovery rate

GDM

Gestational diabetes mellitus

GRS

Genetic risk score

GRS-BC

Genetic risk score related to beta cell function

GRS-IR

Genetic risk score related to insulin resistance

GWAS

Genome-wide association study

NHSII

Nurses' Health Study II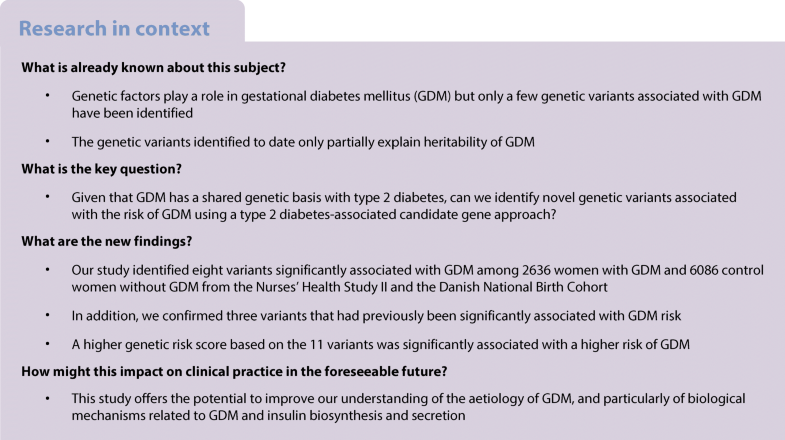 Notes
Contribution statement
JC, AL, SO, LGG, ACBT, JLM, EY, AV, FBH, and CZ made substantial contributions to the conception and design of the study and acquisition of data. SNH, SR, and SHL contributed to acquisition of data. WZ, WB, and YL contributed to data interpretation. MD conducted data analysis and drafted the article. JC, SO, YL, SHL, WB, SR, LGG, ACBT, JLM, EY, SNH, WZ, AV, AL, FBH and CZ revised the article critically for important intellectual content; all authors gave final approval of the version to be published. CZ and MD are responsible for the integrity of the work as a whole.
Funding
This work was supported by the Intramural Research Program of the Eunice Kennedy Shriver National Institute of Child Health and Human Development at the National Institutes of Health (contract numbers HHSN275201000020C, HHSN275201500003C, HHSN275201300026I, HSN275201100002I). The NHSII cohort is supported by the National Institutes of Health (grant number R01 CA67262, UM1 CA176726, R01 CA50385, and NICHD contract HHSN275201000020C). Financial support for the Danish component was received from: March of Dimes Birth Defects Foundation (6-FY-96-0240, 6-FY97-0553, 6-FY97-0521, 6-FY00-407), Innovation Fund Denmark (grant number 09-067124 and 11-115923, 'Centre for Fetal Programming'), the Health Foundation (11/263-96), the Heart Foundation (96-2-4-83-22450) and the EU (FP7-289346-EarlyNutrition).
Duality of interest
The authors declare that there is no duality of interest associated with this manuscript.
Copyright information
© This is a U.S. government work and its text is not subject to copyright protection in the United States; however, its text may be subject to foreign copyright protection 2018