DOI 10.1007/s00125-014-3326-5
In Fig. 2c and d, the last three columns of the x-axes should have read TAS2R4 siRNA, TAS2R43 siRNA and TAS2R46 siRNA, respectively; the legend should have read: (c, d) GNAT3, TAS2R4, TAS2R43 and TAS2R46 siRNAs reduced DB-induced GLP-1 secretion.
In Fig. 4d, 'G?' should have read 'Gβγ'.
The correct figures are reproduced here.
Fig. 2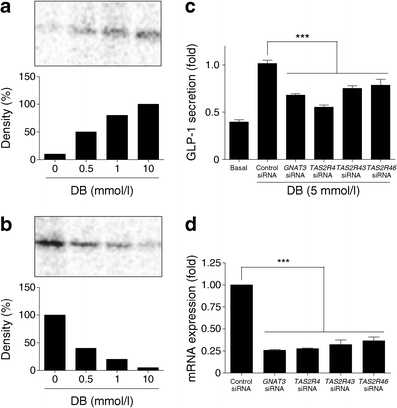 Fig. 4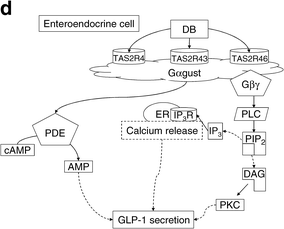 About this article
Cite this article
Kim, K., Egan, J.M. & Jang, H. Erratum to: Denatonium induces secretion of glucagon-like peptide-1 through activation of bitter taste receptor pathways. Diabetologia 57, 2428 (2014). https://doi.org/10.1007/s00125-014-3363-0