Abstract
Aims/hypothesis
Roux-en-Y gastric bypass (RYGB) surgery, an effective treatment for morbid obesity, commonly leads to near complete resolution of type 2 diabetes. The underlying mechanisms, however, remain unclear and factors other than weight loss alone may be involved.
Methods
To determine whether increased hypothalamic insulin sensitivity after RYGB drives the rapid improvement in glucose metabolism, high-fat-fed rats received either an insulin receptor (IR) antisense vector or a control lentiviral vector that was microinjected into the ventromedial hypothalamus (VMH). Six weeks later, rats underwent RYGB or control gastrointestinal surgery.
Results
Four weeks after surgery, weight loss was comparable in RYGB and surgical controls. Nevertheless, only RYGB rats that received the control vector demonstrated both improved hepatic and peripheral insulin sensitivity. Insulin suppressed hepatic glucose production (HGP) by 50% (p < 0.05) with RYGB, whereas the effect of insulin on HGP was completely absent in VMH IR knockdown (IRkd) rats. By contrast, both RYGB groups displayed an identical twofold increase in insulin-stimulated peripheral glucose uptake. The animals that underwent control gastrointestinal surgery failed to show any improvement in either hepatic or peripheral insulin sensitivity; VMH IRkd did not influence the magnitude of insulin resistance.
Conclusions/interpretation
Our findings demonstrate that RYGB surgery in high-fat-fed obese rats enhances hepatic and peripheral insulin sensitivity independently of weight loss. The improved hepatic, but not the peripheral, response to insulin is mediated centrally at the level of the VMH. These data provide direct evidence that the metabolic benefits of RYGB surgery are not simply a consequence of weight loss but likely in part involve the central nervous system.
This is a preview of subscription content, log in to check access.
Access options
Buy single article
Instant access to the full article PDF.
US$ 39.95
Price includes VAT for USA
Subscribe to journal
Immediate online access to all issues from 2019. Subscription will auto renew annually.
US$ 199
This is the net price. Taxes to be calculated in checkout.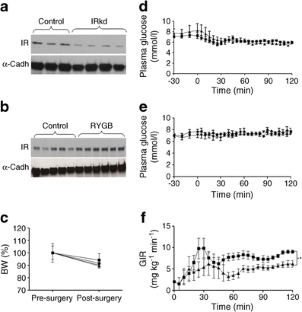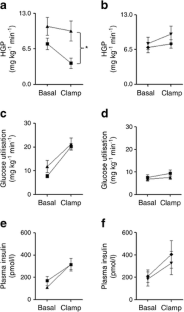 Abbreviations
HGP:

Hepatic glucose production

IR:

Insulin receptor

IRkd:

Insulin receptor knockdown

RYGB:

Roux-en-Y gastric bypass

VMH:

Ventromedial hypothalamus
References
1.

Levin BE, Routh VH, Kang L, Sanders NM, Dunn-Meynell AA (2004) Neuronal glucosensing: what do we know after 50 years? Diabetes 53:2521–2528

2.

Sherwin RS (2008) Bringing light to the dark side of insulin: a journey across the blood–brain barrier. Diabetes 57:2259–2268

3.

Cotero VE, Zhang BB, Routh VH (2010) The response of glucose-excited neurones in the ventromedial hypothalamus to decreased glucose is enhanced in a murine model of type 2 diabetes mellitus. J Neuroendocrinol 22:65–74

4.

Lin HV, Plum L, Ono H et al (2010) Divergent regulation of energy expenditure and hepatic glucose production by insulin receptor in AgRP and POMC neurons. Diabetes 59:337–346

5.

Paranjape SA, Chan O, Zhu W et al (2011) Chronic reduction of insulin receptors in the ventromedial hypothalamus produces glucose intolerance and islet dysfunction in the absence of weight gain. Am J Physiol 301:E978–E983

6.

Varela JE (2011) Bariatric surgery: a cure for diabetes? Curr Opin Clin Nutr Metab Care 14:396–401

7.

Wickremesekera K, Miller G, Naotunne TD, Knowles G, Stubbs RS (2005) Loss of insulin resistance after Roux-en-Y gastric bypass surgery: a time course study. Obes Surg 15:474–481

8.

Ochner CN, Gibson C, Carnell S, Dambkowski C, Geliebter A (2010) The neurohormonal regulation of energy intake in relation to bariatric surgery for obesity. Physiol Behav 100:549–559

9.

Sandoval D (2011) Bariatric surgeries: beyond restriction and malabsorption. Int J Obes (Lond) 35(Suppl 3):S45–S49

10.

Thanos PK, Subrize M, Delis F et al (2012) Gastric bypass increases ethanol and water consumption in diet-induced obese rats. Obes Surg 22:1884–1892
Funding
This work was supported by National Institutes of Health grants DK 20495 and P30 DK 45735 (R. S. Sherwin) and DK080899 (A. Hajnal) as well as a pilot grant from the Diabetes Endocrinology Research Center (S. A. Paranjape).
Duality of interest
The authors declare that there is no duality of interest associated with this manuscript.
Contribution statement
SAP and OC were involved in the conception and design of the study, acquisition of data, or analysis and interpretation of data, drafting of the article and final approval of the version to be published. AH, AMR and RSS were involved in the conception and design of the study, analysis and interpretation of data, drafting and revision of the article, and final approval of the version to be published. NKA and WZ were involved in the acquisition of data, drafting of the article and final approval of the version to be published.
About this article
Cite this article
Paranjape, S.A., Chan, O., Zhu, W. et al. Improvement in hepatic insulin sensitivity after Roux-en-Y gastric bypass in a rat model of obesity is partially mediated via hypothalamic insulin action. Diabetologia 56, 2055–2058 (2013). https://doi.org/10.1007/s00125-013-2952-7
Received:

Accepted:

Published:

Issue Date:
Keywords
Gastric bypass surgery

Hypothalamus

Insulin