Abstract
Key message
We report the development and characterization of Brassica oleracea - nigra monosomic alien addition lines (MAALs) to dissect the Brassica B genome.
Abstract
Brassica nigra (2n = 16, BB) represents the diploid Brassica B genome which carries many useful genes and traits for breeding but received limited studies. To dissect the B genome from B. nigra, the triploid F1 hybrid (2n = 26, CCB) obtained previously from the cross B. oleracea var. alboglabra (2n = 18, CC) × B. nigra was used as the maternal parent and backcrossed successively to parental B. oleracea. The progenies in BC1 to BC3 generations were analyzed by the methods of FISH and SSR markers to screen the monosomic alien addition lines (MAALs) with each of eight different B-genome chromosomes added to C genome (2n = 19, CC + 1B1−8), and seven different MAALs were established, except for the one with chromosome B2 which existed in one triple addition. Most of these MAALs were distinguishable morphologically from each other, as they expressed the characters from B. nigra differently and at variable extents. The alien chromosome remained unpaired as a univalent in 86.24% pollen mother cells at diakinesis or metaphase I, and formed a trivalent with two C-genome chromosomes in 13.76% cells. Transmission frequency of all the added chromosomes was far higher through the ovules (averagely 14.40%) than the pollen (2.64%). The B1, B4 and B5 chromosomes were transmitted by female at much higher rates (22.38–30.00%) than the other four (B3, B6, B7, B8) (5.04–8.42%). The MAALs should be valuable for exploiting the genome structure and evolution of B. nigra.
This is a preview of subscription content, log in to check access.
Access options
Buy single article
Instant access to the full article PDF.
US$ 39.95
Price includes VAT for USA
Subscribe to journal
Immediate online access to all issues from 2019. Subscription will auto renew annually.
US$ 199
This is the net price. Taxes to be calculated in checkout.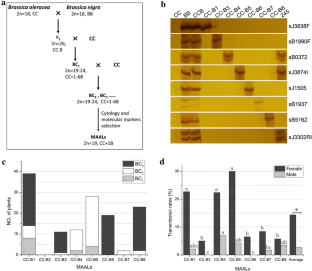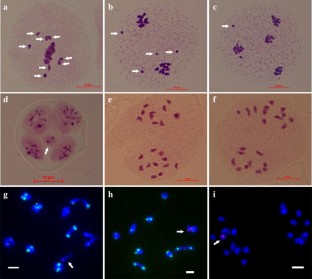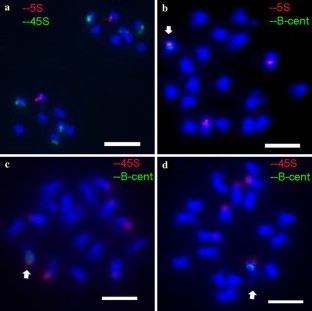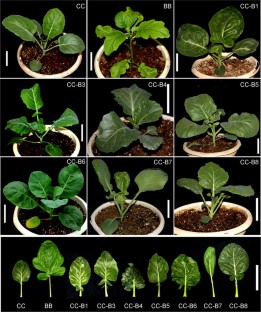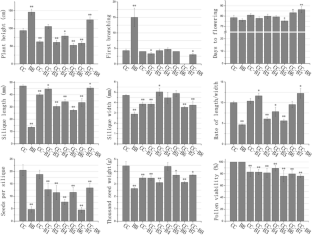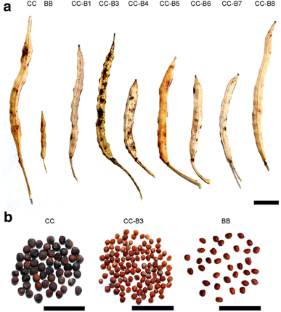 References
Budahn H, Schrader O, Peterka H (2008) Development of a complete set of disomic rape-radish chromosome-addition lines. Euphytica 162:117–128

Chalhoub B et al (2014) Early allopolyploid evolution in the post-neolithic Brassica napus oilseed genome. Science 345:950–953. doi:10.1126/science.1253435

Chang SB, de Jong H (2005) Production of alien chromosome additions and their utility in plant genetics. Cytogenet Genome Res 109:335–343. doi:10.1159/000082417

Chen ZJ, Pikaard CS (1997) Transcriptional analysis of nucleolar dominance in polyploid plants: biased expressiony silencing of progenitor rRNA genes is developmentally regulated in Brassica. Proc Natl Acad Sci USA 94:3442–3447

Chen Y, Wang Y, Wang K, Zhu X, Guo W, Zhang T, Zhou B (2014) Construction of a complete set of alien chromosome addition lines from Gossypium australe in Gossypium hirsutum: morphological, cytological, and genotypic characterization. Theor Appl Genet 127:1105–1121. doi:10.1007/s00122-014-2283-1

Cheng BF, Heneen WK (1995) Satellited chromosomes, nucleolus organizer regions and nucleoli of Brassica campestris L., B. nigra (L.) Koch, and Sinapis arvensis L. Hereditas 122:113–118

Chevre AM, This P, Eber F, Deschamps M, Renard M, Delseny M, Quiros CF (1991) Characterization of disomic addition lines Brassica napus-Brassica nigra by isozyme, fatty acid, and RFLP markers. Theor Appl Genet 81:43–49. doi:10.1007/bf00226110

Chevre AM, Eber F, This P, Barret P, Tanguy X, Brun H, Delseny M, Renard M (1996) Characterization of Brassica nigra chromosomes and of blackleg resistance in B. napus–B. nigra addition lines. Plant Breed 115:113–118

Chèvre AM, Eber F, Barret P, Dupuy P, Brace J (1997a) Identification of the different Brassica nigra chromosomes from both sets of B. oleracea–B. nigra and B. napus–B. nigra addition lines with a special emphasis on chromosome transmission and self-incompatibility. Theor Appl Genet 94:603–611

Chèvre AM, Barret P, Eber F, Dupuy P, Brun H, Tanguy X, Renard M (1997b) Selection of stable Brassica napus–B. juncea recombinant lines resistant to blackleg (Leptosphaeria maculans). 1. Identification of molecular markers, chromosomal and genomic origin of the introgression. Theor Appl Genet 95:1104–1111

Cui C, Ge X, Gautam M, Kang L, Li Z (2012) Cytoplasmic and genomic effects on meiotic pairing in Brassica hybrids and allotetraploids from pair crosses of three cultivated diploids. Genetics 191:725–738. doi:10.1534/genetics.112.140780

Dhaliwal I, Mason AS, Banga S, Bharti S, Kaur B, Gurung AM, Salisbury PA, Batley J, Banga SS (2017) Cytogenetic and molecular characterization of B-genome introgression lines of Brassica napus L. G3 (Bethesda) 7:77–86. doi:10.1534/g3.116.036442

Ding L, Zhao ZG, Ge XH, Li ZY (2013) Intergeneric addition and substitution of Brassica napus with different chromosomes from Orychophragmus violaceus: phenotype and cytology. Sci Hortic 164:303–309

Fu S, Lv Z, Qi B, Guo X, Li J, Liu B, Han F (2012) Molecular cytogenetic characterization of wheat-Thinopyrum elongatum addition, substitution and translocation lines with a novel source of resistance to wheat Fusarium Head Blight. J Genet Genomics 39:103–110. doi:10.1016/j.jgg.2011.11.008

Fukui K, Nakayama S, Ohmido N, Yoshiaki H, Yamabe M (1998) Quantitative karyotyping of three diploid Brassica species by imaging methods and localization of 45s rDNA loci on the identified chromosomes. Theor Appl Genet 96:325–330

Ge XH, Li ZY (2007) Intra- and intergenomic homology of B-genome chromosomes in trigenomic combinations of the cultivated Brassica species revealed by GISH analysis. Chromosome Res 15:849–861. doi:10.1007/s10577-007-1168-4

Ge XH, Ding L, Li ZY (2013) Nucleolar dominance and different genome behaviors in hybrids and allopolyploids. Plant Cell Rep 32:1661–1673. doi:10.1007/s00299-013-1475-5

Guo S, Zou J, Li R, Long Y, Chen S, Meng J (2012) A genetic linkage map of Brassica carinata constructed with a doubled haploid population. Theor Appl Genet 125:1113–1124. doi:10.1007/s00122-012-1898-3

Hasterok R, Jenkins G, Langdon T, Jones RN, Maluszynska J (2001) Ribosomal DNA is an effective marker of Brassica chromosomes. Theor Appl Genet 103:486–490

Heneen WK, Geleta M, Brismar K, Xiong Z, Pires JC, Hasterok R, Stoute AI, Scott RJ, King GJ, Kurup S (2012) Seed colour loci, homoeology and linkage groups of the C genome chromosomes revealed in Brassica rapa–B. oleracea monosomic alien addition lines. Ann Bot 109:1227–1242. doi:10.1093/aob/mcs052

Jahier J, Chèvre AM, Tanguy AM, Eber F (1989) Extraction of disomic addition lines of Brassica napus–B. nigra. Genome 32:408–413

Jena KK, Ballesfin ML, Vinarao RB (2016) Development of Oryza sativa L. by Oryza punctata Kotschy ex Steud. monosomic addition lines with high value traits by interspecific hybridization. Theor Appl Genet 129:1873–1886. doi:10.1007/s00122-016-2745-8

Kang L, Du X, Zhou Y, Zhu B, Ge X, Li Z (2014) Development of a complete set of monosomic alien addition lines between Brassica napus and Isatis indigotica (Chinese woad). Plant Cell Rep 33:1355–1364. doi:10.1007/s00299-014-1621-8

Kynast RG, Okagaki RJ, Galatowitsch MW, Granath SR, Jacobs MS, Stec AO, Rines HW, Phillips RL (2004) Dissecting the maize genome by using chromosome addition and radiation hybrid lines. Proc Natl Acad Sci USA 101:9921–9926. doi:10.1073/pnas.0403421101

Lagercrantz U, Lydiate DJ (1996) Comparative genome mapping in Brassica. Genetics 144:1903–1910

Li Z, Luo P, Hl L (1995) Production and cytogenetics of intergeneric hybrids between Brassica napus and Orychophragmus violaceus. Theor Appl Genet 91:131–136

Liu S et al (2014) The Brassica oleracea genome reveals the asymmetrical evolution of polyploid genomes. Nat Commun 5:3930. doi:10.1038/ncomms4930

Mason AS et al (2014) The fate of chromosomes and alleles in an allohexaploid Brassica population. Genetics 197:273–283. doi:10.1534/genetics.113.159574

Mayer KFX, Rogers J, Doležel J, Pozniak C, Eversole K, Feuillet C, Gill B, Friebe B, Lukaszewski AJ, Sourdille P (2014) A chromsome-based draft sequence of the hexaploid bread wheat (Triticum aestivum) genome. Science 345:1251788

Meng J, Shi S, Gan L, Li Z, Qu X (1998) The production of yellow-seeded Brassica napus (AACC) through crossing interspecific hybrids of B. campestris (AA) and B. carinata (BBCC) with B. napus. Euphytica 103:329–333

Mizushima U (1950) Karyogenetic studies of species and genus hybrids in the tribe Brassiceae of Cruciferae. Tohoku J Agric Res 1:1–14

Multani DS, Jena KK, Brar DS, de Los Reyes BG, Angeles ER, Khush GS (1994) Development of monosomic alien addition lines and introgression of genes from Oryza australiensis Domin. to cultivated rice O. sativa L. Theor Appl Genet 88:102–109. doi:10.1007/bf00222401

Murashige T, Skoog F (1962) A revised medium for rapid growth and bio assays with Tobacco tissue cultures. Physiol Plant 15:473–497

Navabi ZK, Parkin IA, Pires JC, Xiong Z, Thiagarajah MR, Good AG, Rahman MH (2010) Introgression of B-genome chromosomes in a doubled haploid population of Brassica napus × B. carinata. Genome 53:619–629

Navabi ZK, Huebert T, Sharpe AG, O'Neill CM, Bancroft I, Parkin IA (2013) Conserved microstructure of the Brassica B genome of Brassica nigra in relation to homologous regions of Arabidopsis thaliana, B. rapa and B. oleracea. BMC Genom 14:250. doi:10.1186/1471-2164-14-250

Panjabi P, Jagannath A, Bisht NC, Padmaja KL, Sharma S, Gupta V, Pradhan AK, Pental D (2008) Comparative mapping of Brassica juncea and Arabidopsis thaliana using intron polymorphism (IP) markers: homoeologous relationships, diversification and evolution of the A, B and C Brassica genomes. BMC Genomics 9:113. doi:10.1186/1471-2164-9-113

Parkin IA et al (2014) Transcriptome and methylome profiling reveals relics of genome dominance in the mesopolyploid Brassica oleracea. Genome Biol 15:1–18

Peterka H, Budahn H, Schrader O, Ahne R, Schutze W (2004) Transfer of resistance against the beet cyst nematode from radish (Raphanus sativus) to rape (Brassica napus) by monosomic chromosome addition. Theor Appl Genet 109:30–41. doi:10.1007/s00122-004-1611-2

Pikaard CS (2000) Nucleolar dominance: uniparental gene silencing on a multi-megabase scale in genetic hybrids. Plant Mol Biol 43:163–177

Pradhan AK, Prakash S, Mukhopadhyay A, Pental D (1992) Phytogeny of Brassica and allied genera based on variation in chloroplast and mitochondrial DNA patterns: molecular and taxonomic classifications are incongruous. Theor Appl Genet 85:331–340. doi:10.1007/bf00222878

Pradhan A, Nelson MN, Plummer JA, Cowling WA, Yan G (2011) Characterization of Brassica nigra collections using simple sequence repeat markers reveals distinct groups associated with geographical location, and frequent mislabelling of species identity. Genome 54:50–63. doi:10.1139/g10-092

Prakash S, Bhat SR, Quiros CF, Kirti PB, Chopra VL (2009) Brassica and its close allies: cytogenetics and evolution. Plant Breeding Reviews 31:21–187

Prakash S, Wu XM, Bhat SR (2011) Brassica and its close allies: cytogenetics and evolution. Plant Breed Rev 35:19–84

Sacristan MD, Gerdemann M (1986) Different behavior of Brassica juncea and B. carinata as sources of Phoma lingam resistance in experiments of interspecific transfer to B. napus. Plant Breed 97:304–314

Schelfhout CJ, Snowdon R, Cowling WA, Wroth JM (2004) A PCR based B-genome-specific marker in Brassica species. Theor Appl Genet 109:917–921

Skalicka K, Lim KY, Matyasekr R, Matzke M, Leitch AR, Kovarik A (2005) Preferential elimination of repeated DNA sequences from the paternal, Nicotiana tomentosiformis genome donor of a synthetic, allotetraploid tobacco. New Phytol 166:291–303

Song KM, Osborn TC, Williams PH (1988) Brassica taxonomy based on nuclear restriction fragment length polymorphisms (RFLPs): 1. Genome evolution of diploid and amphidiploid species. Theor Appl Genet 75:784–794

Song K, Osborn TC, Williams PH (1990) Brassica taxonomy based on nuclear restriction fragment length polymorphisms (RFLPs): 3. Genome relationships in Brassica and related genera and the origin of B. oleracea and B. rapa (syn. campestns). Theor Appl Genet 79:497–506. doi:10.1007/bf00226159

Struss D, Bellin U, Röbbelen G (1991) Development of B-genome chromosome addition lines of B. napus using different interspecific Brassica hybrids. Plant Breed 106:209–214

Struss D, Quiros CF, Röbbelen G (1992) Mapping of molecular markers on Brassica B-genome chromosomes added to Brassica napus. Plant Breed 108:320–323

Struss D, Quiros CF, Plieske J, Röbbelen G (1996) Construction of Brassica B genome synteny groups based on chromosomes extracted from three different sources by phenotypic, isozyme and molecular markers. Theor Appl Genet 93:1026–1032. doi:10.1007/bf00230120

Wang X et al (2011) The genome of the mesopolyploid crop species Brassica rapa. Nat Genet 43:1035–1039. doi:10.1038/ng.919

Warwick SI (2011) Brassicaceae in agriculture. In: Schmidt R, Bancroft I (eds) Genetics and Genomics of the Brassicaceae. Springer, New York, pp 33–65

Warwick SI, Black LD (1991) Molecular systematics of Brassica and allied genera (Subtribe Brassicinae, Brassiceae) -chloroplast genome and cytodeme congruence. Theor Appl Genet 82:81–92

Warwick SI, Sauder CA (2005) Phylogeny of tribe Brassiceae (Brassicaceae) based on chloroplast restriction site polymorphisms and nuclear ribosomal internal transcribed spacer and chloroplast trnL intron sequences. Can J Bot 83:467–483

Wulff BBH, Moscou M (2014) Strategies for transferring resistance into wheat: from wide crosses to GM cassettes. Front Plant Sci 5:692. doi:10.3389/fpls.2014.00692

Xiong Z, Gaeta RT, Pires JC (2011) Homoeologous shuffling and chromosome compensation maintain genome balance in resynthesized allopolyploid Brassica napus. Proc Natl Acad Sci USA 108:7908–7913. doi:10.1073/pnas.1014138108

Yang J et al (2016a) The genome sequence of allopolyploid Brassica juncea and analysis of differential homoeolog gene expression influencing selection. Nat Genet 48:1225–1232. doi:10.1038/ng.3657

Yang S, Chen S, Geng XX, Yan G, Li ZY, Meng JL, Cowling WA, Zhou WJ (2016b) The first genetic map of a synthesized allohexaploid Brassica with A, B and C genomes based on simple sequence repeat markers. Theor Appl Genet 129:689–701. doi:10.1007/s00122-015-2657-z

Zeven AC, Zhukovsky PM (1975) Dictionary of cultivated plants and their centers of diversity. Center for Agricultural Publishing and Documentation, Wageningen, pp 29–30

Zhou J, Tan C, Cui C, Ge X, Li Z (2016) Distinct subgenome stabilities in synthesized Brassica allohexaploids. Theor Appl Genet 129:1257–1271. doi:10.1007/s00122-016-2701-7

Zhu B, Tu Y, Zeng P, Ge X, Li Z (2016) Extraction of the constituent subgenomes of the natural allopolyploid rapeseed (Brassica napus L.). Genetics 204:1015–1027. doi:10.1534/genetics.116.190967
Acknowledgements
We are grateful to Susan J. Armstrong (University of Birmingham, Birmingham, United Kingdom) for providing the clone BoB014O06, and to three anonymous reviewers for constructive comments. The study was supported by NSFC (Grant No. 31371656).
Ethics declarations
Ethical standards
The authors declare that the experiments complied with current laws of China.
Conflict of interest
The authors declare that they have no conflict of interest.
Additional information
Communicated by P. Heslop-Harrison.
Electronic supplementary material
Below is the link to the electronic supplementary material.
About this article
Cite this article
Tan, C., Cui, C., Xiang, Y. et al. Development of Brassica oleracea-nigra monosomic alien addition lines: genotypic, cytological and morphological analyses. Theor Appl Genet 130, 2491–2504 (2017). https://doi.org/10.1007/s00122-017-2971-8
Received:

Accepted:

Published:

Issue Date: