Abstract
Key message
In wheat, advantageous gene-rich or pleiotropic regions for stripe, leaf, and stem rust and epistatic interactions between rust resistance loci should be accounted for in plant breeding strategies.
Abstract
Leaf rust (Puccinia triticina Eriks.) and stripe rust (Puccinia striiformis f. tritici Eriks) contribute to major production losses in many regions worldwide. The objectives of this research were to identify and study epistatic interactions of quantitative trait loci (QTL) for stripe and leaf rust resistance in a doubled haploid (DH) population derived from the cross of Canadian wheat cultivars, AC Cadillac and Carberry. The relationship of leaf and stripe rust resistance QTL that co-located with stem rust resistance QTL previously mapped in this population was also investigated. The Carberry/AC Cadillac population was genotyped with DArT® and simple sequence repeat markers. The parents and population were phenotyped for stripe rust severity and infection response in field rust nurseries in Kenya (Njoro), Canada (Swift Current), and New Zealand (Lincoln); and for leaf rust severity and infection response in field nurseries in Canada (Swift Current) and New Zealand (Lincoln). AC Cadillac was a source of stripe rust resistance QTL on chromosomes 2A, 2B, 3A, 3B, 5B, and 7B; and Carberry was a source of resistance on chromosomes 2B, 4B, and 7A. AC Cadillac contributed QTL for resistance to leaf rust on chromosome 2A and Carberry contributed QTL on chromosomes 2B and 4B. Stripe rust resistance QTL co-localized with previously reported stem rust resistance QTL on 2B, 3B, and 7B, while leaf rust resistance QTL co-localized with 4B stem rust resistance QTL. Several epistatic interactions were identified both for stripe and leaf rust resistance QTL. We have identified useful combinations of genetic loci with main and epistatic effects. Multiple disease resistance regions identified on chromosomes 2A, 2B, 3B, 4B, 5B, and 7B are prime candidates for further investigation and validation of their broad resistance.
This is a preview of subscription content, log in to check access.
We're sorry, something doesn't seem to be working properly.
Please try refreshing the page. If that doesn't work, please contact support so we can address the problem.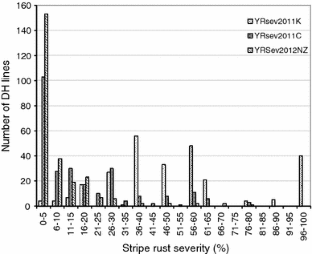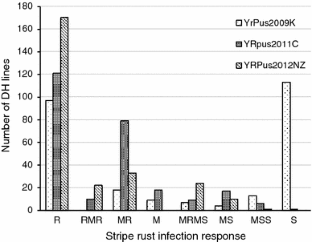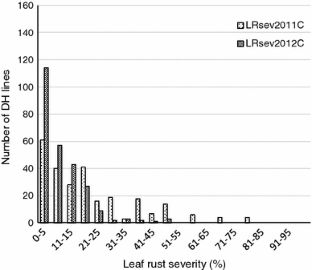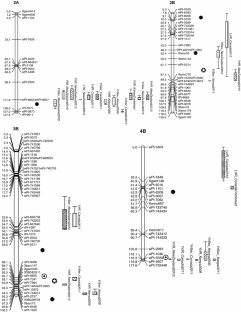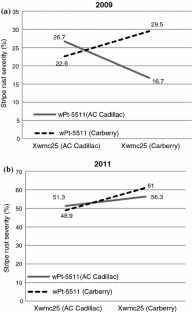 References
Bolton MD, Kolmer JA, Garvin DF (2008) Wheat leaf rust caused by Puccinia triticina. Mol Plant Pathol 9:563–575

Chen XM (2005) Epidemiology and control of stripe rust [Puccinia striiformis f. sp. tritici] on wheat. Can J Plant Pathol 27:314–337

Chen X, Penman L, Wan A, Cheng P (2010) Virulence races of Puccinia striiformis f. sp. tritici in, and 2007 and development of wheat stripe rust and distributions, dynamics, and evolutionary relationships of races from 2000 to 2007 in the United States. Can J Plant Pathol 32(3):315–333. doi:10.1080/07060661.2010.499271

Crossa J, Burgueno J, Dreisigacker S, Vargas M, Herrera-Foessel SA, Lillemo M, Singh RP, Trethowan R, Warburton M, Franco J (2007) Association analysis of historical bread wheat germplasm using additive genetic covariance of relatives and population structure. Genetics 177:1889–1913

DePauw RM, Thomas JB, Knox RE, Clarke JM, Fernandez MR, McCaig TN, McLeod JG (1998) AC Cadillac hard red spring wheat. Can J Plant Sci 78:459–462

DePauw RM, Knox RE, McCaig TN, Clarke FR, Clarke JM (2011) Carberry hard red spring wheat. Can J Plant Sci 91:529–534

Herrera-Foessel SA, Lagudah ES, Huerta-Espino J, Hayden MJ, Bariana HS, Singh D, Singh RP (2011) New slow-rusting leaf rust and stripe rust resistance genes Lr67 and Yr46 in wheat are pleiotropic or closely linked. Theor Appl Genet 122:239–249

Huerta-Espino J, Singh R, Germ NS, McCallum B, Park R, Chen W, Bhardwaj S, Goyeau H (2011) Global status of wheat leaf rust caused by Puccinia triticina. Euphytica 179:143–160

Knox RE, Clarke JM, DePauw RM (2000) Dicamba and growth condition effects on doubled haploid production in durum wheat crossed with maize. Plant Breed 119:289–298

Kolmer JA (1996) Genetics of resistance to wheat leaf rust. Ann Rev Phytopathol 34:435–455

Kolmer JA (2005) Tracking wheat rust on a continental scale. Curr Opin Plant Biol 8:441–449

Krattinger S, Jordan D, Mace E, Raghavan C, Luo M-C, Keller B, Lagudah E (2013) Recent emergence of the wheat Lr34 multi-pathogen resistance: insights from haplotype analysis in wheat, rice, sorghum and Aegilops tauschii. Theor Appl Genet 126:663–672

Lillemo M, Joshi A, Prasad R, Chand R, Singh R (2013) QTL for spot blotch resistance in bread wheat line Saar co-locate to the biotrophic disease resistance loci Lr34 and Lr46. Theor Appl Genet 126:711–719

Lydia M, Herzog K, Kraic J, Šudyová V, Šliková S, Löschenberger F, Marn M, Lafferty J, Neumayer A, Buerstmayr M, Ittu M, Mascher F, Vida G, Flath H, Buerstmayr H (2010) Mapping of adult plant leaf rust and stripe rust resistance in the Austrian winter wheat cultivar 'Capo' [Poster][Genomics-based breeding, Giessen, Oct 26-28, 2010]. In: Snowdon R, Friedt W (eds) Genomics-based breeding, p 27

Maccaferri M, Sanguineti MC, Mantovani P, Demontis A, Massi A, Ammar K, Kolmer JA, Czembor JH, Ezrati S, Tuberosa R (2009) Association mapping of leaf rust response in durum wheat. Mol Breed 26:189–228

Mago R, Simkova H, Brown-Guedira G, Dreisigacker S, Breen J, Jin Y, Singh R, Appels R, Lagudah ES, Ellis J, Dolezel J, Spielmeyer W (2011) An accurate DNA marker assay for stem rust resistance gene Sr2 in wheat. Theor Appl Genet 122:735–744

McCallum BD, Seto-Goh P, Xue A (2010) Physiological specialization of Puccinia triticina in Canada in 2007. Can J Plant Pathol 32:229–236

Milus EA, Seyran E, McNew R (2006) Aggressiveness of Puccinia striiformis f. sp. tritici isolates in the south-central United States. Plant Dis 90:847–852

Peterson RF, Campbell AB, Hannah AE (1948) A diagrammatic scale for estimating rust intensity on leaves and stems of cereals. Can J Res 26c:496–500

Pu ZJ, Chen GY, Wei YM, Yang WY, Yan ZH, Zheng YL (2010) Identification and molecular tagging of a stripe rust resistance gene in wheat line P81. Plant Breed 129:53–57

Pumphrey M, Friebe B, Jin Y, Lagudah E, Millet E, Pretorius Z, Rouse M, Singh R, Sorrells M, Steffenson B (2012) Stocking the breeder's toolbox: an update on the status of resistance to stem rust in wheat. In: Proceedings Borlaug Global Rust Initiative 2012 Technical Workshop, China, pp 23–29

Randhawa H, Puchalski BJ, Frick M, Goyal A, Despins T, Graf RJ, Laroche A, Gaudet DA (2012) Stripe rust resistance among western Canadian spring wheat and triticale varieties. Can J Plant Sci 92:713–722

Risk JM, Selter LL, Chauhan H, Krattinger SG, Kumlehn J, Hensel G, Viccars LA, Richardson TM, Buesing G, Troller A, Lagudah ES, Keller B (2013) The wheat Lr34 gene provides resistance against multiple fungal pathogens in barley. Plant Biotechnol J 11:847–854

Rosewarne GM,RP, Huerta-Espino J, William HM, Bouchet S, Cloutier S, McFadden H, Lagudah ES (2006) Leaf tip necrosis, molecular markers and beta1-proteasome subunits associated with the slow rusting resistance genes Lr46/Yr29. Theor Appl Genet 112:500–508

Rosewarne GM, Singh RP, Huerta-Espino J, Herrera-Foessel SA, Forrest KL, Hayden MJ, Rebetzke GJ (2012) Analysis of leaf and stripe rust severities reveals pathotype changes and multiple minor QTLs associated with resistance in an Avocet × Pastor wheat population. Theor Appl Genet 124:1283–1294

Singh RP (1992a) Association between gene Lr34 for leaf rust resistance and leaf tip necrosis in wheat. Crop Sci 32:874–878

Singh RP (1992b) Genetic association of leaf rust resistance gene Lr34 with adult plant resistance to stripe rust in bread wheat. Phytopathology 82:835–838

Singh R, Huerta-Espino J, Bhavani S, Herrera-Foessel S, Singh D, Singh P, Velu G, Mason R, Jin Y, Njau P (2010) Race non-specific resistance to rusts in CIMMYT spring wheats: Breeding advances. BGRI 2010 technical workshop oral presentations Full papers and abstracts May 30–31, 2010 St. Petersburg, Russia. Borlaug Global Rust Initiative (BGRI), pp 170–182

Singh A, Knox RE, DePauw RM, Singh AK, Cuthbert RD, Campbell HL, Singh D, Bhavani S, Fetch T, Clarke F (2013a) Identification and mapping in spring wheat of genetic factors controlling stem rust resistance and the study of their epistatic interactions across multiple environments. Theor Appl Genet 126:1951–1964

Singh A, Pandey MP, Singh AK, Knox RE, Ammar K, Clarke JM, Clarke FR, Singh RP, Pozniak CJ, Depauw RM, McCallum BD, Cuthbert RD, Randhawa HS, Fetch TG Jr (2013b) Identification and mapping of leaf, stem and stripe rust resistance quantitative trait loci and their interactions in durum wheat. Mol Breeding 31:405–418

Sukhwinder S, Hernandez MV, Crossa J, Singh PK, Bains NS, Singh K, Sharma I (2012) Multi-trait and multi-environment QTL analyses for resistance to wheat diseases. PLoS One 7:e38008

Van Ooijen J (2006) JoinMap 4. Software for the calculation of genetic linkage maps in experimental populations Kyazma BV, Wageningen, The Netherlands

Van Ooijen JW (2009) MapQTL 6, Software for the mapping of quantitative trait loci in experimental populations of diploid species. Kyazma BV, Wageningen, The Netherlands

Yang J, Hu C, Hu H, Yu R, Xia Z, Ye X, Zhu J (2008) QTLNetwork: mapping and visualizing genetic architecture of complex traits in experimental populations. Bioinformatics 24:721–723

Yu LX, Lorenz A, Rutkoski J, Singh RP, Bhavani S, Huerta-Espino J, Sorrells ME (2011) Association mapping and gene–gene interaction for stem rust resistance in CIMMYT spring wheat germplasm. Theor Appl Genet 123:1257–1268

Yu LX, Morgounov A, Wanyera R, Keser M, Singh SK, Sorrells M (2012) Identification of Ug99 stem rust resistance loci in winter wheat germplasm using genome-wide association analysis. Theor Appl Genet 125:749–758
Acknowledgments
Financial support was received from Agriculture and Agri-Food Canada and Western Grains Research Foundation, and Secan Associates. Technical support from SPARC wheat breeding and molecular group, and Plant and Food Research, New Zealand and CIMMYT-Kenya technical staff is greatly appreciated.
Conflict of interest
The authors declare that they have no conflict of interest.
Additional information
Communicated by Beat Keller.
About this article
Cite this article
Singh, A., Knox, R.E., DePauw, R.M. et al. Stripe rust and leaf rust resistance QTL mapping, epistatic interactions, and co-localization with stem rust resistance loci in spring wheat evaluated over three continents. Theor Appl Genet 127, 2465–2477 (2014). https://doi.org/10.1007/s00122-014-2390-z
Received:

Accepted:

Published:

Issue Date:
Keywords
Quantitative Trait Locus

Leaf Rust

Rust Resistance

Stripe Rust

Stem Rust