Abstract
The soybean aphid (Aphis glycines Matsumura) has been a major pest of soybean [Glycine max (L.) Merr.] in North America since it was first reported in 2000. Our previous study revealed that the strong aphid resistance of plant introduction (PI) 567598B was controlled by two recessive genes. The objective of this study was to locate these two genes on the soybean genetic linkage map using molecular markers. A mapping population of 282 F4:5 lines derived from IA2070 × E06902 was evaluated for aphid resistance in a field trial in 2009 and a greenhouse trial in 2010. Two quantitative trait loci (QTLs) were identified using the composite and multiple interval mapping methods, and were mapped on chromosomes 7 (linkage group M) and 16 (linkage group J), respectively. E06902, a parent derived from PI 567598B, conferred resistance at both loci. In the 2010 greenhouse trial, each of the two QTLs explained over 30 % of the phenotypic variation. Significant epistatic interaction was also found between these two QTLs. However, in the 2009 field trial, only the QTL on chromosome 16 was found and it explained 56.1 % of the phenotypic variation. These two QTLs and their interaction were confirmed with another population consisting of 94 F2:5 lines in the 2008 and 2009 greenhouse trials. For both trials in the alternative population, these two loci explained about 50 and 80.4 % of the total phenotypic variation, respectively. Our study shows that soybean aphid isolate used in the 2009 field trial defeated the QTL found on chromosome 7. Presence of the QTL on chromosome 16 conferred soybean aphid resistance in all trials. The markers linked to the aphid-resistant QTLs in PI 567598B or its derived lines can be used in marker-assisted breeding for aphid resistance.
This is a preview of subscription content, log in to check access.
Access options
Buy single article
Instant access to the full article PDF.
US$ 39.95
Price includes VAT for USA
Subscribe to journal
Immediate online access to all issues from 2019. Subscription will auto renew annually.
US$ 199
This is the net price. Taxes to be calculated in checkout.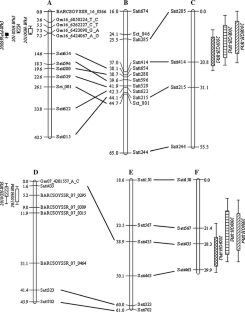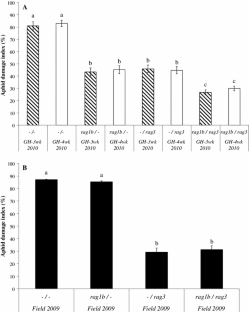 References
Beckendorf EA, Catangui MA, Riedell WE (2008) Soybean aphid feeding injury and soybean yield, yield components, and seed composition. Agron J 100:237–246

Churchill GA, Doerge RW (1994) Empirical threshold values for quantitative trait mapping. Genetics 138:963–971

Cooper S (2012) Soybean aphid biotypes: understanding geographic distribution (2008–2012), Monsanto Company. In: Conference presentation for Soybean Breeders' Workshop held February 27–29, 2012, St. Louis, MO, USA

Cregan PB, Quigley CV (1997) Simple sequence repeat DNA marker analysis. In: Caetano-Anolles G, Gresshoff PM (eds) DNA markers: protocols, applications and overviews. Wiley, New York, pp 173–185

Diaz-Montano J, Reese JC, Schapaugh WT, Campbell LR (2006) Characterization of antibiosis and antixenosis to the soybean aphid in several soybean genotypes. J Econ Entomol 999:1884–1889

Diers BW, Isleib TG, Sneller CH, Boyse JF (1999) Titan soybean. Crop Sci 39(5):1534

Grant D, Imsande MI, Shoemaker RC (2010) SoyBase, The USDA-ARS soybean genome database. http://soybase.agron.iastate.edu

Herselman L, Thwaites R, Kimmins FM et al (2004) Identification and mapping of AFLP markers linked to peanut (Arachis hypogaea L.) resistance to the aphid vector of groundnut rosette disease. Theor Appl Genet 109:1426–1433

Hesler LS, Dashiell KE (2008) Identification and characterization of new sources of resistance to Aphis glycines Matsumura (Hemiptera: Aphididae) in soybean lines. Appl Entomol Zool 43:197–206

Hesler LS, Dashiell KE, Lundgren JG (2007) Characterization of resistance to Aphis glycines in soybean accessions. Euphytica 154:91–94

Hill CB, Li Y, Hartman GL (2004) Resistance to the soybean aphid in soybean germplasm. Crop Sci 44:98–106

Hill CB, Li Y, Hartman GL (2006a) A single dominant gene for resistance to the soybean aphid in the soybean cultivar Dowling. Crop Sci 46:1601–1605

Hill CB, Li Y, Hartman GL (2006b) Soybean aphid resistance in soybean Jackson is controlled by a single dominant gene. Crop Sci 46:1606–1608

Hill CB, Kim KS, Crull L, Diers BW, Hartman GL (2009) Inheritance of resistance to the soybean aphid in soybean PI 200538. Crop Sci 49:1193–1200

Hill CB, Crull L, Herman TK, Voegtlin JD, Hartman GL (2010) A new soybean aphid (Hemiptera: Aphididae) biotype identified. J Econ Entomol 103:509–515

Kang ST, Mian MAR, Hammond RB (2008) Soybean aphid resistance in PI 243540 is controlled by a single dominant Gene. Crop Sci 48:1744–1748

Kim K, Hill CB, Hartman GL, Mian MR, Diers BW (2008) Discovery of soybean aphid biotypes. Crop Sci 48:923–928

Kim K, Bellendir S, Hudson KA, Hill CB, Hartman GL, Hyten DL, Hudson ME, Diers BW (2010) Fine mapping the soybean aphid resistance gene Rag1 in soybean. Theor Appl Genet 120:1063–1071

Kisha T, Sneller CH, Diers BW (1997) Relationship between genetic distance among parents and genetic variance in populations of soybean. Crop Sci 37:1317–1325

Li Y, Hill CB, Carlson SR, Diers BW, Hartman GL (2007) Soybean aphid resistance genes in the soybean cultivars Dowling and Jackson map to linkage group M. Mol Breed 19:25–34

Liu XM, Smith CM, Friebe BR, Gill BS (2005) Molecular mapping and allelic relationships of Russian wheat aphid–resistance genes. Crop Sci 45:2273

Mensah C, Difonzo C, Nelson RL, Wang D (2005) Resistance to soybean aphid in early maturing soybean germplasm. Crop Sci 45:2228–2233

Mensah C, DiFonzo C, Wang D (2007) A case for the presence of soybean aphid biotypes in Michigan. In: 2007 annual meeting abstracts [CD-ROM]. ASA, CSSA, and SSSA, Madison, WI

Mensah C, Difonzo C, Wang D (2008) Inheritance of soybean aphid resistance in PI 567541B and PI 567598B. Crop Sci 48:1759–1763

Mian MAR, Hammond RB, St Martin SK (2008a) New plant introductions with resistance to the soybean aphid. Crop Sci 48:1055–1061

Mian MAR, Kang ST, Beil SE, Hammond RB (2008b) Genetic linkage mapping of the soybean aphid resistance gene in PI 243540. Theor Appl Genet 117:955–962

Michel AP, Zhang W, Jung JK, Kang ST, Mian MAR (2009) Population genetic structure of Aphis glycines. Environ Entomol 38:1301–1311

Michelmore RW, Paran J, Kesseli RV (1991) Identification of markers linked to disease resistance genes by bulked segregant analysis: a rapid method to detect markers in specific genomic regions by using segregating populations. Proc Natl Acad Sci 88:9828–9832

Mornhinweg DW, Porter DR, Webster JA (2002) Inheritance of russian wheat aphid resistance in spring barley germplasm line STARS-9577B. Crop Sci 42:1891

Nkongolo KK, Quick JS, Limin AE, Fowler DB (1991) Sources and inheritance of resistance to Russian wheat aphid in Triticum species amphiploids and Triticum tauschii. Can J Plant Sci 71:703–708

Painter RH (1951) Insect Resistance in Crop Plants. Macmillan Publishing Co, New York

Pascal T, Pfeiffer F, Kervella J et al (2002) Inheritance of green peach aphid resistance in the peach cultivar "Rubira". Plant Breeding 121:459–461

Pathak RS (1988) Genetics of resistance to aphid in cowpea. Crop Sci 28:474–476

R Development Core Team (2008) R: A language and environment for statistical computing. R Foundation for Statistical Computing, Vienna

So Y-S, Ji HC, Brewbaker JL (2010) Resistance to corn leaf aphid (Rhopalosiphum maidis Fitch) in tropical corn (Zea mays L.). Euphytica 172:373–381

Song QJ, Marek LF, Shoemaker RC, Lark KG, Concibido VC, Delannay X, Specht JE, Cregan PB (2004) A new integrated genetic linkage map of the soybean. Theor Appl Genet 109:122–128

Song Q, Jia G, Zhu Y, Grant D, Nelson R, Hwang E, Hyten D, Cregan P (2010) Abundance of SSR motifs and development of candidate polymorphic SSR markers (BARCSOYSSR_1.0) in soybean. Crop Sci 50:1950–1960

Song Q, Hyten DL, Jia G, Quigley CV, Fickus EW, Nelson RL, Cregan PB (2013) Development and evaluation of SoySNP50K, a high-density genotyping array for soybean. PLoS ONE 8(1):e54985

Van Ooijen JW (2006) JoinMap® 4, Software for the calculation of genetic linkage maps in experimental populations. Kyazma B.V., Wageningen, Netherlands

Voorrips RE (2002) MapChart: Software for the graphical presentation of linkage maps and QTLs. J Heredity 93:77–78

Wang D, Shi J, Carlson SR, Cregan PB, Ward RW, Diers BW (2003) A low-cost and high-throughput system for high-resolution genotyping with microsatellite DNA markers. Crop Sci 43:1828–1832

Wang S, Basten CJ, Zeng ZB (2008) Windows QTL Cartographer 2.5. Department of Statistic, North Carolina State Univ, Raleigh. http://statgen.ncsu.edu/qtlcart/WQTLCart.htm

Wu Z, Schenk-Hamlin D, Zhan W, Ragsdale DW, Heimpel GE (2004) The soybean aphid in China: a historical review. Ann Entomol Soc Am 97:209–218

Zeng ZB (1994) Precision mapping of quantitative trait loci. Genetics 136:1457–1468

Zhang G, Gu C, Wang D (2009) Molecular mapping of soybean aphid resistance in PI 567541B. Theor Appl Genet 118:473–482

Zhang G, Gu C, Wang D (2010) A novel locus for soybean aphid resistance. Theor Appl Genet 120:1183–1191
Additional information
Communicated by I. Rajcan.
About this article
Cite this article
Bales, C., Zhang, G., Liu, M. et al. Mapping soybean aphid resistance genes in PI 567598B. Theor Appl Genet 126, 2081–2091 (2013). https://doi.org/10.1007/s00122-013-2120-y
Received:

Accepted:

Published:

Issue Date:
Keywords
Quantitative Trait Locus

Single Nucleotide Polymorphic

Quantitative Trait Locus Analysis

Plant Introduction

Total Phenotypic Variation