Abstract
Association mapping identified quantitative trait loci (QTLs) and the markers linked to pre-harvest sprouting (PHS) resistance in an elite association mapping panel of white winter wheat comprising 198 genotypes. A total of 1,166 marker loci including DArT and SSR markers representing all 21 chromosomes of wheat were used in the analysis. General and mixed linear models were used to analyze PHS data collected over 4 years. Association analysis identified eight QTLs linked with 13 markers mapped on seven chromosomes. A QTL was detected on each arm of chromosome 2B and one each on chromosome arms 1BS, 2DS, 4AL, 6DL, 7BS and 7DS. All except the QTL on 7BS are located in a location similar to previous reports and, if verified, the QTL on 7BS is likely to be novel. Principal components and the kinship matrix were used to account for the presence of population structure but had only a minor effect on the results. Although, none of the QTLs was highly significant across all environments, a QTL on the long arm of chromosome 4A was detected in three different environments and also using the best linear unbiased predictions over years. Although previous reports have identified this as a major QTL, its effects were minor in our biparental mapping populations. The results of this study highlight the benefits of association mapping and the value of using elite material in association mapping for plant breeding programs.
This is a preview of subscription content, log in to check access.
Access options
Buy single article
Instant access to the full article PDF.
US$ 39.95
Price includes VAT for USA
Subscribe to journal
Immediate online access to all issues from 2019. Subscription will auto renew annually.
US$ 199
This is the net price. Taxes to be calculated in checkout.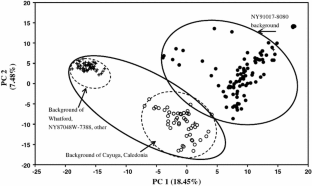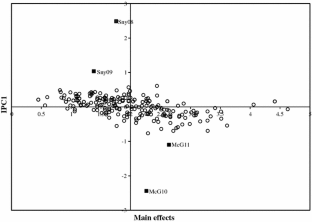 References
Anderson JA, Sorrells ME, Tanksley SD (1993) RFLP analysis of genomic regions associated with resistance to preharvest sprouting in wheat. Crop Sci 33:453–459

Bailey PC, McKibbin RS, Lenton JR, Holdsworth MJ, Flintham JE, Gale MD (1999) Genetic map locations for orthologous Vp1 genes in wheat and rice. Theor Appl Genet 98:281–284

Benjamini Y, Hochberg Y (1995) Controlling the false discovery rate:a practical and powerful approach to multiple testing. J R Stat Soc 57:289–300

Bradbury PJ, Zhang Z, Kroon DE, Casstevens TM, Ramdoss Y, Buckler ES (2007) TASSEL: software for association mapping of complex traits in diverse samples. Bioinformatics 23:2633–2635

Breseghello F, Sorrells ME (2006a) Association analysis as a strategy for improvement of quantitative traits in plants. Crop Sci 46:1323–1330

Breseghello F, Sorrells ME (2006b) Association mapping of kernel size and milling quality in wheat (Triticum aestivum L.) cultivars. Genetics 172:1165–1177

Chen C-X, Cai S-B, Bai G-H (2008) A major QTL controlling seed dormancy and pre-harvest sprouting resistance on chromosome 4A in a Chinese wheat landrace. Mol Breed 21:351–358

Crossa J, Burgueno J, Dreisigacker S, Vargas M, Herrera-Foessel SA, Lillemo M, Singh RP, Trethowan R, Warburton M, Franco J, Reynolds M, Crouch JH, Ortiz R (2007) Association analysis of historical bread wheat germplasm using additive genetic covariance of relatives and population structure. Genetics 177:1889–1913

Emebiri LC, Oliver JR, Mrva K, Mares D (2010) Association mapping of late maturity α-amylase (LMA) activity in a collection of synthetic hexaploid wheat. Mol Breed 26:39–49

Flint-Garcia SA, Thornsberry JM, Buckler ES IV (2003) Structure of linkage disequilibrium in plants. Annu Rev Plant Biol 54:357–374

Flintham JE, Adlam R, Bassoi M, Holdsworth M, Gale M (2002) Mapping genes for resistance to sprouting damage in wheat. Euphytica 126:39–45

Gauch HG (2007) MATMODEL version 3.0: open source software for AMMI and related analyses. Crop and Soil Science, Cornell University, Ithaca. Available at http://www.css.cornell.edu/staff/gauch (verified 20 September 2011)

Gauch HG Jr, Rodrigues PC, Munkvold JD, Hefner EL, Sorrells M (2011) Two new strategies for detecting and understanding QTL × environment interactions. Crop Sci 51:96–113

Gerjets T, Scholefield D, Foulkes MJ, Lenton JR, Holdsworth MJ (2010) An analysis of dormancy, ABA responsiveness, after-ripening and pre-harvest sprouting in hexaploid wheat (Triticum aestivum L.) caryopses. J Exp Bot 61:597–607

Gupta PK, Rustgi S, Kulwal PL (2005) Linkage disequilibrium and association studies in higher plants: present status and future prospects. Plant Mol Biol 57:461–485

Hanocq E, Niarquin M, Heumez E, Rousset M, Le Gouis J (2004) Detection and mapping of QTL for earliness components in a bread wheat recombinant inbred lines population. Theor Appl Genet 110:106–115

He Q, Berg A, Li Y, Vallejos CE, Wu R (2010) Mapping genes for plant structure, development and evolution: functional mapping meets ontology. Trends Genet 26:39–46

Heun M, Kennedy AE, Anderson JA, Lapitan NLV, Sorrells ME, Tanksley SD (1991) Construction of a restriction fragment length polymorphism map for barley (Hordeum vulgare). Genome 34:437–447

Imtiaz M, Ogbonnaya FC, Oman J, Van Ginkel M (2008) Characterization of quantitative trait loci controlling genetic variation for preharvest sprouting in synthetic backcross derived wheat lines. Genetics 178:1725–1736

Ishikawa G, Yonemaru J, Saito M, Nakamura T (2007) PCR-based landmark unique gene (PLUG) markers effectively assign homoeologous wheat genes to A, B and D genomes. BMC Genomics 8:135

Kato K, Nakamura W, Tabiki T, Miura H, Sawada S (2001) Detection of loci controlling seed dormancy on group 4 chromosomes of wheat and comparative mapping with rice and barley genomes. Theor Appl Genet 102:980–985

Knox RE, Clarke FR, Clarke JM, Fox SL, DePauw RM, Singh AK (2012) Enhancing the identification of genetic loci and transgressive segregants for preharvest sprouting resistance in a durum wheat population. Euphytica. doi:10.1007/s10681-011-0557-0

Kulwal PL, Singh R, Balyan HS, Gupta PK (2004) Genetic basis of pre-harvest sprouting tolerance using single-locus and two-locus QTL analyses in bread wheat. Funct Integr Genomics 4:94–101

Kulwal PL, Kumar N, Gaur A, Khurana P, Khurana JP, Tyagi AK, Balyan HS, Gupta PK (2005) Mapping of a major QTL for pre-harvest sprouting tolerance on chromosome 3A in bread wheat. Theor Appl Genet 111:1052–1059

Kulwal PL, Mir RR, Kumar S, Gupta PK (2010) QTL analysis and molecular breeding for seed dormancy and pre-harvest sprouting tolerance in bread wheat. J Plant Biol 37:59–74

Lehmensiek A, Eckermann PJ, Verbyla AP, Appels R, Sutherland MW, Daggard GE (2005) Curation of wheat maps to improve map accuracy and QTL detection. Aust J Agric Res 56:1347–1354

Liu S, Bai G, Cai S, Chen C (2011) Dissection of genetic components of preharvest sprouting resistance in white wheat. Mol Breed 27:511–523

Lohwasser U, Roder MS, Borner A (2005) QTL mapping of the domestication traits pre-harvest sprouting and dormancy in wheat. Euphytica 143:247–249

Mares DJ, Mrva K, Cheong J, Williams K, Watson B, Storlie E, Sutherland M, Zou Y (2005) A QTL located on chromosome 4A associated with dormancy in white- and red grained wheats of diverse origin. Theor Appl Genet 111:1357–1364

Miedaner T, Wurschum T, Maurer HP, Korzun V, Ebmeyer E, Reif JC (2011) Association mapping for Fusarium head blight resistance in European soft winter wheat. Mol Breed 28:647–655

Mohan A, Kulwal PL, Singh S, Kumar V, Mir RR, Kumar J, Prasad M, Balyan HS, Gupta PK (2009) Genome-wide QTL analysis for pre-harvest sprouting tolerance in bread wheat. Euphytica 168:319–329

Moncada P, Martinez CP, Borrero J, Chatel M, Gauch H Jr, Guimaraes E, Tohme J, McCouch SR (2001) Quantitative trait loci for yield and yield components in an Oryza sativa × Oryza rufipogon BC2F2 population evaluated in an upland environment. Theor Appl Genet 102:41–52

Mori M, Uchino N, Chono M, Kato K, Miura H (2005) Mapping QTLs for grain dormancy on wheat chromosome 3A and group 4 chromosomes, and their combined effect. Theor Appl Genet 110:1315–1323

Munkvold JD, Tanaka J, Benscher D, Sorrells ME (2009) Mapping quantitative trait loci for preharvest sprouting resistance in white wheat. Theor Appl Genet 119:1223–1235

Nakamura S, Toyoma T (2001) Isolation of a Vp1 homologue from wheat and analysis of its expression in embryos of dormant and non-dormant cultivars. J Exp Bot 52:875–876

Nakamura S, Abe F, Kawahigashi H, Nakazono K, Tagiri A, Matsumoto T, Utsugi S, Ogawa T, Handa H, Ishida H, o Mori M, Kawaura K, Ogihara Y, Miura H (2011) A wheat homolog of MOTHER OF FT AND TFL1 acts in the regulation of germination. Plant Cell 23:3215–3229

Neumann K, Kobiljski B, Dencic S, Varshney RK, Borner A (2011) Genome-wide association mapping: a case study in bread wheat (Triticum aestivum L.). Mol Breed 27:37–58

Nordborg M, Weigel D (2008) Next-generation genetics in plants. Nature 456:720–723

Ogbonnaya FC, Imtiaz M, Ye G, Hearnden PR, Hernandez E, Eastwood RF, Van Ginkel M, Shorter SC, Winchester JM (2008) Genetic and QTL analyses of seed dormancy and preharvest sprouting resistance in the wheat germplasm CN10955. Theor Appl Genet 116:891–902

Price AL, Patterson NJ, Plenge RM, Weinblatt ME, Shadick NA, Reich D (2006) Principal components analysis corrects for stratification in genome-wide association studies. Nat Genet 38:904–909

Pritchard JK, Stephens M, Donnelly PJ (2000) Inference of population structure using multilocus genotype data. Genetics 155:945–959

Reif JC, Gowda M, Maurer HP, Longin CFH, Korzun V, Ebmeyer E, Bothe R, Pietsch C, Wurschum T (2011) Association mapping for quality traits in soft winter wheat. Theor Appl Genet 122:961–970

Roder MS, Korzun V, Wendehake K, Plaschke J, Tixier M-H, Leroy P, Ganal MW (1998) A microsatellite map of wheat. Genetics 149:2007–2023

Sears ER (1944) Cytogenetic studies with polyploidy species of wheat. II. Additional chromosome aberrations in Triticum vulgare. Genetics 29:232–246

Somers D, Isaac P, Edwards K (2004) A high-density microsatellite consensus map for bread wheat (Triticum aestivum L.). Theor Appl Genet 109:1105–1114

Sourdille P, Singh S, Cadalen T, Brown-Guedira GL, Gay G, Qi L, Gill BS, Dufour P, Murigneux A, Bernard M (2004) Microsatellite-based deletion bin system for the establishment of genetic-physical map relationships in wheat (Triticum aestivum L.). Funct Integr Genomics 4:12–25

Storey JD (2002) A direct approach to false discovery rates. J R Stat Soc Series B 64:479–498

Tan M-K, Sharp PJ, Lu M-Q, Howes N (2006) Genetics of grain dormancy in a white wheat. Aust J Agric Res 57:1157–1165

Torada A, Ikeguchi S, Koike M (2005) Mapping and validation of PCR-based markers associated with a major QTL for seed dormancy in wheat. Euphytica 143:251–255

Wu R, Lin M (2006) Functional mapping—how to map and study the genetic architecture of dynamic complex traits. Nat Rev Genet 7:229–237

Wu W-R, Li W-M, Tang D-Z, Lu H-R, Worland AJ (1999) Time-related mapping of quantitative trait loci underlying tiller number in rice. Genetics 151:297–303

Yao J, Wang L, Liu L, Zhao C, Zheng Y (2009) Association mapping of agronomic traits on chromosome 2A of wheat. Genetica 137:67–75

Yu J, Buckler ES (2006) Genetic association mapping and genome organization of maize. Curr Opin Biotech 17:155–160

Yu J, Pressoir G, Briggs WH, Vroh Bi I, Yamasaki M, Doebley JF, McMullen MD, Gaut BS, Nielsen DM, Holland JB et al (2006) A unified mixed-model method for association mapping that accounts for multiple levels of relatedness. Nat Genet 38:203–208

Yu L-X, Liu S, Anderson JA, Singh RP, Jin Y, Dubcovsky J, Brown-Guidera G, Bhavani S, Morgounov A, He Z, Huerta-Espino J, Sorrells ME (2010) Haplotype diversity of stem rust resistance loci in uncharacterized wheat lines. Mol Breed 26:667–680

Yu L-X, Lorenz A, Rutkoski J, Singh RP, Bhavani S, Huerta-Espino J, Sorrells ME (2011) Association mapping and gene–gene interaction for stem rust resistance in CIMMYT spring wheat germplasm. Theor Appl Genet 123:1257–1268

Zhu C, Gore M, Buckler ES, Yu J (2008) Status and prospects of association mapping in plants. Plant Genome 1:5–20
Acknowledgments
PLK acknowledges Department of Science and Technology, Govt. of India for the award of BOYSCAST Fellowship and also the Vice Chancellor MPAU, Rahuri. We also gratefully acknowledge Hatch project 149502, Wheat CAP; USDA-NIFA NRI CAP Grant No. 2005-05130), and the Triticeae Coordinated Agriculture Project (USDA-NIFA, NRI CAP No. 2011-68002-30029). Thanks are also due to three anonymous reviewers for very thorough and constructive suggestions.
Additional information
Communicated by P. Hayes.
Electronic supplementary material
Below is the link to the electronic supplementary material.
Fig. S1. Representative figure of the quantile–quantile plot obtained using the general linear model and mixed linear model for the pre-harvest sprouting data of the 2009 environment with and without Q matrix.
Fig. S2. Comparison of the different genetic maps of chromosome 4A showing position of the marker Xgwm397 linked with the pre-harvest sprouting QTL. The position of the SSR marker Xgwm397 in all these studies is shown by dashed connecting lines.
About this article
Cite this article
Kulwal, P., Ishikawa, G., Benscher, D. et al. Association mapping for pre-harvest sprouting resistance in white winter wheat. Theor Appl Genet 125, 793–805 (2012). https://doi.org/10.1007/s00122-012-1872-0
Received:

Accepted:

Published:

Issue Date:
Keywords
Simple Sequence Repeat Marker

Association Mapping

DArT Marker

Well Linear Unbiased Predictor

Biparental Population