Abstract
Kernel texture is a major factor influencing the classification and end use properties of wheat (Triticum aestivum L.), and is mainly controlled by the Puroindoline a (Pina) and Puroindoline b (Pinb) genes. Recently, a new puroindoline gene, Puroindoline b-2 (Pin b-2), was identified. In this study, 388 wheat cultivars and advanced breeding lines from the U.S. Pacific Northwest were investigated for frequencies of Puroindoline D1 alleles and Pinb-2 variants 2 and 3. Results indicated that Pinb–D1b (74.0%) was the predominant genotype among hard wheats (N = 196), the only other hard allele encountered was Pina-D1b (26.0%). Across all varieties, Pinb-2v3 was the predominant genotype (84.5%) compared with Pinb-2v2 (15.5%). However, among 240 winter wheat varieties (124 soft white, 15 club, 68 hard red and 33 hard white varieties), all carried Pinb-2v3. Among spring wheats, Pinb-2v2 and Pinb-2v3 frequencies were more variable (soft white 25.0:75.0, hard red 58.2:41.8 and hard white 40.0:60.0, respectively). Kernel texture variation was analyzed using 247 of the 388 wheat varieties grown in multi-location factorial trials in up to 7 crop years. The range of variety means among the four groups, soft winter, soft spring, hard winter and hard spring, was on the order of 15–25 single kernel characterization system (SKCS) Hardness Index. The least significant difference for each of these trials ranged from 2.8 to 5.6 SKCS Hardness Index. Observations lead to the conclusion that Pinb-2 variants do not exert a prominent effect on kernel texture, however, Pinb–2 variants do identify features of wheat germ plasm structure in the U.S. Pacific Northwest.
This is a preview of subscription content, log in to check access.
Access options
Buy single article
Instant access to the full article PDF.
US$ 39.95
Price includes VAT for USA
Subscribe to journal
Immediate online access to all issues from 2019. Subscription will auto renew annually.
US$ 199
This is the net price. Taxes to be calculated in checkout.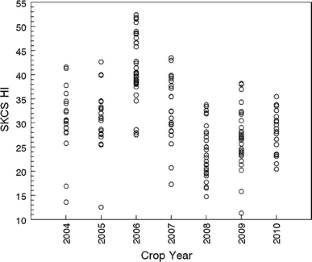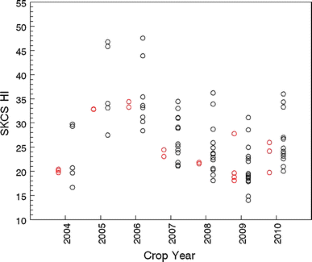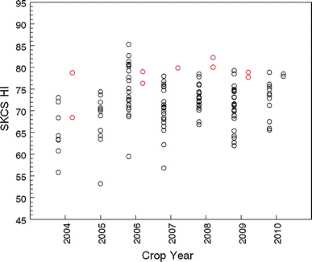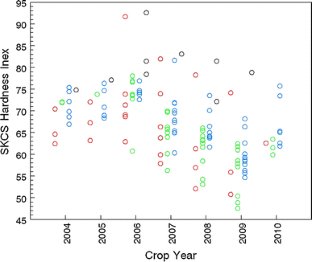 References
Bagulho AS, Muacho MC, Carrillo JM, Brites C (2003) Influence of glutenin and puroindoline composition on the quality of bread wheat varieties grown in Portugal. In: Lafiandra D, Masci S, D' Ovidio R (eds) The Gluten proteins. The Royal Society of Chemistry, Cambridge, pp 113–116

Bhave M, Morris CF (2008a) Molecular genetics of puroindolines and related genes: allelic diversity in wheat and other grasses. Plant Mol Biol 66:205–219

Bhave M, Morris CF (2008b) Molecular genetics of puroindolines and related genes: regulation of expression, membrane binding properties and applications. Plant Mol Biol 66:221–231

Cane K, Spackman M, Eagles HA (2004) Puroindoline genes and their effects on grains quality traits in southern Australian wheat cultivars. Aust J Agr Res 55:89–95

Chang C, Zhang H, Xu J, Li WH, Liu GT, You MS, Li BY (2006) Identification of allelic variations of puroindoline genes controlling grain hardness in wheat using a modified denaturing PAGE. Euphytica 152:225–234

Chen F, He ZH, Xia XC, Xia LQ, Zhang XY, Lillemo M, Morris CF (2006) Molecular and biochemical characterization of puroindoline a and b alleles in Chinese landraces and historical cultivars. Theor Appl Genet 112:400–409

Chen F, He ZH, Chen DS, Zhang CL, Zhang Y, Xia XH (2007) Influence of puroindoline alleles on milling performance and qualities of Chinese noodles, steamed bread and pan bread in spring wheats. J Cereal Sci 45:59–66

Chen F, Beecher B, Morris CF (2010a) Physical mapping and a new variant of Puroindoline b-2 genes in wheat. Theor Appl Genet 120:745–751

Chen F, Zhang FY, Cheng XY, Morris CF, Xu HX, Dong ZD, Zhan KH, Cui DQ (2010b) Association of Puroindoline b-B2 variants with grain traits. yield components and flag leaf size in bread wheat (Triticum aestivum L.) varieties of the Yellow and Huai valleys of China. J Cereal Sci 52:247–253

Chen F, Xu HX, Zhang FY, Xia XC, He ZH, Wang DW, Dong ZD, Zhan KH, Cheng XY, Cui DQ (2011) Physical mapping of puroindoline b-2 genes and molecular characterization of a novel variant in durum wheat (Triticum turgidum L.). Mol Breed 28:153–161

Eagles HA, Cane K, Eastwood RF, Hollamby GJ, Kuchel H, Martin PJ, Cornish GB (2006) Contributions of glutenin and puroindoline genes to grain quality traits in southern Australian wheat breeding programs. Aust J Agric Res 57:179–186

Feiz L, Beecher B, Martin JM, Giroux MJ (2009) In planta mutagenesis determines the functional regions of the wheat puroindoline proteins. Genetics 183:853–860

Giroux MJ, Morris CF (1997) A glycine to serine change in puroindoline b is associated with wheat grain hardness and low levels of starch-surface friabilin. Theor Appl Genet 95:857–864

Giroux MJ, Morris CF (1998) Wheat grain hardness results from highly conserved mutations in the friabilin components puroindoline a and b. Proc Natl Acad Sci USA 95:6262–6266

Giroux MJ, Talbert L, Habernicht DK, Lanning S, Hemphill A, Martin JM (2000) Association of puroindolines sequence type and grain hardness in hard red spring wheat. Crop Sci 40:370–374

Huang XQ, Röder MS (2005) Development of SNP assays for genotyping of the puroindoline b gene for grain hardness in wheat using pyrosequencing. J Agric Food Chem 53:2070–2075

Ikeda TM, Ohnishi N, Nagamine T, Oda S, Hisatomi T, Yano H (2005) Identification of new puroindoline genotypes and their protein products among wheat cultivars. J Cereal Sci 41:1–6

Law CN, Young CF, Brown JWS, Snape JW, Worland JW (1978) The study of grain protein control in wheat using whole chromosome substitution lines. In: seed protein improvement by nuclear techniques. International Atomic Energy Agency, Vienna, pp 483–502

Lillemo M, Morris CF (2000) A leucine to proline mutation in puroindoline b is frequently present in hard wheats from northern Europe. Theor Appl Genet 100:1100–1107

Lillemo M, Chen F, Xia XC, William M, Peña RJ, Trethowan R, He ZH (2006) Puroindoline grain hardness alleles in CIMMYT bread wheat. J Cereal Sci 44:86–92

Ma DY, Zhang Y, Xi XC, Morris CF, He ZH (2009) Milling and Chinese raw white noodle qualities of common wheat near-isogenic lines differing in puroindoline b allele. J Cereal Sci 50:126–130

Martin JM, Frohberg RC, Morris CF, Talbert LE, Giroux MJ (2001) Milling and bread baking traits associated with puroindoline sequence type in hard red spring wheat. Crop Sci 41:228–234

Martin JM, Sherman JD, Lanning SP, Talbert LE, Giroux MJ (2008) Effect of variation in amylose content and puroindoline composition on bread quality in a hard spring wheat population. Cereal Chem 85:266–269

Mattern PJ, Morris R, Schmidt JW, Johnson VA (1973) Location of genes for kernel properties in wheat cultivar 'Cheyenne' using chromosome substitution lines. In: Sears ER, Sears LMS (eds) Proc 4th Inter Wheat Genetic Symposium. University of Missouri, Columbia, pp 703–707

Morris CF (2002) Puroindolines: the molecular genetic basis of wheat grain hardness. Plant Mol Biol 48:633–647

Morris CF, Bhave M (2008) Reconciliation of D-genome puroindoline allele designations with current DNA sequence data. J Cereal Sci 48:277–287

Morris CF, King GE (2002) Registration of soft and hard red winter wheat near-isogenic sister lines of 'Weston'. Crop Sci 42:2218–2219

Morris CF, King GE (2008) Registration of hard kernel puroindoline allele near-isogenic line hexaploid wheat genetic stocks. J Plant Reg 2:67–68

Morris CF, Lillemo M, Simeone MC, Giroux MJ, Babb SL, Kidwell KK (2001) Prevalence of puroindoline grain hardness genotypes among historically significant North American spring and winter wheats. Crop Sci 41:218–228

Perretant MR, Cadalen T, Charmet G, Sourdille P, Nicolas P, Boeuf C, Tixier MH, Branlard G, Bernard S (2000) QTL analysis of bread-making quality in wheat using a doubled haploid population. Theor Appl Genet 100:1167–1175

Pickering P, Bhave M (2007) Comprehensive analysis of Australian hard wheat cultivars shows limited puroindoline allele diversity. Plant Sci 172:371–379

Pomeranz Y, Willams PC (1990) Wheat hardness: its genetic, structure and biochemical background, measurement and significance. In: Pomeranz Y (ed) Advances in cereal science and technology Vol. X. AACC International, St. Paul, MN, pp 471–548

Ram S, Boyko E, Giroux MJ, Gill BG (2002) Null mutation in puroindoline a is present in Indian wheats: puroindoline genes are located in the distal part of 5DS. J Plant Biochem Biotech 11:79–83

Ravel C, Praud S, Murigneux A, Canaguier A, Sapet F, Samson D, Balfourier F, Dufour P, Chalhoub B, Brunel D, Beckert M, Charmet G (2006) Single-nucleotide polymorphism frequency in a set of selected lines of bread wheat (Triticum aestivum L.). Genome 49:1131–1139

Riede CR, Anderson JA (1996) Linkage of RFLP markers to an aluminum tolerance gene in wheat. Crop Sci 36:905–909

Sourdille P, Perretant MR, Charmet G, Leroy P, Gautier MF, Joudrier P, Nelson JC, Sorrels ME, Bernard M (1996) Linkage between RFLP markers and genes affecting kernel hardness in wheat. Theor Appl Genet 93:580–586

Tanaka H, Morris CF, Haruna M, Tsujimoto H (2008) Prevalence of puroindoline alleles in wheat from eastern Asia including discovery of a new SNP in puroindoline b. Plant Genet Res 6:142–152

Tsilo TJ, Hareland GA, Simsek S, Chao S, Anderson JA (2010) Genome mapping of kernel characteristics in hard red spring wheat breeding lines. Theor Appl Genet 121:717–730

Wilkinson M, Wan YF, Tosi P, Leverington M, Snape J, Mitchell RAC, Shewry PR (2008) Identification and genetic mapping of variant forms of puroindoline b expressed in developing wheat grain. J Cereal Sci 48:722–728

Xia LQ, Chen F, He ZH, Chen XC, Morris CF (2005) Occurrence of puroindoline alleles in Chinese winter wheats. Cereal Chem 82:38–43

Zhang J, Martin JM, Beecher B, Lu C, Hannah LC, Wall ML, Altosaar I, Giroux MJ (2010) The ectopic expression of the wheat puroindoline genes increase germ size and seed oil content in transgenic corn. Plant Mol Biol 74:353–365

Zhang J, Martin JM, Balint-Kurti P, Huang L, Giroux MJ (2011) The wheat puroindoline genes confer fungal resistance in transgenic corn. J Phytopath 159:188–190
Acknowledgments
The growing and harvesting of field plots by John Burns, Stephen Guy, John Kuehner and Vadim Jitkov of the WSU Cereal Variety Testing Program is greatly appreciated, Cooperators of the Western Regional Nurseries are thanked for providing samples. Doug Engle and the entire staff of the Western Wheat Quality Laboratory are warmly acknowledged. Shawna Vogl and Stacey Sykes contributed to the preparation of this manuscript. This research was conducted, in part, under the auspices of the Sino-U.S. Centers for Wheat Quality and Pathology.
Electronic supplementary material
Below is the link to the electronic supplementary material.
About this article
Cite this article
Geng, H., Beecher, B.S., He, Z. et al. Prevalence of Puroindoline D1 and Puroindoline b-2 variants in U.S. Pacific Northwest wheat breeding germplasm pools, and their association with kernel texture. Theor Appl Genet 124, 1259–1269 (2012). https://doi.org/10.1007/s00122-011-1784-4
Received:

Accepted:

Published:

Issue Date:
Keywords
Spring Wheat

Wheat Variety

Hard Wheat

Winter Wheat Variety

Single Kernel Characterization System