Abstract
Eyespot is an economically important fungal disease of wheat and other cereals caused by two fungal species: Oculimacula yallundae and Oculimacula acuformis. However, only two eyespot resistance genes have been characterised and molecular markers made available to plant breeders. These resistances are Pch1, introduced into wheat from the relative Aegilops ventricosa, and Pch2, originally identified in the cultivar Cappelle Desprez (CD). There are drawbacks associated with both resistances; Pch1 is linked to deleterious traits carried on the Ae. ventricosa introgression and Pch2 has been shown to have limited effectiveness. An additional resistance has been reported on chromosome 5A of CD that confers resistance to eyespot in adult plants. In the present study, we demonstrate that resistance on this chromosome is effective against both O. yallundae and O. acuformis eyespot pathogens and confers resistance at both seedling and adult plant stages. This resistance was mapped in both seedling bioassays and field trials in a 5A recombinant population derived from a cross between CD and a CD single chromosome substitution line carrying 5A from the susceptible line Bezostaya. The resistance was also mapped using seedling bioassays in a 5A recombinant population derived from a cross between the susceptible line Chinese Spring (CS) and a single chromosome substitution line carrying 5A from CD. A single major QTL on the long arm of chromosome 5A was detected in all experiments. Furthermore, the SSR marker Xgwm639 was found to be closely associated with the resistance and could be used for marker-assisted selection of the eyespot resistance by plant breeders.
This is a preview of subscription content, log in to check access.
Access options
Buy single article
Instant access to the full article PDF.
US$ 39.95
Price includes VAT for USA
Subscribe to journal
Immediate online access to all issues from 2019. Subscription will auto renew annually.
US$ 199
This is the net price. Taxes to be calculated in checkout.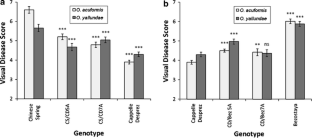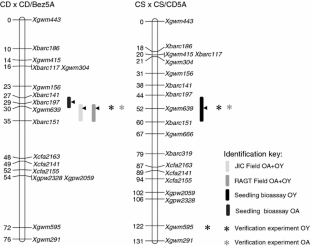 References
Bruehl GW, Nelson WL (1964) Technique for mass inoculations of winter wheat in the field with Cercosporella herpotrichoides. Plant Dis Rep 48:863–865

Bryan GJ, Collins AJ, Stephenson P, Orry A, Smith JB, Gale MD (1997) Isolation and characterisation of microsatellites from hexaploid bread wheat. Theor Appl Genet 94:557–563

Buerstmayr H, Steiner B, Hartl L, Griesser M, Angerer N, Lengauer D, Miedaner T, Schneider B, Lemmens M (2003) Molecular mapping of QTLs for Fusarium head blight resistance in spring wheat. II. Resistance to fungal penetration and spread. Theor Appl Genet 107:503–508

Burt C, Hollins TW, Powell N, Nicholson P (2010) Differential seedling resistance to the eyespot pathogens, Oculimacula yallundae and Oculimacula acuformis, conferred by Pch2 in wheat and among accessions of Triticum monococcum. Plant Pathol. doi:10.1111/j.1365-3059.2010.02307.x

Chapman N, Burt C, Dong H, Nicholson P (2008) The development of PCR-based markers for the selection of eyespot resistance genes Pch1 and Pch2. Theor Appl Genet 117:425–433

de la Peña RC, Murray TD, Jones SS (1996) Linkage relations among eyespot resistance gene Pch2, endopeptidase Ep-A1b, and RFLP marker Xpsr121 on chromosome 7A of wheat. Plant Breed 115:273–275

Dyck PL (1987) The association of a gene for leaf rust resistance with the chromosome 7D suppressor of stem rust resistance in common wheat. Genome 29:467–469

Goyal A, Bandopadhyay R, Sourdille P, Endo T, Balyan H, Gupta P (2005) Physical molecular maps of wheat chromosomes. Funct Integr Genomics 5:260–263

Griffiths S, Simmonds J, Leverington M, Wang Y, Fish L, Sayers L, Alibert L, Orford S, Wingen L, Herry L, Faure S, Laurie D, Bilham L, Snape J (2009) Meta-QTL analysis of the genetic control of ear emergence in elite European winter wheat germplasm. Theor Appl Genet 119:383–395

Hardwick NV, Jones DR, Slough JE (2001) Factors affecting diseases of winter wheat in England and Wales, 1989–98. Plant Pathol 50:453–462

Hollins TW, Lockley KD, Blackman JA, Scott PR, Bingham J (1988) Field performance of Rendezvous, a wheat cultivar with resistance to eyespot (Pseudocercosporella-herpotrichoides) derived from Aegilops ventricosa. Plant Pathol 37:251–260

Hugot K, Aimé S, Conrod S, Poupet A, Galiana E (1999) Developmental regulated mechanisms affect the ability of a fungal pathogen to infect and colonize tobacco leaves. Plant J 20:163–170

International Brachypodium Initiative (2010) Genome sequencing and analysis of the model grass Brachypodium distachyon. Nature 463:763–768

International Rice Genome Sequencing Project (2005) The map-based sequence of the rice genome. Nature 436:793–800

Koen E, Labuschagne MT, Viljoen CD (2002) The influence of eyespot resistance genes on baking quality and yield in wheat. J Sci Food Agric 82:1537–1540

Law CN, Scott PR, Worland AJ, Hollins TW (1976) The inheritance of resistance to eyespot (Cercosporella herpotrichiodes) in wheat. Genet Res Cambridge 25:73–79

Leonard J, Watson C, Carter A, Hansen J, Zemetra R, Santra D, Campbell K, Riera-Lizarazu O (2008) Identification of a candidate gene for the wheat endopeptidase Ep-D1 locus and two other STS markers linked to the eyespot resistance gene Pch1. Theor Appl Genet 116:261–270

Lind V (1999) Variation of resistance to Pseudocercosporella herpotrichoides (Fron) Deighton in wheat genotypes carrying the gene Pch1. Plant Breeding 118:281–287

Ma H, Singh RP (1996) Expression of adult resistance to stripe rust at different growth stages of wheat. Plant Dis 80:375–379

Macer RCF (1966) Resistance to eyespot disease (Cercosporella herpotrichoides Fron) determined by a seedling test in some forms of Triticum, Aegilops, Secale and Hordeum. J Agric Sci 67:389–396

Maia N (1967) Obtention de blés tendres résistants au piétin-verse (Cercosporella herpotrichoides) par crôisements interspécifiques blés × Aegilops. Comptes Rendus de l'Académie d'Agriculture de France 53:149–155

Mauler A, Fehrmann H (1987) Evaluation of the susceptibility of wheat to Pseudocercosporella herpotrichoides. 2. The development of a resistance test with young plants. Zeitschrift für Pflanzenkrankheiten und Pflanzenschutz 94:637–648

Muranty H, Jahier J, Tanguy AM, Worland AJ, Law C (2002) Inheritance of resistance of wheat to eyespot at the adult stage. Plant Breed 121:536–538

Murray TD (1996) Resistance to benzimidazole fungicides in the cereal eyespot pathogen, Pseudocercosporella herpotrichoides, in the Pacific Northwest 1984 to 1990. Plant Dis 80:19–23

Nicholson P, Turner AS (2000) Cereal stem base disease—a complex issue. In: Nicholson P, Turner AS (eds) Brighton Crop Protection Conference. British Crop Protection Council, Farnham, UK, pp 99–106

Parnell S, Gilligan CA, Lucas JA, Bock CH, van den Bosch F (2008) Changes in fungicide sensitivity and relative species abundance in Oculimacula yallundae and O. acuformis populations (eyespot disease of cereals) in Western Europe. Plant Pathol 57:509–517

Scott PR (1971) The effect of temperature on eyespot (Cercosporella herpotrichoides) in wheat seedlings. Ann Appl Biol 68:169–175

Scott PR, Hollins TW (1974) Effects of eyespot on yield of winter-wheat. Ann Appl Biol 78:269–279

Silvey V (1978) The contribution of new varieties to increasing cereal yield in England and Wales UK. J Natl Inst Agric Bot 14:367–384

Singh RP, Huerta-Espino J (2003) Effect of leaf rust resistance gene Lr34 on components of slow rusting at seven growth stages in wheat. Euphytica 129:371–376

Somers DJ, Isaac P, Edwards K (2004) A high-density microsatellite consensus map for bread wheat (Triticum aestivum L.). Theor Appl Genet 109:1105–1114

Uslu E, Miller TE, Rezanoor NH, Nicholson P (1998) Resistance of Dasypyrum villosum to the cereal eyespot pathogens, Tapesia yallundae and Tapesia acuformis. Euphytica 103:203–209

van Ooijen JW, Maliepaard C (1996) MapQTL™ version 4.0: Software for the calculation of QTL positions on genetic maps. CPRO-DLO, Wageningen

Worland AJ, Law CN, Hollins TW, Koebner RMD, Giura A (1988) Location of a gene for resistance to eyespot (Pseudocercosporella herpotrichoides) on chromosome 7D of bread wheat. Plant Breed 101:43–51

Yildirim A, Jones SS, Murray TD (1998) Mapping a gene conferring resistance to Pseudocercosporella herpotrichoides on chromosome 4V of Dasypyrum villosum in a wheat background. Genome 41:1–6

Zadoks JC, Chang TT, Konzak CF (1974) A decimal code for the growth stages of cereals. Weed Res 14:415–421
Acknowledgments
We wish to thank Simone Payne, Joe Nicholson and Ben Annis at the JIC for technical assistance with seedling bioassays and field trials. At RAGT Seeds, we would like to thank Bob Evans and Hilary Butler for assistance with field trials, Mike Boddy for producing and bulking RILs of the CS × CS/CD5A population, and Peter Jack for conducting DNA extracts on both the 5A recombinant populations. This work was jointly funded by Biotechnology and Biological Sciences Research Council (BBSRC) and the Home Grown Cereal Authority (HGCA) through a BBSRC-CASE award to C Burt.
Additional information
Communicated by J. Dubcovsky.
About this article
Cite this article
Burt, C., Hollins, T.W. & Nicholson, P. Identification of a QTL conferring seedling and adult plant resistance to eyespot on chromosome 5A of Cappelle Desprez. Theor Appl Genet 122, 119–128 (2011). https://doi.org/10.1007/s00122-010-1427-1
Received:

Accepted:

Published:

Issue Date:
Keywords
Leaf Rust

Adult Plant

Seedling Stage

Chinese Spring

Disease Score