Abstract
Distinctness, uniformity and stability (DUS) testing of varieties is usually required to apply for Plant Breeders' Rights. This exam is currently carried out using morphological traits, where the establishment of distinctness through a minimum distance is the key issue. In this study, the possibility of using microsatellite markers for establishing the minimum distance in a vegetatively propagated crop (grapevine) has been evaluated. A collection of 991 accessions have been studied with nine microsatellite markers and pair-wise compared, and the highest intra-variety distance and the lowest inter-variety distance determined. The collection included 489 different genotypes, and synonyms and sports. Average values for number of alleles per locus (19), Polymorphic Information Content (0.764) and heterozygosities observed (0.773) and expected (0.785) indicated the high level of polymorphism existing in grapevine. The maximum intra-variety variability found was one allele between two accessions of the same variety, of a total of 3,171 pair-wise comparisons. The minimum inter-variety variability found was two alleles between two pairs of varieties, of a total of 119,316 pair-wise comparisons. In base to these results, the minimum distance required to set distinctness in grapevine with the nine microsatellite markers used could be established in two alleles. General rules for the use of the system as a support for establishing distinctness in vegetatively propagated crops are discussed.
This is a preview of subscription content, log in to check access.
Access options
Buy single article
Instant access to the full article PDF.
US$ 39.95
Price includes VAT for USA
Subscribe to journal
Immediate online access to all issues from 2019. Subscription will auto renew annually.
US$ 199
This is the net price. Taxes to be calculated in checkout.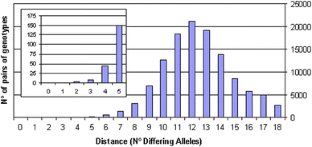 References
Blouet F, Collonnier C, Guerin D, Guiard J, Lallemand J (2006) Possible use of molecular techniques in DUS testing on maize. How to integrate a new tool to serve the effectiveness of protection offered under the UPOV system. 10th Session of the BMT working group (UPOV), Seoul (Republic of Korea)

Bowers JE, Dangl GS, Vignani R, Meredith CP (1996) Isolation and characterization of new polymorphic simple sequence repeat loci in grape (Vitis vinifera L.). Genome 39:628–633

Bowers JE, Dangl GS, Meredith CP (1999) Development and characterization of additional microsatellite DNA markers for grape. Am J Enol Vitic 50:243–246

Branas J, Truel P (1965) Variétés de raisins de table. Nomenclature, description, sélection, amélioration. Le Progrés Agricole et Viticole, Montpellier

Cipriani G, Marrazzo MT, Di Gaspero G, Pfeiffer A, Morgante M, Testolin R (2008) A set of microsatellite markers with long core repeat optimized for grape (Vitis spp.) genotyping—art. no. 127. BMC Plant Biol 8:127

Crespan M (2004) Evidence on the evolution of polymorphism of microsatellite markers in varieties of Vitis vinifera L. Theor Appl Genet 108:231–237

Crespan M, Cabello F, Giannietto S, Ibanez J, Kontic JK, Maletic E, Pejic I, Rodriguez-Torres I, Antonacci D (2006) Malvasia delle Lipari, Malvasia di Sardegna, Greco di Gerace, Malvasia de Sitges and Malvasia dubrovacka—synonyms of an old and famous grape cultivar. Vitis 45:69–73

De Riek J, Calsyn E, Everaert I, Van Bockstaele E, De Loose M (2001) AFLP based alternatives for the assessment of Distinctness, Uniformity and Stability of sugar beet varieties. Theor Appl Genet 103:1254–1265

Di Gaspero G, Peterlunger E, Testolin R, Edwards KJ, Cipriani G (2000) Conservation of microsatellite loci within the genus Vitis. Theor Appl Genet 101:301–308

Galet P (2000) Dictionnaire Encyclopédique des Cépages. Hachette, Paris

Gunjaca J, Buhinicek I, Jukic M, Sarcevic H, Vragolovic A, Kozic Z, Jambrovic A, Pejic I (2008) Discriminating maize inbred lines using molecular and DUS data. Euphytica 161:165–172

Hocquigny S, Pelsy F, Dumas V, Kindt S, Heloir MC, Merdinoglu D (2004) Diversification within grapevine cultivars goes through chimeric states. Genome 47:579–589

Ibáñez J, de Andrés MT, Borrego J (2000) Allelic variation observed at one microsatellite locus between the two synonym grape cultivars Black Currant and Mavri Corinthiaki. Vitis 39:173–174

Ibáñez J, de Andrés MT, Molino A, Borrego J (2003) Genetic study of key Spanish grapevine varieties using microsatellite analysis. Am J Enol Vitic 54:22–30

Ibáñez J, Vargas AM, Palancar M, Borrego J, de Andrés MT (2009) Genetic relationships among table-grape varieties. Am J Enol Vitic 60:35–42

Kwon YS, Lee JM, Yi GB, Yi SI, Kim KM, Soh EH, Bae KM, Park EK, Song IH, Kim BD (2005) Use of SSR markers to complement tests of distinctiveness, uniformity and stability (DUS) of pepper (Capsicum annuum L.) varieties. Mol Cells 19:428–435

Le Cunff L, Fournier-Level A, Laucou V, Vezzulli S, Lacombe T, Adam-Blondon A-F, Boursiquot J-M, This P (2008) Construction of nested genetic core collections to optimize the exploitation of natural diversity in Vitis vinifera L. subsp. sativa. BMC Plant Biol 8:31

Martín JP, Borrego J, Cabello F, Ortiz JM (2003) Characterization of Spanish grapevine cultivar diversity using sequence-tagged microsatellite site markers. Genome 46:10–18

Merdinoglu D, Butterlin G, Bevilacqua L, Chiquet V, Adam-Blondon AF, Decroocq S (2005) Development and characterization of a large set of microsatellite markers in grapevine (Vitis vinifera L.) suitable for multiplex PCR. Mol Breed 15:349–366

Noli E, Teriaca MS, Sanguineti MC, Conti S (2008) Utilization of SSR and AFLP markers for the assessment of distinctness in durum wheat. Mol Breed 22:301–313

OIV (1987) Synonyms of the varieties of table grapes and raisins. Bull l'OIV 671–672:44–82

OIV (2007) 2nd edition of the OIV descriptor list for grape varieties and Vitis species. Organisation internationale de la vigne et du vin, Paris

Park SDE (2001) Trypanotolerance in West African cattle and the population genetic effects of selection. University of Dublin, Dublin

Regner F, Wiedeck E, Stadlbauer A (2000) Differentiation and identification of White Riesling clones by genetic markers. Vitis 39:103–107

Regner F, Hack R, Santiago JL (2006) Highly variable Vitis microsatellite loci for the identification of Pinot Noir clones. Vitis 45:85–91

Riaz S, Dangl GS, Edwards KJ, Meredith CP (2004) A microsatellite marker based framework linkage map of Vitis vinifera L. Theor Appl Genet 108:864–872

Rodríguez Torres I (2001) Caracterización de variedades de vid por métodos ampelográficos y bioquímicos. Resolución de homonimias y sinonimias. Departamento de Biología Vegetal, Universidad Politécnica de Madrid, Madrid, p 351

Roldan-Ruiz I, van Euwijk FA, Gilliland TJ, Dubreuil P, Dillmann C, Lallemand J, De Loose M, Baril CP (2001) A comparative study of molecular and morphological methods of describing relationships between perennial ryegrass (Lolium perenne L.) varieties. Theor Appl Genet 103:1138–1150

Sefc KM, Regner F, Turetschek E, Glössl J, Steinkellner H (1999) Identification of microsatellite sequences in Vitis riparia and their applicability for genotyping of different Vitis species. Genome 42:367–373

Sefc KM, Lefort F, Grando MS, Scott KD, Steinkellner H, Thomas MR (2001) Microsatellite markers for grapevine: a state of the art. In: Roubelakis-Angelakis KA (ed) Molecular biology & biotechnology of grapevine. Kluwer Academic Publishers, The Netherlands, p 30

Singh RK, Sharma RK, Singh AK, Singh VP, Singh NK, Tiwari SP, Mohapatra T (2004) Suitability of mapped sequence tagged microsatellite site markers for establishing distinctness, uniformity and stability in aromatic rice. Euphytica 135:135–143

This P, Jung A, Boccacci P, Borrego J, Botta R, Costantini L, Crespan M, Dangl GS, Eisenheld C, Ferreira-Monteiro F, Grando S, Ibáñez J, Lacombe T, Laucou V, Magalhaes R, Meredith CP, Milani N, Peterlunger E, Regner F, Zulini L, Maul E (2004) Development of a standard set of microsatellite reference alleles for identification of grape cultivars. Theor Appl Genet 109:1448–1458

This P, Lacombe T, Thomas MR (2006) Historical origins and genetic diversity of wine grapes. Trends Genet 22:511–519

Thomas MR, Scott NS (1993) Microsatellite repeats in grapevine reveal DNA polymorphisms when analysed as sequence-tagged sites (STSs). Theor Appl Genet 86:985–990

Tommasini L, Batley J, Arnold GM, Cooke RJ, Donini P, Lee D, Law JR, Lowe C, Moule C, Trick M, Edwards KJ (2003) The development of multiplex simple sequence repeat (SSR) markers to complement distinctness uniformity and stability testing of rape (Brassica napus L.) varieties. Theor Appl Genet 106:1091–1101

UPOV (2002) General introduction to the examination of Distinctness, Uniformity and Stability and the development of harmonized descriptions of new varieties of plants. International Union for the Protection of New Varieties of Plants, Geneva, p 26

van Eeuwijk FA, Baril CP (2001) Conceptual and statistical issues related to the use of molecular markers for distinctness and essential derivation. Acta Hort 546:35–53

Vargas AM, Velez MD, de Andres MT, Laucou V, Lacombe T, Boursiquot JM, Borrego J, Ibáñez J (2007) Corinto bianco: a seedless mutant of Pedro Ximenes. Am J Enol Vitic 58:540–543

Velasco R, Zharkikh A, Troggio M, Cartwright DA, Cestaro A, Pruss D, Pindo M, Fitzgerald LM, Vezzulli S, Reid J, Malacarne G, Iliev D, Coppola G, Wardell B, Micheletti D, Macalma T, Facci M, Mitchell JT, Perazzolli M, Eldredge G, Gatto P, Oyzerski R, Moretto M, Gutin N, Stefanini M, Chen Y, Segala C, Davenport C, Dematte L, Mraz A, Battilana J, Stormo K, Costa F, Tao Q, Si-Ammour A, Harkins T, Lackey A, Perbost C, Taillon B, Stella A, Solovyev V, Fawcett JA, Sterck L, Vandepoele K, Grando SM, Toppo S, Moser C, Lanchbury J, Bogden R, Skolnick M, Sgaramella V, Bhatnagar SK, Fontana P, Gutin A, Van de Peer Y, Salamini F, Viola R (2007) A high quality draft consensus sequence of the genome of a heterozygous grapevine variety. PLoS ONE 2:e1326

Vosman B, Visser D, van der Voort JR, Smulders MJM, van Eeuwijk F (2004) The establishment of 'essential derivation' among rose varieties, using AFLP. Theor Appl Genet 109:1718–1725

Wagner HW, Sefc KM (1999) Identity 1.0, Centre for Applied Genetics, University of Agricultural Sciences, Vienna

Welter L, Göktürk-Baydar N, Akkurt M, Maul E, Eibach R, Töpfer R, Zyprian E (2007) Genetic mapping and localization of quantitative trait loci affecting fungal disease resistance and leaf morphology in grapevine (Vitis vinifera L). Mol Breed 20:359–374
Acknowledgments
This work was financially supported by the projects RF99-009 and VIN01-025 (INIA, Agriculture Ministry of Spain). M. D. Vélez was funded by a predoctoral fellowship from IMIDRA.
Additional information
Communicated by F. Ordon.
Electronic supplementary material
Below is the link to the electronic supplementary material
About this article
Cite this article
Ibáñez, J., Vélez, M.D., de Andrés, M.T. et al. Molecular markers for establishing distinctness in vegetatively propagated crops: a case study in grapevine. Theor Appl Genet 119, 1213 (2009). https://doi.org/10.1007/s00122-009-1122-2
Received:

Accepted:

Published:
Keywords
Microsatellite Marker

Minimum Distance

Polymorphic Information Content

Table Grape

Phosphoramidites