Abstract
The yellow pigment (YP) of durum wheat (Triticum turgidum L. var durum) semolina is due in part to the presence of carotenoid pigments found in the endosperm and is an important end-use quality trait. Phytoene synthase (Psy) is considered a rate-limiting enzyme in the carotenoid biosynthetic pathway and in this study, three alleles of Psy1-A1 were sequenced from four durum wheat cultivars and a co-dominant marker was developed for genetic mapping. Psy1-A1 mapped to chromosome 7AL near Xwmc809 in three durum mapping populations and was significantly associated with a pigment quantitative trait loci (QTL) identified on that chromosome. A second QTL localized 25 cM proximal to Psy1-A1 in two populations, and the interaction between the two QTL was not significant. Consistent with QTL mapping data, the Psy1-A1o allele was associated with elevated pigment in a validation population comprising 93 diverse cultivars and breeding lines. These results confirm an earlier hypothesis that Psy1, and at least one additional gene in the distal region of 7AL, are associated with grain YP differences in durum wheat. The functional co-dominant marker developed in this study differentiates the Psy1-A1 alleles reported here and could be used as a target to enhance YP selection in durum wheat breeding programs.
This is a preview of subscription content, log in to check access.
Access options
Buy single article
Instant access to the full article PDF.
US$ 39.95
Price includes VAT for USA
Subscribe to journal
Immediate online access to all issues from 2019. Subscription will auto renew annually.
US$ 199
This is the net price. Taxes to be calculated in checkout.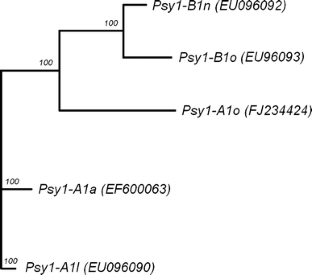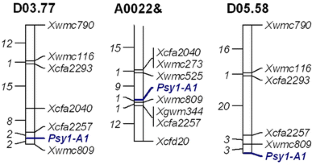 References
American Association for Cereal Chemistry (2000) Approved methods of the AACC-method, 10th edn. St. Paul, Minnesota, pp 14–50

Atienza SG, Ballesteros J, Martín A, Hornero-Méndez D (2007) Genetic variability of carotenoid concentration and degree of esterification among Tritordeum (×Tritordeum Ascherson et Graebner) and durum wheat accessions. Agric Food Chem 55:4244–4251

Borrelli GM, Troccolo A, Di Fonzo N, Fares C (1999) Durum wheat lipoxygenase activity and other quality parameters that affect pasta colour. Cereal Chem 76:335–340

Burkhardt PK, Beyer P, Wunn J, Kloti A, Armstrong GA, Schledz M, von Lintig J, Potrykus I (1997) Transgenic rice (Oryza sativa) endosperm expressing daffodil (Narcissus pseudonarcissus) phytoene synthase accumulates phytoene, a key intermediate of provitamin A biosynthesis. Plant J 11:1071–1078

Cenci A, Somma S, Chantret N, Dubcovsky J, Blanco A (2004) PCR identification of durum wheat BAC clones containing genes coding for carotenoid biosynthesis enzymes and their chromosome localization. Genome 47:911–917

Cervigni G, Zhang W, Picca A, Carrera A, Helguera M, Manthey F, Miranda R, Dubcovsky J, Echenique V (2005) QTL mapping for LOX Activity and quality traits in durum wheat. In: Proceedings of the 7th international wheat conference. SAGPyA/INTA. Mar del Plata, Argentina, 27 November–2 December

Clarke JM, McCaig TN, DePauw RM, Knox RE, Clarke FR, Fernandez MR, Ames NP (2005a) Strongfield durum wheat. Can J Plant Sci 85:651–654

Clarke JM, McCaig TN, DePauw RM, Knox RE, Ames NP, Clarke FR, Fernandez MR, Marchylo BA, Dexter JE (2005b) Commander durum wheat. Can J Plant Sci 85:901–904

Clarke FR, Clarke JM, McCaig TN, Knox RE, DePauw RM (2006) Inheritance of yellow pigment in concentration in four durum wheat crosses. Can J Plant Sci 86:133–141

Corona V, Aracri B, Kosturkova G, Bartley GE, Pitto L, Giorgette L, Scolnik PA, Giuliano G (1996) Regulation of a carotenoid biosynthesis gene promoter during plant development. Plant J 9:505–512

Cunningham FX Jr, Pogson B, Sun ZR, McDonald KA, Della Penna D, Gantt E (1996) Functional analysis of the β and lycopene cyclase enzymes of Arabidopsis reveals a mechanism for control of cyclic carotenoid formation. Plant Cell 8:1613–1626

Elouafi I, Nachit MM, Martin LM (2001) Identification of a microsatellite on chromosome 7B showing a strong linkage with yellow pigment in durum wheat (Triticum turgidum L. var. durum). Hereditas 135:255–261

Gallagher CE, Matthews PD, Li F, Wurtzel ET (2004) Gene duplication in the carotenoid biosynthetic pathway preceded evolution of the grasses. Plant Physiol 135:1776–1783

He XY, Zhang YL, He ZH, Wu YP, Xiao YG, Ma CX, Xia XC (2008) Characterization of Phytoene synthase 1 gene (Psy1) located on common wheat chromosome 7A and development of a functional marker. Theor Appl Genet 116:213–221

Hentschel V, Kranl K, Hollmann J, Lindhauer MG, Bohm V, Bitsch R (2002) Spectrophotometric determination of yellow pigment content and evaluation of carotenoids by high-performance liquid chromatography in durum wheat grain. J Agric Food Chem 50:6663–6668

Hessler TG, Thomson MJ, Benscher D, Nachit MM, Sorrells ME (2002) Association of a lipoxygenase locus, Lpx-B1, with variation in lipoxygenase activity in durum wheat seeds. Crop Sci 42:1695–1700

Hirschberg J (2001) Carotenoid biosynthesis in flowering plants. Curr Opin Plant Biol 4:210–218

Johnston RA, Quick JS, Hammond JJ (1983) Inheritance of semolina color in six durum wheat crosses. Crop Sci 23:607–610

Knapp SJ (2001) Mapping quantitative trait loci. In: Phillips RI, Vasil IK (eds) DNA-based markers in plants. Kluwer, Netherlands, pp 59–99

Knox RE, Clarke JM, DePauw RM (2000) Dicamba and growth condition effects on doubled haploid production in durum wheat crossed with maize. Plant Breed 119:289–298

Kuchel H, Langridge P, Mosionek L, Williams K, Jefferies SP (2006) The genetic control of milling yield, dough rheology and baking quality of wheat. Theor Appl Genet 112:1487–1495

La Rota M, Sorrells ME (2004) Comparative DNA sequence analysis of mapped wheat ESTs reveals the complexity of genome relationships between rice and wheat. Funct Integr Genomics 4:34–46

Lee DW, Lee S, Lee GJ, Lee KH, Kim S, Cheong GW, Hwang I (2006) Functional characterization of sequence motifs in the transit peptide of Arabidopsis small subunit of Rubisco. Plant Physiol 140:466–483

Li F, Vallabhaneni R, Yu J, Rocheford T, Wurtzel ET (2008) The maize phytoene synthase gene family: overlapping roles for carotenogenesis in endosperm, photomorphogenesis, and thermal stress tolerance. Plant Physiol 147:1334–1346

Lindgren LO, Stalberg KG, Hoglund AS (2003) Seed-specific overexpression of an endogenous Arabidopsis phytoene synthase gene results in delayed germination and increased levels of carotenoids, chlorophyll, and abscisic acid. Plant Physiol 132:779–785

Littell RC, Milliken GA, Stroup WW, Wolfinger RD (1996) SAS system for mixed models. SAS Institute Inc., Cary

Lynch M, Walsh JB (1998) Genetics and analysis of quantitative traits. Sinauer Assocs., Inc., Sunderland

Mares DJ, Campbell AW (2001) Mapping components of flour and noodle colour in Australian wheat. Aust J Agric Res 52:1297–1309

Matsuo RR, Dexter JE (1980) Relationship between some durum wheat physical characteristics and semolina milling properties. Can J Plant Sci 60:49–53

McCaig TN, McLeod JG, Clarke JM, DePauw RM (1992) Measurement of durum pigment with an NIR instrument operating in the visible range. Cereal Chem 69:671–672

Panfili G, Fratianni A, Irano M (2004) Improved normal-phase high-performance liquid chromatography procedure for the determination of carotenoids in cereals. J Agric Food Chem 52:6373–6377

Parker GD, Chalmers KJ, Rathjen AJ, Langridge P (1998) Mapping loci associated with flour color in wheat. Theor Appl Genet 97:238–245

Patil RM, Oak MD, Tamhankar SA, Sourdille P, Rao VS (2008) Mapping and validation of a major QTL for yellow pigment content on 7AL in durum wheat (Triticum turgidum L. ssp durum). Mol Breed 21:485–496

Pozniak CJ, Knox RE, Clarke FR, Clarke JM (2007) Identification of QTL and association of a phytoene synthase gene with endosperm colour in durum wheat. Theor Appl Genet 114:525–537

Reimer SO, Pozniak CJ, Clarke FR, Clarke JM, Somers DJ, Knox RE, Singh AK (2008) Association mapping of yellow pigment in an elite collection of durum wheat cultivars and breeding lines. Genome 51:1016–1025

Saitou N, Nei M (1987) The neighbor-joining method: a new method for reconstructing phylogenetic trees. Mol Biol Evol 4:406–425

Schuelke M (2000) An economic method for the fluorescent labeling of PCR fragments. Nat Biotech 18:233–234

Somers DJ, Isaac P, Edwards K (2004) A high-density microsatellite consensus map for bread wheat (Triticum aestivum L.). Theor Appl Genet 109:1105–1114

Somers DJ, Fedak G, Clarke J, Wenguang C (2006) Mapping of FHB resistance QTLs in tetraploid wheat. Genome 49:1586–1593

Troccoli A, Borrelli GM, De Vita P, Fares C, Di Fonzo N (2000) Durum wheat quality: a multidisciplinary concept. J. Cereal Sci 32:99–113

van Ooijen JW, Voorips RE (2004) JoinMap Version 3.0, Software for the calculation of genetic linkage maps. Kyazma BV, Wageningen

Zhang W, Dubcovsky J (2008) Association between allelic variation at the Phytoene synthase 1 gene and yellow pigment content in the wheat grain. Theor Appl Genet 116:635–645

Zhang W, Chao S, Manthey F, Chicaiza O, Brevis JC, Echenique V, Dubcovsky J (2008) QTL analysis of pasta quality using a composite microsatellite and SNP map of durum wheat. Theor Appl Genet 117:1361–1377
Additional information
Communicated by D. Mather.
Electronic supplementary material
Below is the link to the electronic supplementary material.
About this article
Cite this article
Singh, A., Reimer, S., Pozniak, C.J. et al. Allelic variation at Psy1-A1 and association with yellow pigment in durum wheat grain. Theor Appl Genet 118, 1539–1548 (2009). https://doi.org/10.1007/s00122-009-1001-x
Received:

Accepted:

Published:

Issue Date:
Keywords
Quantitative Trait Locus

Doubled Haploid

Durum Wheat

Hexaploid Wheat

Yellow Pigment