Abstract
End-use quality is one of the priorities of modern wheat (Triticum aestivum L.) breeding. Even though quality is a complex trait, high molecular weight (HMW) glutenins play a major role in determining the bread making quality of wheat. DNA markers developed from the sequences of HMW glutenin genes were reported in several previous studies to facilitate marker-assisted selection (MAS). However, most of the previously available markers are dominant and amplify large DNA fragments, and thus are not ideal for high throughput genotyping using modern equipment. The objective of this study was to develop and validate co-dominant markers suitable for high throughput MAS for HMW glutenin subunits encoded at the Glu-A1 and Glu-D1 loci. Indels were identified by sequence alignment of allelic HMW glutenin genes, and were targeted to develop locus-specific co-dominant markers. Marker UMN19 was developed by targeting an 18-bp deletion in the coding sequence of subunit Ax2* of Glu-A1. A single DNA fragment was amplified by marker UMN19, and was placed onto chromosome 1AL. Sixteen wheat cultivars with known HMW glutenin subunits were used to validate marker UMN19. The cultivars with subunit Ax2* amplified the 362-bp fragment as expected, and a 344-bp fragment was observed for cultivars with subunit Ax1 or the Ax-null allele. Two co-dominant markers, UMN25 and UMN26, were developed for Glu-D1 by targeting the fragment size polymorphic sites between subunits Dx2 and Dx5, and between Dy10 and Dy12, respectively. The 16 wheat cultivars with known HMW glutenin subunit composition were genotyped with markers UMN25 and UMN26, and the genotypes perfectly matched their subunit types. Using an Applied Biosystems 3130xl Genetic Analyzer, four F2 populations segregating for the Glu-A1 or Glu-D1 locus were successfully genotyped with primers UMN19, UMN25 and UMN26 labeled with fluorescent dyes.
This is a preview of subscription content, log in to check access.
Access options
Buy single article
Instant access to the full article PDF.
US$ 39.95
Price includes VAT for USA
Subscribe to journal
Immediate online access to all issues from 2019. Subscription will auto renew annually.
US$ 199
This is the net price. Taxes to be calculated in checkout.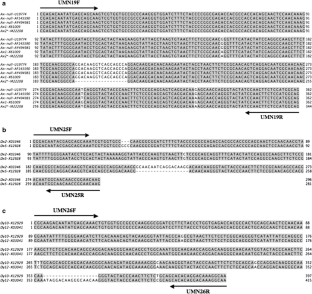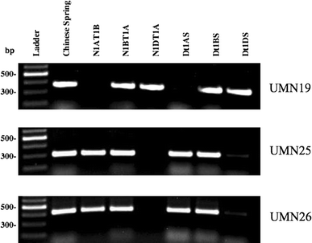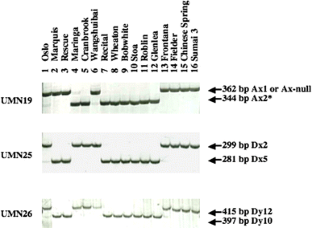 References
Anderson OD, Greene FC (1989) The characterization and comparative analysis of high molecular weight glutenin genes from genome A and Genome B of a hexaploid bread wheat. Theor Appl Genet 77:689–700

Anderson OD, Greene FC, Yip RE, Halford NG, Shewry PR, Malpicaromero JM (1989) Nucleotide sequences of the 2 high molecular weight glutenin genes from the D-genome of a hexaploid bread wheat, Triticum aestivum L cv Cheyenne. Nucleic Acids Res 17:461–462

Bodo Slotta TA, Brady L, Chao S (2008) High throughput tissue preparation for large-scale genotyping experiments. Mol Ecol Notes 8:83–87

Butow BJ, Gale KR, Ikea J, Juhasz A, Bedo Z, Tamas L, Gianibelli MC (2004) Dissemination of the highly expressed Bx7 glutenin subunit (Glu-B1al allele) in wheat as revealed by novel PCR markers and RP-HPLC. Theor Appl Genet 109:1525–1535

De Bustos A, Rubio P, Jouve N (2000) Molecular characterization of the inactive allele of the gene Glu-A1 and the development of a set of AS-PCR markers for HMW glutenins of wheat. Theor Appl Genet 100:1085–1094

Gale KR (2005) Diagnostic DNA markers for quality traits in wheat. J Cereal Sci 41:181–192

Gobaa S, Kleijer G, Stamp P (2007) 2.., a new high molecular weight glutenin subunit coded by Glu-A1: its predicted structure and its impact on bread-making quality. Plant Breeding 126:1–4

Gu YQ, Salse J, Coleman-Derr D, Dupin A, Crossman C, Lazo GR, Huo N, Belcram H, Ravel C, Charmet G, Charles M, Anderson OD, Chalhoub B (2006) Types and rates of sequence evolution at the high molecular weight glutenin locus in hexaploid wheat and its ancestral genomes. Genetics 174:1493–1504

Gu YQ, Coleman-Derr D, Kong X, Anderson OD (2004) Rapid genome evolution revealed by comparative sequence analysis of orthologous regions from four triticeae genomes. Plant Physiol 135:459–470

Halford NG, Field JM, Blair H, Urwin P, Moore K, Robert L, Thompson R, Flavell RB, Tatham AS, Shewry PR (1992) Analysis of HMW glutenin subunits encoded by Chromosome 1A of bread wheat (Triticum aestivum L) indicates quantitative effects on grain quality. Theor Appl Genet 83:373–378

Juhasz A, Tamas L, Karsai I, Vida G, Lang L, Bedo Z (2001) Identification, cloning and characterisation of a HMW glutenin gene from an old Hungarian wheat variety, Bankuti 1201. Euphytica 119:75–79

Kong XY, Gu YQ, You FM, Dubcovsky J, Anderson OD (2004) Dynamics of the evolution of orthologous and paralogous portions of a complex locus region in two genomes of allopolyploid wheat. Plant Mol Biol 54:55–69

Lafiandra D, Tucci GF, Pavoni A, Turchetta T, Margiotta B (1997) PCR analysis of x- and y-type genes present at the complex Glu-A1 locus in durum and bread wheat. Theor Appl Genet 94:235–240

Larkin MA, Blackshields G, Brown NP, Chenna R, McGettigan PA, McWilliam H, Valentin F, Wallace IM, Wilm A, Lopez R, Thompson JD, Gibson TJ, Higgins DG (2007) Clustal W and clustal X version 2.0. Bioinformatics 23:2947–2948

Lei ZS, Gale KR, He ZH, Gianibelli C, Larroque O, Xia XC, Butow BJ, Ma W (2006) Y-type gene specific markers for enhanced discrimination of high-molecular weight glutenin alleles at the Glu-B1 locus in hexaploid wheat. J Cereal Sci 43:94–101

Liu S, Anderson JA (2003) Marker assisted evaluation of Fusarium head blight resistant wheat germplasm. Crop Sci 43:760–766

Lukow OM, Payne PI, Tkachuk R (1989) The HMW glutenin subunit composition of Canadian wheat cultivars and their association with bread-making quality. J Sci Food Agric 46:451–460

Marchylo BA, Lukow OM, Kruger JE (1992) Quantitative variation in high molecular weight glutenin subunit 7 in some Canadian wheats. J Cereal Sci 15:29–37

Payne PI (1987) Genetics of wheat storage proteins and the effect of allelic variation on bread-making quality. Annu Rev Plant Physiol Plant Mol Biol 38:141–153

Payne PI, Nightingale MA, Krattiger AF, Holt LM (1987) The relationship between HMW glutenin subunit composition and the bread-making quality of British-grown wheat varieties. J Sci Food Agric 40:51–65

Payne PI, Corfield KG, Holt LM, Blackman JA (1981) Correlations between the inheritance of certain high molecular weight subunits of glutenin and bread-making quality in progenies of 6 crosses of bread wheat. J Sci Food Agric 32:51–60

Popineau Y, Cornec M, Lefebvre J, Marchylo B (1994) Influence of high M(r) glutenin subunits on glutenin polymers and rheological properties of glutens and gluten subfractions of near-isogenic lines of wheat Sicco. J Cereal Sci 19:231–241

Radovanovic N, Cloutier S, Brown D, Humphreys DG, Lukow OM (2002) Genetic variance for gluten strength contributed by high molecular weight glutenin proteins. Cereal Chem 79:843–849

Ragupathy R, Naeem HA, Reimer E, Lukow OM, Sapirstein HD, Cloutier S (2008) Evolutionary origin of the segmental duplication encompassing the wheat GLU-B1 locus encoding the overexpressed Bx7 (Bx7OE) high molecular weight glutenin subunit. Theor Appl Genet 116:283–296

Rozen S, Skaletsky HJ (2000) Primer3 on the WWW for general users and for biologist programmers. In: Krawetz S, Misener S (eds) Bioinformatics methods and protocols: methods in molecular biology. Humana Press, Totowa, pp 365–386

Schwarz G, Felsenstein FG, Wenzel G (2004) Development and validation of a PCR-based marker assay for negative selection of the HMW glutenin allele Glu-B1-1d (Bx-6) in wheat. Theor Appl Genet 109:1064–1069

Schwarz G, Sift A, Wenzel G, Mohler V (2003) DHPLC scoring of a SNP between promoter sequences of HMW glutenin x-type alleles at the Glu-D1 locus in wheat. J Agric Food Chem 51:4263–4267

Sears ER (1966) Nullisomic-tetrasomic combination in hexaploid wheat. In: Riley R, Lewis KR (eds) Chromosome manipulation and plant genetics. Oliver and Boyd, Edinburgh, pp 29–45

Sears ER, Sears LMS (1978) The telocentric chromosomes of common wheat. In: Ramanujan S (ed) Proceedings of 5th international wheat genetics symposium. Indian society of genetics and plant breeding. Indian Agric Res Inst, New Delhi, pp 389–407

Shewry PR, Gilbert SM, Savage AWJ, Tatham AS, Wan YF, Belton PS, Wellner N, D'Ovidio R, Bekes F, Halford NG (2003) Sequence and properties of HMW subunit 1Bx20 from pasta wheat (Triticum durum) which is associated with poor end use properties. Theor Appl Genet 106:744–750

Shewry PR, Halford NG (2002) Cereal seed storage proteins: structures, properties and role in grain utilization. J Exp Bot 53:947–958

Sugiyama T, Rafalski A, Peterson D, Soll D (1985) A wheat HMW glutenin subunit gene reveals a highly repeated structure. Nucleic Acids Res 13:8729–8737

Thompson RD, Bartels D, Harberd NP (1985) Nucleotide sequence of a gene from chromosome 1D of wheat encoding a HMW glutenin subunit. Nucleic Acids Res 13:6833–6848

Wan YF, Yan ZH, Liu KF, Zheng YL, D'Ovidio R, Shewry PR, Halford NG, Wang DW (2005) Comparative analysis of the D genome-encoded high molecular weight subunits of glutenin. Theor Appl Genet 111:1183–1190

Xin H, Jiang Y, Huang W, Gu Q, Sun C (1992) Nucleotide sequence of a high molecular weight glutenin gene in wheat. Acta Bot Sin 34:729–735
Acknowledgments
We thank Dr. Michael Pumphrey at USDA-ARS, Manhattan, Kansas, for providing DNA of several cultivars used for marker validation, Jennifer Flor and Susan Reynolds for collecting leaf samples for DNA extraction. We also appreciate the technical assistance of Mary Osenga and Richard Sonju at USDA-ARS, Fargo, North Dakota.
Additional information
Communicated by B. Friebe.
About this article
Cite this article
Liu, S., Chao, S. & Anderson, J.A. New DNA markers for high molecular weight glutenin subunits in wheat. Theor Appl Genet 118, 177 (2008). https://doi.org/10.1007/s00122-008-0886-0
Received:

Accepted:

Published:
Keywords
Wheat Cultivar

High Molecular Weight Glutenin Subunit

Expect Product Size

High Molecular Weight Glutenin Gene

High Molecular Weight Glutenin Subunit Composition