Abstract
To extend the knowledge on the haplotype variability of the Bmy1 gene, region of the intron III was sequenced in a set of 20 Latvian accessions and Danish variety Maja, the data were compared to the previously reported allelic variants of the structural gene. Taking into account the polymorphisms of 59 loci and the microsatellite (MS) motif, 11 Latvian varieties turned out to have haplotype similar to cultivar Adorra, 1 – to Haruna Nijo, and 8 – to the newly described Abava Bmy1 intron III haplotype. High level of polymorphisms of (TG) m as well as (G) n component of MS was revealed for all the haplotypes studied. We conclude that the MS motif rather than the MS size length polymorphism correlates with mutations in the coding region of the β-amylase gene. Five graphical haplotype-specific intron III structures were constructed on the basis of the co-localization of the transcription factor binding sites (TFBSs), remnants of the transposable elements, and intron III polymorphic loci. Inter- and intrahaplotype variability was analyzed on the eventual functional significance of the Bmy1 intron III rearrangements. Novel data on the intron III nucleotide sequences of the Bmy1 gene were deposited in the GenBank (http://www.ncbi.nlm.nih.gov/) under accession numbers DQ316895–DQ316905.
This is a preview of subscription content, log in to check access.
Access options
Buy single article
Instant access to the full article PDF.
US$ 39.95
Price includes VAT for USA
Subscribe to journal
Immediate online access to all issues from 2019. Subscription will auto renew annually.
US$ 199
This is the net price. Taxes to be calculated in checkout.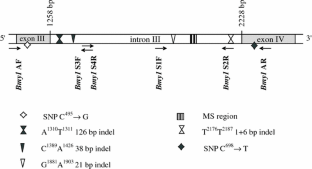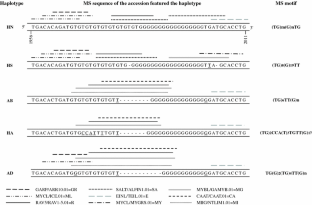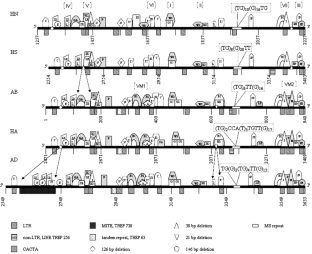 References
Eglinton JK, Langridge P, Evans DE (1998) Thermostability variation in alleles of barley β-amylase. J Cereal Sci 28:301–309

Erkkilä MJ, Ahokas H (2001) Special barley β-amylase allele in a Finnish landrace line HA52 with high grain enzyme activity. Hereditas 134:91–95

Erkkilä MJ, Leah R, Ahokas H, Cameron-Mills V (1998) Allele-dependent barley grain β-amylase activity. Plant Physiol 117:679–685

Fiume E, Christou P, Giani S, Beviarion D (2004) Introns are key regulatory elements of rice tubulin expression. Planta 218:693–703

Fu D, Szücs P, Yan L, Helguera M, Skinner JS, von Zitzewitz J, Hayes PM, Dubkovskii J (2005) Large deletions within the first intron in VRN-1 are associated with spring growth habit in barley and wheat. Mol Genet Genomics 273:54–65

Gazzani S, Gendali AR, Lister C, Dean C (2003) Analysis of the molecular basis of flowering time variation in Arabidopsis accessions. Plant Physiol 132:1107–1114

Gomez-Cadenas A, Zentella R, Walker-Simmons MK, Ho T-HD (2001) Gibberellin/abscisic acid antagonism in barley aleurone cells: site of action of the protein kinase PKABA1 in relation to gibberellin signaling molecules. Plant Cell 13:667–679

Gubler F, Kalla R, Roberts JK, Jacobsen JV (1995) Giberellin-regulated expression of myb gene in barley aleurone cells: evidence for Myb transactivation of a high-pI alpha-amylase gene promoter. Plant Cell 7:1879–1891

Kaneko T, Kihara M, Ito K (2000) Genetic analysis of β-amylase thermostability to develop a DNA marker for malt fermentability improvement in barley, Hordeum vulgare. Plant Breed 119:197–201

Kapranov P, Routt SM, Bankaitis VA, de Bruiji FJ, Szczyglowski K (2001) Nodule-specific regulation of phosphatidylinositol transfer protein expression in Lotus japonicus. Plant Cell 13:1369–1382

Kreis M, Williamson M, Buxton B, Pywell J, Heigaard J, Svendsen I (1987) Primary structure and differential expression of β-amylase in normal and mutant barleys. Eur J Biochem 169:517–525

Lewin B (2004) Genes VIII. Pearson, Prentice Hall

Lu CA, Ho T-HD, Ho S-L, Yu S-M (2002) Three novel MYB proteins with one DNA binding repeat mediate sugar and hormone regulation of α-amylase gene expression. Plant Cell 14:1963–1980

Ma YF, Evans DE, Logue SJ, Langridge P (2001) Mutations of barley β-amylase that improve substrate-binding affinity and thermostability. Mol Genet Genomics 266:345–352

Malisheva L, Ganal MW, Röder MS (2004) Evaluation of cultivated barley (Hordeum vulgare L.) germplasm for the presence of thermostable alleles of β-amylase. Plant Breed 123:128–131

Michaels SD, He Y, Scortecci KC, Amasino RM (2003) Attenuation of FLOWERING LOCUS C activity as a mechanism for the evolution of summer-annual flowering behaviour in Arabidopsis. Proc Natl Acad Sci USA 100:10102–10107

Paris M, Jones MGK, Eglinton JK (2002) Genotyping single nucleotide polymorphisms for selection of barley β-amylase alleles. Plant Mol Biol Rep 20:149–159

Plaschke J, Ganal MW, Röder MS (1995) Detection of genetic diversity in closely related bread wheat using MS markers. Theor Appl Genet 91:1001–1007

Polakova K, Laurie D, Vaculova K, Ovesna J (2003) Characterization of β-amylase alleles in 79 barley varieties with pyrosequencing. Plant Mol Biol Rep 21:439–447

Sheldon CC, Conn AB, Dennis ES, Peacock WJ (2002) Different regulatory regions are required for the vernalization-induced repression of FLOWERING LOCUS C and for the epigenetic maintenance of repression. Plant Cell 14:2527–2537

Sjakste T, Röder M (2004) Distribution and inheritance of beta-amylase alleles in North European barley varieties. Hereditas 141:39–45

Sjakste TG, Rashal I, Röder MS (2003) Inheritance of microsatellite alleles in pedigrees of Latvian barley varieties and related European ancestors. Theor Appl Genet 106:539–549

Van Wormhoudt A, Sellos D (2003) Highly variable polymorphism of the alpha-amylase gene family in Litopenaeus vannamei (Crustacea Decapoda). J Mol Evol 57:659–761

Wang HY, Lee MM, Schiefelbein JW (2002) Regulation of the cell expansion gene RHD3 during Arabidopsis development. Plant Physiol 129:638–649

Wullmout RL, Rushton PJ, Hooley R, Lazarus CM (1998) DNAase I footprints suggest the involvement of at least three types of transcription factors in the regulation of α-Amy2/A by gibberellin. Plant Mol Biol 38:817–825

Yanhui C, Xiaoyuan Y, Kun H, Meihua L, Jigang L, Zhaofeng G, Zhiqiang L, Yunfei Z, Xiaoxiao W, Xiaoming Q, Yunping S, Li Z, Xiaohui D, Jingchu L, Xing-Wang D, Zhangliang C, Hongya G, Li-Jia Q (2006) The MYB transcription factor superfamily of Arabidopsis: expression analysis and phylogenetic comparison with the rice MYB family. Plant Mol Biol 60:107–124

Yoshigi N, Okada Y, Sahara H, Tamaki T (1995) A structural gene encoding β-amylase of barley. Biosci Biotechnol Biochem 10:1991–1993

Yutzey KE, Kline RL, Konieczny SF (1989) An internal regulatory element controls troponin I gene expression. Mol Cell Biol 9:1397–1405
Acknowledgments
The study was supported by a grant from the Latvian Council of Sciences. Sequencing was performed by the Sequencing Service of the Biomedical Research Centre (Riga). We thank M. Bleidere for explanations on the malting quality of Latvian barley varieties and N. Sjakste for helpful discussion of the manuscript.
About this article
Cite this article
Sjakste, T.G., Zhuk, A.F. Novel haplotype description and structural background of the eventual functional significance of the barley β-amylase gene intron III rearrangements. Theor Appl Genet 113, 1063 (2006). https://doi.org/10.1007/s00122-006-0366-3
Received:

Accepted:

Published:
Keywords
Malting Quality

Eventual Functional Significance

Bmy1 Gene

High Malting Quality

Haplotype Classification