Abstract
Cytoplasmic male sterility (CMS) of rice (Oryza sativa L.) was first reported using the cytoplasm of a Chinese wild rice, Oryza rufipogon Griff. strain W1. However, it was not possible to characterize this ms-CW-type CMS in more detail until a restorer line had been developed due to the lack of restorer genes among cultivars thus far tested. The breeding of a restorer line (W1-R) was eventually achieved by transferring the restorer gene(s) of W1 to a cultivar. We report here the characterization of the ms-CW pollen grains and mapping of the restorer gene for ms-CW-type CMS. Pollen grains of the male-sterile plants appeared to be normal and viable based on the fluorochromatic reaction test, but they did not germinate on normal stigmas. The 1:1 segregation of fertile and sterile plants in a BC1F1 population from a cross between W1-R and a maintainer line demonstrated that fertility restoration is controlled by a single gene. The fertile seed set of all the F2 plants examined indicated that the fertility restoration functions gametophytically. We designated the fertility restorer gene Rfcw. Using cleaved amplified polymorphic sequence (CAPS) and simple sequence repeat (SSR) markers, we localized Rfcw to chromosome 4 with a genetic distance of 0.6 cM from the nearest SSR marker.
This is a preview of subscription content, log in to check access.
Access options
Buy single article
Instant access to the full article PDF.
US$ 39.95
Price includes VAT for USA
Subscribe to journal
Immediate online access to all issues from 2019. Subscription will auto renew annually.
US$ 199
This is the net price. Taxes to be calculated in checkout.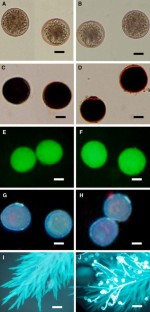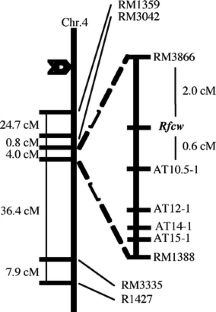 References
Akagi H, Nakamura A, Yokozeki-Misono Y, Inagaki A, Takahashi H, Mori K, Fujimura T (2004) Positional cloning of the rice Rf-1 gene, a restorer of BT-type cytoplasmic male sterility that encodes a mitochondria-targeting PPR protein. Theor Appl Genet 108:1449–1457

Bentolila S, Alfonso AA, Hanson MR (2002) A pentatricopeptide repeat-containing gene restores fertility to cytoplasmic male-sterile plants. Proc Natl Acad Sci USA 99:10887–10892

Brown G, Formanova N, Jin H, Wargachuk R, Dendy C, Patil P, Laforest M, Cheung WY, Landry BS (2003) The radish Rfo restorer gene of Ogura cytoplasmic male sterility encodes a protein with multiple pentatricopeptide repeats. Plant J 35:262–272

Cui X, Wise RP, Schnable PS (1996) The rf2 nuclear restorer gene of male-sterile T-cytoplasm maize. Science 272:1334–1336

Heslop-Harrison J, Heslop-Harrison Y, Shivanna KR (1984) The evaluation of pollen quality, and a further appraisal of the fluorochromatic (FCR) test procedure. Theor Appl Genet 67:367–375

Ishimine Y, Shinjyo C (1978) Distribution of fertility restoring genes in commercial lowland-rice varieties cultivated in Japan for two male sterile cytoplasms of rice. Bull Coll Agr Univ Ryukyus 25:665–672

Katsuo K, Mizushima U (1958) Studies on the cytoplasmic difference among rice varieties, Oryza sativa L. 1. On the fertility of hybrids obtained reciprocally between cultivated and wild varieties. Jpn J Breed 8:1–5

Kazama T, Toriyama K (2003) A pentatricopeptide repeat-containing gene that promotes the processing of aberrant atp6 RNA of cytoplasmic male-sterile rice. FEBS Lett 544:99–102

Kinoshita T (1984) Gene analysis and linkage map. In: Tsunoda S, Takahashi N (eds) Biology of rice. Japan Sci Soc Press, Tokyo, pp 184–274

Koizuka N, Imai R, Fujimoto H, Hayakawa T, Kimura Y, Kohno-Murase J, Sakai T, Kawasaki S, Imamura J (2003) Genetic characterization of pentatricopeptide repeat protein gene, orf687, that restores fertility in the cytoplasmic male-sterile Kosena radish. Plant J 34:407–415

Komori T, Yamamoto T, Takemori N, Kashihara M, Matsushima H, Nitta N (2004) Map-based cloning of a fertility restorer gene, Rf-1, in rice (Oryza sativa L.). Plant J 37:315–325

Lin SC, Yuan LP (1980) Hybrid rice breeding in China. In: IRRI (eds) Innovative approaches to rice breeding. IRRI, Manila, Philippines, pp 35–51

Lincoln S, Daly M, Lander E (1992) Constructing genetic maps with mapmaker/exp. 3.0. Whitehead Institute Technical Report 3rd edn. Whitehead Institute for Biochemical Research, MA

Liu X-Q, Xu X, Tan Y-P, Li S-Q, Hu J, Huang J-Y, Yang D-C, Li Y-S, Zhu Y-G (2004) Inheritance and molecular mapping of two fertility-restoring loci for Honglian gametophytic cytoplasmic male sterility in rice (Oryza sativa L.). Mol Genet Genomics 276:586–594

Lurin C, Andres C, Aubourg S, Bellaoui M, Bitton F, Bruyere C, Caboche M, Debast C, Gualberto J, Hoffman B, Lecharny A, Le Ret M, Martin-Magniette M-L, Mireau H, Peeters N, Renou J-P, Szurek B, Taconnat L, Small I (2004) Genome-wide analysis of Arabidopsis pentatricopeptide repeat proteins reveals their essential role in organelle biogenesis. Plant Cell 16:2089–2103

McCouch SR, Teytelman L, Xu Y, Lobos KB, Clare K, Walton M, Fu B, Maghirang R, Li Z, Xing Y, Zhang Q, Kono I, Yano M, Fjellstrom R, Declerck G, Schneider D, Cartinhour S, Ware D, Stein L (2002) Development and mapping of 2240 new SSR markers for rice (Oryza sativa L.). DNA Res 9:199–207

Rao YS (1988) Cytohistology of cytoplasmic male sterile lines in hybrid rice. In: Smith WH, Bostian LR, Cervantes (eds) Hybrid rice. IRRI, Manila, Philippines, pp 115–128

Sasahara T, Katsuo K (1965) Studies on the cytoplasmic difference among rice varieties, Oryza sativa L. III. On the abortive pollen of Fujisaka No. 5-type plants with the cytoplasm of Chinese wild variety, Oryza sativa f. spontanea. (with English summary, p 196) Jpn J Breed 15:43–48

Sato Y, Okamoto S, Nishio T (2004) Diversification and alteration of recognition specificity of the pollen ligand SP11/SCR in self-incompatibility of Brassica and Raphanus. Plant Cell 16:3230–3241

Shinjyo C (1969) Cytoplasmic-genetic male sterility in cultivated rice, Oryza sativa L. II. The inheritance of male sterility. Jpn J Genet 44:149–156

Shinjyo C (1975) Genetical studies of cytoplasmic male sterility and fertility restoration in rice, Oryza sativa L. Sci Bull Coll Agr Univ Ryukyus 22:1–57

Shinjyo C, Sato S (1994) Chromosomal location of fertility-restoring gene Rf2. Rice Genet Newsl 11:93–95

Shirasawa K, Kishitani S, Nishio T (2004) Conversion of AFLP markers to sequence-specific markers for closely related lines in rice by use of the rice genome sequence. Mol Breed 14:283–292

Small ID, Peeters N (2000) The PPR motif—a TPR-related motif prevalent in plant organellar proteins. Trends Biochem Sci 25:46–47

Tan XL, Tan YL, Zhao TH, Zhang XM, Hong RK, Jin SL, Liu XR, Huang DJ (2004) Identification of the Rf gene conferring fertility restoration of the CMS Dian-type 1 in rice by using simple sequence repeat markers and advanced inbred lines of restorer and maintainer. Plant Breed 123:338–341

Toriyama K, Hinata K (1987) Anther culture application to breeding of a restorer for a male-sterile cytoplasm of wild rice (ms-CW). Jpn J Breed 37:469–473

Watanabe Y (1971) Establishment of cytoplasmic and genetic male-sterile lines by means of Indica-Japonica cross. Oryza Cuttack 8[Suppl 2]:9–16

Yao FY, Xu CG, Yu SB, Li JX, Gao YJ, Li XH, Zhang Q (1997) Mapping and genetic analysis of two fertility restorer loci in wild-abortive cytoplasmic male sterility system of rice. Euphytica 98:183–187

Zhang G, Bharaji TS, Lu Y, Virmani SS, Huang N (1997) Mapping of the Rf-3 nuclear fertility-restoring gene for WA cytoplasmic male sterility in rice using RAPD and RFLP markers. Theor Appl Genet 94:27–33
Acknowledgements
This study was partially supported by a grant for "Functional analysis of genes relevant to agriculturally important traits in rice genome" from the Ministry of Agriculture, Forestry and Fisheries, Japan, and by a Grant-in-Aid from the Ministry of Education, Science and Culture, Japan.
Additional information
Communicated by T. Sasaki
About this article
Cite this article
Fujii, S., Toriyama, K. Molecular mapping of the fertility restorer gene for ms-CW-type cytoplasmic male sterility of rice. Theor Appl Genet 111, 696–701 (2005). https://doi.org/10.1007/s00122-005-2054-0
Received:

Accepted:

Published:

Issue Date:
Keywords
Simple Sequence Repeat Marker

Cytoplasmic Male Sterility

Cleave Amplify Polymorphic Sequence

Fertility Restoration

Restorer Line