Abstract
The tri-genomic hybrid (ABC, 2n=27) between Brassica carinata (BBCC, 2n=34) and B. rapa (AA, 2n=20) is a unique material for studying genome relationships among Brassica species and a valuable bridge for transferring desirable characteristics from one species to the other within the genus Brassica. The crossability between B. carinata and B. rapa was varied with the cultivar of B. rapa. Hybrid pollen mother cells (PMCs), confirmed by morphological observation and molecular marker assay, could be grouped into 20 classes on the basis of chromosome pairing configurations. More than 30% of the PMCs had nine or more bivalents. Genomic in situ hybridization confirmed that two of the bivalents most likely belonged to the B genome. Nearly one-half of the PMCs had trivalents (0–2) and quadrivalents (0–2), which revealed partial homology among the A, B, and C genomes and suggested that there is a good possibility to transfer genes by means of recombination among the three genomes. The advantages of using the tri-genomic hybrids as bridge material for breeding new types of B. napus are discussed.
This is a preview of subscription content, log in to check access.
Access options
Buy single article
Instant access to the full article PDF.
US$ 39.95
Price includes VAT for USA
Subscribe to journal
Immediate online access to all issues from 2019. Subscription will auto renew annually.
US$ 199
This is the net price. Taxes to be calculated in checkout.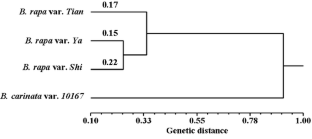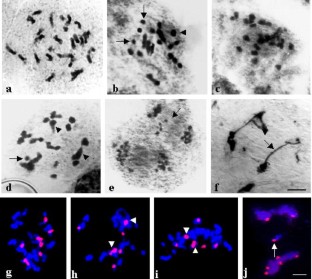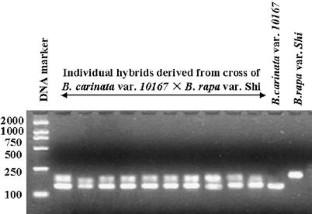 References
Alonso LC, Fernandez Serrano O, Fernandez-Escobar J (1991) The outset of a new oilseed crop: Brassica carinata with a low erucic acid content. In: McGregor DI (ed) Proc 8th Int Rapeseed Congr. University Extension Press, Saskatoon, pp 659–664

Attia T, Röbbelen G (1986) Cytogenetic relationship within cultivated Brassica analyzed in amphihaploids from the three diploid ancestors. Can J Genet Cytol 28:323–329

Bing DJ, Downey RK, Rakow GF (1991) Potential of gene transfer among oilseed Brassica and their weedy relatives. In: Proc GCIRC Rapeseed Congr. Cambridge, UK, pp 1022–1027

Choudhary BR, Joshi P, Ramarao S (2000) Interspecific hybridization between Brassica carinata and Brassica rapa. Plant Breed 119:417–420

Dumas C, Knox RB (1983) Callose and determination of pistil viability and incompatibility. Theor Appl Genet 67:1–10

Gómez-Campo C, Prakash S (1999) Origin and domestication. In: Gómez-Campo C (ed) Biology of Brassica goenospecies. Elsevier, Amsterdam, pp 33–58

Harlan JR, de Wet JMJ (1971) Toward a rational classification of cultivated plants. Taxon 20:509–517

Horn P, Rafalski A (1992) Non-destructive RAPD genetic diagnostics of microspore-derived Brassica embryos. Plant Mol Biol Rep 10:285–293

Inomata N (1997) Wide hybridization and meiotic pairing. In: Kalia HR, Gupta SK (eds) Recent advances in oilseed Brassicas. Kalyani Publ, Ludhiana, pp 53–57

Kumar A, Singh P, Singh DP, Singh H, Sharma HC (1984) Differences in osmoregulation in Brassica species. Ann Bot 54:537–541

Li Z, Heneen WK (1999) Production and cytogenetics of intergeneric hybrids between the three cultivated Brassica diploids and Orychophragmus violaceus. Theor Appl Genet 99:694–704

Li M, Cai D, Huang L (2001) Studies of the meiosis of 2n gamete apomictic wheat grass (Elymus rectisetus). Acta Genet Sin 28:939–946

Li M, Qian W, Meng J, Li Z (2004) Construction of novel Brassica napus genotypes through chromosomal substitution and elimination using interploid species hybridization. Chromosome Res 12:417–426

Li Z, Li M, Huang R, Wu X, Song Y (2002) Genomic in situ hybridization (GISH) discriminates the A, B and C genomes in Brassica allotetraploid species. Chin J Oil Crop Sci 24:10–14

Liu H (2000) Genetics and breeding in Rapeseed. Chinese Agricultural University Press, Beijing, pp 82–177

Malik RS (1990) Prospects for Brassica carinata as an oilseed crop in India. Exp Agric 26:125–129

Manton I (1932) Introduction to the general cytology of the Cruciferae. Ann Bot 46:509–556

Mizushima U (1950) Karyogenetic studies of species and genus hybrids in the tribe Brassiceae of C ruciferae. Tohoku J Agric Res 1:1–14

Monteiro A, Gabelman WH, Williams PH (1988) Use of sodium chloride solution to overcome self-incompatibility in Brassica campestris. Hortic Sci 23:876–877

Palmer JD, Herbon LA (1988) Plant mitochondrial DNA evolves rapidly in structure, but slowly in sequence. J Mol Evol 28:87–97

Prakash S (1973) Haploidy in Brassica nigra Koch. Euphytica 22:613–614

Prakash S, Hinata K (1980) Taxonomy, cytogenetics and origin of crop brassicas, a view. Opera Bot 55:1–57

Prakash S, Takahata Y, Kirti PB, Chopra V (1999) Cytogenetics. In: Gomez-Campo C (ed) Biology of Brassica coenospecies. Elsevier, Amsterdam, pp 59–106

Ren JP, Dickson MH, Earle ED (2000) Improved resistance to bacterial soft rot by protoplast fusion between Brassica rapa and B. oleracea. Theor Appl Genet 100:810–819

Snowdon RJ, Köhler W, Friedt W, Köhler A (1997) Genomic in situ hybridization in Brassica amphidiploids and interspecific hybrids. Theor Appl Genet 95:1320–1324

Vos P, Hogers R, Bleeker M, Reijans M, van de Lee T, Hornes M, Frijters A, Pot J, Peleman J, Kuiper M (1995) AFLP: a new technique for DNA fingerprinting. Nucleic Acids Res 23:4407–4414

Warwick SI, Black LD (1991) Molecular systematics of Brassica and allied genera (subtribe Brassicinae, Brassiceae) chloroplast genome and cytodeme congruence. Theor Appl Genet 82:81–92

Zhao J, Meng J (2003) Genetic analysis of loci associated with partial resistance to Sclerotinia sclerotiorum in rapeseed (Brassica napus L). Theor Appl Genet 106:759–764
Acknowledgements
The authors are grateful to Dr. Lu Gan for reading through the manuscript. The study was supported by High Project of Science and Technology in China (863), the Opening Foundation of National Key Lab of Crop Improvement of Huazhong Agricultural University, and the Personal Foundation of Huazhong University of Science and Technology.
Additional information
Communicated by H.C. Becker
About this article
Cite this article
Li, M.T., Li, Z.Y., Zhang, C.Y. et al. Reproduction and cytogenetic characterization of interspecific hybrids derived from crosses between Brassica carinata and B. rapa. Theor Appl Genet 110, 1284–1289 (2005). https://doi.org/10.1007/s00122-005-1965-0
Received:

Accepted:

Published:

Issue Date:
Keywords
Amplify Fragment Length Polymorphism

Hybrid Plant

Amplify Fragment Length Polymorphism Marker

Pollen Mother Cell

Brassica Species