Abstract
Two populations of single chromosome recombinant lines were used to map genes controlling flowering time on chromosome 5B of wheat, and one of the populations was also used to map a new frost resistance gene. Genetic maps were developed, mainly using microsatellite markers, and QTL analysis was applied to phenotypic data on the performance of each population collected from growth-room tests of flowering time and frost tolerance. Using a recombinant substitution-line mapping population derived from a cross between the substitution-line 'Chinese Spring' ('Cheyenne' 5B) and 'Chinese Spring' (CS), the gene Vrn-B1, affecting vernalization response, an earliness per se locus, Eps-5BL1, and a gene, Fr-B1, affecting frost resistance, were mapped. Using a 'Hobbit Sib' ('Chinese Spring' 5BL) × 'Hobbit Sib' recombinant substitution line mapping population, an earliness per se locus, Eps-5BL2 was mapped. The Vrn-B1 locus was mapped on the distal portion of the long arm of chromosome 5B, to a region syntenous with the segments of chromosomes 5A and 5D containing Vrn-A1 and Vrn-D1 loci, respectively. The two Eps-5BL loci were mapped close to the centromere with a 16-cM distance from each other, one in agreement with the position of a homoeologous locus previously mapped on chromosome 5H of barley, and suggested by the response of 'Chinese Spring' deletion lines. The Fr-B1 gene was mapped on the long arm of chromosome 5B, 40 cM from the centromeric marker. Previous comparative mapping data with rice chromosome 9 would suggest that this gene could be orthologous to the other Fr genes mapped previously by us on chromosomes 5A or 5D of wheat, although in a more proximal position. This study completes the mapping of these homoeoallelic series of vernalization requirement genes and frost resistance genes on the chromosomes of the homoeologous group 5 in wheat.
This is a preview of subscription content, log in to check access.
Access options
Buy single article
Instant access to the full article PDF.
US$ 39.95
Price includes VAT for USA
Subscribe to journal
Immediate online access to all issues from 2019. Subscription will auto renew annually.
US$ 199
This is the net price. Taxes to be calculated in checkout.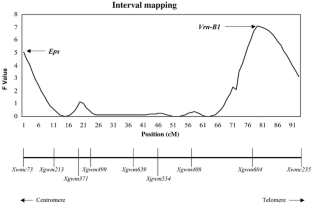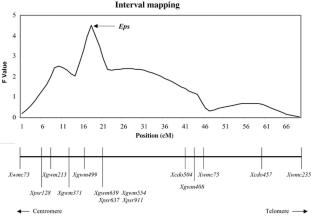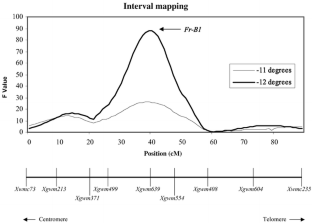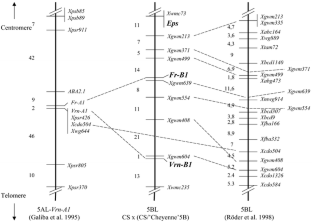 References
Cattivelli L, Baldi P, Crosatti C, Di Fonzo N, Faccioli P, Grossi M, Mastrangelo AM, Pecchioni N, Stanca AM (2002) Chromosome regions and stress-related sequences involved in resistance to abiotic stress in Triticae. Plant Mol Biol 48:649–665

Galiba G, Sutka J (1988) A genetic study of frost resistance in wheat callus culture. Plant Breed 101:132–136

Galiba G, Quarrie SA, Sutka J, Morgounov A, Snape JW (1995) RFLP mapping of the vernalization (Vrn1) and frost resistance (Fr1) genes on chromosome 5A of wheat. Theor Appl Genet 90:1174–1179

Haley CS, Knott SA (1992) A simple regression method for mapping quantitative trait loci in line crosses with flanking markers. Heredity 69:315–324

Hayes PM, Blake T, Chen THH, Tragoonrung S, Chen F, Pan A, Liu B (1993) Quantitative trait loci on barley (Hordeum vulgare L.) chromosome-7 associated with components of winter hardiness. Genome 36:66–71

Jansen RC, Stam P (1994) High resolution of quantitative traits into multiple loci via interval mapping. Genetics 136:1447

Kearsey MJ, Hyne V (1994) QTL anaysis: a simple marker regression approach. Theor Appl Genet 89:698–702

Korzun V, Roder MS, Wendehake K, Pasqualone A, Lotti C, Ganal MW, Blanco A (1999) Integration of dinucleotide microsatellites from hexaploid bread wheat into a genetic linkage map of durum wheat. Theor Appl Genet 98:1202–1207

Kosambi DD (1944) The estimation of map distances from recombination values. Ann Eugen 12:172–175

Laurie DA, Pratchett N, Bezant J, Snape JW (1995) RFLP mapping of five major genes and eight quantitative trait loci controlling flowering time in winter × spring barley (Hordeum vulgare L.) cross. Genome 38:575–585

Law CN, Jenkins G (1970) A genetic study of cold resistance in wheat. Genet Res 15:197–208

McIntosh RA, Hart GE, Devos KM, Gale MD, Rogers WJ (1998) In: Sünkard AE (ed) Catalogue of gene symbols for wheat. Proc 9th Int Wheat Genet Symp, Saskatoon, Saskatchewan, Canada, University Extension Press, University of Saskatchewan, pp 1–235

Plaschke J, Korzun V, Koebner RMD, Schlegel R, Gale MD (1993) RFLP mapping of genes affecting plant height and growth habit in rye. Theor Appl Genet 85:1049–1054

Puchkov YM, Zhirov EG (1978) Breeding of common wheat varieties with a high frost resistance and genetic aspects of it. World Sci News India 15:17–22

Roberts DWA (1986) Chromosomes in 'Cadet' and 'Rescue' wheats carrying loci for cold hardiness, and vernalization response. Can J Genet Cytol 28:991–997

Röder MS, Korzun V, Wendehake K, Plaschke J, Tixier MH, Leroy P, Ganal MW (1998) A microsatellite map of wheat. Genetics 149:2007–2023

Sarma RN, Fish L, Gill BS, Snape JW (2000) Physical characterization of the homoeologous group-5 chromosomes of wheat in terms of rice linkage blocks, and physical mapping of some important genes. Genome 43:191–198

Shah MM, Gill KS, Baenziger PS, Yen Y, Kaeppler SM, Ariyarathne HM (1999) Molecular mapping of loci for agronomic traits on chromosome 3A of bread wheat. Crop Sci 39:1728–1732

Snape JW, Semikhodskii A, Fish L, Sarma RN, Quarrie SA, Galiba G, Sutka J (1997) Mapping frost resistance loci in wheat and comparative mapping with other cereals. Acta Agron Hungary 45:265–270

Snape JW, Butterworth K, Whitechurch E, Worland AJ (2001) Waiting for fine times: genetics of flowering time in wheat. Euphytica 119:185–190

Stam P (1993) Construction of integrated genetic linkage maps by means of a new computer package: JoinMap. Plant J 5:739–744

Sutka J (1981) Genetic studies of frost resistance in wheat. Theor Appl Genet 59:145–152

Sutka J, Galiba G, Vagujfalvi A, Gill BS, Snape JW (1999) Physical mapping of the Vrn-A1 and Fr1 genes on chromosome 5A using deletion lines. Theor Appl Genet 99:199–202

Veisz O, Sutka J (1989) The relationships of hardening period and expression of frost resistance in chromosome substitution lines of wheat. Euphytica 43:41–45

Zhang W, Zheng Y, Foote T, Doldersum J, Dunford R, Fish L, Wang Y, Moore G, Snape J (1998) Mapping key genes on chromosome 5B of wheat. John Innes Centre and Sainsbury Centre Annual Report 1997/98
Acknowledgements
We especially thank L. Fish for her help in the flowering time experiments and V. Verma for his technical advice. This work was carried out using a Marie Curie Training Site Fellowship (HPMT-CT-2000-00033). This research was also supported by grants from the Hungarian National Research Found (Nos. T034277 and T030027); from the National Comittee for Technological Development 'Biotechnology 2000' (No. 02579/2000), and the UK Biotechnology and Biological Sciences Research Council.
About this article
Cite this article
Tóth, B., Galiba, G., Fehér, E. et al. Mapping genes affecting flowering time and frost resistance on chromosome 5B of wheat. Theor Appl Genet 107, 509–514 (2003). https://doi.org/10.1007/s00122-003-1275-3
Received:

Accepted:

Published:

Issue Date:
Keywords
Wheat

Vernalization response

Frost resistance

Microsatellites

Flowering time