Zusammenfassung
Hintergrund
Die Informationen aus pathologischen Befundberichten zu Prostatastanzbiopsien stellen im Management des Prostatakarzinoms einen essentiellen Bestandteil für die Risikostratifizierung dar. Durch zusätzliche Parameter ist der Informationsgehalt der Befunde zunehmend komplexer geworden.
Ziel der Arbeit
Mit Hilfe einer repräsentativen Umfrage zu pathologischen Befundberichten von Prostatastanzbiopsien sollte ermittelt werden, wie diese von Urologen interpretiert und für Therapieentscheidungen berücksichtigt werden.
Material und Methoden
Über den Berufsverband der Deutschen Urologen e. V. (BDU) wurde ein Fragebogen zu Prostatastanzbiopsiebefunden an seine niedergelassenen Mitglieder verschickt. Bei Abschluss der Studie lagen 109 Antworten, davon 106 auswertbare Fragebögen, vor.
Ergebnisse
Die Anzahl positiver Stanzen und der prozentuale Tumoranteil werden hinsichtlich der Tumorausdehnung für die Risikostratifizierung als relevanteste Angaben angesehen. Bei mp(multiparametrischen)MRT-Fusionsstanzen wird eine separate Angabe zur Anzahl positiver Stanzen innerhalb des Standardschemas und der mpMRT-positiven Foci bevorzugt. Am häufigsten wird die Stanze mit dem höchsten Gleason-Score berücksichtigt, wobei dem prozentualen Gleason-4-Muster auch eine wichtige Bedeutung zukommt. Etwa die Hälfte der Befragten wünscht sich auch die Angabe der neuen "grade groups" nach ISUP/WHO (International Society of Urological Pathology/World Health Organization). Als weitere gewünschte Parameter werden u. a. der Ki67-Proliferationsindex, der PSMA("prostate-specific membrane antigen")-Status sowie Angaben zu intraduktalen oder neuroendokrinen Tumorkomponenten aufgeführt.
Diskussion
Für die Angaben histopathologischer Parameter im Befundbericht von Prostatastanzbiopsien existiert kein einheitlicher Standard und bei der Interpretation gibt es eine Variabilität. Weitere Studien und eine klare Aussage seitens der Leitlinien werden nötig sein, um ein einheitliches Diagnose‑/Prognoseschema zu etablieren.
Abstract
Background
The prostate biopsy report is key for risk stratification of prostate cancer patients and subsequent therapeutic decision-making. However, due to the inclusion of a multitude of additional parameters its interpretation is becoming more challenging.
Objectives
We aimed to determine how urologists currently interpret prostate biopsy reports, in particular how they consider different histopathological parameters for therapy decision-making.
Materials and methods
A survey was sent to all urology practices in Germany with the help of the BDU (Berufsverband der Deutschen Urologen e. V.). In total, there were 106 complete responses that could be included for further analyses.
Results
Most urologists consider the number of positive cores and relative tumor burden (%) per core as crucial for the assessment of tumor extension. In case of targeted biopsies, the majority of urologists prefers a separate statement of positive cores per random biopsy scheme and per region of interest, respectively. The core with the highest Gleason score is mostly the basis for therapy decision-making (versus the overall Gleason score). Proportion of Gleason 4 pattern also seems to be critical for prostate cancer management. Only half of the urologists demand reporting of the new ISUP/WHO (International Society of Urological Pathology/World Health Organization) grade groups. Additional parameters claimed are Ki67, prostate-specific membrane antigen status, presence of intraductal or neuroendocrine component of the tumor.
Conclusions
Our survey shows that there is no standardized reporting for prostate biopsies and that the interpretation of prostate biopsy reports varies among urologists. Further studies and guideline recommendations are necessary to establish a standardized reporting scheme for prostate biopsies.
This is a preview of subscription content, log in to check access.
Access options
Buy single article
Instant access to the full article PDF.
US$ 39.95
Price includes VAT for USA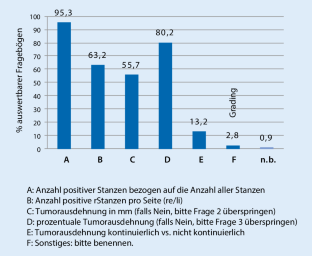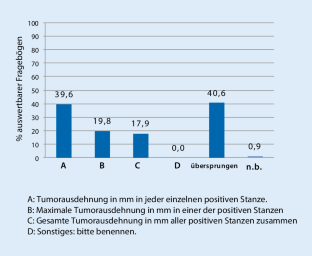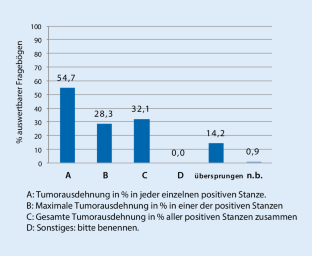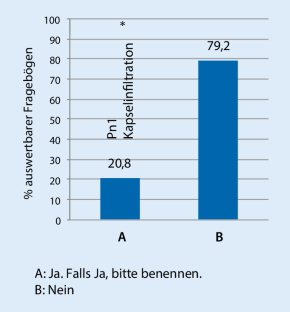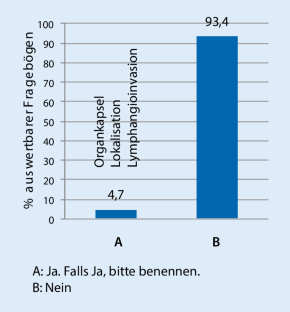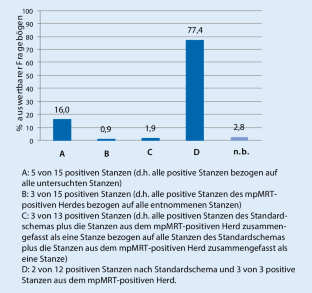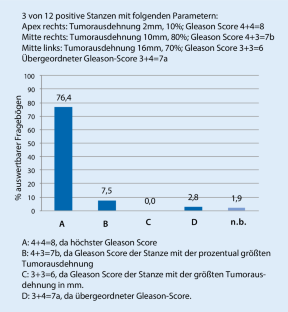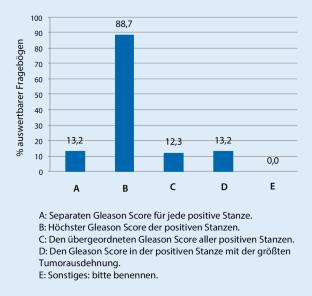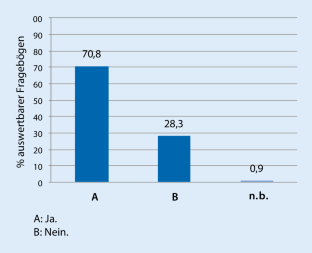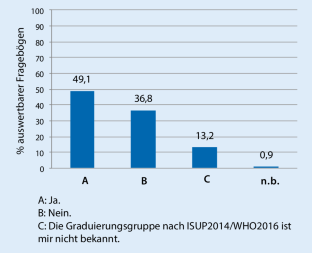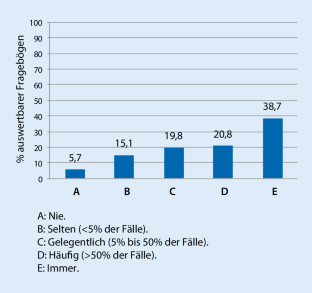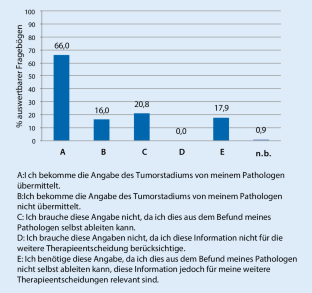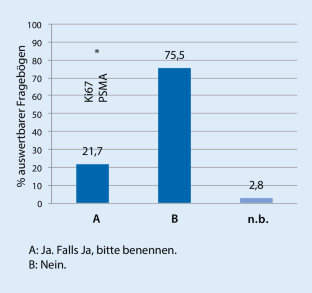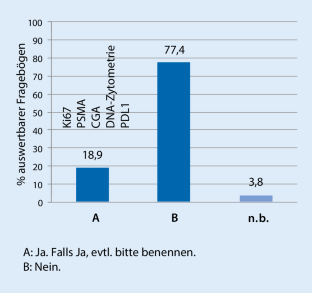 Literatur
1.

Kane CJ, Eggener SE, Shindel AW, Andriole GL (2017) Variability in outcomes for patients with intermediate-risk prostate cancer (Gleason score 7, international society of urological pathology Gleason group 2–3) and implications for risk stratification: a systematic review. Eur Urol Focus 3(4–5):487–497

2.

Litwin MS, Tan HJ (2017) The diagnosis and treatment of prostate cancer: a review. JAMA 317(24):2532–2542

3.

Mottet N, Bellmunt J, Bolla M, Briers E, Cumberbatch MG, De Santis M et al (2017) EAU-ESTRO-SIOG guidelines on prostate cancer. Part 1: screening, diagnosis, and local treatment with curative intent. Eur Urol 71(4):618–629

4.

Egevad L, Delahunt B, Kristiansen G, Samaratunga H, Varma M (2018) Contemporary prognostic indicators for prostate cancer incorporating International Society of Urological Pathology recommendations. Pathology 50(1):60–73

5.

Epstein JI, Amin MB, Reuter VE, Humphrey PA (2017) Contemporary Gleason grading of prostatic carcinoma: an update with discussion on practical issues to implement the 2014 international society of urological pathology (ISUP) consensus conference on Gleason grading of prostatic carcinoma. Am J Surg Pathol 41(4):e1–e7

6.

Ross AE, D'Amico AV, Freedland SJ (2016) Which, when and why? Rational use of tissue-based molecular testing in localized prostate cancer. Prostate Cancer Prostatic Dis 19(1):1–6

7.

Berlin A, Castro-Mesta JF, Rodriguez-Romo L, Hernandez-Barajas D, Gonzalez-Guerrero JF, Rodriguez-Fernandez IA et al (2017) Prognostic role of Ki-67 score in localized prostate cancer: a systematic review and meta-analysis. Urol Oncol 35(8):499–506

8.

Leapman MS, Nguyen HG, Cowan JE, Xue L, Stohr B, Simko J et al (2018) Comparing prognostic utility of a single-marker Immunohistochemistry approach with commercial gene expression profiling following radical prostatectomy. Eur Urol 74(5):668–675

9.

Koo KM, Mainwaring PN, Tomlins SA, Trau M (2019) Merging new-age biomarkers and nanodiagnostics for precision prostate cancer management. Nat Rev Urol 16(5):302–317

10.

Seitz AK, Heck MM, Kamer MW, Grullich C (2019) Molecular tumor board prostate cancer. Urologe A 58(7):752–759

11.

Amin MB, Lin DW, Gore JL, Srigley JR, Samaratunga H, Egevad L et al (2014) The critical role of the pathologist in determining eligibility for active surveillance as a management option in patients with prostate cancer: consensus statement with recommendations supported by the College of American Pathologists, International Society of Urological Pathology, Association of Directors of Anatomic and Surgical Pathology, the New Zealand Society of Pathologists, and the Prostate Cancer Foundation. Arch Pathol Lab Med 138(10):1387–1405

12.

Montironi R, Hammond EH, Lin DW, Gore JL, Srigley JR, Samaratunga H et al (2014) Consensus statement with recommendations on active surveillance inclusion criteria and definition of progression in men with localized prostate cancer: the critical role of the pathologist. Virchows Arch 465(6):623–628

13.

Faisal FA, Tosoian JJ, Han M, Macura KJ, Pavlovich CP, Lotan TL (2019) Clinical, pathological and oncologic findings of radical prostatectomy with extraprostatic extension diagnosed on preoperative prostate biopsy. J Urol 201(5):937–942

14.

Huber F, Montani M, Sulser T, Jaggi R, Wild P, Moch H et al (2015) Comprehensive validation of published immunohistochemical prognostic biomarkers of prostate cancer—what has gone wrong? A blueprint for the way forward in biomarker studies. Br J Cancer 112(1):140–148

15.

Lewis JS Jr., Vollmer RT, Humphrey PA (2002) Carcinoma extent in prostate needle biopsy tissue in the prediction of whole gland tumor volume in a screening population. Am J Clin Pathol 118(3):442–450

16.

Epstein JI (2011) Prognostic significance of tumor volume in radical prostatectomy and needle biopsy specimens. J Urol 186(3):790–797

17.

Kunz GM Jr., Epstein JI (2003) Should each core with prostate cancer be assigned a separate gleason score? Hum Pathol 34(9):911–914

18.

Poulos CK, Daggy JK, Cheng L (2005) Preoperative prediction of Gleason grade in radical prostatectomy specimens: the influence of different Gleason grades from multiple positive biopsy sites. Mod Pathol 18(2):228–234

19.

Kunju LP, Daignault S, Wei JT, Shah RB (2009) Multiple prostate cancer cores with different Gleason grades submitted in the same specimen container without specific site designation: should each core be assigned an individual Gleason score? Hum Pathol 40(4):558–564

20.

Tolonen TT, Kujala PM, Tammela TL, Tuominen VJ, Isola JJ, Visakorpi T (2011) Overall and worst gleason scores are equally good predictors of prostate cancer progression. BMC Urol 11:21

21.

Moch H, Humphrey PA, Ulbright TM, Reuter V (2016) WHO classification of tumours of the urinary system and male genital organs. International Agency for Research on Cancer, Lyon

22.

Akademie der Deutschen Urologen der Deutschen Gesellschaft für Urologie e.V. (2020) Information für Urologen. https://www.entscheidungshilfe-prostatakrebs.info/information-fuer-urologen/. Zugegriffen: 18.11.2019

23.

Lovf M, Zhao S, Axcrona U, Johannessen B, Bakken AC, Carm KT et al (2019) Multifocal primary prostate cancer exhibits high degree of genomic heterogeneity. Eur Urol 75(3):498–505

24.

Hupe MC, Offermann A, Sailer V, Merseburger AS, Perner S (2019) Status quo 5 years after the introduction of the new ISUP 2014/WHO 2016 prostate cancer grade groups. Aktuelle Urol 50:619–624

25.

Xian P, Ge D, Wu VJ, Patel A, Tang WW, Wu X et al (2019) PD-L1 instead of PD‑1 status is associated with the clinical features in human primary prostate tumors. Am J Clin Exp Urol 7(3):159–169

26.

Petitprez F, Fossati N, Vano Y, Freschi M, Becht E, Lucianò R et al (2019) PD-L1 expression and CD8+ T‑cell infiltrate are associated with clinical progression in patients with node-positive prostate cancer. Eur Urol Focus 5(2):192–196

27.

Bubendorf L, Sauter G, Moch H, Schmid HP, Gasser TC, Jordan P et al (1996) Ki67 labelling index: an independent predictor of progression in prostate cancer treated by radical prostatectomy. J Pathol 178(4):437–441

28.

Cowen D, Troncoso P, Khoo VS, Zagars GK, von Eschenbach AC, Meistrich ML et al (2002) Ki-67 staining is an independent correlate of biochemical failure in prostate cancer treated with radiotherapy. Clin Cancer Res 8(5):1148–1154

29.

Pollack A, DeSilvio M, Khor LY, Li R, Al-Saleem TI, Hammond ME et al (2004) Ki-67 staining is a strong predictor of distant metastasis and mortality for men with prostate cancer treated with radiotherapy plus androgen deprivation: Radiation Therapy Oncology Group Trial 92-02. J Clin Oncol 22(11):2133–2140

30.

Rubio J, Ramos D, Lopez-Guerrero JA, Iborra I, Collado A, Solsona E et al (2005) Immunohistochemical expression of Ki-67 antigen, cox‑2 and Bax/Bcl‑2 in prostate cancer; prognostic value in biopsies and radical prostatectomy specimens. Eur Urol 48(5):745–751

31.

Kristiansen G (2012) Diagnostic and prognostic molecular biomarkers for prostate cancer. Histopathology 60(1):125–141

32.

Perner S, Hofer MD, Kim R, Shah RB, Li H, Moller P et al (2007) Prostate-specific membrane antigen expression as a predictor of prostate cancer progression. Hum Pathol 38(5):696–701

33.

Minner S, Wittmer C, Graefen M, Salomon G, Steuber T, Haese A et al (2011) High level PSMA expression is associated with early PSA recurrence in surgically treated prostate cancer. Prostate 71(3):281–288

34.

Hupe MC, Philippi C, Roth D, Kumpers C, Ribbat-Idel J, Becker F et al (2018) Expression of prostate-specific membrane antigen (PSMA) on biopsies is an independent risk Stratifier of prostate cancer patients at time of initial diagnosis. Front Oncol 8:623

35.

Varma M, Narahari K, Mason M, Oxley JD, Berney DM (2018) Contemporary prostate biopsy reporting: insights from a survey of clinicians' use of pathology data. J Clin Pathol 71(10):874–878
Danksagung
Wir danken dem Berufsverband der Deutschen Urologen e. V. (BDU) für die Mithilfe bei der Verteilung unserer Umfrage an die Mitglieder. Insbesondere danken wir hier der Geschäftsstelle und dem Referat für Öffentlichkeitsarbeit und Kommunikation.
Förderung
AO und MCH werden durch eine Juniorförderung der Universität zu Lübeck und VJ durch ein Doktorandenstipendium der Universität zu Lübeck finanziell gefördert.
Ethics declarations
Interessenkonflikt
A. Offermann, M.C. Hupe, V. Joerg, V. Sailer, M.W. Kramer, A.S. Merseburger, L. Tharun und S. Perner geben an, dass kein Interessenkonflikt besteht.
Für diesen Beitrag wurden von den Autoren keine Studien an Menschen oder Tieren durchgeführt. Für die aufgeführten Studien gelten die jeweils dort angegebenen ethischen Richtlinien.
Additional information
Die Autoren A. Offermann und M.C. Hupe haben zu gleichen Teilen zum Manuskript beigetragen.
About this article
Cite this article
Offermann, A., Hupe, M.C., Joerg, V. et al. Befundbericht zu Prostatastanzbiopsien – was Pathologen liefern und Urologen wollen. Urologe (2020). https://doi.org/10.1007/s00120-020-01121-z
Schlüsselwörter
Prostatakarzinom

Umfrage

Pathologischer Befund

Prostatabiopsie

Prognose
Keywords
Prostate cancer

Practice pattern

Pathological report

Prostate needle biopsy

Prognosis