Zusammenfassung
Hintergrund
Bei diskret steigender Inzidenz des Peniskarzinoms und gestiegener Lebenserwartung fordern die aktuellen internationalen Leitlinien ein möglichst organerhaltenes operatives Vorgehen mit reduziertem Sicherheitsabstand.
Fragestellung
Die aktuelle Datenlage zur Methodik verschiedener stadienabhängiger rekonstruktiver Operationstechniken sowie zu den postoperativen Ergebnissen soll zusammenfassend dargestellt werden.
Material und Methode
Der Auswertung liegen die Ergebnisse von 5 kürzlich publizierten internationalen Reviews zugrunde. Daneben wurden weitere Studien und Publikationen zu den einzelnen Operationstechniken in die Auswertung mit einbezogen.
Ergebnisse
Die Evidenz der zur Verfügung stehenden Datenlage ist aufgrund der Seltenheit des Peniskarzinoms sowie aufgrund des Fehlens vergleichender prospektiver Studien niedrig anzusetzen.
Schlussfolgerung
Organerhaltende Techniken führen beim Peniskarzinom zu diskret erhöhten lokalen Rezidivraten, so dass bei Anwendung dieser Operationsmethoden eine gute Compliance der Patienten und eine intensive Nachsorge auch über den üblichen 5‑Jahres-Zeitraum hinaus zu fordern ist. Dafür ermöglichen die organerhaltenden Operationsmethoden die Aufrechterhaltung der Kohabitationsfähigkeit sowie ein verbessertes kosmetisches Ergebnis. Nach tiefer Penisteilamputation oder Penektomie ist in Kooperation mit mikrochirurgisch versierten plastischen Chirurgen eine penile Rekonstruktion aus radialen Unterarmlappen mit späterer prothetischer Versorgung möglich, auch wenn die bisher publizierten Fallzahlen noch keine Standardisierung der Operationstechnik erlauben.
Abstract
Background
Due to the rising incidence of penile cancer and increasing life expectancy in western nations, the current international guidelines recommend a less aggressive surgical approach with reduced safety margins and preferably with organ preservation.
Objectives
The goal of this review is to review the current data on stage-dependent reconstructive surgical techniques and their oncological and functional results.
Materials and methods
Five recently published reviews and several single studies and publications on the topic of organ-sparing surgical techniques and penile reconstruction were evaluated to draw conclusions for surgery in penile cancer.
Results
Due to the rare incidence of penile cancer and the absence of comparative, prospective studies in the literature, evidence levels of the actual statements and conclusions are low.
Conclusions
Organ-sparing techniques in penile cancer lead to slightly elevated local recurrence rates compared with traditional partial or total penile amputation. Thus, sufficient patient compliance is mandatory and an intensified follow-up for more than the usual 5 years postoperatively is required. On the other hand, these techniques enable the surgeon to offer improved functional and esthetic outcomes to the patient, maintaining erectile capacity and sensitivity. After extended partial or total penile amputation, penile reconstruction using free radial forearm flaps with later prosthetic implantation may be offered to younger and sexually active patients in cooperation with experienced plastic surgeons, even if the previously published case numbers do not permit standardization of these procedures.
This is a preview of subscription content, log in to check access.
Access options
Buy single article
Instant access to the full article PDF.
US$ 39.95
Price includes VAT for USA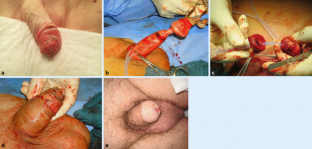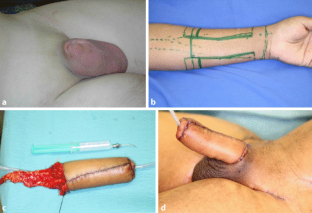 Literatur
1.

Banderamonte G, Colecchia M, Mariam L et al (2008) peniscopically controlled CO2 laser excision for conservative treatment of in situ and T1 penile carcinoma: report on 224 patients. Eur Urol 54:875–884

2.

Bissada NK (1987) Penile reconstruction after total penectomy or urethra-sparing total penectomy. J Urol 137:1173–1175

3.

Böhm WDU, Niedostatek A, Werner C et al (2012) Das Peniscarcinom im Spiegel der sächsischen klinischen Krebsregister. Urol Nachr 12:10–11

4.

Bracka A (2010) Glans resection and plastic repair. BJU Int 105:136–144

5.

Clark PE, Spiess PE, Agarwal N et al (2013) Penile cancer: clinical practice guidelines in oncology. J Natl Compr Canc Netw 11:594–598

6.

Djajadiningrat RS, van Werkhofen E, Meinhardt W et al (2014) Penile sparing surgery for penile cancer—does it affect survival ? J Urol 192:120–126

7.

Djordjevic M, Palminteri E, Martius F (2014) Male genital reconstruction for the penile cancer survivor. Curr Opin Urol 24:427–433

8.

Falcone M, Garaffa G, Raheem A et al (2016) Total phallic reconstruction using the radial artery based forearm Free flap after traumatic penile amputation. J Sex Med 13:1119–1124

9.

Feldmann AS, Mc Dougal WS (2011) Long term outcome of excisional organsparing surgery for carcinoma of the penis. J Urol 186:1303–1307

10.

Garaffa G, Raheem AA, Christopher NA et al (2009) Total phallic reconstruction after penile amputation for carcinoma. BJU Int 104:852–856

11.

Gulino G, Sasso F, Falabella R et al (2007) Distal urethral reconstruction of the glans for penile carcinoma. Results of a novel technique at 1‑year of follow-up. J Urol 178:941–944

12.

Hakenberg OW, Compérat EM, Minhas S et al (2015) EAU guidelines on penile cancer 2014 update. Eur Urol 67:142–150

13.

Hakenberg OW, Protzel C (2014) Organerhaltende Therapie beim Peniskarzinom. Urologe 53:1316–1321

14.

Hegarty PK, Heidenreich A, Mc Dougal WS et al (2014) Penile cancer: organsparing techniques. BJU Int 114:799–806

15.

Hoebeke PB, Decaestecker K, Beysens M et al (2010) Erectile implants in female-to-male transsexuals: our experience in 129 patients. Eur Urol 57:334–341

16.

Jordan GH, Alter GJ, Gilbert DA et al (1994) Penile prosthesis implantation in total phalloplasty. J Urol 152:410–414

17.

Kamel MH, Bissada N, Warford R et al (2017) Organ sparing surgery for penile cancer: a systematic review. J Urol 198:770–779

18.

Kieffer JM, Djajadiningrat RS, van Muilekom E et al (2014) Quality of life for patients treated for penile cancer. J Urol 192:1105–1110

19.

Kranz J, Paruham A, Sahdev V et al (2017) Zentralisierung der Harnröhre und Pseudoglansbildung nach partieller Penektomie. Urologe 56:1293–1297

20.

Levine LA, Zachary LS, Gottlieb LJ (1993) Prosthesis placement after total phallic reconstruction. J Urol 153:593–598

21.

Lont AP, Gallee MPW, Meinhardt W et al (2006) Penis conserving treatment for T1 and T2 penile carcinoma: clinical implications of a local recurrence. J Urol 176:575–580

22.

Morrison SD, Shakir A, Vyas KS et al (2016) Phalloplasty: a review of techniques and outcomes. Plast Reconstr Surg 138:594–615

23.

Neuville P, Morel-Jouriel N, Mancourt-Bouldi D et al (2016) Surgical outcomes of erectile implants after phalloplasty: retrospective analysis of 95 procedures. J Sex Med 13:1758–1764

24.

O'Kelly F, Lonergan P, Lundau D et al (2017) A prospective study of total glans resurfacing for localized penile cancer to maximize oncologic and functional outcomes in a tertiary referral network. J Urol 197:1258–1263

25.

Palminteri E, Berdoudini E, Lazzeri M et al (2007) Resurfacing and reconstruction of the glans penis. Eur Urol 52:893–900

26.

Philippou P, Shabbir M, Malone P et al (2012) Conservative surgery for squamous cell carcinoma of the penis: resection margins and long term oncological control. J Urol 188:803–808

27.

Pizzocaro G, Algaba F, Horenblas S et al (2010) EAU penile cancer guidelines 2009. Eur Urol 57:1002–1012

28.

Pompeo ACG, de Cassio Zequi S, Pompeo AS (2015) Penile cancer: organsparing surgery. Curr Opin Urol 25:121–128

29.

Protzel C, Hakenberg OW (2017) Organerhaltende Therapie beim Peniskarzinom. Klinikarzt 46:430–433

30.

Protzel C, Hakenberg OW (2015) Peniskarzinom: Operation des Primärtumors. Aktuelle Urol 4:312–321

31.

Sansalone S, Silvani M, Leonardi R et al (2017) Sexual outcomes after partial penectomy for penile cancer:results from a multi-institutonial study. Asian J Androl 19:57–61

32.

Schlenker B, Tilki D, Seitz M et al (2010) Organpreserving neodymium-yttrium-aluminium-garnet laser therapy for penile carcinoma: a long-term follow-up. BJU Int 106:786–790

33.

Sengezer M, Oztürk S, Deveci M et al (2004) Long term follow-up of total penile reconstruction with sensate osteocutaneus free fibula flap in 18 biological male patients. Plast Reconstr Surg 114:439–450

34.

Shabbir M, Muneer A, Kalsi J et al (2011) Glans resurfacing for the treatment of carcinoma in situ of the penis: surgical technique and outcomes. Eur Urol 59:142–147

35.

Shindel AW, Mann HW, Lev RY et al (2007) Mohs micrographic surgery for penile cancer: management and long term follow-up. J Urol 178:1980–1985

36.

Sohn M (2017) Organerhaltende Therapie nach den EAU-Leitlinien. UroForum 3:22–23

37.

Sohn M, Baican B (2015) Nachsorge beim Peniskarzinom; Neue Leitlinien führen zu Unstimmigkeiten. Uro News 19:34–36

38.

Sohn M, Rieger UM, Heß J (2017) Genitalangleichende Operation: Frau-zu-Mann und Mann-zu-Frau. Urologe 56:1246–1255

39.

Virasoro R, Tonkin JB, Mc Cammon KA et al (2007) Penile amputation: cosmetic and functional results. Sex Med Rev 3:214–222

40.

Wirthmann AE, Mejenka P, Kaufmann MC et al (2017) Phalloplasty in female-to-male transsexuals by Gottlieb and Levine's free radial forearm flap technique—a long term single-center experience over more than two decades. J Reconstr Microsurg. https://doi.org/10.1055/s0037-1608656

41.

Young J, Chen J, Wu X et al (2014) Glans preservation contributes to postoperative restoration of male sexual function: a multicenter clinical study of glans preserving surgery. J Urol 192:1410–1417
Ethics declarations
Interessenkonflikt
M. Sohn, M. Dietrich, A. Wirthmann und U.M. Rieger geben an, dass kein Interessenkonflikt besteht.
Dieser Beitrag beinhaltet keine von den Autoren durchgeführten Studien an Menschen oder Tieren.
About this article
Cite this article
Sohn, M., Dietrich, M., Wirthmann, A. et al. Rekonstruktive Operationen beim Peniskarzinom. Urologe 57, 428–434 (2018). https://doi.org/10.1007/s00120-018-0610-x
Schlüsselwörter
Glans

Exzision, lokale

Carcinoma in situ

Penisprothese

Rezidiv

Organerhaltende Operationsverfahren
Keywords
Glans

Excision, local

Carcinoma in situ

Penile prosthesis

Recurrence

Organ preservation surgery